| The Good | The Not So Good |
| --- | --- |
| Great OLED Screen | No LTE/5G Options |
| Good Battery Life | Keyboard/Trackpad Could be More Rigid |
| Amazing Price | Kickstand Needs Smoother Corners |
When I think of 2-in-1 tablet form factor devices I automatically think of the Microsoft Surface Pro lineup as most do.  After all, they've been at it for ten years.  A few others have tried their take on the form factor, but none have made a dent in the Surface Pro market share.  In researching the form factor out of my interest I ran across a company called Robo & Kala, a name I had never heard of.  They make the little-known "Robo and Kala 2-in-1 Laptop."  Hang in there, let me tell you a little bit about the device, Microsoft might have someone coming up in the rearview mirror on this one.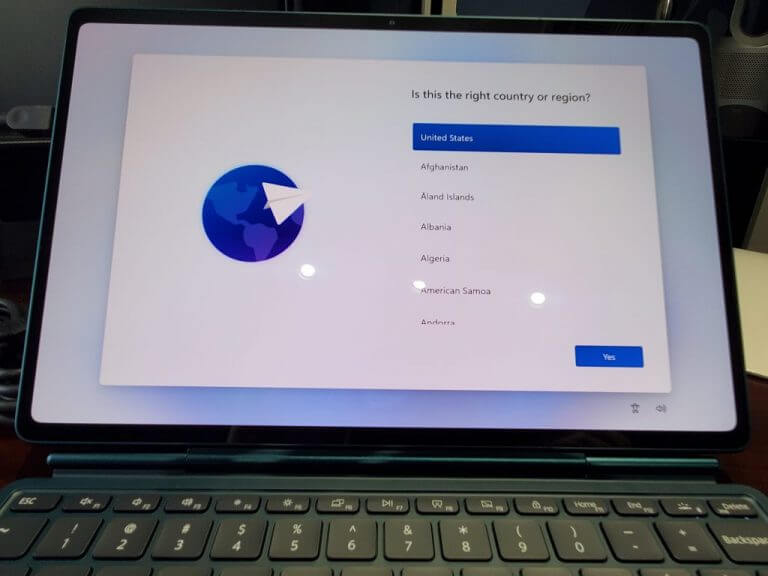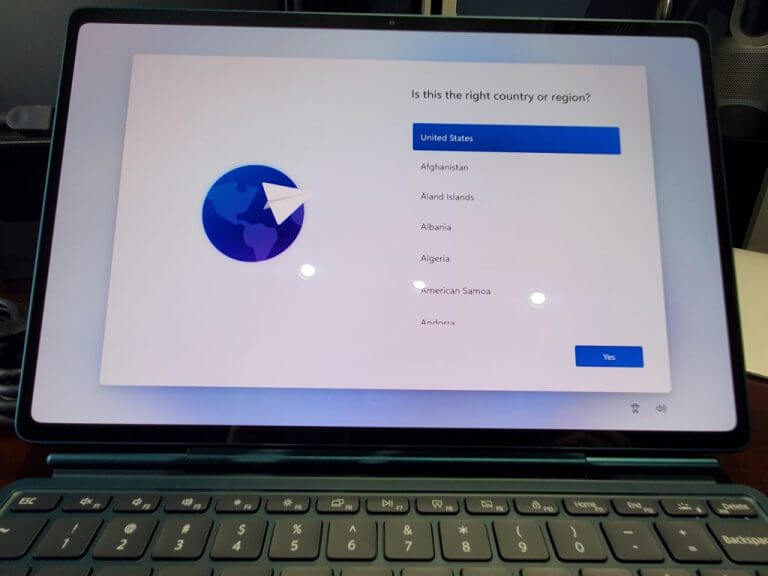 Specifications and Design
There's only one model available, so there are no configuration options available.  That being said the specs are top-of-the-line for a Windows on ARM device.  The device is powered by the Snapdragon 8cx Gen3 SoC with 16GB of RAM and a 512GB SSD.  The only color is mint green, and unfortunately, there are no mobile broadband connectivity options, somewhat unusual for an ARM device.  The device is just 7.3mm thick and completing the rear of the device you will find a kickstand that looks very similar to the one used on the Microsoft Surface Pro.  Speaking of the kickstand a minor gripe I had about the device is the rough edges.  It would be easy to scratch the surface of your desk when sliding across it. You do get two full-function USB C ports on the left side, that's it for I/O.  A 65-watt USB C charger is included in the box.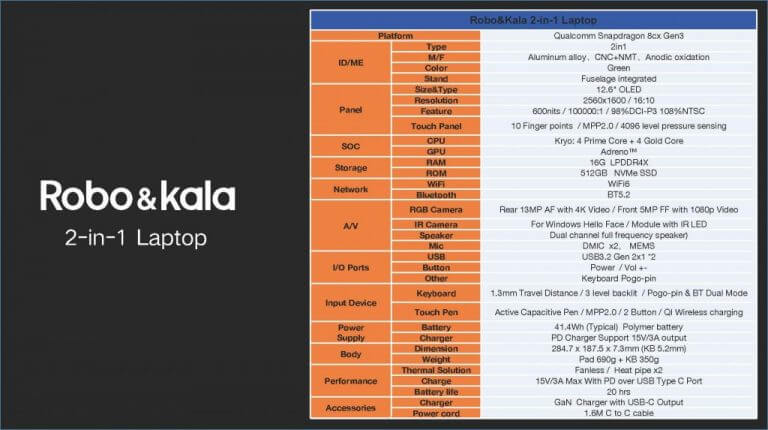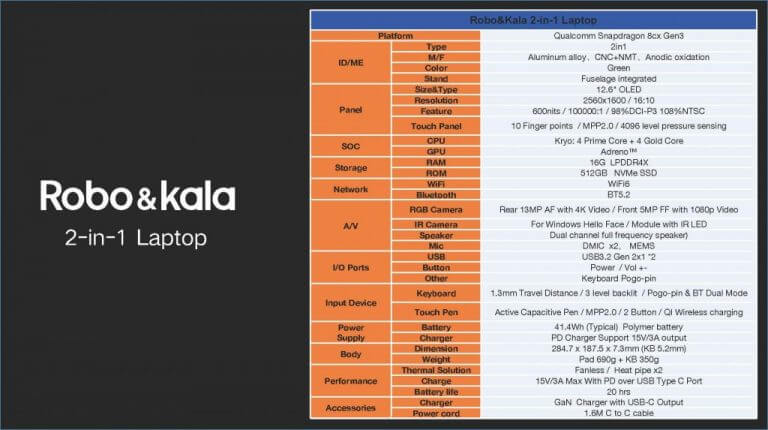 The Experience
Coming in at the $799 price point with the keyboard cover and pen included in the box I believe the entire package does deserve a free pass on a few things.  It's clear the idea here was to produce a quality device at a reasonable price point with everything included.  I'm willing to give a break to there not being a rubber guard on the kickstand, I'm also willing to give a break on the aluminum chassis being a bit of a fingerprint magnet.  The speakers are serviceable at best with no bass and sounding small.  Watching your favorite video or streaming TV show works well, for anything else, use a good set of Bluetooth headphones.  The 12.6 2K AMOLED display is amazing, the colors are bright, with a resolution of 2560 x 1600 everything is crisp and the text is easy to read.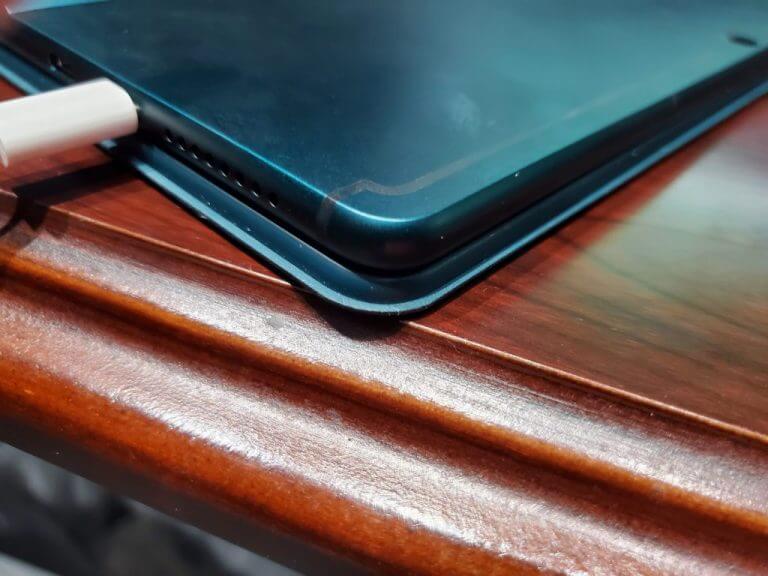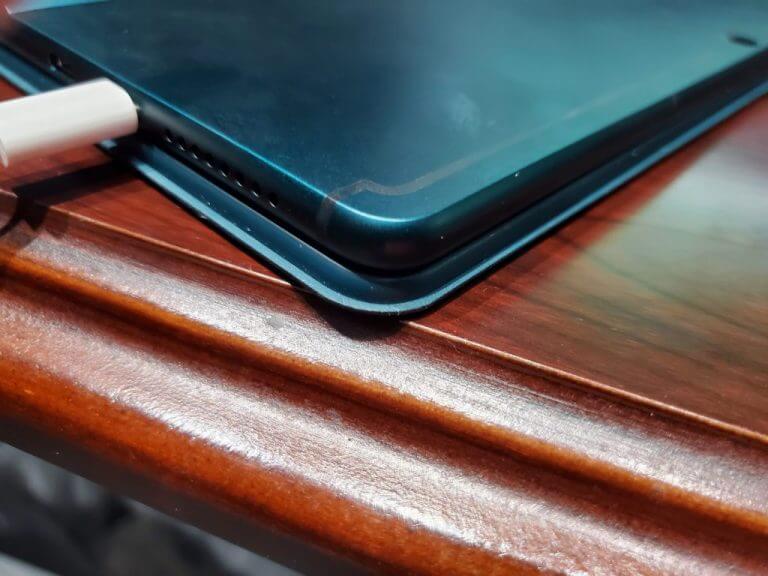 The screen is where the Robo & Kala gains points back for some of its shortcomings.  This screen nails it, a quality screen, the part we use the most looks fantastic. The touch screen is responsive, the pen works well enough for basic note-taking, and charges on the right side of the device.  The cameras work well, the front-facing camera is 1080P with Windows Hello built-in,  a nice luxury at this price point.  The rear camera is a 13MP camera capable of 4K.  In my meetings both the front-facing camera and microphones didn't draw any complaints.
The type cover/keyboard mouse combo has its positives and negatives.  The keyboard is comfortable with large keys, and plenty of space between them, with a short travel distance, which is to be expected.  The trackpad is spacious for a device of this size with a firm clicking surface.  The negative is you really need to be working on a solid surface at all times, or you can click the trackpad from the bottom by accident.  So working on your lap is really not an option. A more rigid keyboard would help here.   Unlike the Microsoft Surface Pro, the keyboard does function as a stand-alone Bluetooth keyboard if desired so you don't have to be physically connected to the tablet at all times.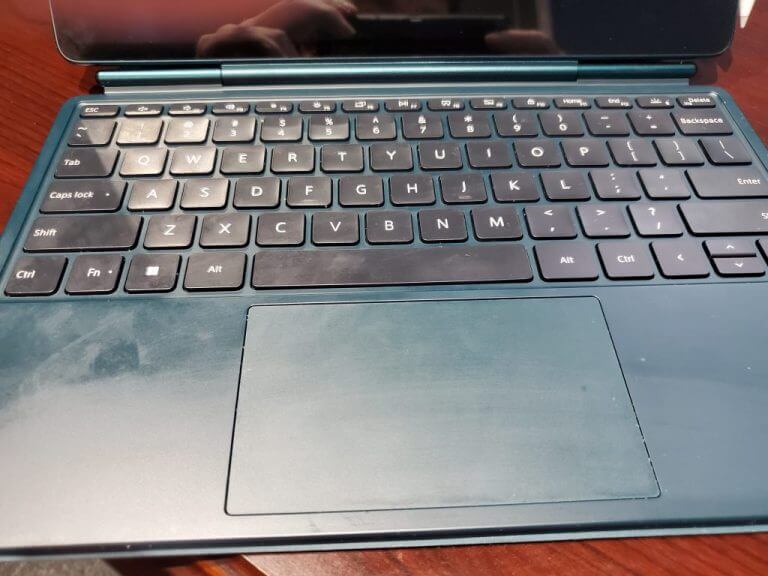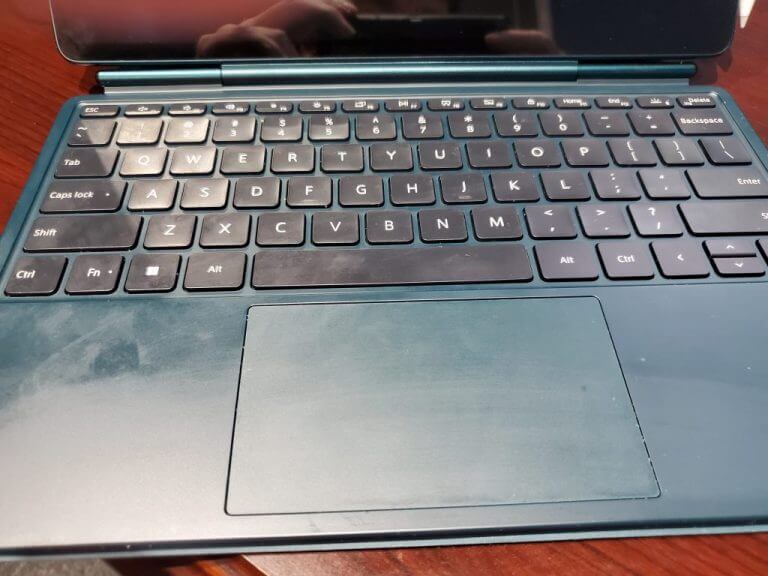 The elephant in the room is still Windows on Arm.  Microsoft still has some work to do here.  Most everyday productivity apps ran well in my testing.  However, you can still tell which apps have been optimized for ARM and which have not.  Microsoft 365 apps for example right lightning quick as they are optimized.  While apps like Google Chrome and Slack run a bit slower.  You'll notice this in your battery life as well, while 8 hours was the average in my workday at 50 percent brightness if I stuck to optimized apps 10 hours was possible.   Running unoptimized apps would also make the back of the device get warm, which does impact battery life as well.
Bringing it Home
There are no deal-stoppers in the Robo & Kala 2-in-1 laptop.  At a $799 price point that has been as low as $599 when on sale with everything in the box it's one heck of a deal. Productivity warriors will love it, I do.  Where the unit fell short, such as speaker quality and the keyboard needing to be a bit more rigid I can tolerate those shortcomings at this price point.  Would I like to see them fixed? Yes, but I realize that comes at a cost.  Even if the price was increased to $899 the keyboard was more rigid, and the speakers were a bit better, it's still more than competitive.  I'd still rather see a mobile broadband option, even if nothing else was improved, again, at a cost, but I think that's what most people look for in a Windows on ARM experience.  If you want to get a first taste of Windows on ARM without the large upfront investment of the Microsoft Surface Pro 9 5G, the Robo & Kala 2-in-1 laptop is a good way to do that.