Coming soon to Windows Insiders is the ability to show recently accessed apps from an Android phone right in the Windows 11 and Windows 10 Taskbar. This new feature was confirmed by a Microsoft employee and also mentioned in a Microsoft Answers blog post.
With the Taskbar already being crowded as is, recently opened Android apps show in a fly-out hub (complete with Windows 11's design) that can be accessed by clicking the Your Phone Icon near the clock. The hub shows tthree recently opened apps by default, and a link to view all apps, too. You can click on an app to launch it, or right-click on the app and click "open" to launch it. In addition, there's a Recent Apps experience right within the Your Phone app, too. You'll see this at the top of the Apps page, and you can click on the app to launch it.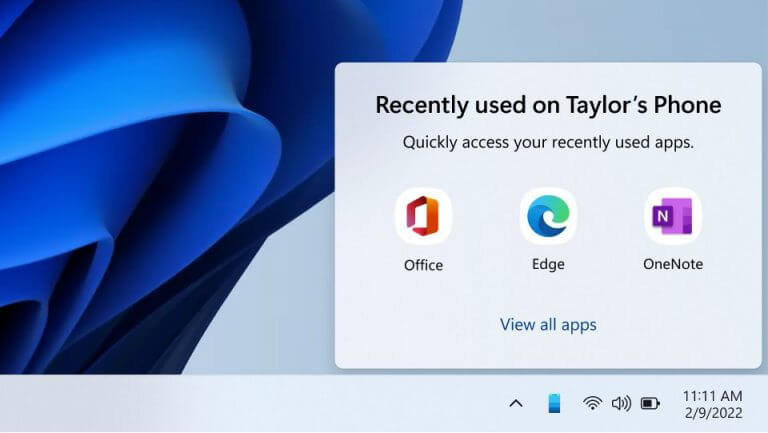 While Windows 11 is the focus in the screenshot, Microsoft's post mentions that Windows 10's Your Phone app will get this feature, too. Indeed, it is nice to see that Microsoft is actively adding features to Your Phone in Windows, but this is a Samsung phone exclusive. It only works with select Samsung devices that have Link to Windows, with OneUI 3.1.1 or higher. Devices include the Galaxy Z Fold, Z Flip, S series, or the Note series, though Microsoft doesn't mention the specific model numbers.
This is because Samsung's phones are the only non-Microsoft Android phones which allow using individual windowed Android apps (the Apps experience) on top of Windows in Your Phone. The Surface Duo 2,  was updated to support the Apps feature, but it's not clear if it too, will get this.
It's been asked if the Duo 2 will also get this feature with Your Phone, and we'll update this post when clarification is made. In the meantime, sound off and let us know what you think by dropping us a comment below.