OneNote on Android is getting a new look. As announced on July 11 by Microsoft, the company is refreshing the popular note taking Android app with a new home screen, new visuals, and so much more.
Rolling out in phases starting with Android mobile build 16.0.15128.20270 and later, Microsoft hopes that this new look can help you "quickly capture what's important to you and remember with confidence." The core part of the redesign is a new home tab, which lets you capture your notes with text, voice, ink, or camera. There's also a Windows-11 sticky note-like preview card for your notes here. too. A quick capture bar at the bottom of the app ties in with that, letting you take notes with a single click Check it out in the GIF below.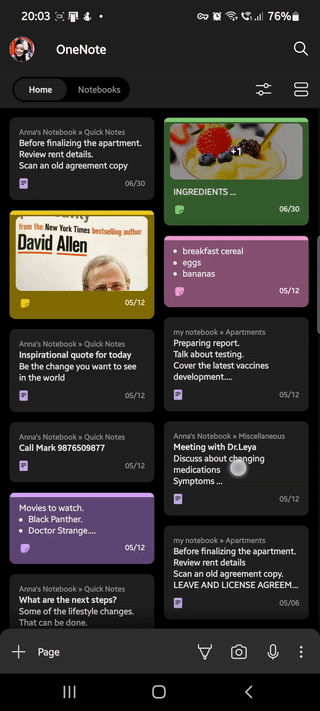 That new home tab will even show all notes from all sign-in accounts from a single view, letting you tap on a note to edit it. And, if you want, you can switch views from the grid to list, to see more details. All notes can be rearranged on the home tab by dragging them around, and you're free to sort by the usual filters like note type, page, or by account. Microsoft even added gestures within OneNote mobile, letting you swipe to sync, long press for quick actions to copy or move or share.
As for the in-app features, the quick capture bar has an upgraded Microsoft Lens integration. This will let you choose and filter your images in new ways, or scan documents to extract text. Voice dictation gets tweaked in this new release, too, so that you can use voice commands to format notes.
In this current state, Microsoft isn't planning to roll out the new experience over to tablets or dual-screen phones. The company says it is working to bring these features to OneNote across other platforms soon.