Microsoft has seemingly eased off the gas when it comes to Cortana development across platforms. The look and feel of Cortana and its integration API's have remained relatively stagnant for its more consumer-facing operations.
Fortunately, a beta version of the digital assistant is being seeded to testers that shows the Cortana team is not asleep at the wheel and is prepping a significant UI and integration overhaul for the app on Android and iOS platforms.
The folks over at Windows Central got a hold of some screenshots of what the new Cortana UI will look like, from the tipster Ryan C.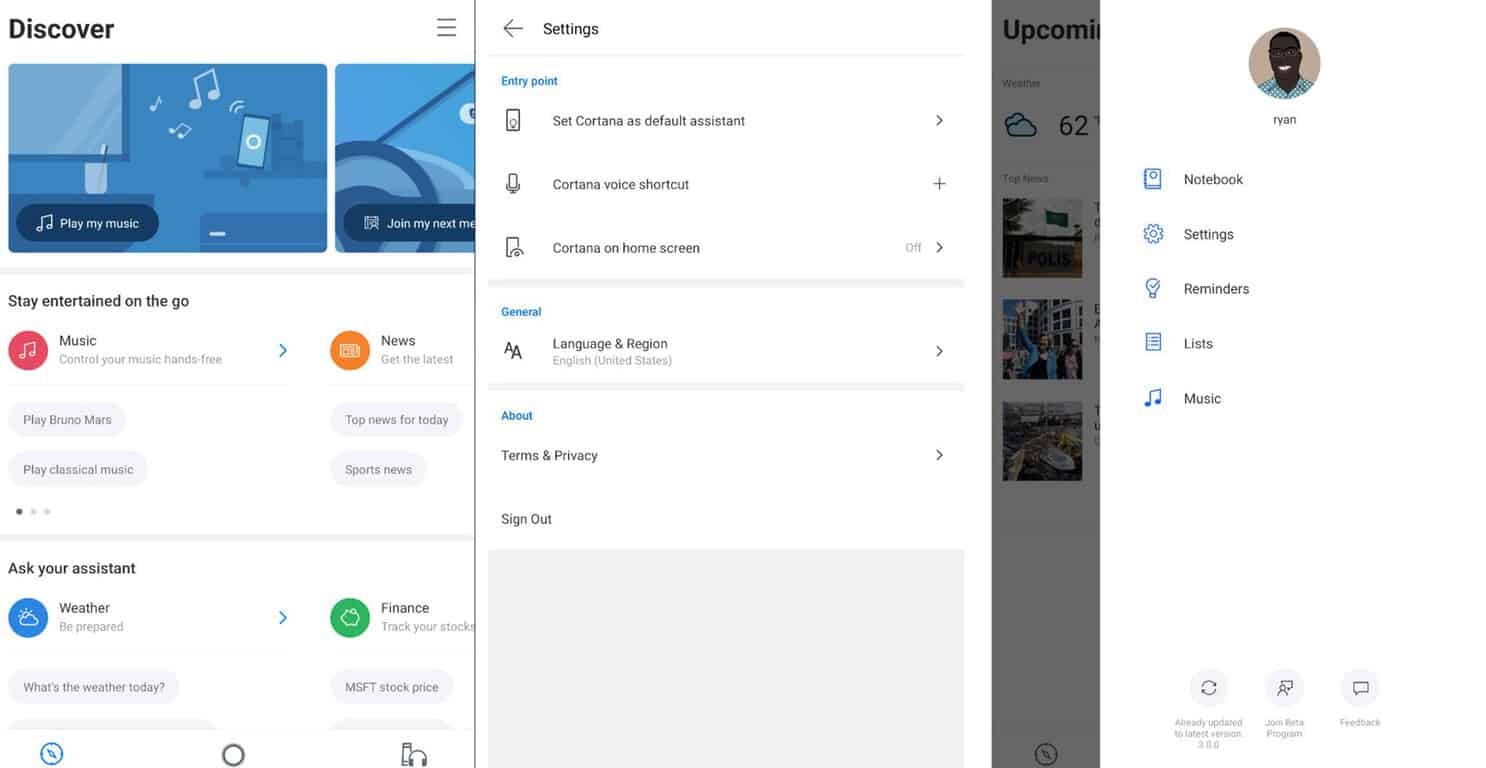 According to their reporting, the following updates are in tow for Cortana version 3.0 beta.
An update to the UI enabling conversational experiences with Cortana and a new place to manage and set up your Cortana devices
Listen to music and podcasts on the go. Just ask Cortana to play your favorite tunes and podcasts with Spotify, iHeartRadio, and TuneIn on your phone or through a paired Bluetooth device
Stay organized and on task. Set reminders, timers and create meetings with your voice
Join your next Skype or Teams meeting by simply asking Cortana. You can also manage your calendar or send a quick email by voice
Perhaps, following UI designs from both Apple and Google, Cortana 3.0 utilizes bright primary colors against a largely white background versus its primarily black text on white background. The UI also includes more icons for navigation that including an easier to identify a timeline, search and connected device icons at the bottom of the app.
Cortana 3.0 also does a much better job at linking related search queries in a more conversational manner, something Cortana has sorely lacked when compared to the Google Assistant and others. As of testing the app now, the search queries are not saved or stored on screen for reference.
Another omission spotted by WC, is that syncing notifications to a Windows PC has been removed in the Settings pane. I have yet to see how this actually affects notifications to the PC as most apps I use already have desktop components and are syncing just fine.
It is definitely early days for Cortana v.3.0 as the app can lag in certain areas and may crash on occasion, but if this is an indicator as to where the app is headed in the near future, it may help breathe some life back into my personal usage of the digital assistant.
To get your hands on the new version, join here as an Android user and iOS users will need to wait for the next test flight here.