According to a report from the German website Windows United, Microsoft is planning on removing the Phone Companion app in Windows 10. The app originally launched in 2015 and was designed as a guide for helping users connect and integrate their mobile devices with the Windows 10 OS.
Microsoft recently introduced a dedicated "Phone" section to the settings app in Windows 10 and the Phone Companion app is already pretty much useless these days. It was also relatively basic at the time it launched, showing the storage available on a device, and steps necessary for using the Microsoft services on Windows Phone, Android, and iOS devices.
Some users, though, may have liked the option the app provided to help sync media files from a phone to a PC. Anyway, an in-app message now warns of the impending removal, urging users to go to Phone settings in Windows 10 instead.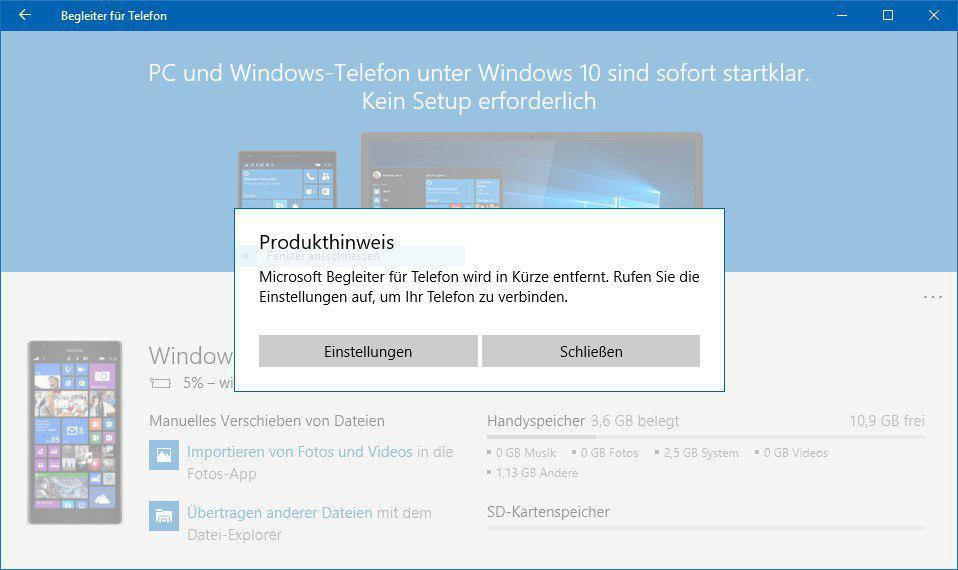 With new Microsoft apps such as Continue on PC, Edge on iOS and Android, and Microsoft Launcher for Android phones, Microsoft is now clearly pushing users away from the older Windows 10 Phone Companion app. Not only are these apps more modern, but they also better integrate your mobile device with Windows regardless of which platform is being used. Let us know your thoughts on the retirement of the Phone Companion app in the comments below.