Microsoft is continuing its development of a folding device, as can be seen in a recent patent spotted by Windows Latest. The patent shows off a mechanism that allows a single display to be folded shut by a hinge from inside the device, unlike previous patents which show off two screens folded by a visible hinge.
"The electronic device comprises of a body and a flexible display stack," the document reads. "The display stack and body are involved in a movable connection via fastening areas and fastening components. In embodiments, the fastening bodies and components may include studs and grooves and/or magnets."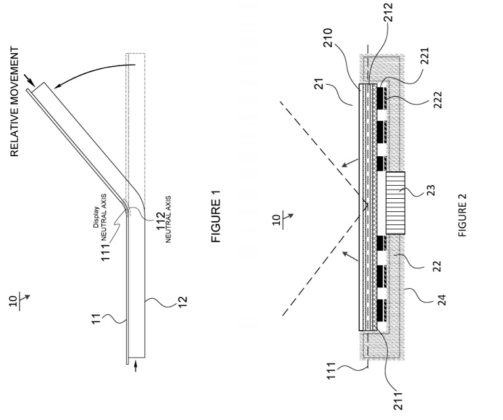 Microsoft doesn't explain any upcoming device in the patent, but mentions that the folding display can be used in "handheld devices, laptops, wearable devices and other consumer electronics." However with the ongoing reports and other leaked patents of an upcoming foldable Surface device coming from Microsoft, it's easy to see this as one of the first ways the technology could be applied.
Foldable devices continue to be an interest tech giants such as Microsoft, Samsung, Lenovo, and others. This is because such devices offer the enhanced productivity and entertainment that comes out of larger screen systems but can be folded to increased portability. Microsoft is also going as far as developing the new modular Windows Core OS which is designed for folding devices as well as the Surface Hub and HoloLens headset.
Additionally, foldables could offer Microsoft a second change to rejoin the mobile phone business, especially given how its former phone efforts didn't pan out. Of course, that greatly depends on how consumers perceive the device as well as the stiff competition that will likely come in the field.
Whatever the case may be, it certainly serves as an interesting move that could ultimately change how we use our devices. However it should be noted as the patent above is just a concept at present, and might not see the light of day in a real world device.