As the days and weeks go on, the COIVD-19 (Coronavirus) pandemic is only getting worse here in the United States. Many tech companies have offered to help the United States government combat the pandemic, such as Google and Razer, but Microsoft is stepping up now, too. The company announced on March 20 that it is now offering its Healthcare Bot service to the Center for Disease Controls (CDC) to help people make decisions on Coronavirus symptoms, and prevent health systems from being overwhelmed.
Microsoft's Healthcare Bot is already live on the CDC's website, but Microsoft also says it is offering it on the "frontlines of the COVID-19 pandemic." Specifically, with the CDC, the bot is able to quickly access symptoms and other risk factors for anyone that might be worried about a possible infection of the Coronavirus. Some sample conversations with the bot can be seen below.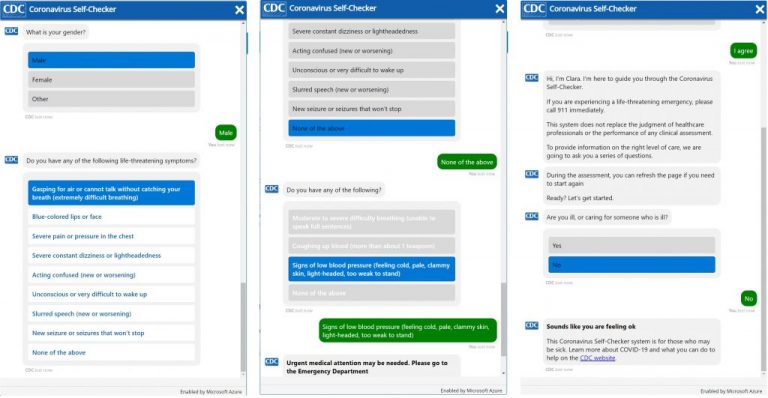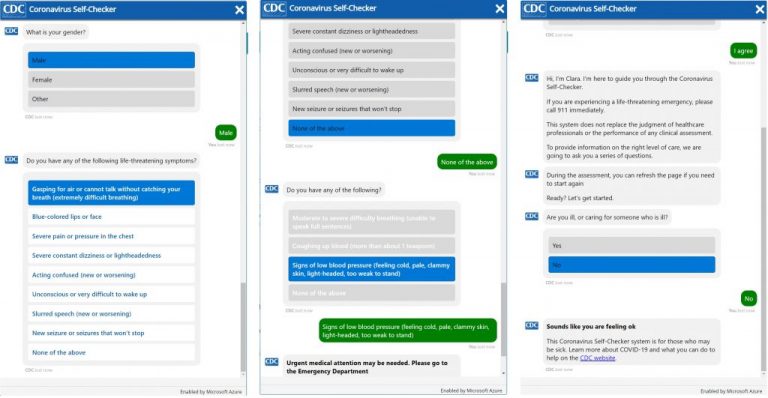 Concerned American citizens can select answers from various questions about symptoms, and Microsoft's bot will suggest a course of action. That might include going to a doctor or managing it at home under quarantine. Microsoft has also made available some of the following templates for the Healthcare Bot which can be used by customers and others in the health industry:
COVID-19 risk assessment based on CDC guidelines
COVID-19 clinical triage based on CDC protocols
COVID-19 up-to-date answers to frequently asked questions
COVID-19 worldwide metrics
To no surprise, the Healthcare Bot service is a public-cloud service powered by Microsoft Azure. It's completely scalable and customizable.  Organizations have used it to deploy AI-powered bots on websites that offer patients or the general public personalized access to health-related information. Providence, Virginia Mason Health System, Novant Health, are just a few providers who have been using Microsoft's Healthcare Bot service to respond to COVID-19.