While Microsoft and Meta have very clear and distinct goals for achieving their own stated Metaverse futures, the two are working with a whole host of companies to make sure users can have an open metaverse experience.
Today, Microsoft, Meta, NVIDIA, AutoDesk, Alibaba, Adobe, Web3D Consortium, Wayfair, Epic Games and more have joined together to create the Metaverse Standards Forum with the stated goal to bring "together leading standards organizations and companies for industry-wide cooperation on interoperability standards needed to build the open metaverse."
Each participating company has signed off on supporting the Standards Forum's goals of hosting "pragmatic, action-based projects like implementation prototyping, hackathons, plugfests and open-source tooling to facilitate the testing and adoption of metaverse standards, while also developing consistent terminology and deployment guidelines."
The Metaverse Standards Forum has the rhetoric of several industry leaders on record but it's early days and the utopian goal of getting companies and sectors with diametric business goals to align long term will undoubtedly present a challenge in the future.
To its credit, the Metaverse Standards Forum already has the backing of some foundational constellation of open standards consortiums to rely on, if high profile businesses do seek to drop out for a variety of business objectives.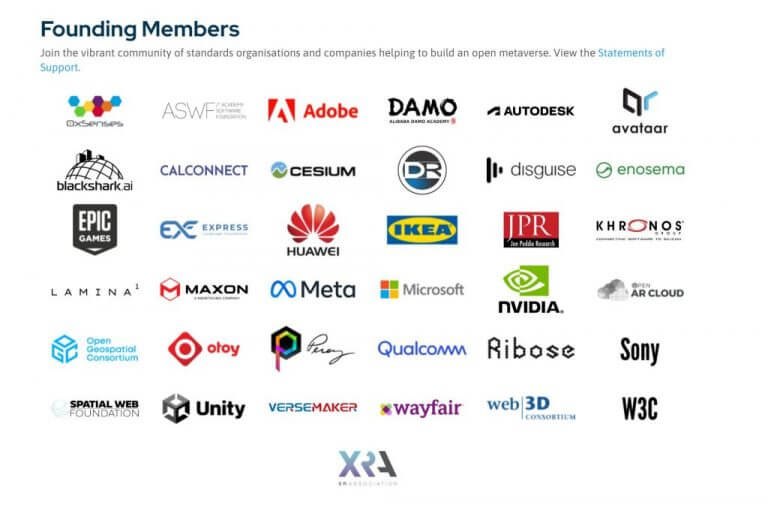 As of today, the World Wide Web Consortium, the Khronos Group, the Open GeoSpatial Consortium, the Open AR Cloud, the Spatial Web Foundation, Web3D Consortium, and the XR Association are all onboard to help steer an open-source interoperability effort.
As of now, the Standards Forum is hosted by the Khronos Group and is open to any company, standards organization or university at no charge. Anyone wanting to participate or provide oversite the Metaverse Standards Forum can click through the Participants Agreement and choose to become a Principal member.