Microsoft (MSFT) shares rose on Tuesday pushing the company's market value to over $2 trillion. Microsoft is only the second US public company to reach a $2 trillion market value after Apple made Wall Street history reaching $2 trillion last year.
Market capitalization refers to how much a company is worth as determined by the stock market. It is defined as the total market value of all outstanding shares. Although it is often used to describe a company, market cap does not measure the equity value of a company and is a statistic without much value.
Microsoft reached its first $1 trillion in market value in 2019 – a feat that took the company 33 years from its IPO. However, to add another trillion dollars to its market cap, the company took only about two years.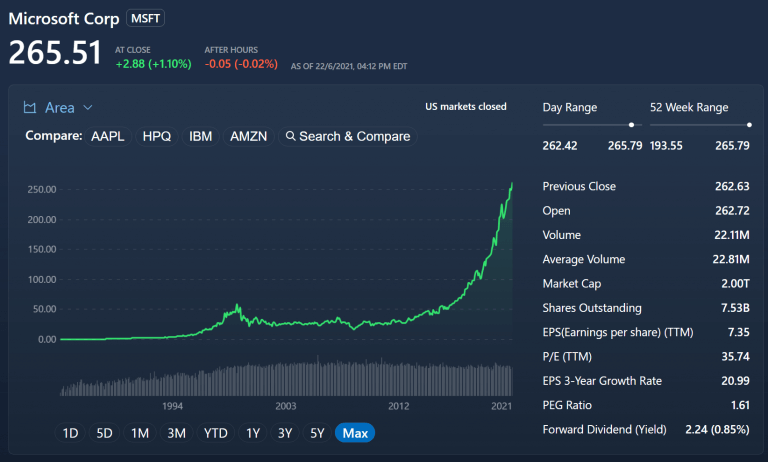 Since taking the reins in 2014, Microsoft CEO Satya Nadella has reshaped the company betting on cloud computing as well as productivity and collaboration tools. The surge in popularity of tech stocks amidst the COVID-19 pandemic as well as the accelerated digital transformation and adoption of Microsoft 365 (and Microsoft Teams) by organizations to work out their remote and hybrid work strategy has helped Microsoft to power through. And, incidentally, after facing antitrust charges in the 1990s, Microsoft is the only big technology company in the US right now that has evaded the busy antitrust regulators in recent times.
Behind Apple and Microsoft, the other tech majors trailing include Amazon at about $1.8 trillion and Alphabet (Google's parent company) at around a $1.6 trillion cap.