Back in 1999, before the tech driven stock market bubble burst, driving the US and economies around the world into recession (and yes, there was a lot more to it than the tech bubble), Microsoft posted its highest stock price ever, at $58.38 (the company split its stock once, in 2003, but it was trading at around $23 at the time).
Now today, driven by a blockbuster earnings release by LinkedIn, which Microsoft is acquiring in a $26.2 billion deal set to close sometime early next year, Microsoft is once again reaching for that pinnacle. Currently, Microsoft's stock is trading at $58.02, the highest it's been in years (the previous recent high was $55.48 in December 2015, but it's been climbing steadily past that for the past month or so).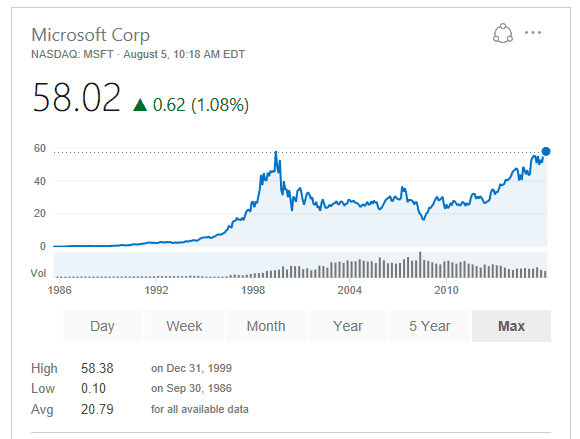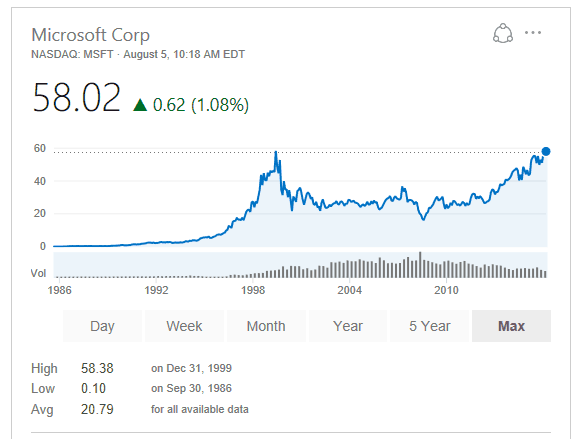 Microsoft does indeed seem to be on a bit of a roll recently. CEO Satya Nadella has been pushing the company to be more agile, and have more of a "growth mindset," has seen good uptake of its Windows 10 offering and bolstered by the latest Anniversary Update, is rethinking Office as a subscription service living mainly in the cloud, and continues to push on Amazon in cloud offerings with Azure.
The company is gearing up for the holiday season with Windows 10 Anniversary Update momentum, as well as a new Xbox One S offering to bolster holiday sales, and early next year is widely expected to release new hardware to go along with the next feature update for Windows 10, code named Redstone 2.
Microsoft's one big glaring hole, the complete failure so far of its mobile platform, could get a boost in 2017 as well, with a focus on a new Surface Phone, new business oriented features, and the continued development of Continuum, Microsoft's plan to make phones act more like full-on computers, connecting to large displays and keyboards.
So Microsoft not only is on a roll, but that looks to continue. We asked yesterday if Microsoft is "cool" again, and you can take our poll and/or let us know how you think the company is doing in the comments below.