Since 2009, the non-profit Code.org has been holding the Computer Science Education Week, an annual event aiming to make computer science a core subject in K-12 education. As a founding partner of Code.org, Microsoft has been a long-time supporter of CS Ed Week over the years, but the company is now ready to do even more to inspire teachers and K-12 students across the world to take interest in computer science.
Coding is expected to become a very valuable skill as more and more jobs will require technology skills in the future, but access to computer science is still too limited in schools in the US and elswhere. This morning, Microsoft published the results of a survey of 540 K-12 teachers across the US done in partnership with YouGov, and here are the key takeaways:
2 in 10 teachers said their students aren't taught computer science at all. The primary reasons are because: it is not part of their school's curriculum (60%), there is a lack of funding (30%), it's not a subject that students are tested on (25%).
80% of teachers said they believed big tech companies like Microsoft, Google and Apple should be helping schools build kids' computer science skills.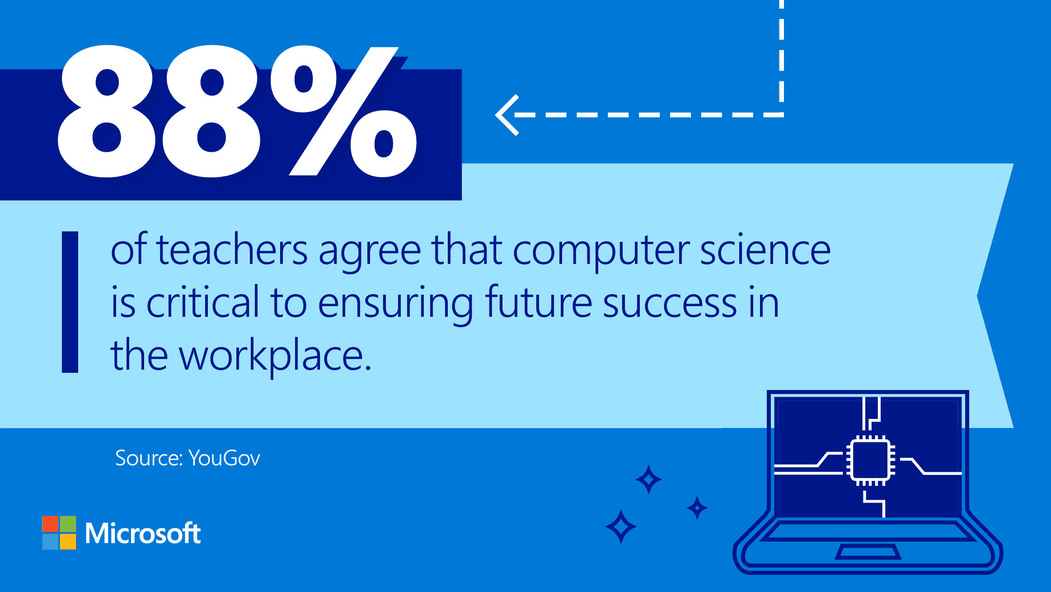 Microsoft definitely got the memo about the second point, and today the company announced a $10 Million recommitment to Code.org. This will help the non-profit ensure that by 2020, every state will have passed policies to expand access to computer science, and every school in the U.S. will have access to Code.org professional development.
Last but not least, Microsoft has teamed up with Code.org to create a new Minecraft Hour of Code tutorial for this CS Ed Week. The one-hour tutorial called Voyage Aquatic will bring students underwater to solve puzzles using code, and it's available on code.org/minecraft. In addition to the new Minecraft for Education content, teachers and students can also check out the free Microsoft Educator Community courses or attend a free Computer Science Workshop at their local Microsoft Store.
"We're excited by the progress that has been made in recent years, from TEALS which brings computer science to high schools across the U.S. and Canada, to Minecraft: Education Edition's Code Builder and Hour of Code tutorials. Students in over 180 countries have learned the fundamentals of coding with free Minecraft Hour of Code tutorials and have logged more than 100 million sessions in the past 4 years," the Microsoft Education team wrote today. The CS Ed Week is the perfect time to get started with computer science, and we invite you to check out all the free online resources available on code.org and Microsoft's education website.