AT&T announced earlier this week that the Lumia 950 was slated to go on sale in physical AT&T stores today, and in a blog post, Panos Panay made it somewhat official:
…today is about the launch of the Lumia 950, which goes on sale in the US through AT&T retail and online stores with a starting price of $149 for a standard two-year agreement. With the Lumia 950, as well as the Lumia 950 XL, we set out to create the phone that works like a PC, and we succeeded – and are thrilled for our fans to get their hands on these new and exciting devices.
The Lumia 950 actually was available online on Tuesday November 17th, and some early adopters actually received their phones on Wednesday the 18th.  Now, however, it looks like ordering an Lumia 950 online from AT&T is going to put you in a waiting line, with shipping now set from between November 25th and November 30th: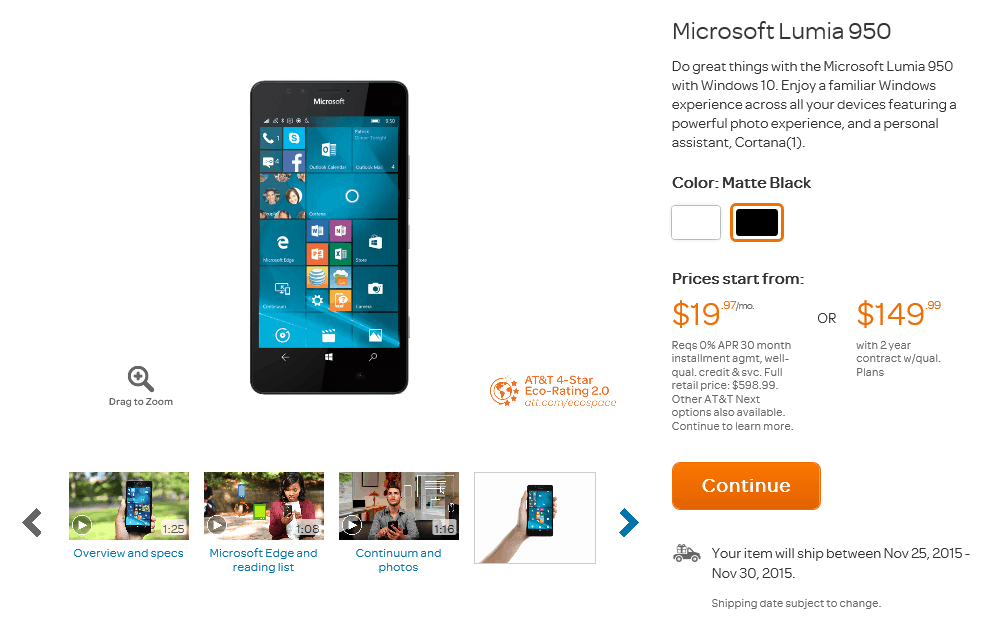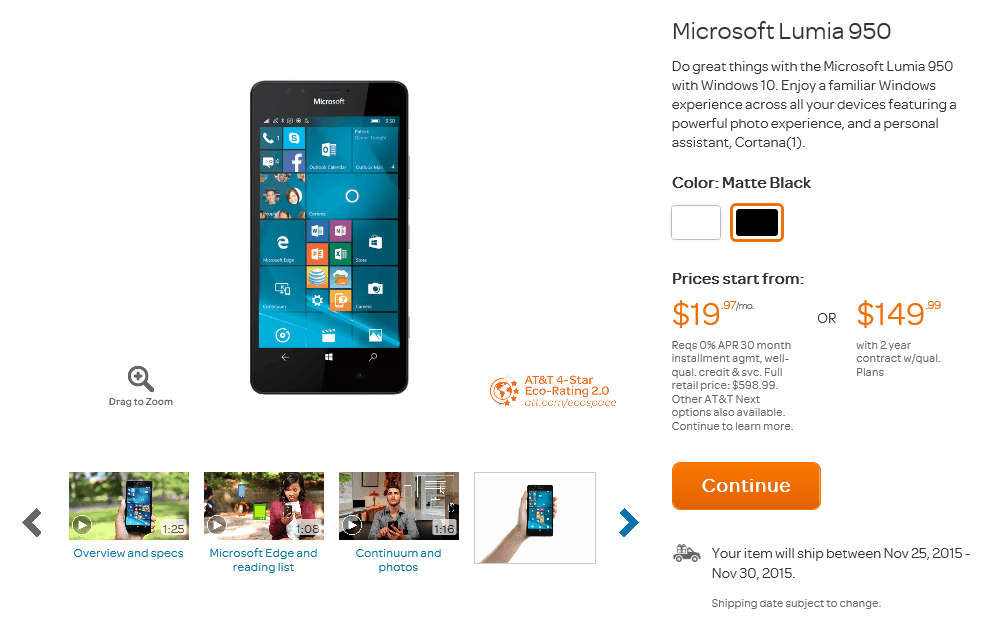 And while we believe Panos, it will be interesting to see just how many AT&T stores actually end up with Lumia 950s to sell today.  If you make it to an AT&T store, make sure to let us know how it goes for you.
While the 950 is on sale at AT&T, it's still not available from Microsoft. However, Panos was kind enough to provide a date, finally for the appearance of both new Lumia flagship devices in physical Microsoft Stores:
We are also excited that the Lumia 950 and 950 XL will be available around the world over the next few weeks. U.S. Microsoft Stores will have both phones available online on Nov. 25 and in the retail stores on Nov. 26.
After that, the Lumia 950 and 950XL will become available around the world, beginning supposedly on November 30th in India (or at least in New Delhi), and in the UK on December 2nd, with reports coming in from all over of launches in other countries, including Spain, Romania, Poland and more.
WinBeta staffers are scrambling to get their hands on a new phone in a number of different ways, we're enthusiasts just like you.  Let us know how your buying experience goes, and stay tuned to WinBeta for all the latest.