While very few internet users will confuse a LinkedIn experience for one like Instagram or Twitter, the business network platform is becoming home to a similar breed of influencing led monetization efforts as of late.
According to a report from the Financial Times, LinkedIn has "become overrun with many of its 930M users sharing career-focused, often aspirational content, in the hope of building substantial followings."
Zain Kahm, a self proclaimed marketer and now executive influencer says he's managed to earn more than $1M in revenue a year on LinkedIn through via the social media networks advertising platform.
Khan has found a way to monetize his 772,000 followers on LinkedIn and turn his audience into a revenue stream indirectly through the social media network by promoting his artificial intelligent focused newsletter.
While Khan utilizes other social media platforms such as TikTok and Instagram he says "The audience on LinkedIn is orders of magnitude more valuable than other platforms," and he's not alone.
Rapper and well known product-pusher Snoop Dogg can be found on LinkedIn as well, promoting everything from his publications to AI.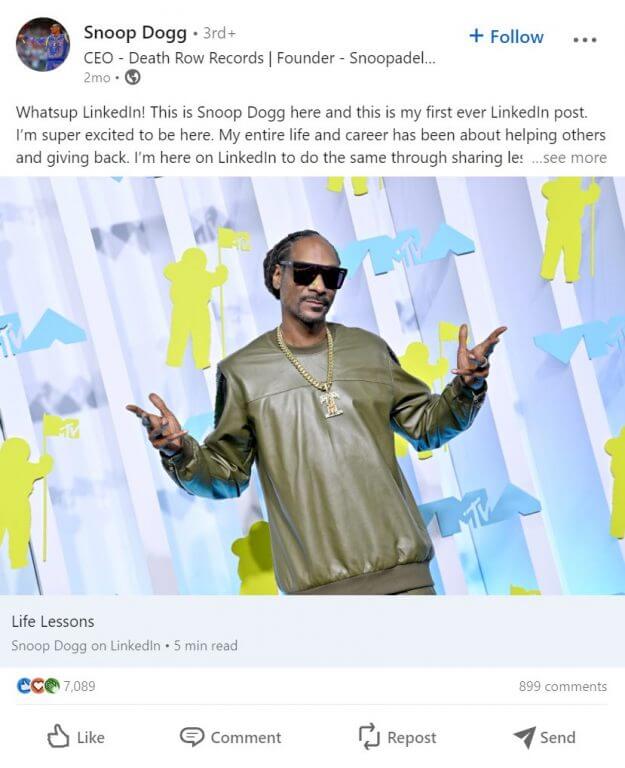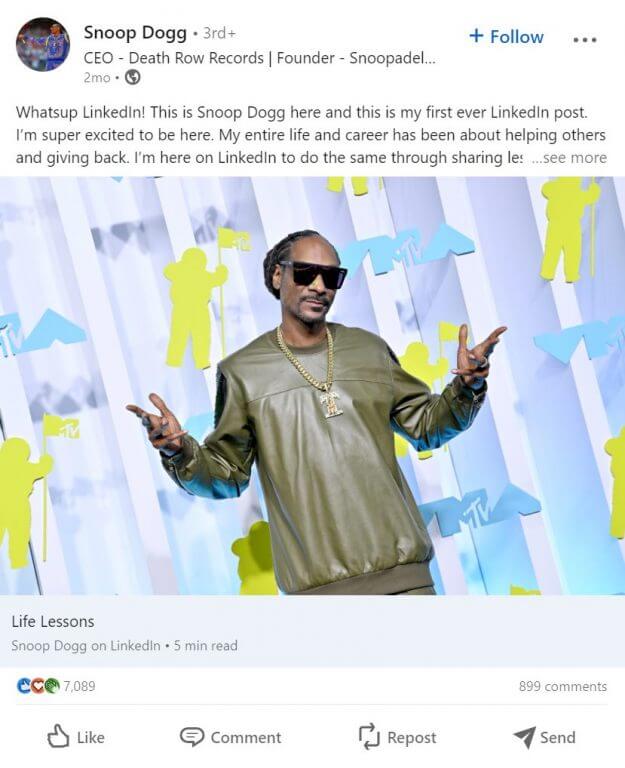 One of the reasons some influencers and business professionals are pivoting to LinkedIn as source of untapped audience potential has been its unrealized age demographic that tends to be older or more mature than on other platforms such as X (Twitter).
Khan explains that his audience on LinkedIn "make a certain threshold of income so have purchasing power, and are also decision makers," in contrast to his audience on X (Twitter).
Former colligate pitcher Sahil Bloom pivoted from sports to entrepreneurship and is now using LinkedIn to rake in an additional $60,000 to $70,000 a month in advertising by promoting his newsletter on the networking platform.
In addition to begin a lucrative side business for Bloom, promoting his newsletter on LinkedIn also returns leads for his other businesses that include a personal holdings company, investment firm, and a motocross gear and appeal company.
Another added benefit for influencers tapping into the nascent community on LinkedIn is not having to wade through negativity, rage or controversy other platforms are mired in.
Gretchen Rubin, a bestselling author who writes about self-management and careers, has close to 3M followers on the platform but says she has "never been attacked or had a negative experience like that". She describes the platform as "a great free resource" for her work, adding: "I feel like the world is my research assistant."
Despite the growing number of positive reasons for influencers to expand their platform portfolio to include LinkedIn, the networking site has the FBI warning its users of elaborate scams and phishing schemes proliferating on the site.
Last year, FBI special agent Sean Regan explained that fraudsters were exploiting LinkedIn users into cryptocurrency investments schemes and it poses a "significant threat" to the site.
In a report from KOAA News5 in Souther Colorado, "Investigators say these scammers usually pose as professionals and offer to help people make money through a crypto investment. LinkedIn has now acknowledged the problem. In fact, the company says it removed 32 million fake accounts last year."
Other knock against making LinkedIn a home for new influencers has been its comparative lack of more granular analytic and advertising tools.
While addressing the rampant fraudulent epidemic on the platform, LinkedIn has been working on providing users with more features to help expand content publishing and possible monetization paths such as audio, live, and video experiences and more newsletter options.
Former managing editor Dan Roth has also joined LinkedIn's creator team to help cultivate a feed of highly sought after professional conversations and content alongside 200 journalists and editors that LinkedIn can point to as validation of the platforms usefulness.
LinkedIn has, until recently, had a comparatively conservative audience of users who have moderated a specific experience on the platform, it'll be interesting to see how the platform evolves going forward as its chase for increased revenues forces a greater level of accessibility to would be influencers, inspirational executives, and CEO and company branding efforts.