Starting at $1,499.99
The Lenovo Legion Slim 7, despite the moniker, is still a relatively heavy piece of hardware, but is also surprisingly light for the category. During my time with the Slim 7, it became the only gaming rig I've ever wanted to travel with and transport from one spot to another.
Normally, I comment on the design of a gaming laptop, the port selections, dimensions, and combined materials package, and then immediately toss it on a desk and leave it to toss around air and dust in a corner.
However, with the Slim 7 with its amazing screen combined with its slim profile had me tossing this thing in bags and setting it up in my living room to replace my Xbox One for most of my gaming needs.
In addition, it makes for a decent content creation tool in a pinch.
Lenovo Legion Slim 7
Processor
Up to AMD Ryzen 9 5900HX Mobile Processor
Graphics
Up to NVIDIA GeForce RTX 3060 6GB GDDR6, TGP 100W
Operating System
Up to Windows 10 Pro
Display
15.6″ FHD (1920×1080) IPS, 300nits, 165Hz, 100% sRGB, Dolby Vision 15.6″ UHD (3840 x 2160) IPS, 500 nits, 60Hz, 100% Adobe RGB, VESA DisplayHDR™ 400-certified, Dolby Vision
Storage
Up to 2TB SSD M.2 2280 PCIe NVMe
Camera
720p HD
Memory
Up to 32GB SO-DIMM DDR4-3200
Dimensions
14.02″ x 9.92″ x 0.63-0.74″ (356mm x 252mm x 15.9-18.9mm) 4.19 lbs (1.9 kg)
Audio
2 x 2W Harman speakers, Nahimic Audio
Battery
71Wh, Rapid Charge Express
Color
Shadow Black / Slate Grey
Ports/Slots
2 x USB-A 3.2 Gen 2 (1 Always on)
2 x Type-C USB 3.1 Gen 2
1 x 4-in-1 Card reader
1 x Headphone / microphone jack 3.5mm
1 x Power Connector

Keyboard

Backlit, Optional RGB lighting with Corsair iCUE
Look and Feel
I haven't seen many other reviewers make this analogy yet, but the Legion Slim 7 reminds me of Robocop. In particular, the 2014 versions of Robocop come to mind with its two-tone black color scheme and slimmer profile.
While most people remember the clunky 1984 grey (iridescent in subsequent movies) and black Alex Murphy Robocop, the sleeker all black 2014 Murphy is my preferred design.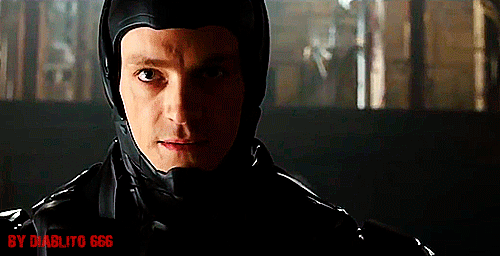 Thanks to its aluminum construction, the 4lb Slim 7 pulls of feeling premium without feeling like a traditionally clunky desktop paperweight. At roughly the same weight as a Dell XPS 15, the Slim 7 notches a win in the portability column that many gaming laptops simply just don't.
Coupled with an aluminum build is an aggressively tapered designed that puts a lot of the weight of the device towards the back of the laptop which, is a nice consideration for handling Slim 7 in day-to-day use.
In yet another year of refinement, Lenovo has trimmed some of the more traditional gaming laptop accoutrement that besets a lot of designs such as gouty logos, LEDs or oddly placed cutouts and angles. Instead, gamers are greeted with a streamlined Shadow Black slate of aluminum with an embossed silver Legion typeface in the top corner of the lid.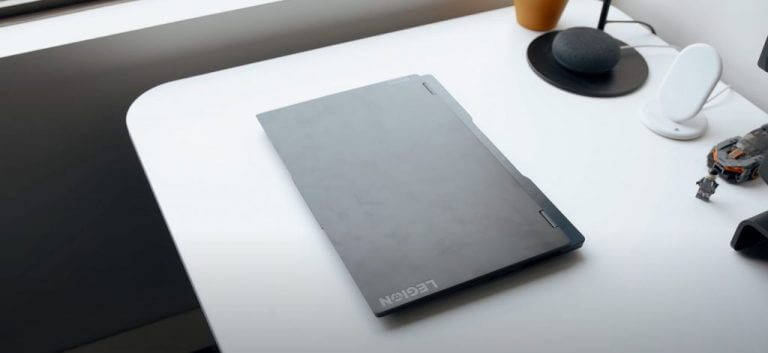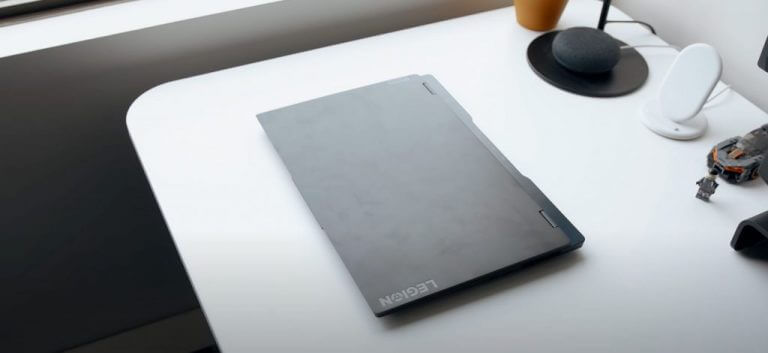 If not for the chunky black port and fan arrangement towards the back, the entire laptop could disguise itself as a passable work laptop.
Enough about the casing. As far as the port situation is concerned, the Legion Slim 7 is sparse by comparison. While it'll offer up more ports than designer brands in the Surface and MacBooks, it's dual 3.1 Gen 2 USB-C's, dual 3.2 Gen 2 USB-A and 4-in-1 SD card reader come up shy against others that offer ethernet and HDMI 2.1 supported connectors.
In addition, the placement of the port selection could be cumbersome for people still making daily use of USB-A connected devices as those ports are located at the rear of the device. On the right-hand side are where the USB-C ports reside and if you are like me, and still using a wired Xbox One controller to play games on the device, having to reach around to the back is daily annoyance.
However, if you've made the smart investment leap to USB-C enabled dongles and connectors, they are much more easily accessible on the side of the device. Minor quibble.
Finally opening the lid is where the magic happens.
The 15.6 UHD 3840 x 2160 (or FHD 1920 x 1080) IPS panel is a beauty. Unfortunately, the way Lenovo pre-configured the screens, the higher resolution display panel sits fixed at 60Hz while the FHD panel can reach 165Hz refresh rates.
If I had to guess, it's probably the RTX 3060 graphics card that is the refresh rate capping culprit.
Making up for its slower refresh rate, the UDH panel pushes 500 nits of brightness, supports both Adobe RGB and VESA Display HDR and Dolby Vision.
The keyboard is the next best thing under the lid, with the traditional U-shaped Lenovo keys in a grey-on-black color scheme.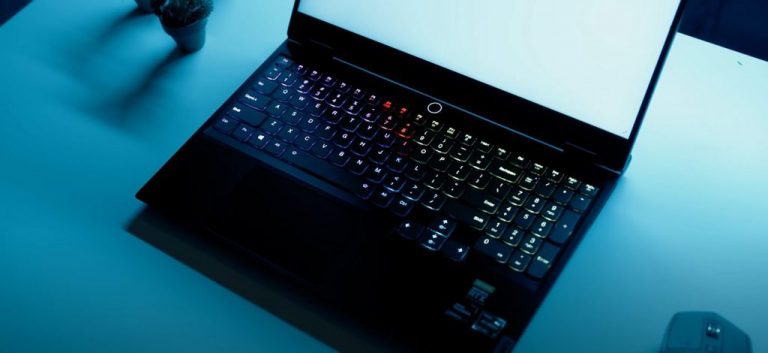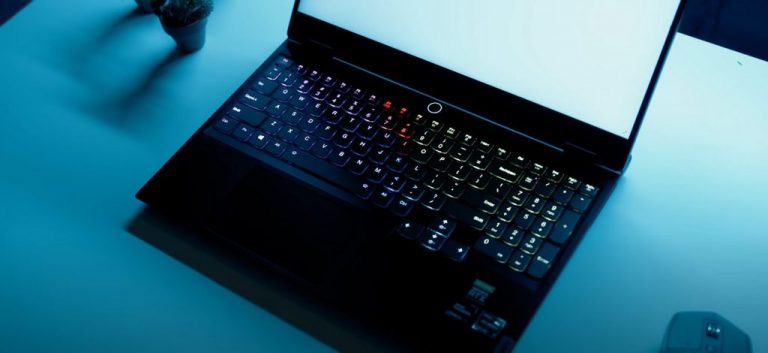 While I don't normally use the keyboard for my laptop gaming needs, Lenovo's TrueStrike technology is here in the Slim 7, which comes with all kinds of neat additions such as 1.3mm key travel, full size number pad, anti-ghosting and optional RGB backlighting.
Lastly, there is a fingerprint reader stashed in the center aligned power button for quick Windows Hello login security.
Performance
Enough about the looks and on to how it games, which is to say well.
With that out in front, the Lenovo Legion Slim 7 sacrifices some performance for form. The Slim 7 and its RTX 3060 GPU comes in last in most of the industry comparative frame rate benchmarks.
The Slim 7 trails behind the likes of Asus Zephyrus M16, Zephyrus G14 and Acer Triton 300 SE which all house a RTX 3060 GPU but makes up for it in Cinebench R23 and Mozilla Compile tests against the same devices.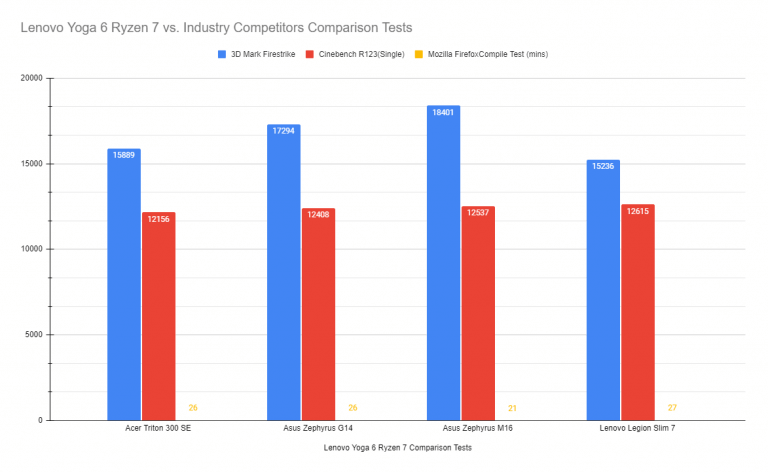 Perhaps another sacrifice of the Slim's slim design is the cooling situation, which can become a bit intense. Fortunately, for me, I still use the antiquated Xbox controller when gaming on any device so my hands aren't near the device when it starts to go super nova.
During regular load out in most games the fans spin up quickly as the Slim's deck reaches temperatures of one hundred degrees or fifty eight degrees Celsius around the center of the keyboard.
Lenovo claims their Legion ColdFront 3.0 "leverages software along with the latest hardware from Intel and NVIDIA to create a more thermally efficient, quieter, cooler machine. According to the marketing material, ColdFront 3.0 is supposed to utilize the dual-fan setup to pull cold air in while simultaneously pushing hot air out in four different directions. In practicality, it just felt like you were sitting under an F-16 as it took off.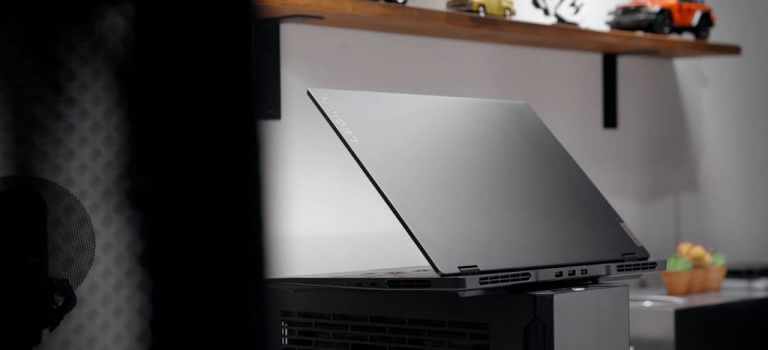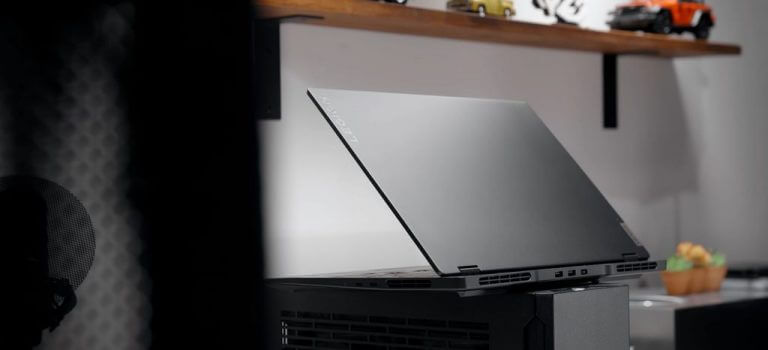 To Lenovo's credit, the system didn't freeze or stall during gaming sessions no matter how hot it got, so I suppose ColdFront 3.0 is doing something.
Regarding the battery for portable gaming, you could probably eek out two solid hours before needing to run to the 230Wh brick that powers the 71Wh battery. Charging times are fairly quick on the Slim 7 so, you won't have to look at the mini tablet charging brick for too long.
But as mentioned, the battery life on the Slim 7 isn't the best and if you're like me and plan to prop this laptop up wherever you go, you'll need to account for the 1 1/2 lb. charger in your carry on.
Lenovo paired its RTX 3060 with AMD in this model rather than Intel. Inside the Slim 7 is an AMD Ryzen 9 5900HX mobile processor and 16GB of SO-DIMM DDR4-3200. The memory and GPU combo helped me consistently push 60 FPS at 1980 x 1020 resolution but got a little dicey at the high rates on the UHD panel.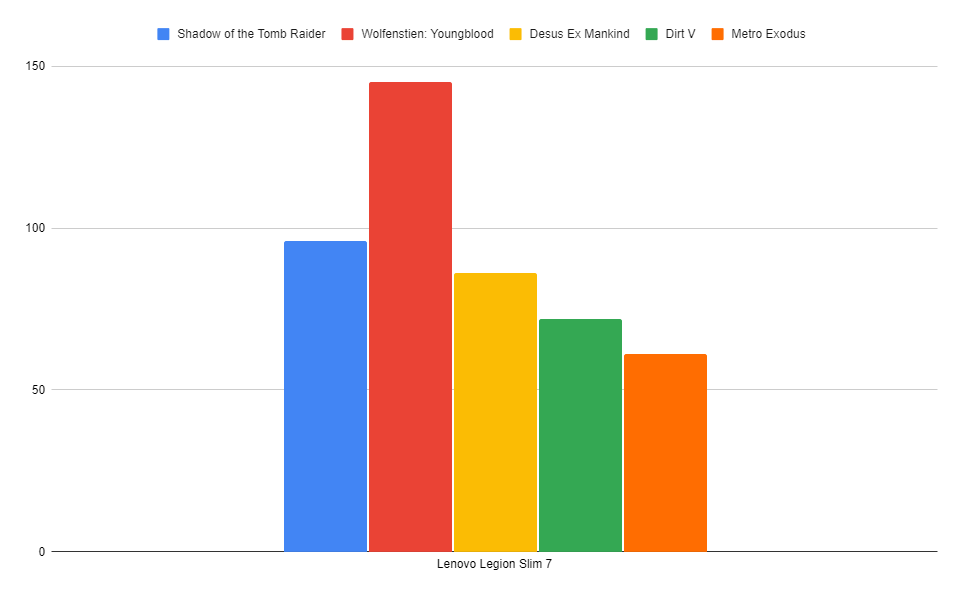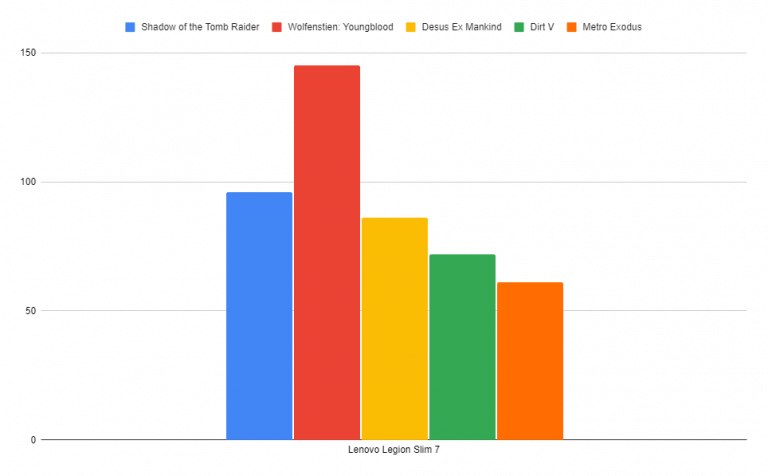 As for some of the negatives on the Slim 7, I'm including the trackpad for everyday use and the additional software. The trackpad often is too sticky or doesn't register responses on the Slim 7, effectively forcing uses to babysit the interactions by double pressing or searching register points along the slightly bigger area.
Secondly, the Slim 7 is loaded up with quite of a few additional programs and not all work well with the device. Yes, gamers can customize the RBG keyboard with profile sets, but the iCue solution is finicky and doesn't always remember saved profiles. There is also the NVIDIA software that's constantly asking to be checked and updates on the Slim 7 that will try and interrupt your gaming sessions.
Stepping away from the gaming aspect of the Slim 7, it makes for a great portably workstation with its port selection, sRGB screen and GTX 3060 GPU. I've been working on some video projects and when I couldn't tote around the 6lbs mega beast that is the Lenovo ThinkPad P15, the Slim 7 filled in admirably. Video editing using Da Vinci Resolve was a breeze, but things did get a bit choked up when switching over to Adobe Premiere.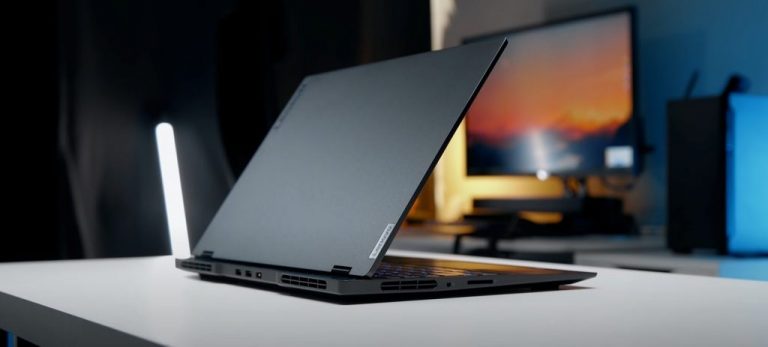 The same is true of image editing on the Slim with programs such as GIMP and Affinity Photo flying through workloads, but the system stalling out a handful of times with Adobe's Photoshop, Perhaps, it's the AMD configuration that throttles Adobe applications, but whatever it is, it can get annoying after its fifth and six occurrences.
Summary
The Slim 7 is a device designed for people who care about design. There are plenty of computers in the same price category that make better use of the RTX 3060 but the refined slim profile of the Slim 7 is a nice mainstream take on gaming laptops in 2021.
As a desktop replacement, I would look somewhere else, but as portable gaming rig for light use (2 or 3 plus hours of gaming) and productivity, the Slim 7 can lean a bit on its Robocop like design in 2021 but will need to step up its game regarding RTX and Adobe performance, to justify is slightly higher industry price tag.