According to a leaked page of specs, it seems that Microsoft could be working on its first-ever gaming device, with "the Surface Gaming Laptop" joining its lineup of Surface devices.
Here's the complete round-up of specs you can look out for upon its official launch.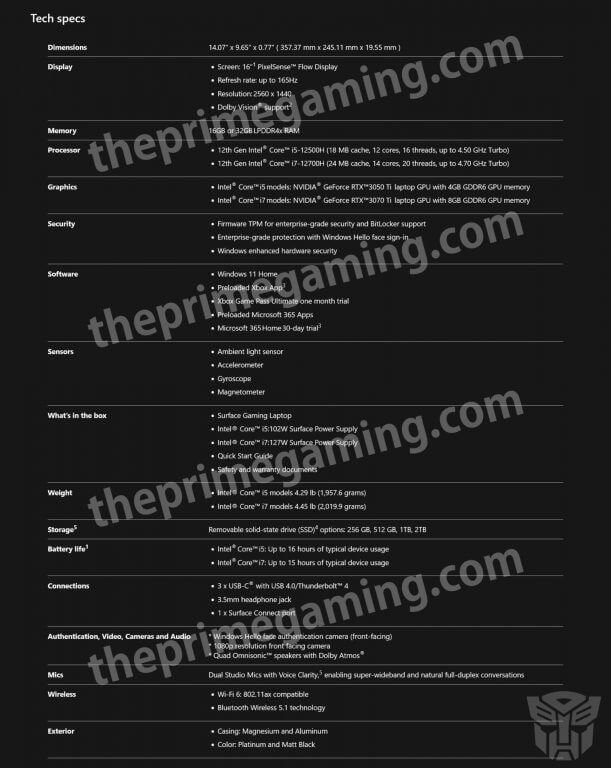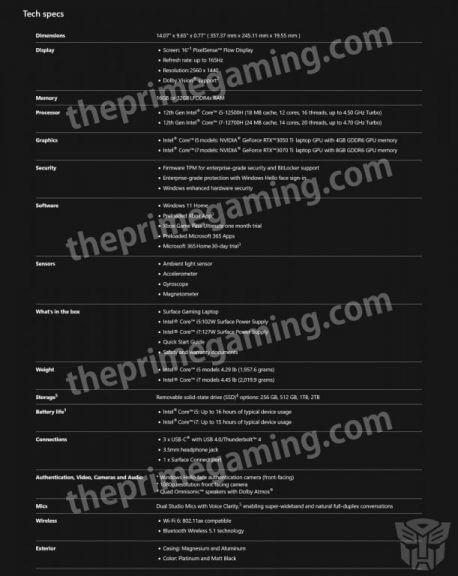 Right off the bat, if these leaked specs are to be believed, the Surface Gaming Laptop is going to come with a 16-inch PixelSense Flow Display with a resolution of 2560 x 1440, a refresh rate of up to 165Hz, dimensions of 14.07″ x 9.65″ x 0.77″ and Dolby Vision support all geared to enhance the gameplay experience.
The gaming device will be availed in two variants, with the first one featuring an Intel Core i7-12700H 14 core while the latter a Core i5-12500H 12 core CPU under the hood. Both are part of Intel's latest 12th Gen Alder Lake lineup. Gamers will also have the option of getting the device with 16 GB or up to 32 GB of LPDDR4x memory. The Core i7 model will come with an NVIDIA GeForce RTX 3070 Ti 8 GB while the Core i5 will feature an NVIDIA GeForce RTX 3050 Ti 4 GB dGPU.
As for battery life, the Core i7 per the specifications is going to last the user up to 15 hours of typical usage while the Core i5 model will last up to 16 hours. What's more, the device is fitted with three Type-C ports with USB 4.0/Thunderbolt 4.0, the usual 3.5mm headphone jack, and a Surface Connect port. Users will also have the option of using a removable SSD up to 2TB.
Upon purchase, the device will already be installed with Windows 11 Home, the Xbox App, Microsoft 365 Apps, and on top of these a free month trial for Microsoft 365 Home and Xbox Game Pass Ultimate trial. The gaming laptop also comes with support for Wi-Fi 6 and Bluetooth Wireless v5.1. And finally, you can opt to get it in either Platinum or Matt Black with either Magnesium or Aluminium casing.
However, it is not yet clear what the cost implication for this unit will be. Perhaps, the entry will be launched during Microsoft's showcase which usually takes place towards the end of September or October alongside the recent Intel variant of the Surface Pro X. This is usually when Microsoft tends to highlight the updates made to its computer lineup.
{via: MyLaptopGuide)