As Microsoft currently holds a total of two modern browsers — "Chredge," still in beta, and legacy Microsoft Edge — it seems to want to give users a more clear choice when it comes to syncing bookmarks and other materials. As noted by Zac Bowden, the latest Microsoft Edge Beta build on Android has changed the wording for syncing to include mentions of both "the new Microsoft Edge" and "Microsoft Edge Legacy."
We installed this latest build, version, 44.11.24.4109 and found the settings option after tapping our email address on the Accounts option from the settings menu. Here, there is now a new Sync To option which lets users choose either both the new Microsoft Edge, which is the Chromium-based browser, or the Microsoft Edge Legacy. Microsoft also explains on this page that it is currently working on expanding the syncing features and that there could be more new features available for sync. Obviously, there is also a paragraph there that explains that the new Microsoft Edge does not sync with Microsoft Edge legacy.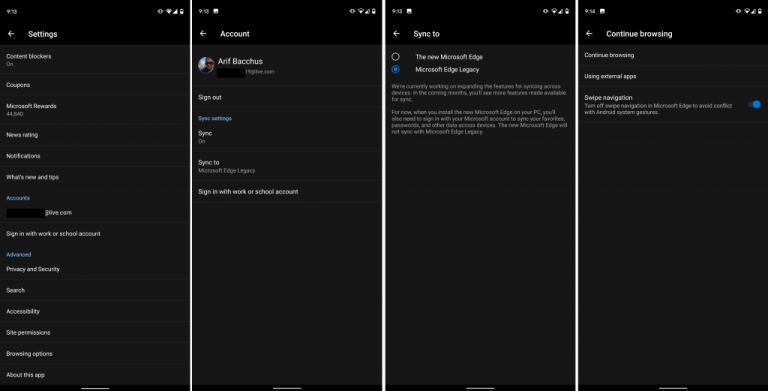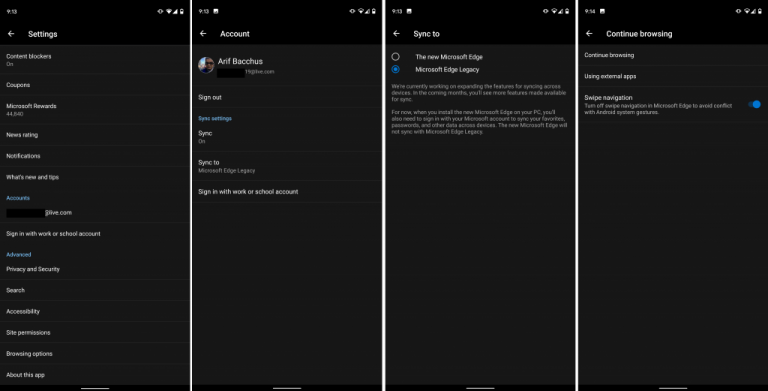 On another note, Zac also reports that changing the setting options also changes the UI in Edge on Android to a more modern design, with sliders and gestures. However, once we opted the standard version of the browser into the beta, we received the new UI by default. Microsoft does provide a settings option to disable it, though, so it won't interfere with Android 10's gesture-based navigation. This can be found by going to Settings, Browsing Options, and then switching the toggle switch to Swipe Navigation to off.
Microsoft is planning on releasing the new Microsoft Edge browser starting on or around January 15 via Windows Update to all users on the Windows 10 April 2018 update or newer. There will be ways to continue running both the Microsoft Edge Legacy and the new Microsoft Edge if you so please, in which case this setting will be useful for you.