Microsoft's Surface Studio 2 is now finally up for preorder in the UK, and while it didn't quite may during the holiday season, Microsoft is making up for it by offering a pair of the Surface Headphones for free for anyone willing to shell out the rather hefty price to purchase the unit (via Windows Central). Today marks the official availability of preorders, so if this is the kind of thing you've been looking for, now might be the best time to get one.
The device starts at about £3,549 for the model with a seventh-generation quad-core Intel Core i7 mobile processor, a terabyte hard drive, and 16 GB RAM. An additional £700 doubles the RAM and adds an Nvidia GeForce GTX 1070 graphics card, and throwing in another £500 doubles the storage of the device.
Of course, Microsoft's Surface Headphones could further convince those professionals that the device is worth its up to £4,249 price tag. For those unfamiliar, the Surface Headphones are Microsoft's premium accessory and comes with the Cortana virtual assistant. We got a quick hands-on impression, so be sure to check out that out.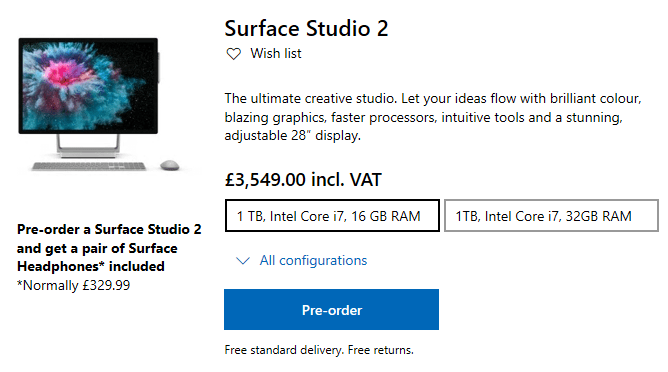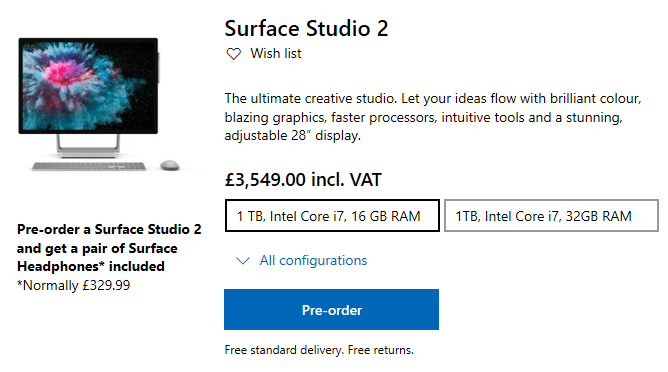 Is this the kind of thing you would buy? Does the Surface Headphones make the offer look enticing? Let us know what you think in the comment area below.