Despite ushering in a revitalized interest in tablet computing, mindshare leader Apple finds itself struggling, by industry standards, to peak a continual purchasing interest in its famed iPad line. Likewise, Android tablets, while dominating the market by sheer volume are also seeing repeat or upgrade numbers flatline.
Market research firm IDC has been charting the gradual decline of consumer interest in tablets and notes that the traditional tablet form factor will give way to more "detachable tablets" like the Surface Pro and Surface Book. According to IDC's report, the sale of tablets resembling Apple's iPad will fall this year, dropping a whole 5.9% from 2015.
During what is traditionally a great buying season for the iPad, Apple reported a quarterly low last fall, selling 16.1 million iPads (still a colossal number), when it had sold 21.4 million a year prior. Even as the company took headlines for its iPad Pro release, the downward trend of tablet purchases for the company persist.
On the flipside, IDC is now backing the notion that "detachable tablets" or two-in-ones will supersede the more traditional tablet form factor and give rise to consumer interest in devices such as the Surface Book or the Huawei MateBook. IDC predicts the sales of detachable tablets will balloon from the 16.6 million shipped in 2015 to 63.8 million by 2020.
While IDC's predictions have, sometimes, been all over the map, if true this time, the unfortunate reality for Apple is that the firm also sees the company's share of the total market slumping to lows around 7% in the same timeframe. Also, despite Android's abundance in the market, if Android's tablet experience remains plagued with the same "for consumption" perception as Apple, IDC predicts that without a suitable Windows-on-tablet like replacement, Windows-based tablet market share could rise upwards of 75% from where it currently resides.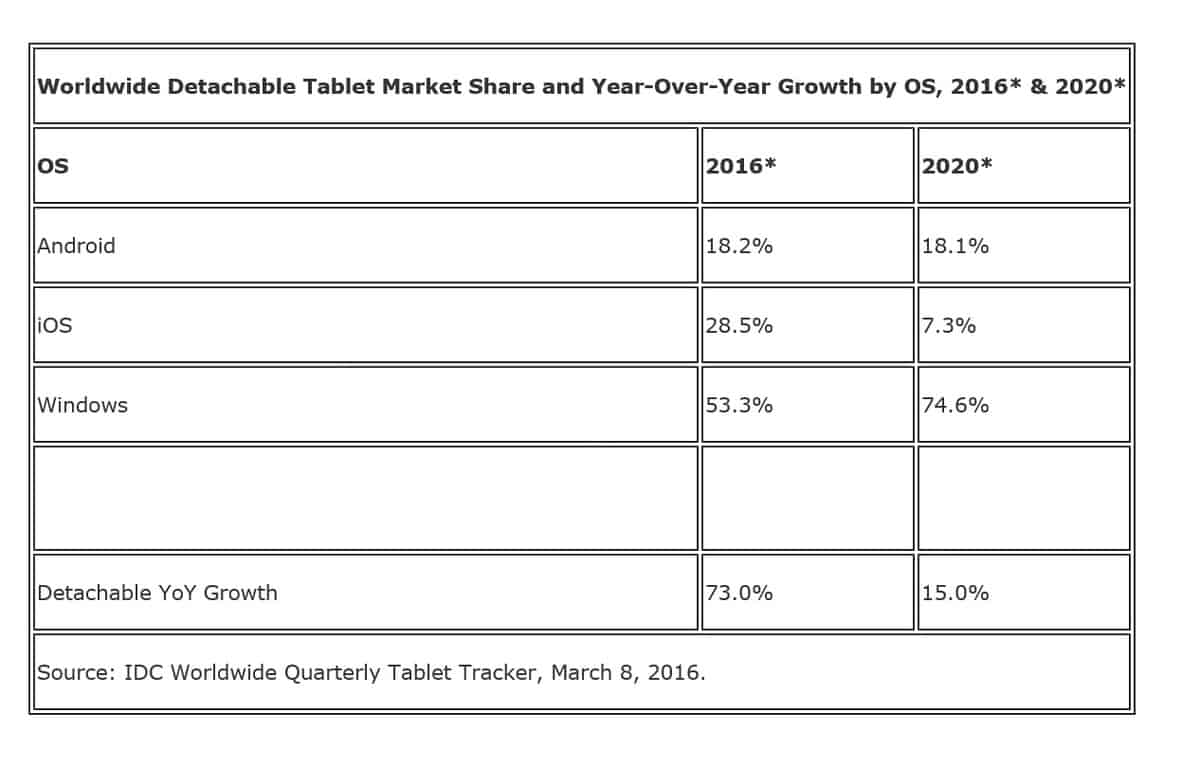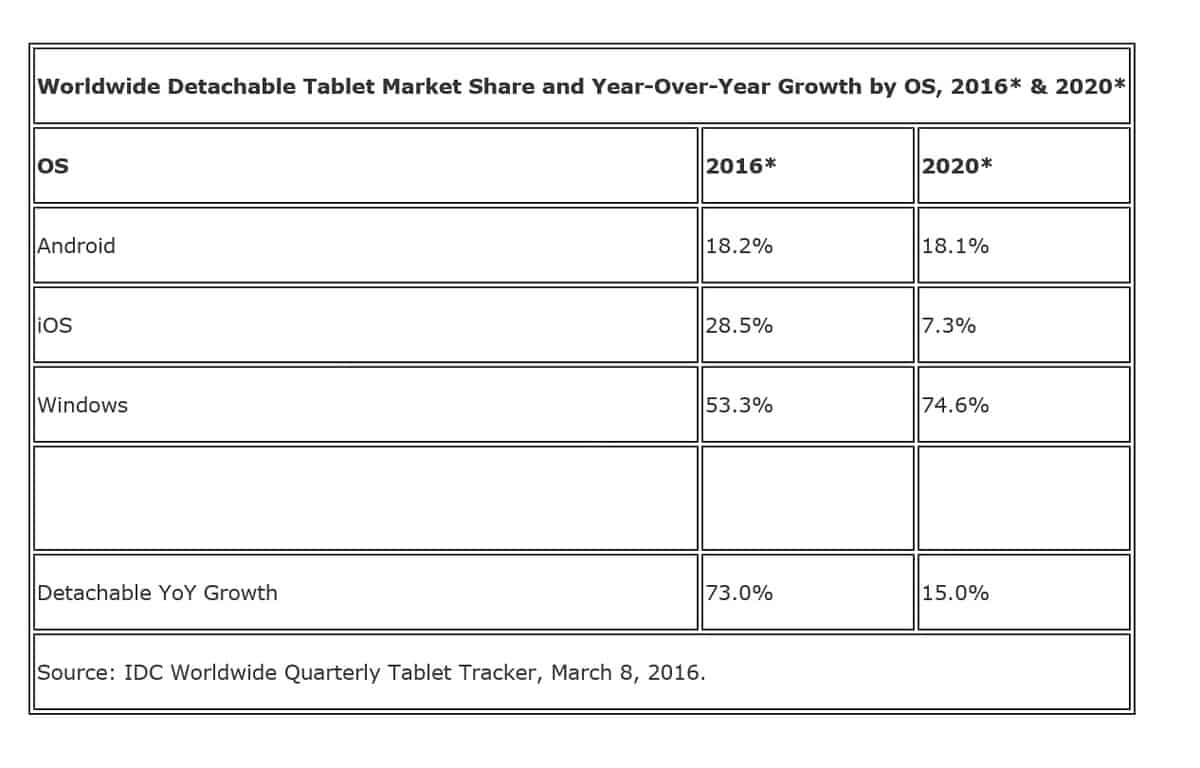 In light of an upcoming specialized event rumored to showcase a more powerful version of its more widely distributed iPad Air, it is clear that Apple sees some benefit in offering a more versatile, mobile workstation in the new "detachable tablet" evolution.
IDC Worldwide Quarterly Mobile Device Tracker programming director Ryan Reith puts a finer point on why the shift is occurring mostly among Windows-based devices:
Windows 10 seems to be making headway in both the PC and tablet markets, mainly driven by devices with larger screen sizes. Despite the free licensing on products under 9 inches the growth for Windows-based tablets will be primarily on devices with displays between 9 and 13 inches. Until we see a day where touch is introduced for Mac OS X and inroads are paved to bring Android and Chrome more closely aligned, we believe Windows remains the logical choice for detachable products."
Even with market trends swaying toward Windows-based detachable tablets, adoption is still contingent on pricing. While detachable tablets are seen as a single replacement for two devices, some OEM are still marking their device cost similarly to owning two devices with the Surface Book starting at $1,500 (US) and a Surface Pro 4 coming in at $799 (US) without accessories. Bringing the prices down to more laptop-like numbers may help add an injection of interest from the more casually interested.
Microsoft's persistence with the Surface line is proving to be a worthwhile investment for the company as it accomplishes a two-pronged attack into a market it was in fear being isolated from. As more companies adopt the detachable tablet concept, Windows 10 will find more avenues into consumers home, and the Surface line is now becoming synonymous with "detachable" as much as the iPad was known for "tablet."