With the reveal of the Surface Neo and Surface Duo, Microsoft made it clear that dual-screen devices will be the next big thing heading into holiday 2020. The company even showed us that one screen can shape up to be better than two especially with all the new features in Windows 10X. You'll be able to do things such as span or split apps across two screens, multi-task, and get so much more done.
But while that all really seemed promising, it was hard for me to really judge this firsthand. Microsoft's dual-screen devices were largely kept under lock and key. While we were able to see a concept version during the Surface event, it wasn't a working demo unit.
Well, as promised, at CES 2020, Dell is joining in on Microsoft's vision. The company showcased a concept dual-screen device it calls "Duet." The design and many details of this device aren't yet final, but after trying it out, I'm now a big believer in dual-screen Windows 10 devices and what the final products may have to offer.
A familiar build & design
As I was first handed the Duet for my hands-on demo, I was quite amazed. The concept device felt similar to a current XPS product. It features a brushed aluminum finish, as well as thick curvy shiny corners alongside the edges. Duet isn't as compact or slim as Microsoft's Surface Neo, and the device instead has the feeling of a traditional Windows 10 laptop. But what really surprised me was what was inside when I opened it.
As I pulled up the lid on Dell Duet, I was greeted with two 13.4 inch FHD screens. These are much bigger than the 9-inch screens that are found on Microsoft's Surface Neo. While some may find that too big I thought it was great, as I later ended up using all that space to my advantage when exploring what the device had to offer.
I was curious if Dell was considering a smaller form factor too, so I asked. They again mentioned that this wasn't a final design and the screens could be smaller or bigger, as the device is a concept.
"As a concept category we're looking at those types of things. Understanding where the size breakpoints come into things. Devices that are smaller will have more demanding perfomance requirements. Ultimatley it's what you want to be able to do with it."
Now, Microsoft found a way to tuck a 360-degree hinge inside the polished metal seam of its dual-screen Surface Neo, but Dell's concept is a bit different. Rather than include a seam, the device features an external hinge, similar to the one on its XPS 13-2-in-1. That means it can be folded over into four different modes, again like a modern Windows 10 2-in-1. It also means the device is quite strong, and as I opened and closed the concept, it often held up well. This is something that will be quite important, as a dual-screen device will take a lot of abuse, so I am glad Dell got it right.
An innovate detachable keyboard
During its October 2nd Surface event, Microsoft showcased something pretty cool for Surface Neo — a detachable keyboard. To no surprise, Dell's Concept Duet also sports a similar option.
Essentially, the keyboard attachment resembles something like a Microsoft Surface Type Cover. It works via Bluetooth and is slim, and light, and has magnetic attachments on its rear that will let you house it on the bottom of the Duet when not in use. And, when you want to use the keyboard with the onscreen touchpad, you can simply slide it to the top half of the bottom touch screen, or you could use the keyboard detached, with two full screens.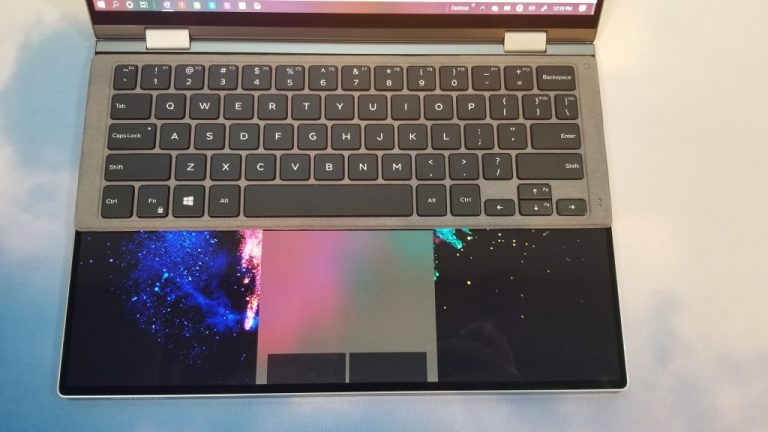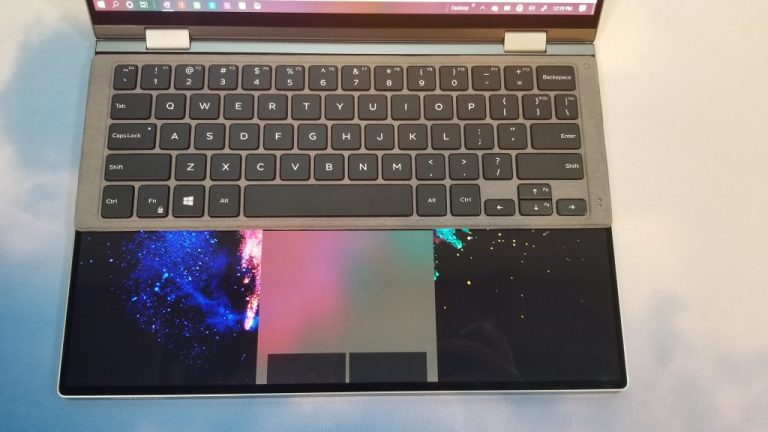 When I tried out this keyboard, it was nifty. Every time I placed it on the top of the bottom screen, the device recognized I was ready to type in a more traditonal sense. Right away, the bottom touch screen shifted back into the format found on all laptops today.
With the physical keyboard on top, a digital trackpad was enabled on the bottom screen. That gave me access to a touchpad, and left and right-click buttons to navigate the screen on the top. It really was like magic, as removing the keyboard suddenly turned the bottom screen back into a large display.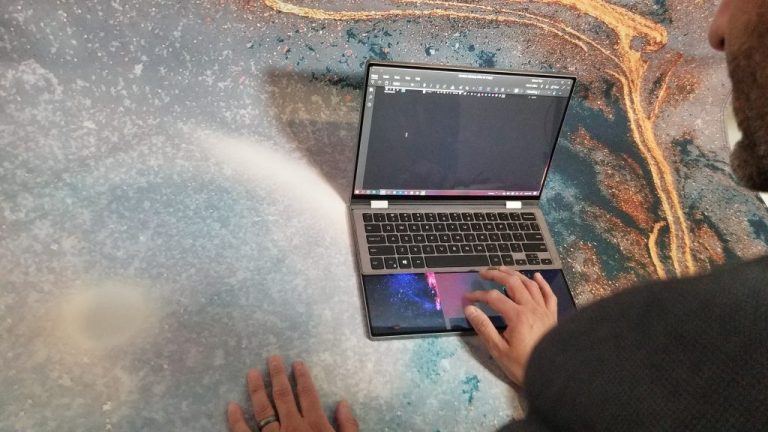 Not running Windows 10X, but there are lots of unique touch gestures and some potential
Microsoft might be working on Windows 10X, which is a new flavor of Windows 10 for dual-screen devices, but it wasn't available on the Dell Duet concept. Instead, it was running a regular version of Windows 10. However, Dell did tell me that this could change. Chrome OS and Android are also not out of the picture as an OS option, as the Duet is still a concept and not a final product.
This means that some of the cool features like the redesigned start menu we've seen in the Windows 10X leaks weren't a thing for me to test. Still, Dell did show me that the Duet sports some unique touch gestures. Swiping with three fingers will move apps from one screen to the next. It was a bit award at first, and most times I ended up using the trackpad instead, but I can see this as something that most people will get used to overtime.
I asked Dell about this, and the lack of Windows 10X. A Dell representative responded touched on the conceptual nature of the device, and what it means for the future.
"Architecture, OS, and applications, those three have to come together… As we talk about these products and iterate on them, naturally, as the operating system vendors figure out how to rationalize these [Dual-Screen PCs.] We're excited to go build experiences around them. As the OS is more and more aware of this type of interaction, you get some pretty amazing oportunities."
Finally, as like most modern 2-in-1s, the Dell Duet is also heavy on the pen use. You're able to use the pen to ink on the screen, as well as ink in apps. It's something we've all grown used to and makes the device very versatile.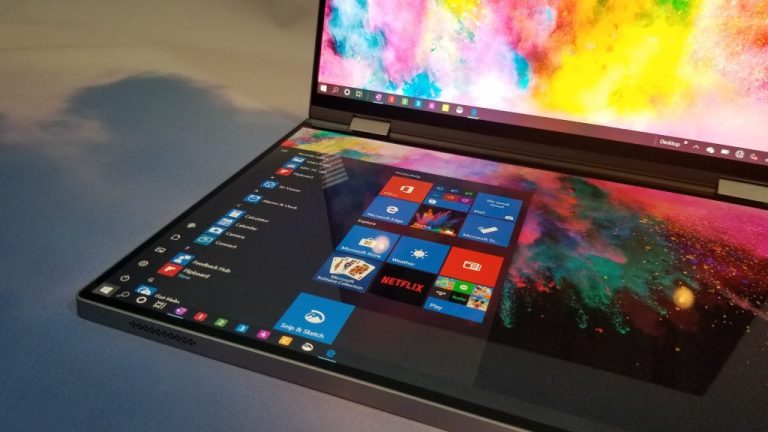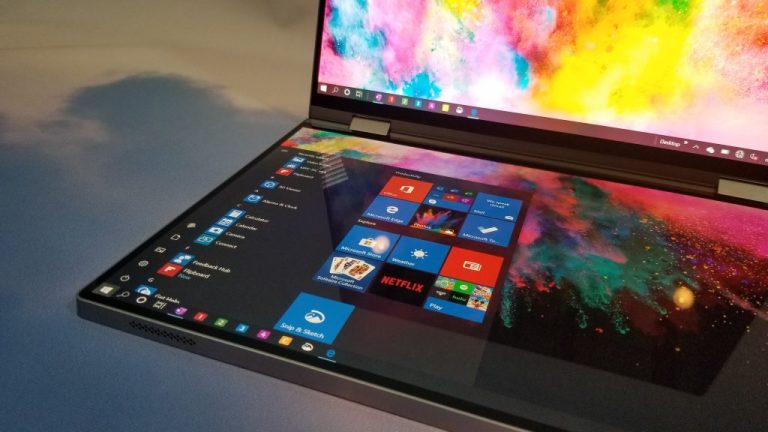 Lots of use case scenarios
Much like Microsoft, Dell is particularly proud of how the Duet concept could eventually be used by consumers. It has many use cases that you can't get out of a traditonal laptop. Essentially, it is very adaptable and versatile, according to Dell.
One of these versatile situations involved inking. Dell showed me how you could hold Duet in a vertical mode, and have two windows open side by side on the two screens. You could be web browsing on the left screen and have OneNote open on the right. That will then allow you to mark up your web page, and copy or take notes in OneNote, with the two still side by side. You also could use the keyboard apart from the screen in this mode if you please, as it works via Bluetooth.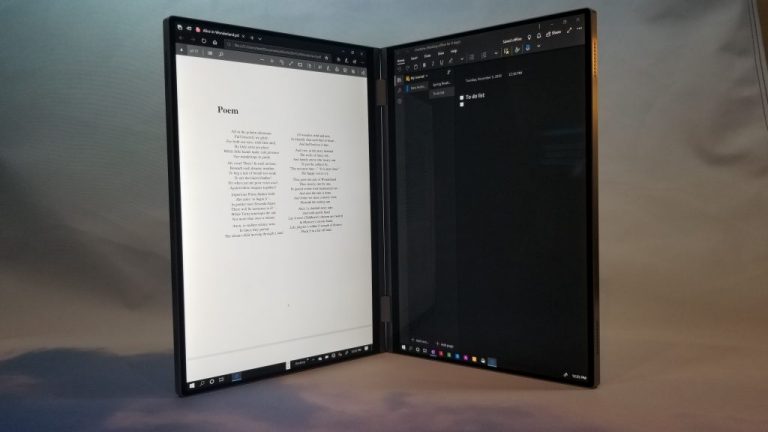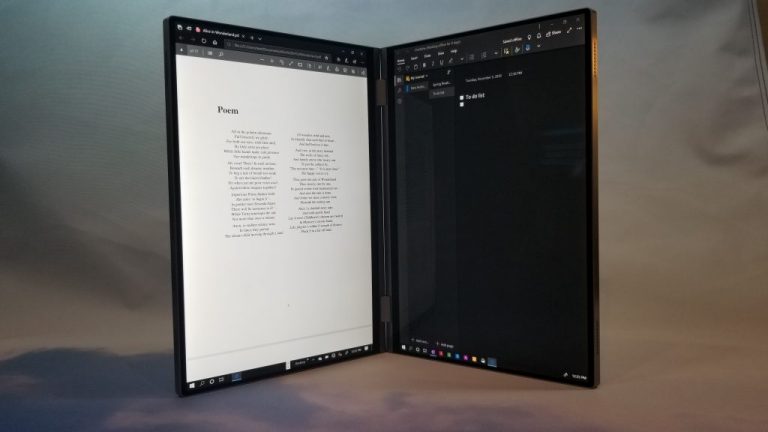 But there's also the productivity domain as well. I saw how you could also turn the device around into a more laptop mode. be able to have a Skype call running on the top screen, and another window on the bottom screen. You'll be able to take notes on the bottom screen while still seeing whatever is happening on the top.
As someone who often stacks windows side by side when working, I really liked this feature of Duet the most when playing with it. There is huge potential here to boost workflows, as you'll be able to see and do two things at once.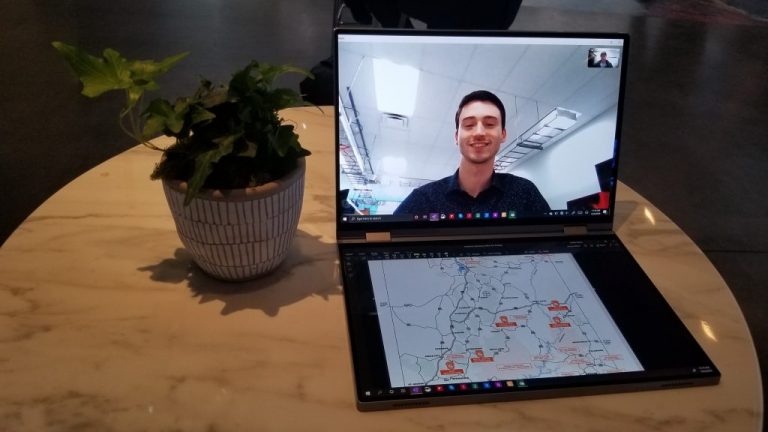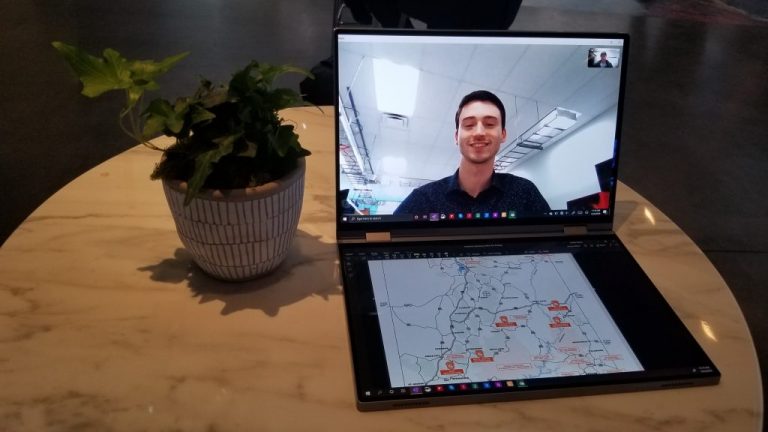 Of course, there is also a situation where you could turn Duet into a traditonal laptop. As we described earlier, if you place a keyboard on the bottom screen, the device becomes aware of its presence and will keep content to a certain area. It also will turn a part of the bottom screen into a trackpad, so you can use Duet like a laptop device and do everything you can do on a normal laptop.
This is something I tried out when playing around with Duet, especially for navigating Windows 10. It felt so fluent and natural, despite this being a concept device.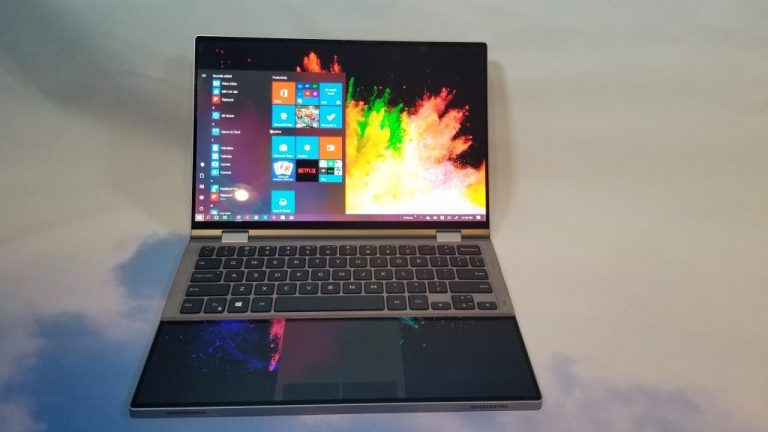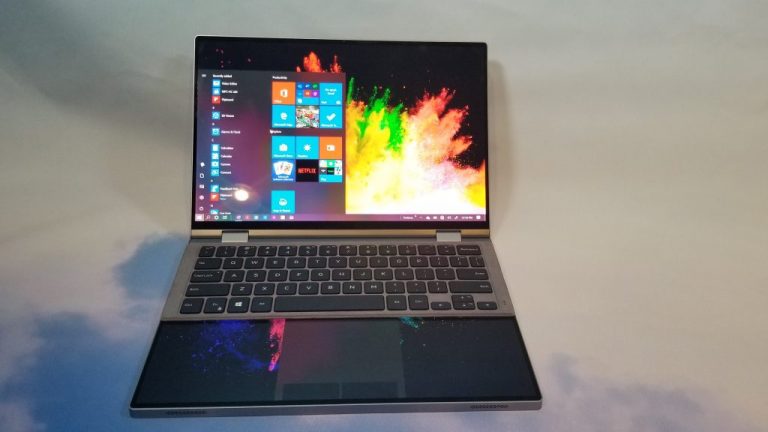 I'm now a dual-screen believer
At the end of the day, I'm now a big believer in dual-screen devices. While it may seem like you don't need two screens on a laptop, after trying it out, I was amazed. Having two screens really increases the use and productivity of a device,  and there is so much more you'll be able to do with it. Plus, with Windows 10X on the way, it's sure to become even more useful.
Dell did not mention any availability or pricing on the Concept Duet. We look forward to seeing this sometime in the future.