Stating at $650
Geekom continues to build on its short reputation of pushing out affordable minicomputers with a multitude of configuration options and support, and the AS 6 R9 would be another in line of wonderful choices, but in fact stands out because of the amount of power and speed built into this particular tiny box.
For the uninitiated, the Geekom AS 6 mini-PC is great little computer that can be placed on any desk or mounted to the back of most monitors for use in service industries, retail, warehousing, construction, banking, or a myriad of other business-specific purposes. However, for those who deal in the world of mini-PCs, the AS 6 is an AMD rival to the Intel NUC 13 Pro for users who are looking to push the power boundaries of Bluetooth speaker-sized computer, and it does so at much lower price tag.
Specs
Geekcom AS 6
Size
120 x 130 x 58 mm (0.9L)
Weight
0.9 kg
CPU
AMD Ryzen™ 9 6900HX (8 Cores, 16 Threads, 16MB Cache, 3.3 GHz~ 4.9 GHz)
AMD Ryzen™ 7 6800H (8 Cores, 16 Threads, 16MB Cache, 3.2 GHz~ 4.7 GHz)
cTDP: 35W
Graphics
Integrated – AMD Radeon™ Graphics 680M
Memory
Dual-channel DDR5-4800 SODIMM, supports up to 32GB
Storage
2 x M.2 2280 PCIe Gen 4×4 SSD , supports up to 2TB (* NVMe only)
1 x 2.5"7mm SATA HDD, supports up to 2TB
Operating System
Windows 11 Pro
Bluetooth® Wireless Technology
Bluetooth® v5.2
LAN
2.5G LAN (RJ45)
Wireless Network
Wi-Fi 6E
Power Supply
20V 7.5A, 150W Power Adapter
I/O Ports
Front I/O 1 x USB4 Type-C (Support DP1.4, 7680 x 4320 @60Hz)
2 x USB 3.2 Gen1
1 x Audio Jack (Line out/Mic in/Headphone out)
Side I/O 1 x Kensington Lock
Rear I/O 1 x USB4 Type-C (Support DP1.4, 7680 x 4320 @60Hz)
3 x USB 3.2 Gen1
2 x HDMI 2.1 Port (4096 x 2160 @60Hz)
1 x Display Port 1.4 (5120 x 2160@60Hz)
1 x 2.5G RJ45 LAN
1 x DC-in
1 x Padlock ring
What's In The Box
1 x AS 6 Mini PC
1 x Power Adapter
1 x VESA Mount ( 2 packs of screws included)
1 x SSD Mounting Screws (2 packs)
1 x HDD Mounting Screws (1 pack)
1 x Qucik Guide
1 x User Manual
Look and Feel
The Geekom AS6 is a small and sleek device that can fit in the palm of your hand. It has a black plastic case with minimal branding and a silver metal stand that can be attached to the bottom or the back of the unit. The front panel has two USB 3.2 ports, one USB 4.0 port, and an audio jack. The rear panel has three more USB 3.2 ports, another USB 4.0 port, two HDMI 2.1 ports, one DisplayPort 1.4 port, one RJ45 LAN port, and one DC-in port. There is also a padlock ring for security purposes.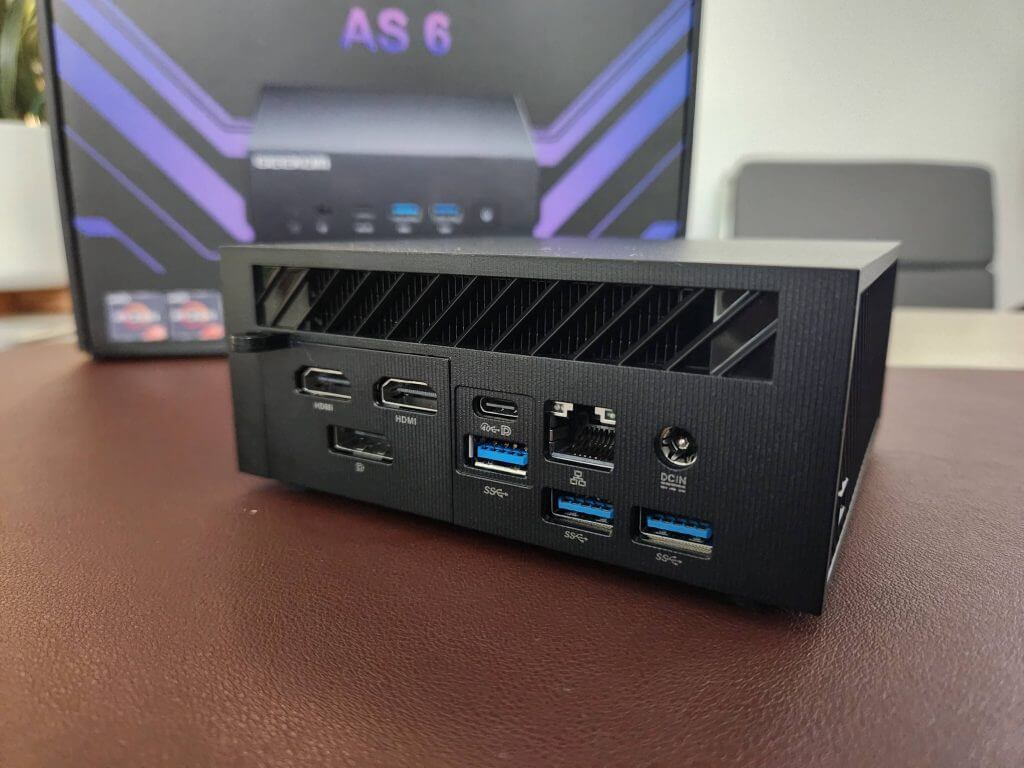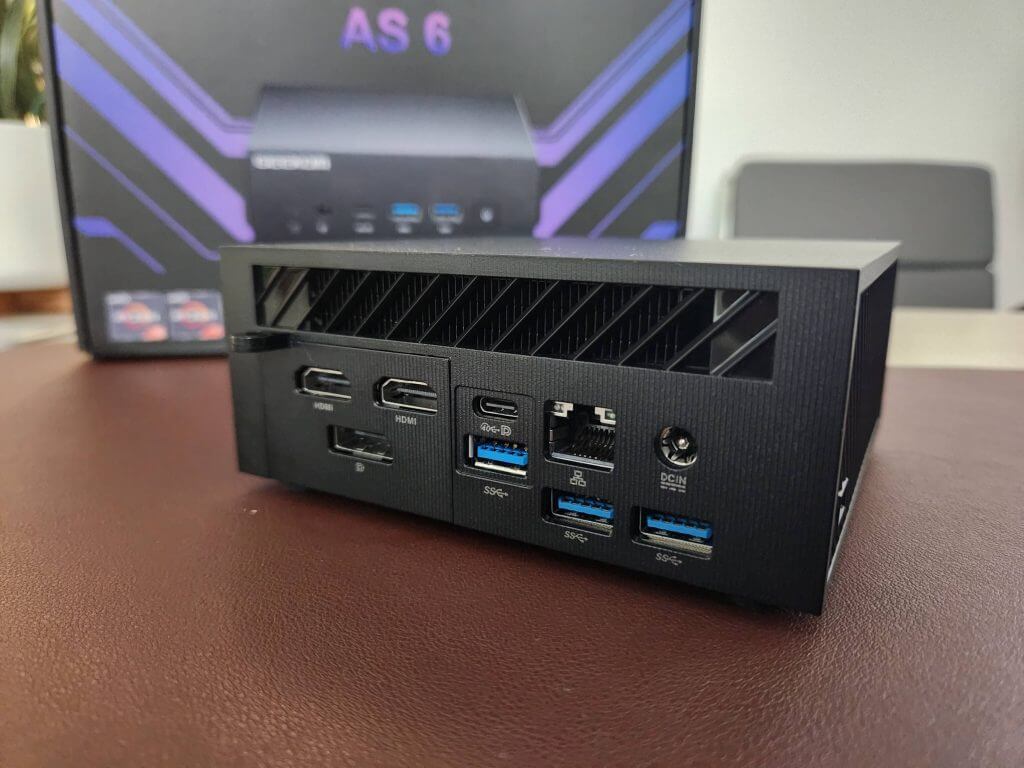 The AS 6 is nearly identical to its predecessor the AS 5 in terms of packaging, with the same mini-Xbox One style of venting grooves and mix of matte and polished black tones around the metal chassis encased in plastic. As far as the actual footprint of the AS 6, buyers can take note of its 13 x 12-centimeter presence on any flat surface while weighing 753 grams or about 2lbs in the hand.
The AS6 is easy to set up and use, as it comes with Windows 11 Pro preinstalled and a licensed product key sticker on the bottom. The device also supports VESA mounting, so you can attach it to the back of a monitor or a TV for a clutter-free setup. The AS6 comes with a 150W power adapter, which is relatively large compared to the size of the device.
Compared to its closest rival the Intel NUC 13 Pro which resembles a Geekom Mini IT PC, the AS 6 comes in slightly bigger and more angular.
With the intent of being an understated mini workstation with the ability to be mounted to the back of a monitor or wall, the AS 6's design offers little to write home about, but there is care and attention paid to the construction of the device that highlights the company's commitment to performance while acknowledging a buyer's budget.
Performance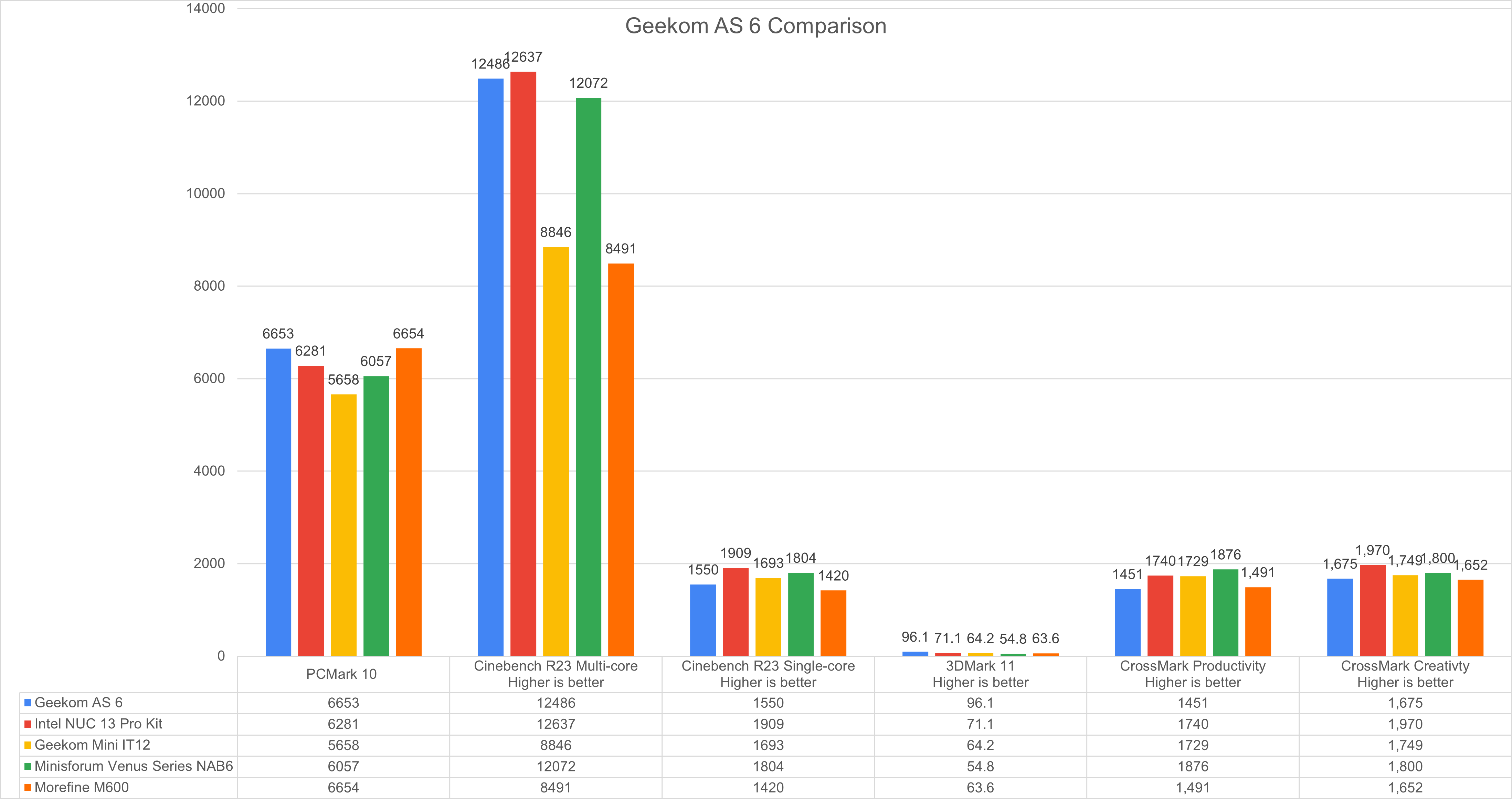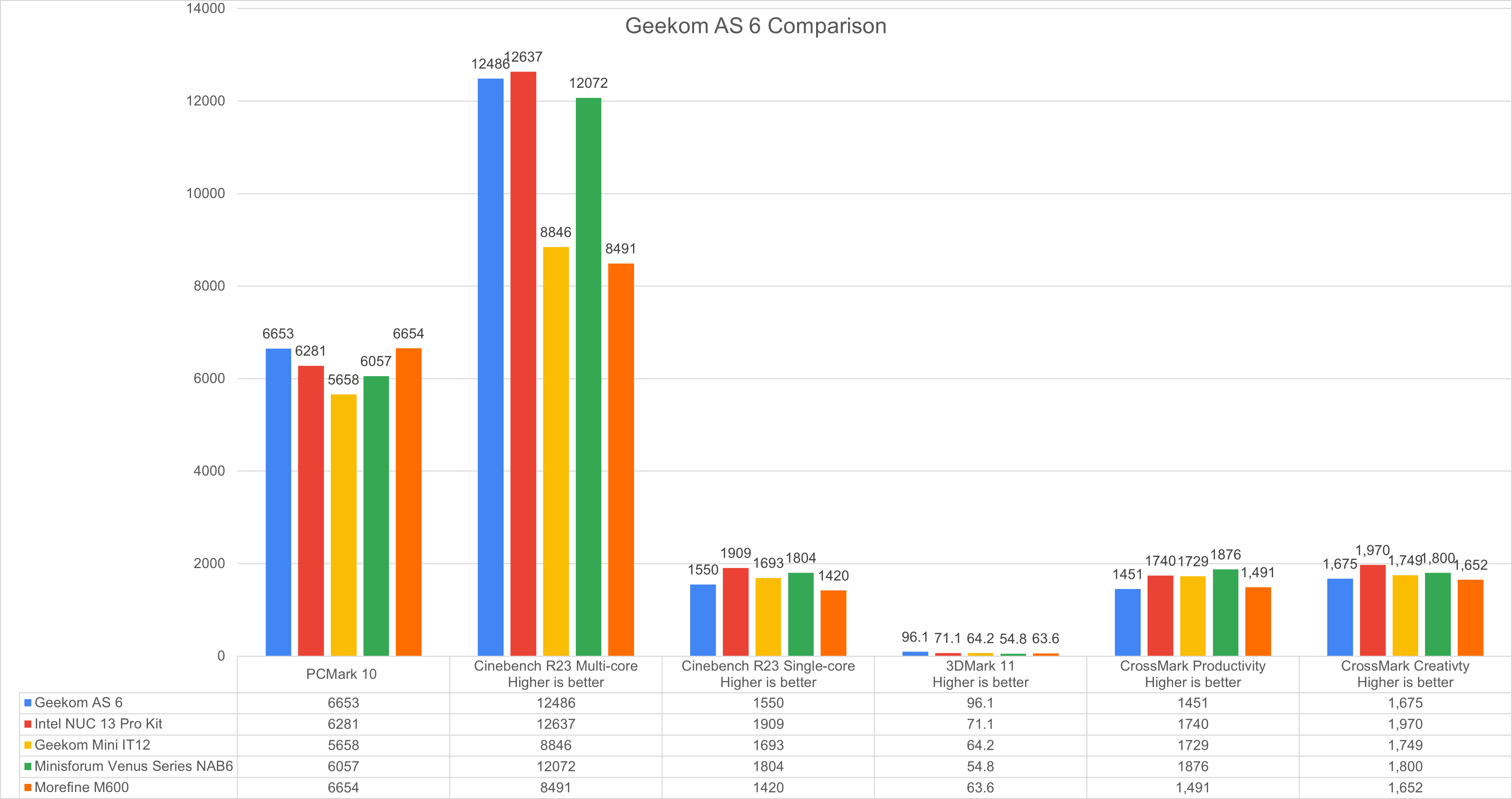 The Geekom AS6 is a beast when it comes to performance, as it boasts an AMD Ryzen 9 6900HX processor, which is an octa-core CPU with a base clock of 3.3 GHz and a boost clock of 4.9 GHz. This processor is based on the Zen 3+ architecture and supports DDR5 memory and PCIe 4.0 SSDs. The AS6 also has an AMD Radeon 680M graphics card, which is an integrated GPU with 16 compute units and a clock speed of up to 2.1 GHz. This GPU is comparable to the Nvidia GeForce GTX 1050 Ti in terms of performance and supports up to 8K resolution.
The AS6 comes with 32 GB of DDR5-4800 RAM and a 1 TB PCIe Gen 4 NVMe SSD, which are both upgradeable via two M.2 slots and one SATA bay inside the device. The device also has an Intel WiFi 6E module and a Bluetooth 5.2 chip for wireless connectivity.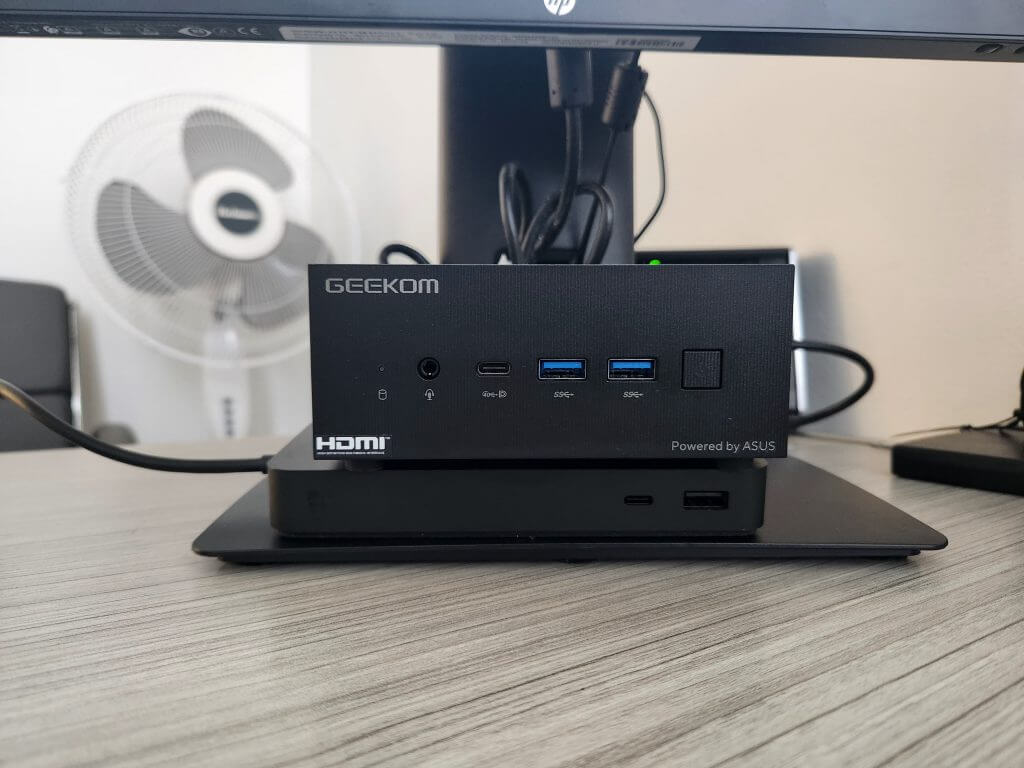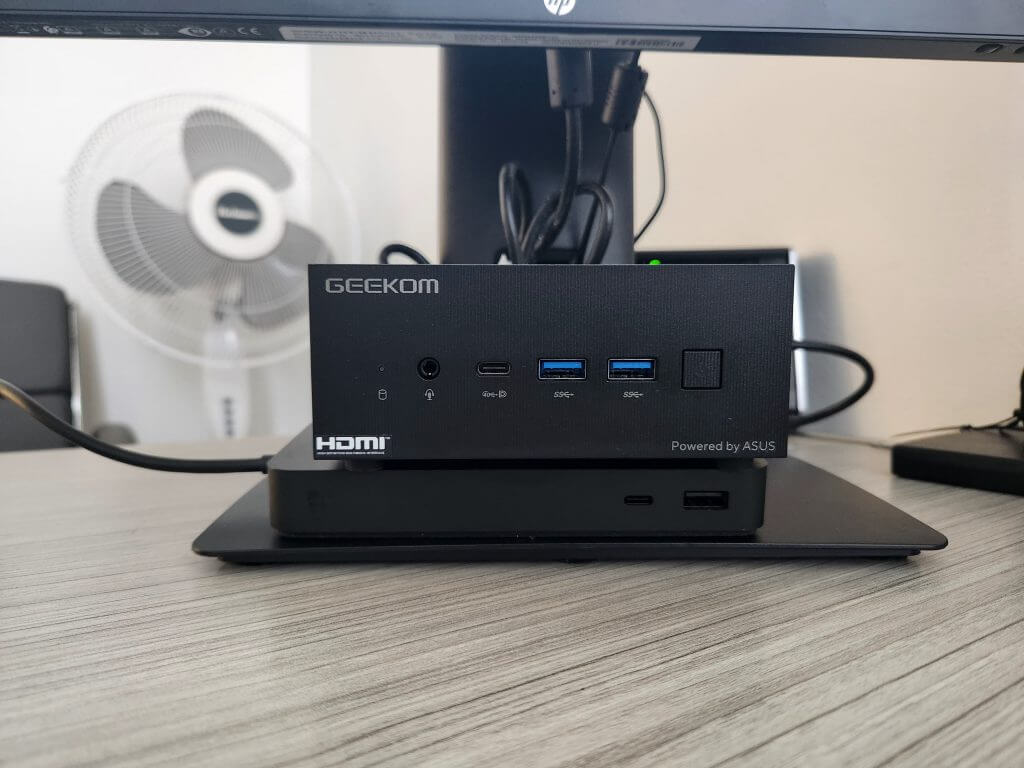 The AS6 handled most tasks I threw at it, whether it was web browsing, office work, video editing, or even some gaming. During my testing it ran multiple applications smoothly and multitask efficiently thanks to its high-end CPU and RAM. It can also play most games at medium to high settings and achieve decent frame rates thanks to its capable GPU. However, some demanding games may require lowering the resolution or the graphics quality to run smoothly.
The AS6 also has excellent connectivity options, as it supports up to four displays via its HDMI, DisplayPort, and USB ports. It also supports Thunderbolt 4 via its USB 4.0 ports, which allowed for fast data transfer and charging of external devices, which was a nice little bonus. The device also has a 2.5 GbE LAN port for wired internet access, which I never truly make use of in my reviews, but it also and supports WiFi 6E for wireless internet access.
The AS6 has some drawbacks when it comes to performance, such as its high-power consumption and heat generation. The device consumes around 150W of power when running at full load, which is quite high for a mini PC. The device also gets very hot when running at full load, reaching temperatures of over 90 degrees Celsius on the CPU and over 80 degrees Celsius on the GPU
1
. This may affect the longevity and stability of the device in the long run if you're concerned about such things.
All that to say, keep it in a place where it can vent thoroughly and be prepared to hear a little jet engine whenever you're about to tax the system with CAD engineering files, larger data transfers, large data visualizations or extensive video and image processing projects.
With the soft pitch to average buyers out of the way, a quick comparison to the NUC 13 Pro might be worth a look at for some.
The AS 6's AMD Ryzen 9 does lag a bit with single core performance and draws a bit more power during tasks, its 8 cores and 16 threads keeps up with Intel's 12 cores and 16 threads pretty well while also outperforming when it comes to GPU output. The NUC 13 Pro is hampered by Intel's Iris Xe Graphics that does an admirable job of supporting 60FPS and 1080p gaming with a handful of titles, but the Radeon 680M integrated option for AMD offers even more performance than the previous Vega 8 iGPU which was already outpacing Intel's options.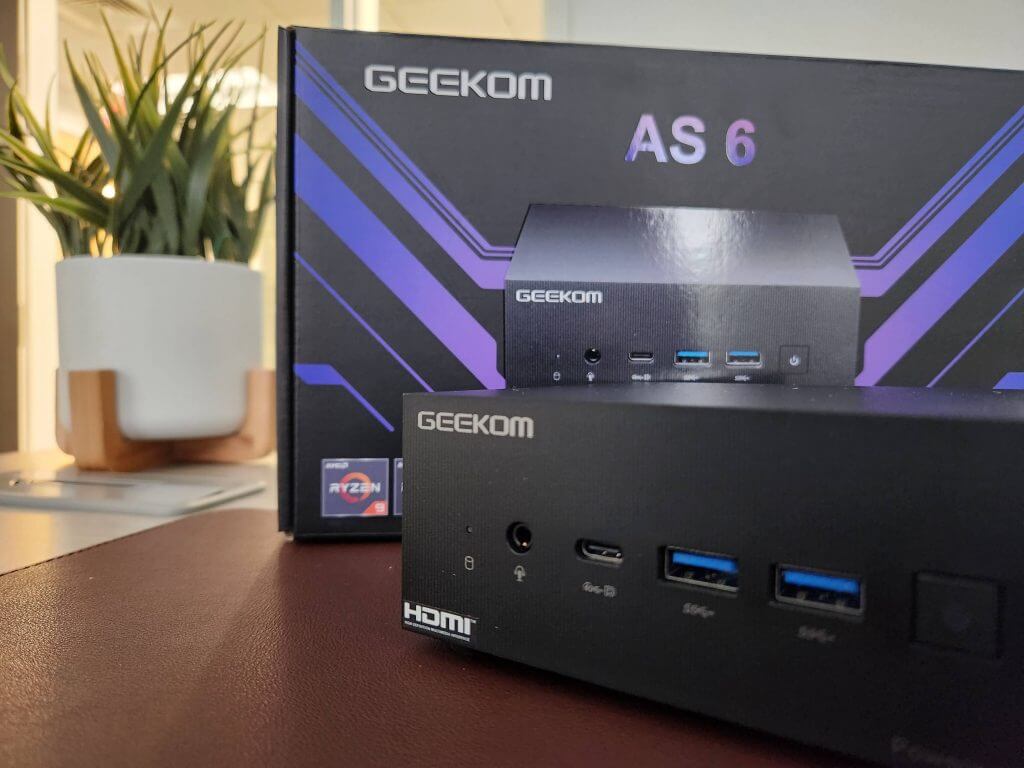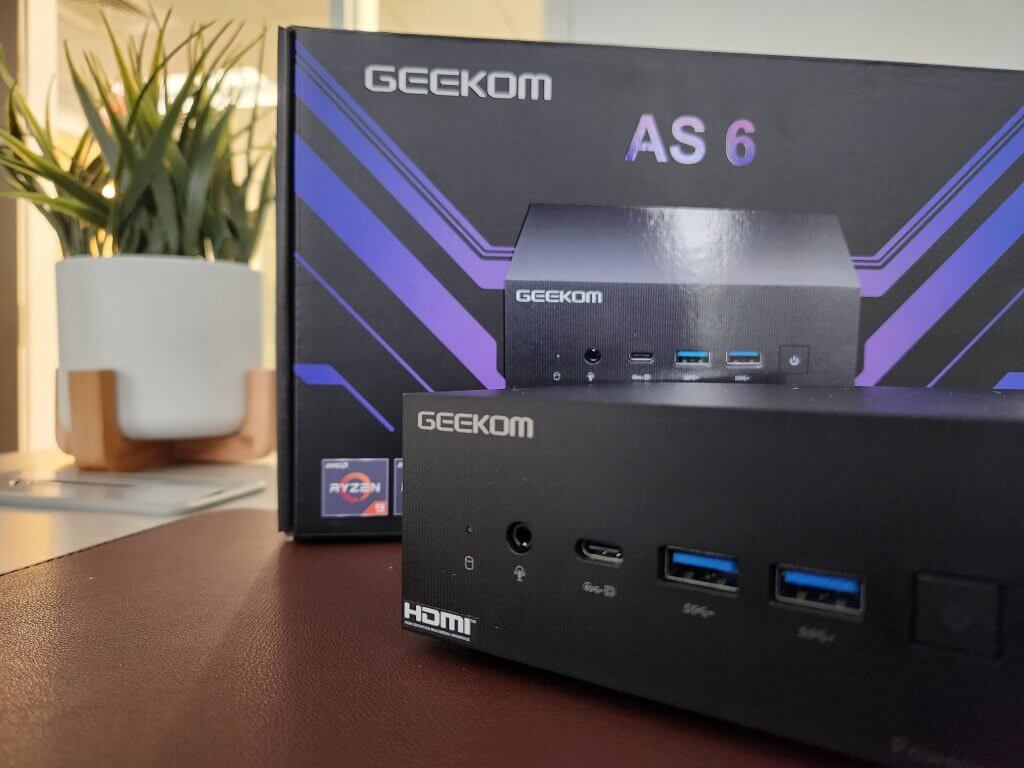 The Radeon 680M offers similar performance to GTX 1060Ti and better than a GeForce MX450 in some instances. If buyers are looking for similar data processing support such as the NUC 13 Pro as well as a device that can be used for content creation or gaming, the AS 6 would be the preferred choice for the moment.
When it comes to processing, the AS 6 benefits from faster RAM support with its DDR5 at 4800MHz over the NUC's DDR4 3200MHz memory. Despite the jump from DDR4 to DDR5 being relatively minimal, the benefits become apparent when encoding and rendering projects as well as gaming. Fortunately, for the NUC Pro 13 its support of DDR4 means it can be outfitted with more RAM while the AS 6 maxes out at 32GB of memory, memory that can be easily upgraded thanks to its support of SO-DIMM format.
Summary
The Geekom AS6 is an impressive mini PC that offers desktop-level performance in a pocket-sized form factor. It has a powerful AMD Ryzen 9 processor, a capable Radeon graphics card, plenty of RAM and storage space, and multiple connectivity options. It can handle any task you throw at it, whether it is productivity work or gaming.
However, the AS6 also has some flaws that may deter some users from buying it such as its noisy fan that can be annoying in quiet environments, a high-power consumption that may increase your electricity bill, and a high heat generation that may reduce its lifespan.
I recommend the Geekom AS6 for users who are looking for a mini PC that can offer desktop-level performance without compromising on space or portability. The AS6 is mostly suitable for professionals who need a powerful device for their work-related tasks such as video editing or coding. The AS 6 is also suitable for gamers who want to enjoy their favorite games on a small device that can support multiple displays and high resolutions, but if you're streaming, just be aware of the fan noise being a prominent guest in your videos.
Author note: Geekom is currently having a summer sale where buyers can get up to $260 off its configurations which brings the cost of the model used in this review down to: