The Gears of War 4 January 2017 Update introduces a host of new improvements and features based on community feedback, 280 Series 2 cards to collect, and brings back two of the most popular maps in Gears of War franchise history. As you play Gears of War 4, you'll be able to earn all 280 cards. The Series 2 Collection features iconic Gears of War characters, new weapon skins, and more. All Series 2 cards are also now available to purchase through standard Gear Packs and can also be created using Scrap.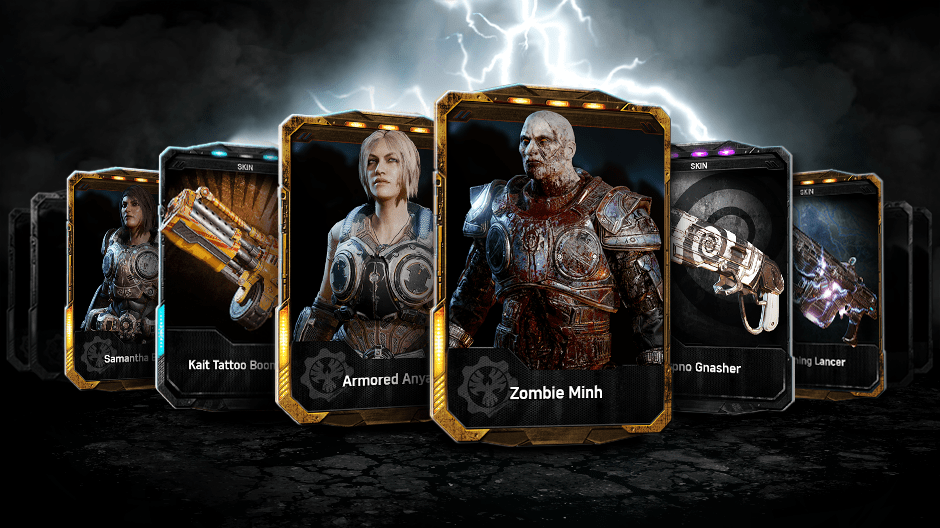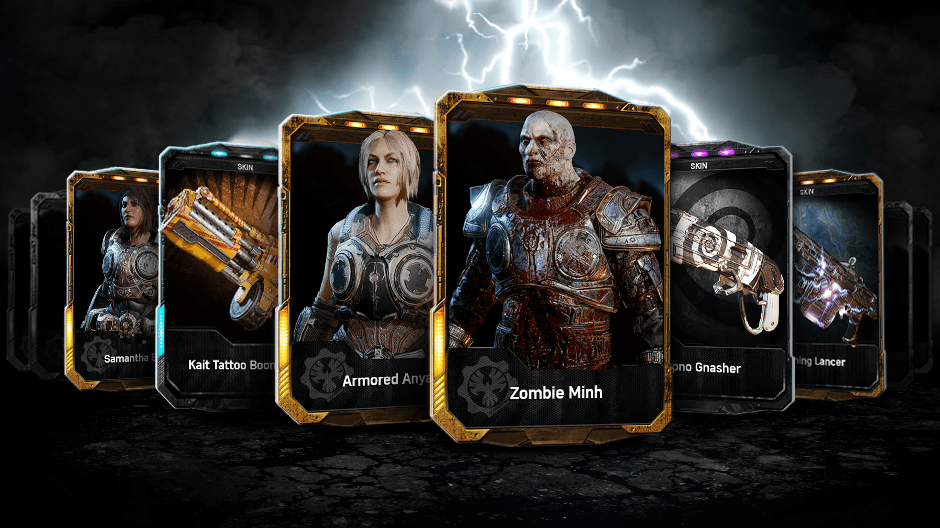 Series 2 features 13 new Legacy characters, including Armored Anya and Armored Sam decked out in Gears of War 3 armor, as well as Zombie Minh, complete with Raam's blade-sized hole in his chest! Series 2 also includes over 260 new Weapon Skins to collect. In addition, two fan-favorite maps return in Gears of War 4; Blood Drive and Clocktower.
Blood Drive
"Blending together the best of Gears 2's original take and the Gears 3's re-imagining, Blood Drive in Gears of War 4 brings back intense, center-map pillar fights with the improved flow of its refined sibling. Spawn at the Diner or the Morgue, then head to the city streets to battle it out over the Longshot and Overkill."
Clocktower
"Clocktower also returns to Gears of War 4, re-imagined as the stunning Bank of Bronn as it's slowly claimed by the Swarm. The imposing classic Gears architecture brings back memories of the battles you know and love, from the intense close-quarters combat in the lower streets to the Lancer-heavy crossfire at the Bank entrance."
Blood Drive and Clocktower are available for the Gears of War Season Pass holders in the Developer Playlist, with Double XP and 20% more credits available starting today. Both maps will be available for free for everyone in Public Play beginning on January 17, 2016.
Gears of War 4 Season Pass holders will also get the Series 2 Airdrop on January 13, 2016. The Series 2 Airdrop has 20 Gear Packs with sixty random cards from is loaded with twenty Gear Packs containing 60 random cards from the Series 2 Characters and Weapon Skins. This new Airdrop is available to any Gears of War 4 Season Pass holder and will be available to anyone who purchases a Season Pass, starting January 13, 2016.
Gameplay Features
Along with the release of the Series 2 Collection, comes some new gameplay features that were requested by the Gears community. Improvements to the Gears of War 4 matchmaking timeout system punishes via a quit penalty for players who leave the match early. Here is a list of how Gears of War 4 players will be penalized for leaving matches early:
Players leaving a Core/Competitive game early will now be suspended from matchmaking.
Players can rejoin a Core/Competitive match within 5 minutes of being dropped or quitting from an option in the main Versus menu.
Rejoining and completing a match will remove the matchmaking suspension time.
Added functionality to display matchmaking suspension time (including to your Squad Leader). You will not be able to participate in matchmaking if your Squad contains a suspended user until their suspension has completed.
The extensive Gears 4 Title Update 3 patch list is available in the Gears community forums. Gears of War 4 is an Xbox Play Anywhere title, so you can play on Windows 10 (see PC requirements) or Xbox One.