As businesses settle into a world powered by generative and pre-generative artificially intelligent led workflows, Dell looks to provide the hardware necessary for developers, engineers, analysts, and researchers need to shape the next wave of applicable technologies with its new Precision 7875 Tower.
Dell Precision 7875 Tower
The Dell Precision 7875 Tower is a new desktop workstation equipped with the latest AMD Ryzen Threadripper Pro 7000 WX-Series processor making it the company's most scalable AMD-led workstation to date.
AMD's Pro 7000 WX-Series is built on a 5nm dye and provides up to 96 cores and 192 processing threads built with the AMD Zen 4 architecture which pushes performance through up to 48 PCIe 5.0 lanes similar to the standard 7000 Series processors. Additionally, the Pro 7000 WX-Series offers up to 384MB of L3 cache and eight channels for support of DDR5.
With that said, Dell stuffed this multithreaded hyper chip into its performant single socket Precision workstation to support, "a variety of AI functions, such as model training, GenAI, machine learning and more. It is also a flexible option for a variety of high-end creative applications, including rendering, film production, design analysis, simulation and architecture, engineering and construction (AEC) visualization."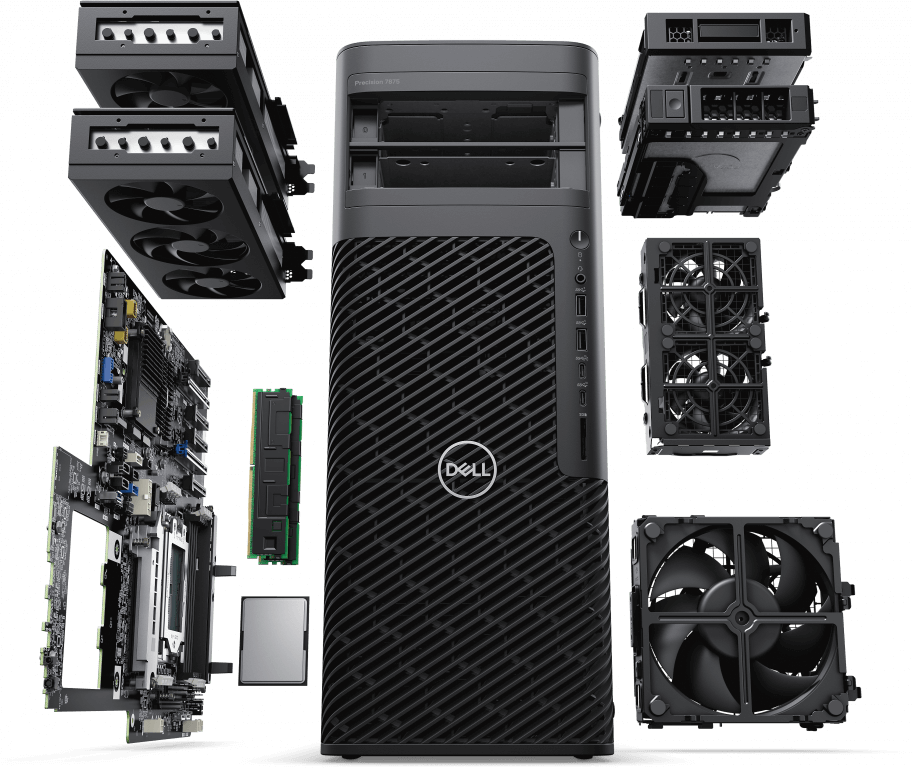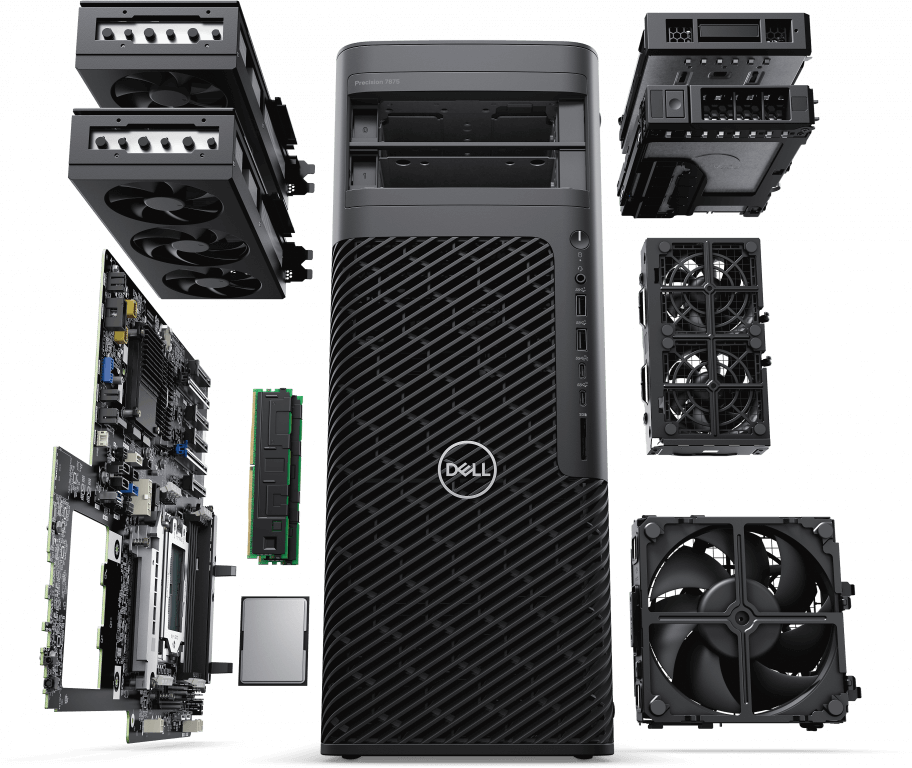 As for the specifics of the towers chassis, Dell claims the Precision 7875 is taller and deeper than the previous generation to provide a larger air space to cool the chip as well as six PCIe slots for more expandability.
As a first, Dell is integrating Wi-Fi into its own slot instead of it taking up a PCIe slot, and they're offering up a variety of GPU, storage, memory and support configurations that include:
Up to two 48GB AMD Radeon Pro W7900
Up to two 48GB NVIDIA RTX 6000 Ada Generation
Up to 56TB of storage
Up to 2TB of DDR5 RAM
Support for NVIDIA AI Enterprise
Support for TPM 2.0
Dell says its Precision 7875 Tower will be available globally starting December 5, 2023, with prices announced closer to shipping.
Dell Latitude 7030 Rugged Extreme Tablet
On the opposite side of the scale is one of Dell's more portable workstations in the new Latitude 7030 Rugged Extreme Tablet.
For those who don't want to be chained to a desk during their working hours, Dell unveiled its FHD (1920 x 1200) FHD+ 10.1-inch 7030 Rugged Extreme Tablet which the company claims is the most lightest ruggedized Windows tablet around.
With a 16:10 aspect ratio and 1000 nits of peak brightness, the 7030 should be viewable in most situations, especially outdoors.
Similar to Lenovo's highly touted MIL-spec ThinkPad's, the Latitude 7030 comes with its own MIL-STD and IP-65 ratings for use in extreme conditions that include temperature fluctuations between-20 F to 145 F, as well as passing drop test from up to four feet. In addition to being used at the top of snowy mountain or a swamp, the 7030 will come with an optional configuration that supports swappable batteries to help provide a full day of power versus the standard 36Whr internal battery.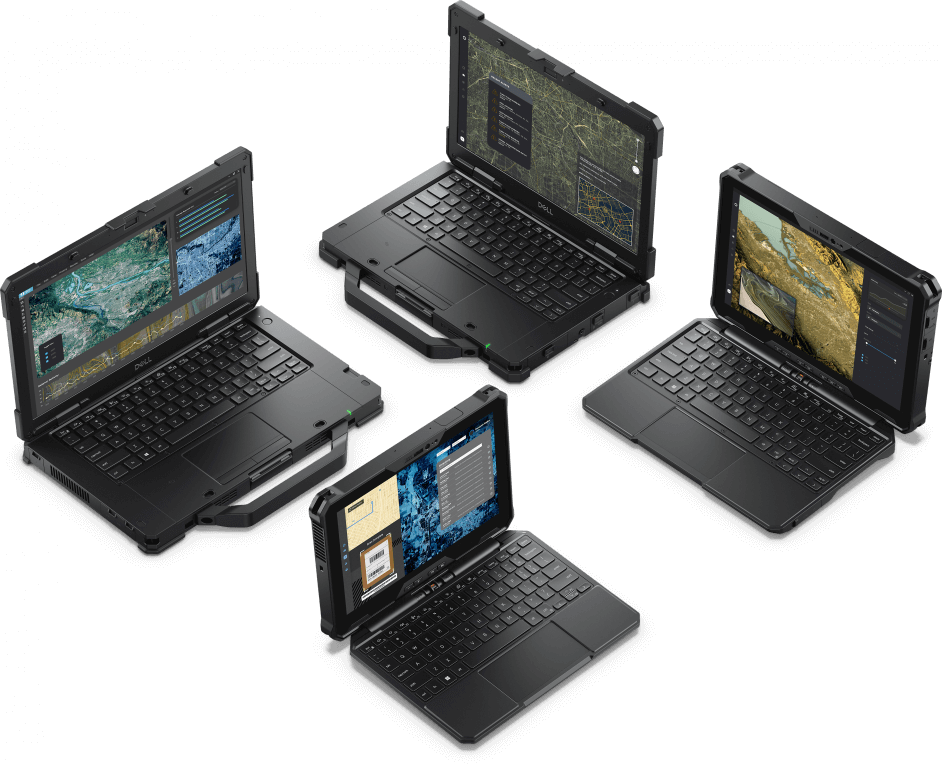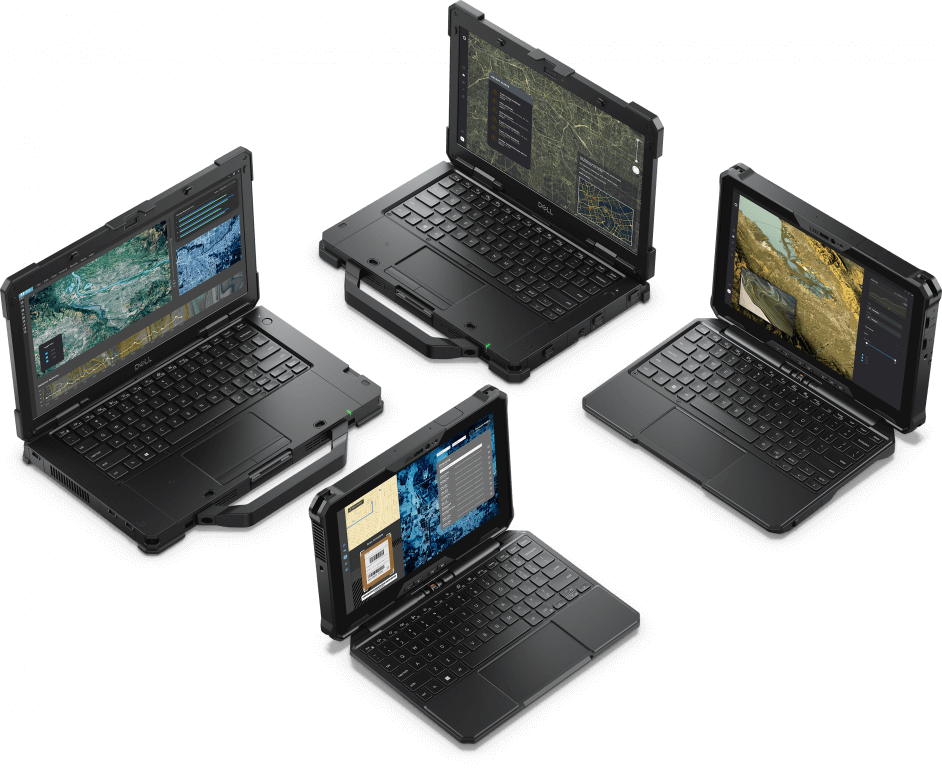 A 12th Gen Intel Core i7 processor paired with Iris Xe graphics and up to 32GBs of LPDDR5 RAM will power the 10-inch tablet as well as support for up to 2TB of NVMe of storage. As the 7030 is designed to be used on the go, Dell is making sure it's always connected with GPS, 5G and 5G Private Network, and support for Wi-Fi 6E and dual broadband for the fastest uninterrupted connectivity.
When out and about, users can also make use of a handful of Purpose-built accessories such as:
Rigid handle and passive stylus. This pairing gives you a grip for carrying the 7030
Rugged Extreme and a passive stylus for greater precision when writing or drawing. The
handle, which conveniently stores the pen, has a rubber mold and rigid polymer
structure for a satisfying feel. The passive stylus can also be purchased separately.
Detachable keyboard. Convert the 7030 Rugged Extreme into a 2-in-1 with the IP-65-
rated detachable RGB backlit keyboard that easily locks into place. Once attached, the
tablet can be propped upright for standard "laptop" mode or folded 180 degrees.
Rotating hand strap. A 360-degree rotating hand strap allows you to comfortably secure
the tablet to your wrist as you use it in static or mobile environments. The strap
attaches to a 50×50 VESA mount and includes a convenient place to store your stylus.
Two programmable hardware buttons that provide quick access to customizations from the Rugged Control Center software on the device.
Dell claims The 7030 Rugged Extreme will be available globally later this year, with pricing announced closer to shipping.