Today, the big red button was pushed by the Windows Insiders team, sending out preview build 16199 into the Fast ring. Besides building on the Story Remix feature released in last week's preview build, the new preview had some features added to Windows 10.
My People Updates
The social app on the Windows 10 toolbar is one of the easier ways to combine contact information and be social from the desktop. To improve the experience, Microsoft has added some more expressive and efficient ways of communicating.
Users will soon notice pop up notifications of emojis showing up from their pinned contacts. Similar to 'winks' or 'shoulder taps', these animated emoji will appear when it is sent to you. In addition, pinned contacts will show the number of unread notifications. Users will also be able to drag and drop files across My People to those on the taskbar as well as indicating them from inside the UI.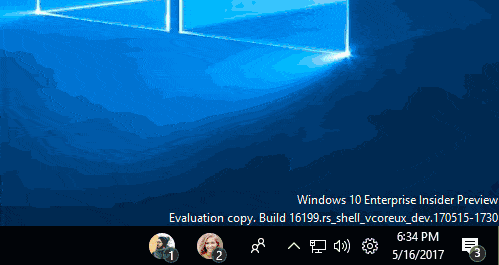 Settings Updates
Microsoft has also committed to building a smoother user experience in the Settings. Today's build 16199 rollout includes a simplified access to the System Health integrated with the Windows Defender Security Center for a quick view.
Users might also come across tips and videos in the settings by adding their collection directly linked into submenus. The responsive page will display a video and more information on pages such as Updating, Themes, and other various places. Microsoft states they intend to add more as time passes.
Storage Sense also got an update to include an option for removing folders only unchanged for the last 30 days, making it easier to keep the device clean.
Other items that were added the Windows 10 Preview build 16199 include:
Improved Game Settings: We've made some improvements and adjustments that PC gamers will enjoy via Settings > Gaming and the Windows Game bar (WIN + G).
Broadcast using game-only audio: Under Settings > Gaming > Broadcasting, you can now choose "Per-app audio" to broadcast using only the game's audio to Beam as opposed to the audio for your entire PC.
Audio settings is now Game DVR in Game bar: We have renamed the Audio settings page under the settings in Game bar to be Game DVR. All Game DVR settings from the general gaming settings page has been moved to be under Game DVR. Per-app audio settings is also included here as well.
Streamlining Narrator Feedback: We've updated Narrator so that when you press Caps Lock + E + E while Narrator is running, it will now launch the Feedback Hub.
Incoming call notifications: For our Insiders with Android phones, Cortana can now display cross device incoming call notifications! Install the Cortana app on your phone, go to "Settings" > "Sync notifications" and turn on all the Cortana cross-device features. The next time you receive a call, a notification will appear on your Fast ring PC telling you who it is and giving you the option to text back a reply or decline the call.
While most of the new features are hidden in the background, some will readjust the way users interact with Windows 10. Of course, there are other changes and known issues as well. We'd love to hear your thoughts on the changes so feel free to voice out in the comments section below.