CES 2022 was a hodgepodge of limited in-person tech demos, virtual announcements and co-branded press releases not too uncommon from previous shows hosted before the pandemic.
However, what was most impressive about CES in 2022 was manufactures' ability to produce concepts and actual hardware amid an ongoing pandemic related chips shortage, swaths of work-from-home (WFH) conditions, and hampered manufacturing and distribution channels.
Among the sea of tech showcased during CES 2022, there were some true standout developments and hardware that will continue to make headlines in 2022 and beyond.
AMD & Intel in 2022
Seemingly impervious to the global chip shortage were standout announcements from AMD and Intel about their upcoming, more powerful, silicon for 2022.
AMD announced its Ryzen 6000 CPUs designed for laptops. Ryzen 6000 CPUs are the next step in the company's Zen 3 Plus architecture development and shrink the chips to 6nm. Accompanying the Ryzen 6000 this year are also AMD's RDNA 2 GPUs that are integrated on the chip.
For the performance driven, there will also come the Ryzen 9 6980HX and its eight-core, 16 threaded, 12 GPU at 2.4GHz performance architecture. The Ryzen 9 is shaping up to be about a 3% performance gain over last year's offering.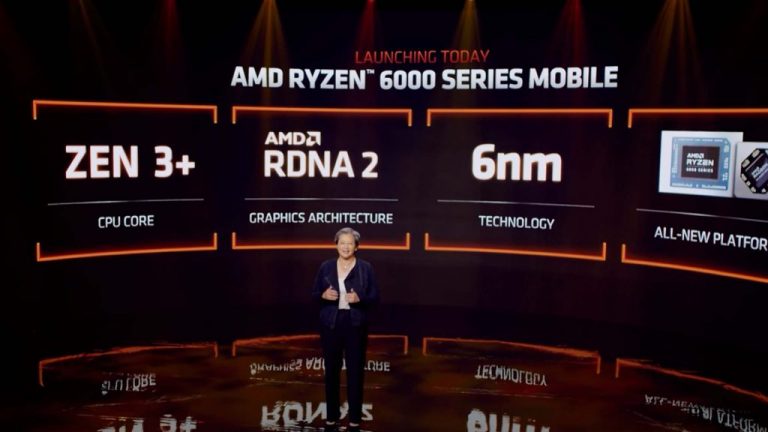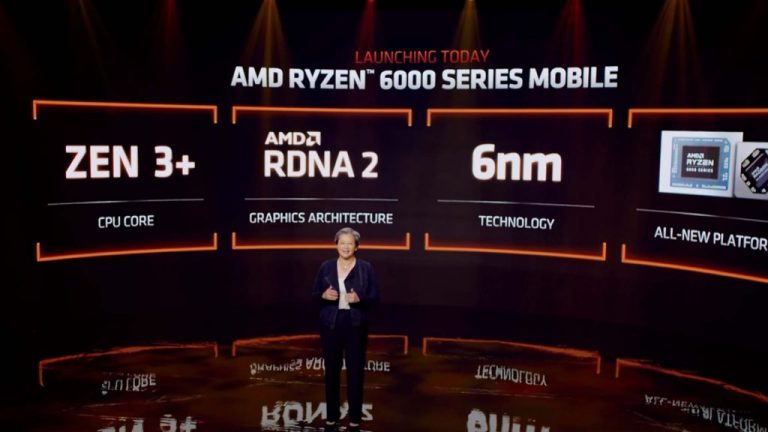 As with most announcements, AMD made some lofty claims about 1.3 increased speed over previous AMD chips as well as double the gaming performance while also advancing battery longevity. AMD has a history of throttling its chip performance to meet its battery claims, so we'll have to take this news with a historical grain of salt.
Perhaps most impressive is that AMD has done a lot of partnership work behind the scenes and it's upgraded chips will be in practically every major OEMs PCs across 2022 including Acer, AUSUS, Dell, Lenovo, Razer, HP, AMD, and Microsoft this year.
Intel
Intel on the other hand miniaturized its 12the Gen Alder Lake chips it's been showing off in desktops since this past Fall, and began tossing them in laptops.
Following an ARM-like performance design regarding efficiency cores, Intel managed to put a 45W H-series model in some early 2022 devices.
Intel boasted performance that would rival Apple's current M1 Max chips with its flagship Core i9-12900HK chips and while the laptop versions are modeled after it, there will presumably be some drop off due to differing thermal dynamics of portable notebooks.
Fortunately, Intel will spread the performance gains with its Alder Lake chips across 14 versions of i9 and i7 configurations that include 6 performance cores and 8 efficiency cores for better productivity switching. Unfortunately, Alder Lake seems to be a top-heavy distribution leaving what most people will opt for in the i5 and less powerful i7's with only eight total cores split amongst performance and efficiency equally.
Intel's H-Series chips represent the AMD and Apple competitor chips while the company will release its more incremental updated U and P-Series later in the year to support its Ultrabook design guidelines.
Most of Intel's 2022 lineup with support the latest industry standards in computing portability that include Thunderbolt 4, PCIe 4.0, and DDR5 memory for even more OS speed.
Computers
All of that chip development will accompany some of the most interesting PC designs in a long while that include fully redesigned, dual screen, and foldable PCs this year.
Dell XPS 13 Plus
Dell's XPS 13 Plus gets full makeover this year that drops the customary headphone jack for some reason as well as the mini-SD card slot. Similar to its nearly borderless screen, the new Dell XPS 13 Plus removes any remaining area around its keyboard deck and bring the bordering keys to the edge.
Another interesting move is to mimic Apple's now defunct Touch Bar concept by replacing tactile function keys with a new capacitive row powered by LED buttons.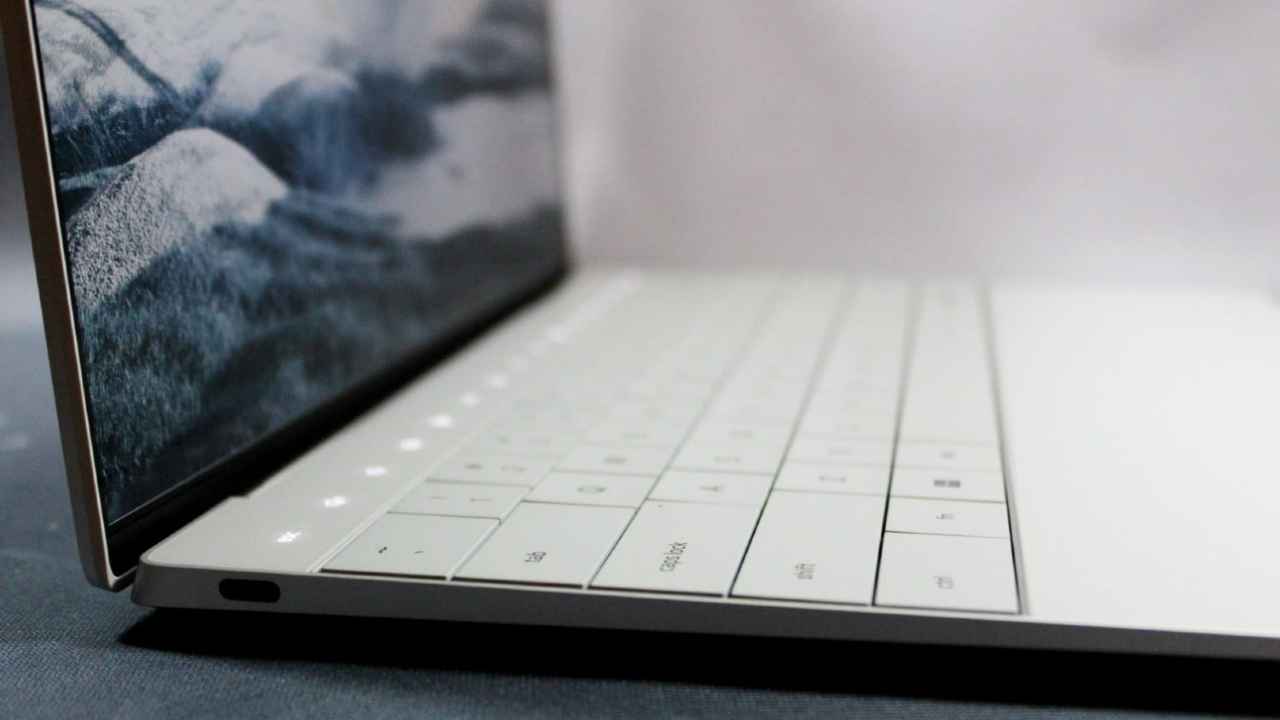 Dell also took inspiration from the 2021 Surface line up with its own take a "haptic ForcePad". Unfortunately, Dell's take includes a borderless design that essentially makes the bottom of the laptop deck look like one elongated track pack, which would have been cool if it were, but there are undefined non-touch areas that a user will just have to figure out with use.
There are also top firing speakers for the Dell XPS 13 Plus placed under the keyboard similar to Surface laptops.
Once again, Dell seemed to follow Apple down the flush keys design that allows for wider but much shallower keys to be placed on the deck. Dell says it kept the 1mm of travel from previous keyboards.
The Dell XPS 13 Plus will come in both Black and White options, and sport FHD and OLED configurations starting at $1,199 for the base model in April of this year.
Lenovo ThinkPad Z-Series
While talking about a Lenovo ThinkPad may put some to sleep, the new Z-Series coming from the company is intended to quite the opposite.
The Z-Series is a slightly less dramatic change to the flagship design than the Dell XPS 13 Plus, but is a noteworthy one none the less.
The Z13 and Z16 are unironically targeted at the Gen Z business types and come with materials that include vegan leather, compostable bamboo and even sugarcane.
The most notable changes are to the trackpad which does away with the traditional left/right click buttons above it and includes a new Haptic ForcePad, adds 16:10 aspect ratio screens finally, and a new camera enclosure brought over from the company's Yoga lineup that includes an infrared 1080p webcam.
Eco-friendly
Both Lenovo and Acer announced continuations to their sustainability efforts in their Yoga 6 and Vero: National Geographic Edition, respectively.
The Yoga 6 comes with "over 25 percent of its battery cells using post-consumption plastic, packaging that consist of 90 percent recycled plastic and the device itself using recycled aluminum and 50 percent recycled plastics for its fabric coverings."
While the Vero: National Geographic Edition "features 30% post-consumer recycled (PCR) plastic throughout its chassis, 50% PCR in its keycaps, and has been designed to be easily upgraded and repaired."
Lenovo ThinkBook 13x Gen 2 & ThinkBook Plus 3
Other noteworthy laptops that cropped up at CES 2022 were the Lenovo ThinkBook 13x and ThinkBook Plus 3 which bring some novelty to notebook design.
The ThinkBook 13x Gen 2 attempts to tackle battery concerns with support of wireless charging mat that can charger both laptops sized devices as well some more mobile-like devices that support the Qi wireless standard.
The ThinkBook Plus 3 takes last year's dual screen monitor design from ASUS' Zenbook Pro and shrinks it to an 8-inch panel that sits just right of the keyboard deck.
Both devices will come with the latest 12th Gen Intel Core processors for that needed boost in performance and all support of all the latest computing standards that include faster memory, faster Wi-Fi connectivity and 4K display outputs.
2-in-1's
In other news, Microsoft's Surface Pro 8 and Pro X will have some competition in 2022 coming from the ASUS ExpertBook B3 Detachable as well some other offerings from Lenovo and Dell from last year.
The Asus ExpertBook B3 however, will be powered by a Snapdragon 7c Gen 3 which matches it up with the Surface Pro X nicely as well as gives Windows on Arm (WoA) users an additional device to choose from.
The included cover, ExpertStand, is detachable, magnetic and stain-repellent, doubling as a dual-orientation prop, while the ExpertBoard keyboard connects easily for instant, efficient input — making the B3 Detachable as versatile as it is mobile. The stylus also makes it easy to get every detail just right when drawing, taking notes or marking documents.
Gaming
Gaming also got a nod at CES 2022 with the world's thinnest 14-inch gaming laptop measuring just 0.57-inches with configurations from AMD as well as Intel all coming from Alienware and its M-Series.
Announcements from NVIDIA came and allowed the company to boast about its GeForce 30 Series GPUs. "Consumers can expect up to 70 percent faster performance than RTX 2070 Super laptops. Overall, Nvidia expects its PC partners to release more than 160 gaming and Studio laptops powered by GeForce RTX GPUs which should appeal to both hardcore gamers and creative professionals."
The newest Razer Blade 14 models are getting on-the-fly switchable performance modes.
Lastly, ASUS is attempting to breathe life back int Microsoft dying WoA efforts with the ZenBook Fold OLED that's planned for market. Despite Microsoft's capitulation with Windows 10X, there seems to be some lively development going on with OEMs looking to bring foldable PCs to market.
Quantum Dot OLED Technology
Moving away from PCs and to screen tech. Many manufacturers touted Quantum Dot OLED technology as the next revolution in screens. QD OLEDs promise much brighter displays by commingling the best tech from OLED and LEDs that changes the way blue light is emitted.
Quantum dots convert light rather than filters like in original OLED tech and the result is greater light energy efficiency and sharpness. Sony and LG were among the first to announce panels that will be available later this year.
Partnerships
Microsoft and Qualcomm announced a growth segment to their long-invested partnership that will result in custom Augmented Reality ARM chips.
The collaboration will bring the worlds of Microsoft's Mesh technology and the Snapdragon Spaces XR Development platforms together.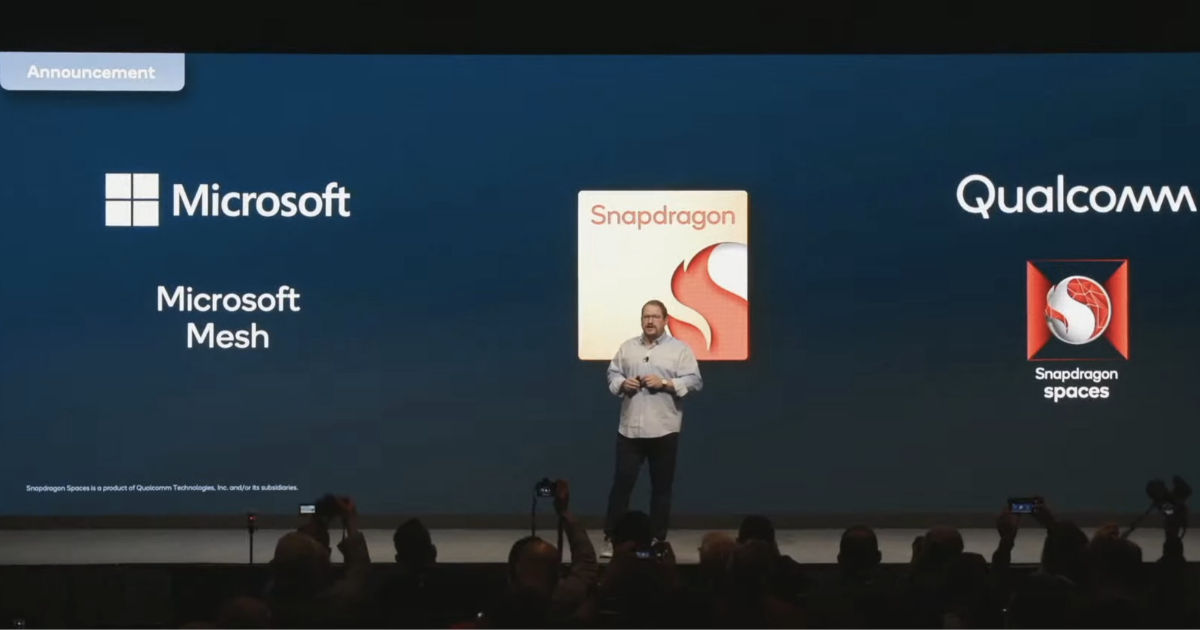 With services like Microsoft Mesh, we are committed to delivering the safest and most comprehensive set of capabilities to power metaverses that blend the physical and digital worlds, ultimately delivering a shared sense of presence across devices," Microsoft's corporate vice president of Mixed Reality, Rubén Caballero, said in a press release. "We look forward to working with Qualcomm Technologies to help the entire ecosystem unlock the promise of the metaverse.
The next-generation AR glasses that will come out of this partnership are planned to be lighter and more power efficient than current models and should utilize Qualcomm's ability to produce at scale for, perhaps, a broader distribution of AR tech to consumers and commercial business alike.
Accessories and concepts
As with all CES showcases there were plenty of draw dropping concepts that made it to the floor but will mostly likely never make it to a fully realized reality and a ton of accessories that techify your home.
Lenovo updated its Smart Clocks with a new color, Linux OS and support for Alex Built-In.
Eve updated its Outdoor Cam with a 157-degree field of view (FoV) and added 1080p video and infrared motion detection for up to 30 feet.
Sengled announced a bunch of updated and new smart lighting products such as the Smart Health Monitoring bulb that tracks sleep, heart rare, and other measurements through radar. A new Wi-Fi- Video-Sync TV light strip for enhanced view experiences both in and outdoors and a dual Wi-Fi or Bluetooth connected portable LED lap as well as a light up Essential Oil Diffuser for some reason.
Portable projectors got a nod this year as Samsung introduced its 1080p Freestyle projector. It's a bit expensive but a solid alternative to more traditional flat screens and can be places in almost any setting on-the-go.
Lastly, comes the car concept round which includes E-Ink color changing BMW's and Mecedes Benz's Vision EQXX long range eclectic vehicle promising 600 plus miles of range.
Sony may be dipping its toe into automotive manufacturing with the start of Sony Mobility Inc. While the company has showcased several concept cars over the years, it's now saying that there has been significant investment in actually producing these cars for consumers sometime in the future.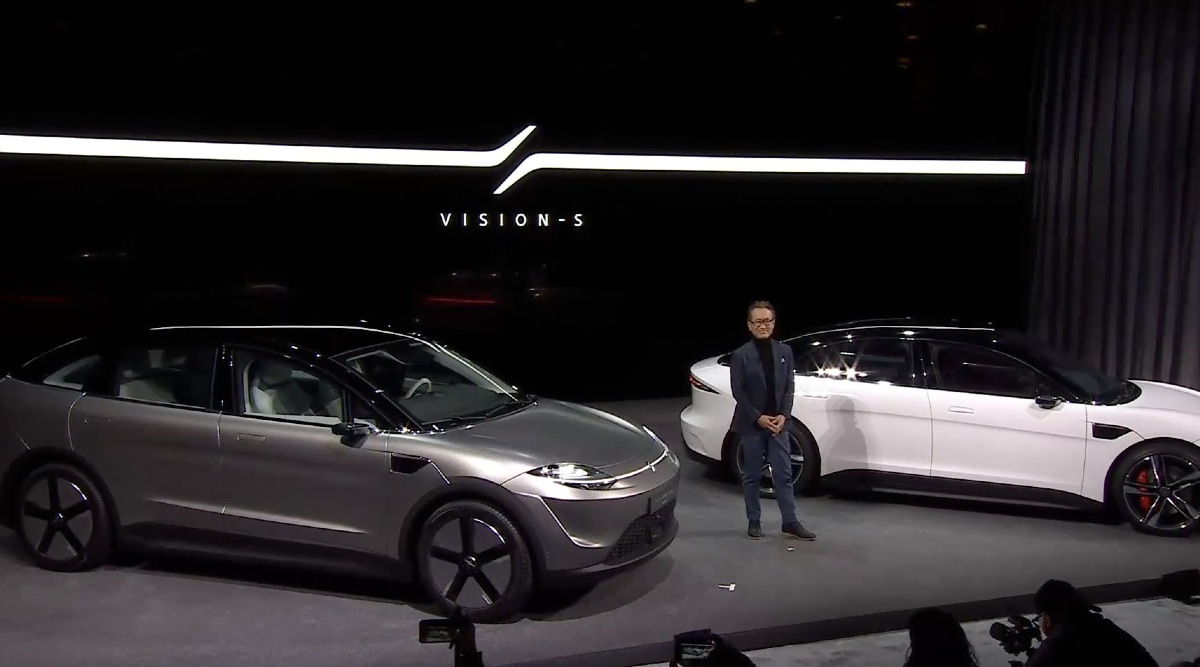 GM, Hyundai and Volvo made announcements about autonomous vehicles with GM claiming that it could reach the goal by 2025.
There were far more announcements made by many other companies that include L'Oreal, Yukai Engineering, Panasonic subsidiary Shiftfall, and Maca that detail Metaverse bodysuits, hydrogen powered car copters, robotic cats and handheld hair dye devices.
But for now, these headlines will have to do.