Lenovo's most recognizable brands in the ThinkPad X1 and Yoga Series got some updates this year with a focus on webcam quality and OLED clarity.
Lenovo Yoga 6, 7i, 9i
The Lenovo Yoga 2-in-1 convertible series gets some new eco-friendly recycled materials added to the Yoga 6 this year, as well as up to 4K OLED IPS touchscreen support on 16:10 displays and TUV Low Blue Light certification for the 7i and 9i models.
More specifically, the Yoga 9i will come with Smart Power performance modes, fingerprint readers, FHD infrared cameras with electronic privacy shutters, improved soundboard hinge audio quality, 100 percent DCI-P3 color accuracy, VESA Display HDR 500 support and the latest Intel 12th Gen core processors.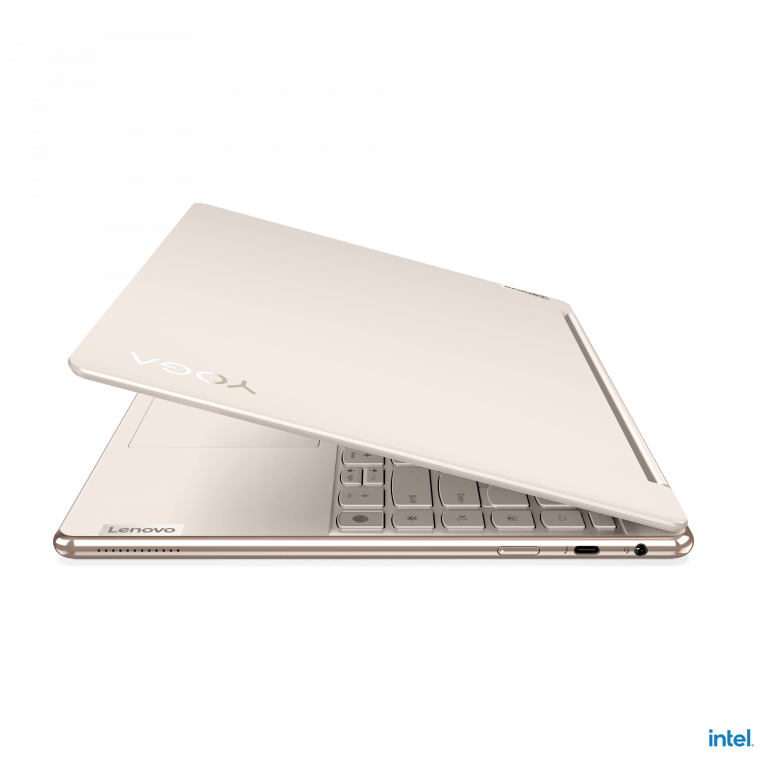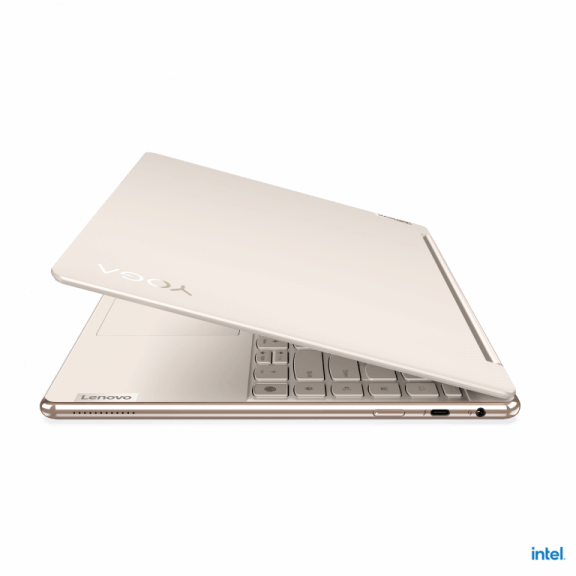 The Yoga 7i comes with support for up to 2.8K OLED clarity, 12th Gen Intel Core i7-1260p processors, Intel Iris X3 graphics, a 71Whr battery and Rapid Charge express technology.
Both the 7i and 9i come with the standard assortment of port selections that include Thunderbolt 4 USB Type-C, full HDMI/SD card readers 91percent screen-to-body (STB) ratios and 100 percent sRGB color accuracy.
As for the Yoga 6, it appears to be Lenovo's sustainability device with over 25 percent of its battery cells using post-consumption plastic, packaging that consist of 90 percent recycled plastic and the device itself using recycled aluminum and 50 percent recycled plastics for its fabric coverings.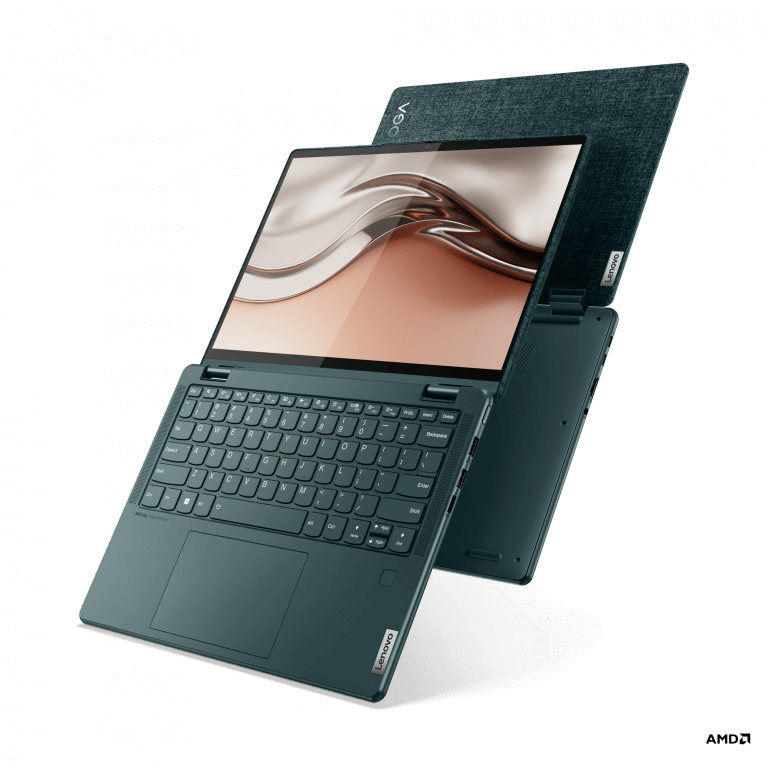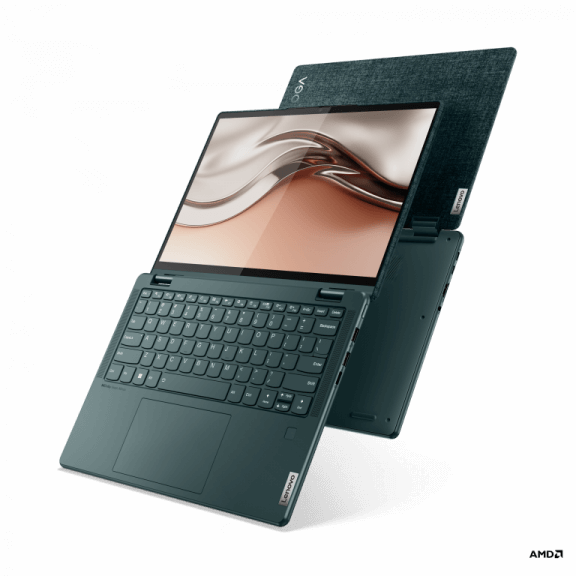 Internally, the Yoga 6 houses an AMD Ryzen 7 5700U processor paired with AMD Radeon GPUs with 8 performance cores and supports Rapid Charge Boost. Much like the rest of Lenovo's lineup the Yoga 6 will also sport a 16:10 display on Full HD resolution.
ThinkPad X1 Carbon 10th Genm X1 Yoga 7th Gen, & X1 Nano 2 Gen
On the business side of things, Lenovo is rethinking its potato cam situation for most of its enterprise offerings starting with an improved FHD webcam. 360-degree far field quad array microphones.
The bar design allows a camera with a larger sensor than what is usually found on laptops. The 1.4μm sensor increases image quality especially in low light conditions.
The new Computer Vision technology available in select models of the latest ThinkPad X1's uses a Neural Processing
Unit (NPU) that generates metadata from the integrated camera based on known recognition and AI algorithm
modeling3
The technology offers smarter Human Presence Detection that recognizes humans and their intention to use the PC, as opposed to a passing colleague in the office or a cat at home, and therefore will only wake up and unlock for
them, adding an additional layer of convenience. It even works when the user is wearing a protective face mask4
To save power, Computer Vision can also turn off or dim the display when the user looks away, improving energy efficiency and adding an extra layer of privacy while working in public places.
As for what's under the hood, there is the latest 12th Gen Core Intel vPro for both U15 and P28 processors. There are also faster LPDDR5 memory configurations, new air intake keyboard design, Wi-Fi 6E and Cat16 4G LTE of 5G connectivity, and support of the Dolby entertainment suite of boosts.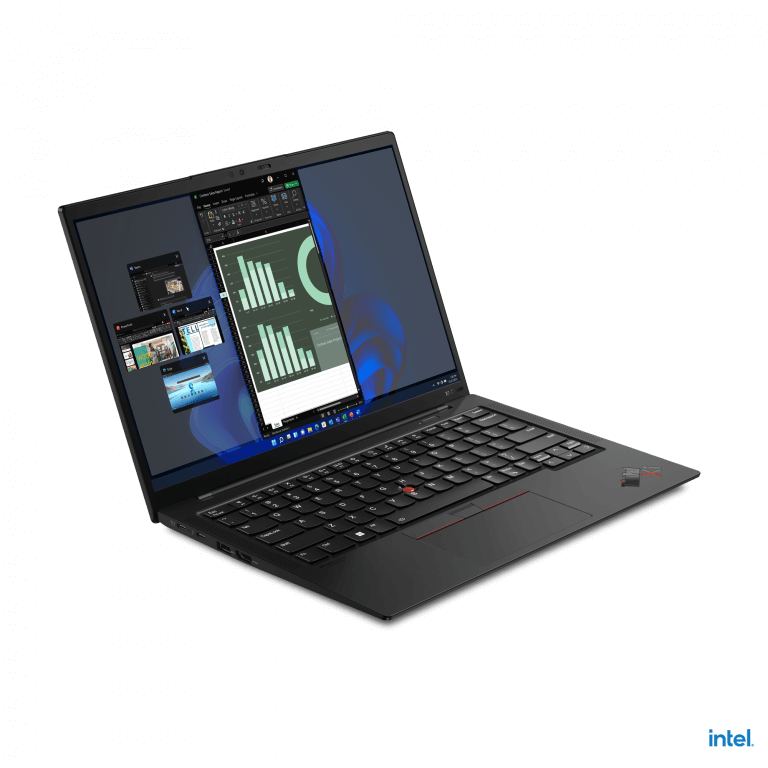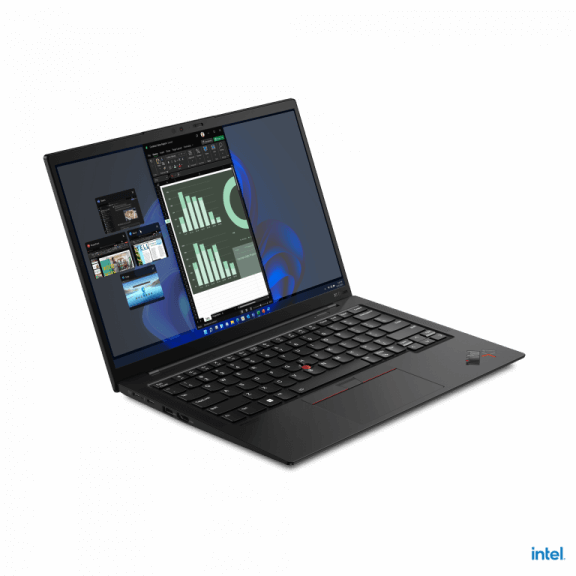 Lenovo is also pushing its All-in-One category a bit more aggressively as CES 2022 in light of this ongoing pandemic, the value proposition for a Lenovo AIO is pretty high these days, especially one with a Modular Soundbar and Modular Webcam.
Availability and Pricing:
 ThinkPad X1 Carbon Gen 10 will be available from March 2022, with an expected starting price of $1639.
ThinkPad X1 Yoga Gen 7 will be available from March 2022, with an expected starting price of $1749.
ThinkPad X1 Nano Gen 2 will be available from April 2022, with an expected starting price of $1659.
 ThinkVision P27q-30 and P27h-30 will be available from July 2022, with an expected starting price of $499 and $599 respectively.
 ThinkVision VOIP Modular Stack solution will be available from June 2022, with an expected starting price forSoundbar of $39 and Webcam of $129.
 ThinkCentre M90a Gen 3 Pro will be available from May 2022, with an expected starting price of $1,299
 TIO Flex will be available from June 2022, with an expected starting price for the stand only of $49.99