CES 2021 news is coming in hot and heavy despite the unconventional circumstances partners and businesses are forced to traverse during this global pandemic.
With that being said, Lenovo began unveiling its CES 2021 lineup which is leaning heavily into mobile and portable productivity despite more people working from home.
IdeaPad 5G & IdeaPad 4G LTE
Right off the bat, Lenovo went and put 5G and LTE modems into its updated IdeaPad lineup. Lenovo's IdeaPad lineup represents the company's more consumer and budget-friendly lineup that attempts to reach a balance between premium Ultrabook features and the classic productivity experiences a Lenovo laptop is known for.
The Lenovo IdeaPad 4G LTE and 5G come in almost identical configurations aside from their data connectivity feature. Both new laptops come with 14″ FHD (1920 x 1080) IPS 16:9 panels with 100% sRGB color accuracy and pushing 300 nits of brightness.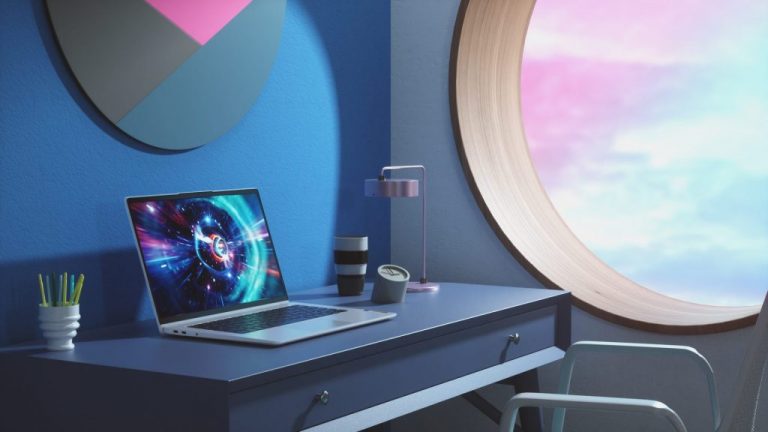 And because both the IdeaPad 4G LTE and 5G are bringing GRC2 (LTE) or 5G Module (sub-6) connectivity, they'll be sporting Qualcomm Snapdragon SC8180X and SC8180XP chipsets respectively which is yet another small dagger aimed at Intel this year. The IdeaPad's can be configured with 8GB of LPDDR4X memory and up to 512GB of PCIe M.2.2280 storage.
The rest of the IdeaPad features lineup alongside other Ultrabook checklists that include a silver color option, 2 USB-C ports, 1 USB-A port, audio jack, and mic combo as well as a SIM card slot. However, two intangible features not highlighted often enough will be the connected standby for "30% faster system performance," and Lenovo's Advantage software that makes updating drivers and optimizing the PC a fairly painless event.
As of now, there is no price listed for the IdeaPad 4G LTE or 5G and nor a specific date for availability outside of a vague Q2 2021 hope.
IdeaPad 5i Pro 14″ and 16″
On the more business side of things, Lenovo is also rolling out its IdeaPad Pro 14 and 16-inch laptops with 2.5K QHD and 16:10 panels with 400 nits of brightness and 100% sRGB accuracy. The login process for the Pro models gets an upgrade to IR cameras that work with Windows Hello for 'zero-touch' authentication.
Lenovo also enlarged the touchpad for a more MacBook-like experience as well as refining its Rapid Charge battery technology to squeeze two hours out of a 15 min charge.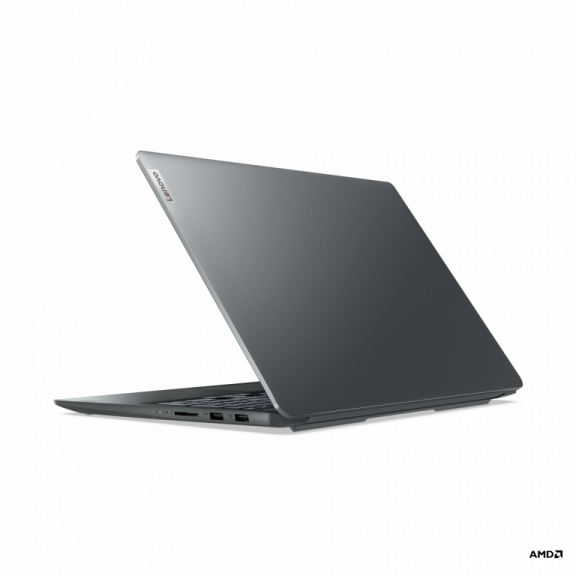 Each Pro can be configured with an 11th generation Intel Core i7, NVIDIA GeForce MX450 or Intel Iris X graphics, up to 1TB of SSD storage, and 8 or 16GB of DDR4 memory. Color options for the Pros include Cloud Grey and Storm Grey.
Lenovo Tab P11 Tablet
Moving slightly out of laptop territory, Lenovo is refining its detachable experience with the Tab P11 as it brings some of its Chromebook Duet designs over to this new Android offering.
Bumping up the screen size to 11-inches the Tab P11 supports up to 2K resolution on a 10-point multitouch IPS LCD panel that can push 400 nits of brightness. There is a combo 13 MP rear-facing and 8MP fixed focus front-facing camera option paired with memory configurations of up to 128GB of memory to help support the Qualcomm Snapdragon 662 Octa-Core with 4 x A73 2.0GHz + 4 x A53 1.8 GHz.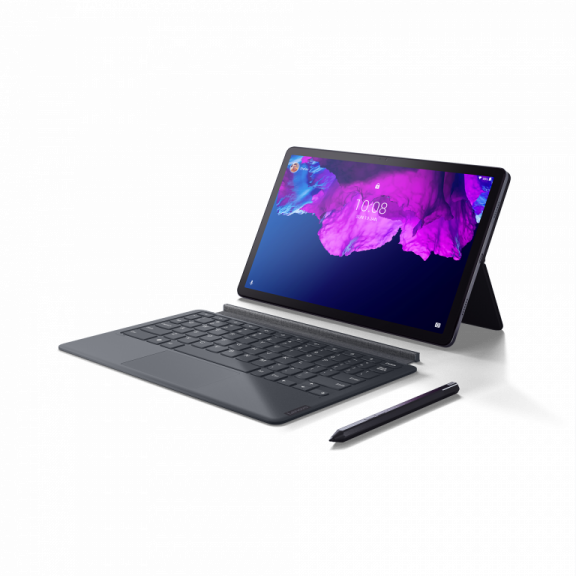 Perhaps, more impressive is that once again, Lenovo is included its Lenovo Keyboard Pack and Precision Pen 2, in the box. As mentioned before, the Tab Pro 11 takes what Lenovo did with the Chromebook Duet and smooths out its rough edges subtly in its design that includes toning down its two-down color pallet, a sturdier Folio Case, and the support for an updated charging station that turns the tablet into a home hub.
Lenovo Yoga AIO 7 Desktop
From the ultra-portable to the relatively stationary Lenovo unveiled its new swiveling All-In-One desktop PC, that as The Verge has pointed out, "has a rotating display for better TikTok videos and Twitter scrolling." Lenovo's AIO  7 highlights both its USB-C standardization which allows sharing of AIOs resources to a laptop, as well as its swivel positioning that might be ideal for coders.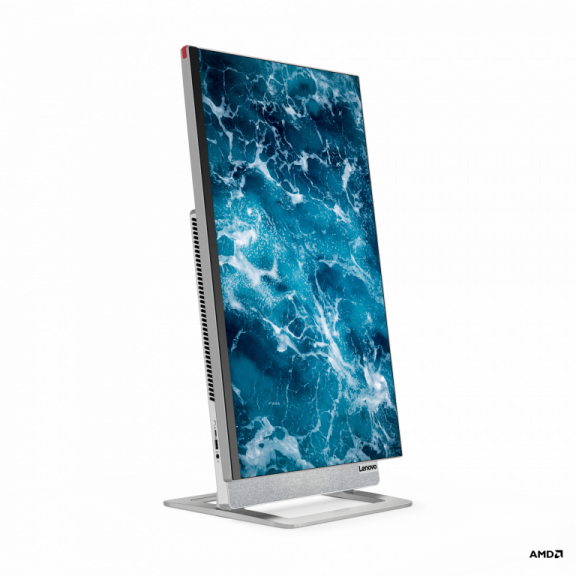 Lenovo's new AIO 7 makes use of AMD Ryzen 5 and 7 processors as well as integrated and or NVIDIA GeForce RTX 2060 graphics cards. Buyers can configure their 27-inch 4K (2840 x 2160) IPS 99% Adobe RGB accurate panels with up to 32GB of memory and 2TB of SSD storage.
Lenovo L24i-30 and L27e-30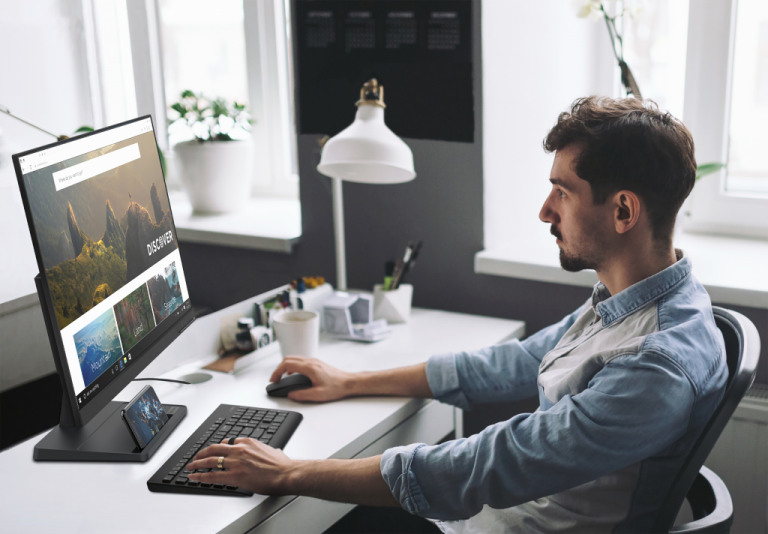 Rounding out its early CES 2021 previews is Lenovo's L24i-30 and L27e-30. Both monitors come with a 3M:1 Dynamic Contrast Ratio on their 3 sided-near edgeless In-Panel switching displays. Thanks to Lenovo's insistence on matte finishes, both monitors pack anti-glare coating for better indoor viewing. Speaking of viewing angles, both monitors sport 178/178-degree viewable displays as well as AMD FreeSync and 75Hz refresh rate panels.
Prices and release dates
The Yoga AIO 7 available in select markets in February 2021 starts at $1599. (not in the U.S.).
The Lenovo L27e-30 Monitor starts at $189.99 and is expected to be available in March 2021.
The Lenovo L24i-30 Monitor starts at $159.99 and is expected to be available in March 2021.
IdeaPad 5G 14" is available in select markets, (not in the U.S.). Pricing will vary per market.
IdeaPad 5 Pro 16" AMD laptop starts at $1149.99 and is to be available starting May 2021.
IdeaPad 5 Pro 14" AMD laptop (not in the U.S.) available in EMEA March 2021, starts at €799.00
IdeaPad 5i Pro 16" Intel laptop (not in the U.S.) available in EMEA March 2021, starts at €899
IdeaPad 5i Pro 14" Intel laptop (not in the U.S.) available in EMEA March 2021 starts at €699
The Lenovo Tab P11 will start at $229.99 and is available globally in January 2021.