If a couple of PC manufacturers such as Dell and Lenovo unveiled dual-screen and foldable PCs at CES 2020 this week, the devices we've seen so far were running full Windows 10, not Windows 10X. We didn't really expect Microsoft to allow its OEM partners to showcase the new OS until it's ready, but Rich Woods at Neowin did get an exclusive look at the Lenovo ThinkPad X1 Fold running Windows 10X at CES.
Windows 10X is Microsoft's brand new OS designed for the ground up for dual-screen devices, and it will only ship on new devices like Microsoft's Surface Neo later this year. Back in October, Microsoft announced that Asus, HP, Dell, and Lenovo would all be releasing their first Windows 10X devices in Fall 2020, and the latter showed a work in progress version of the new OS running on its ThinkPad X1 Fold.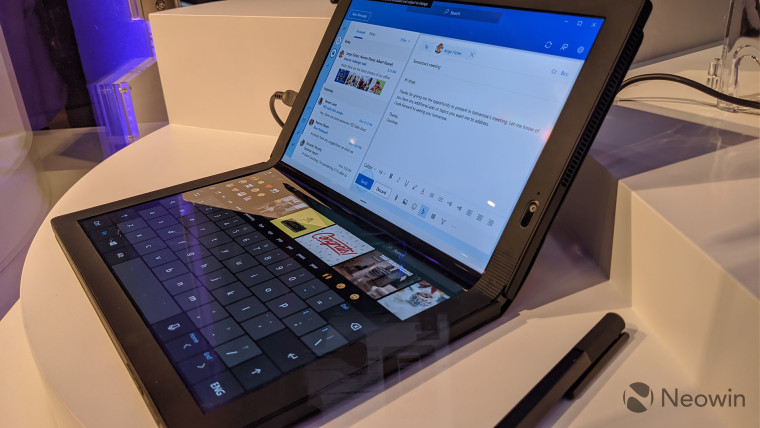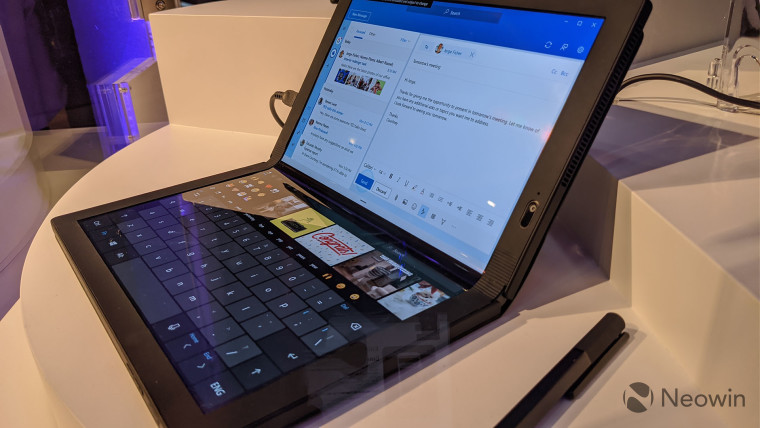 We already have a couple of details about Windows 10X, including the fact that the Start Menu won't have any Live Tiles, and that Microsoft is apparently working on supporting Win32 containerized apps. Leaked screenshots from October also revealed more about the Taskbar, Launcher, and Lock and Login screens. On the Lenovo booth at CES, Woods managed to get some pics of the simplified Action Center, which can be activated by a swipe gesture from the bottom right corner. You can see how it looks below, right above a very familiar-looking Settings app.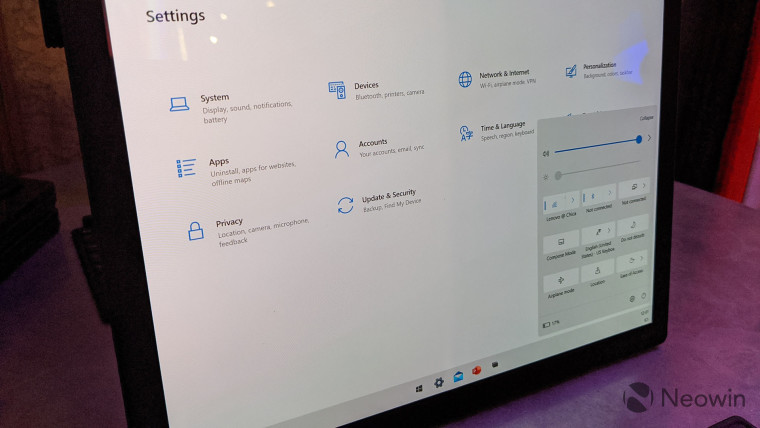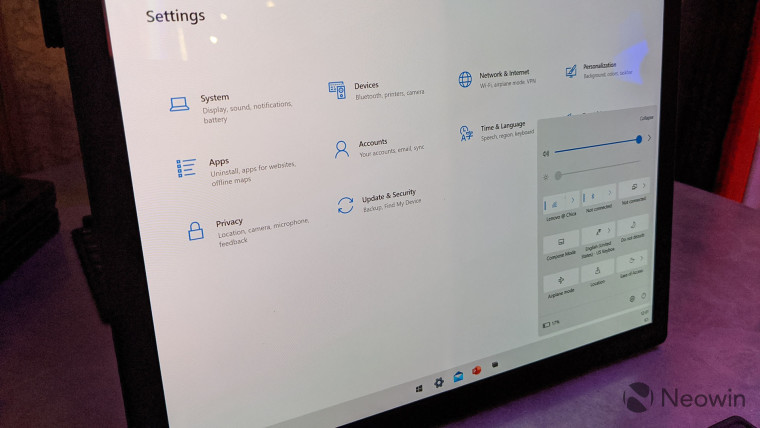 Interestingly, Woods noticed that apps running on this Lenovo Prototype were all running in full screen, with apparently no support for windowed mode. "Windows 10X does not, and will not, support freeform windowed apps, at least as far as what I've been told by the Lenovo representative at CES. You can get fullscreen or split-screen, but that's it," Woods explained.
As seen below, apps running on this prototype device only had buttons to minimize or close the window, but the button to initiate windowed mode is missing.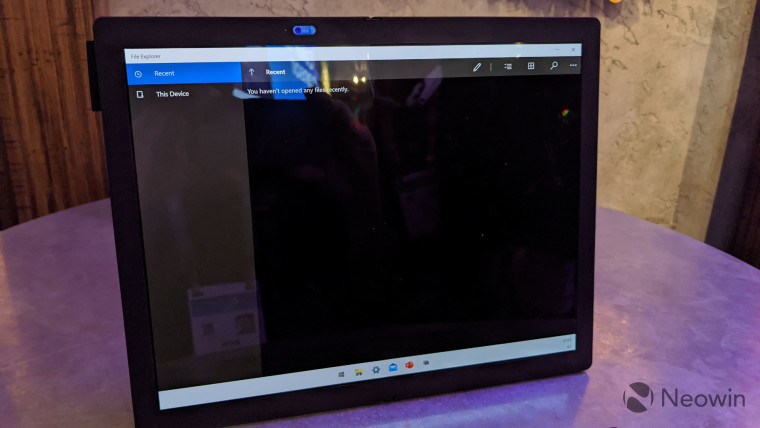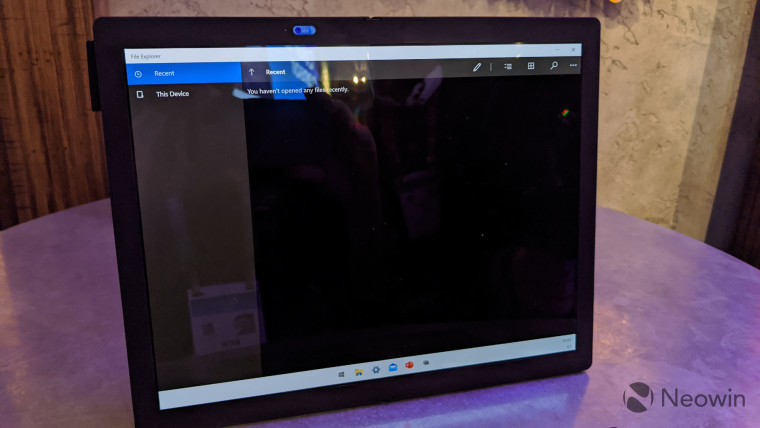 Windows Central's Zac Bowden has since responded to this statement from the Lenovo representative, and stated that Windows 10X will actually support windowed apps. We hope this is true, as in the past decade Microsoft did receive a ton of criticism for its Metro apps that didn't support windowed mode on Windows 8.
It will have windowed apps.

— Zac Bowden (@zacbowden) January 9, 2020
Woods also learned that the Windows 10X version of the Lenovo ThinkPad X1 Fold is "going to run a custom version of Windows 10X, which is built for dual-screen devices, not foldable screens." He also managed to get a picture of the About page showing that the prototype was running "WindowsCore" version 2004.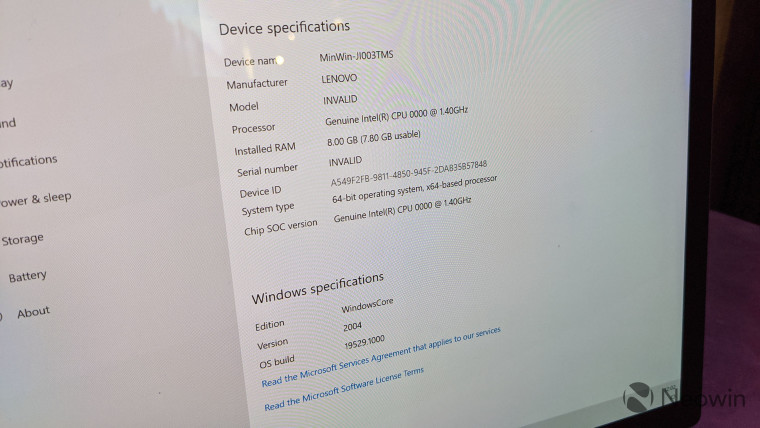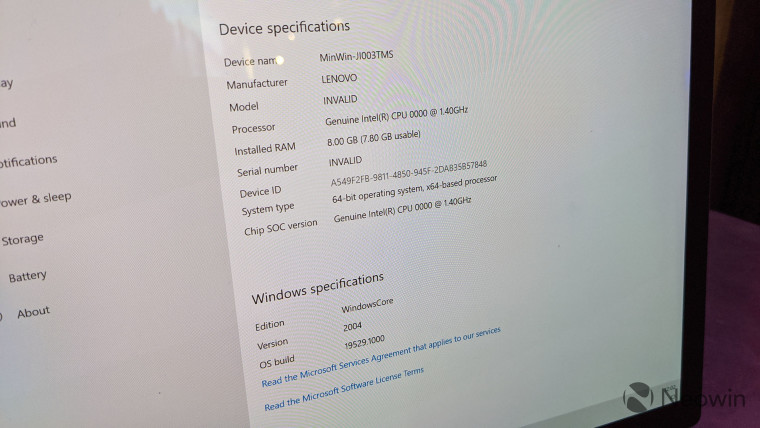 You can see more pictures of this Windows 10X prototype device on the original Neowin report. With the OS apparently being far from being complete, it's not surprising that it barely made an appearance at CES 2020. Microsoft already started talking about the Windows 10X dev story back in November, but we now expect the company to share more details about the OS at its Build 2020 developer conference in May 2020, or maybe even earlier.