Bing Predicts is closing out the 2015-16 NFL season with its final predictions of the year, after going 9-7 in Week 17. According to Bing's machine intelligence, the New England Patriots will repeat as World Champions by beating Carolina in the Super Bowl.
Before that can happen, though, the playoff's Wild Card Round must be completed and the playoff picture firmed up. To that end, here's what Bing Predicts expects to happen: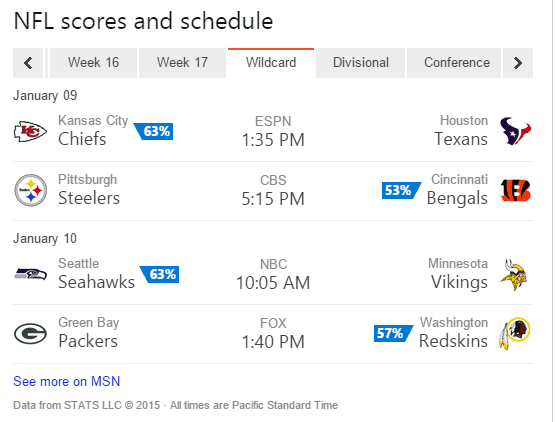 From there, Bing expects Kansas City to knock off Denver, and New England to beat Cincinnati. From there, New England will take the AFC conference title and face the winner of the NFC. Carolina will be just that winner, beating Seattle and Arizona.
Bing Predicts also tosses its hat into the college football championship ring, predicting Clemson to fall to Alabama. This follows Bing's stellar 5-1 picks in predicting the "New Year's Six" major bowl games last week.
So there you have it: the Patriots repeat as champion, hopefully without any of last year's controversy over ball inflation. If you're a Patriots fan, then kudos, and if not, then there's always next season.