Bing Predicts was pretty spot-on in NFL Week 9, correctly picking 9 out of 13 games. Its 9-4 performance brings the AI prognosticator to 89-43 for the 2015 season, which seems pretty darn good to us.
Atlanta once again performed contrary to how Bing Predicts predicted, losing by a point. New Orleans, Denver, and San Diego were the other losses to blemish the machine intelligence's performance.
Here's how Bing Predicts sees Week 10:
• Baltimore returns from a bye week to beat Jacksonville.
• Denver gets back on track with a home win over Kansas City.
• Green Bay returns home after two tough road games against undefeated teams to beat one win Detroit.
• New Orleans secures a road win over Washington.
• Oakland moves to 5-4 with a win over Minnesota.
• Philadelphia returns to first place with a win over Miami.
• Pittsburgh defeats Cleveland despite needing to go with a back-up QB again.
• Seattle closes the gap in the west to one game with a win over divisional rival Arizona on Sunday night.
• Saint Louis defeats Chicago, a team coming off a road Monday game with another road game.
• Tampa Bay secures another win at home in a close game against Dallas.

Bing Predicts also tossed its hat into the NFL playoffs ring, guessing which teams will make the playoffs and where they'll be seeded: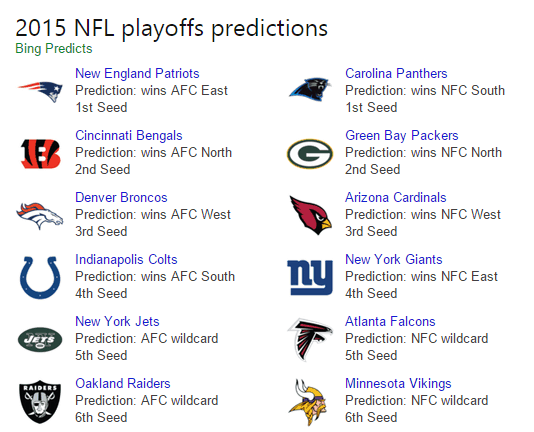 We're rooting for you, Bing Predicts!