Artificial Intelligence (AI) is the next big thing at Microsoft, and the company today shared some news in regards to the AI front. Microsoft's Bing will be picking up some AI-powered search features, and at the same time, Microsoft will also be partnering with Reddit to deliver intelligent search results and business intelligence tools on Bing.
Starting first with the intelligent search features, users can soon expect Bing to aggregate across multiple reputable sources, rather than just one. The features help make Bing search more natural, and Microsoft says this is powered by the: "latest state of the art in machine reading comprehension, backed by Project Brainwave." Simply put, with the power of AI on Bing, you no longer will need to click deeper to find content on the search engine.
Other new AI-powered search features for Bing announced by Microsoft today are seen below. Keep in mind some features are planned to become available in the United States next week with a roll out to other markers over time:
If there are different authoritative perspectives on a topic, such as benefits vs drawbacks, Bing will aggregate the two viewpoints from reputable sources and intelligently surface them to you on the top of the page to save you time.
If there are multiple ways to answer a question, you'll get a carousel of intelligent answers.
Bing's comparison answers understand entities, their aspects, and using machine reading comprehension, reads the web to save you time combing through numerous dense documents.
Now if you need help figuring out the right question to ask, Bing will help you with clarifying questions based on your query to better refine your search and get you the best answer the first time around.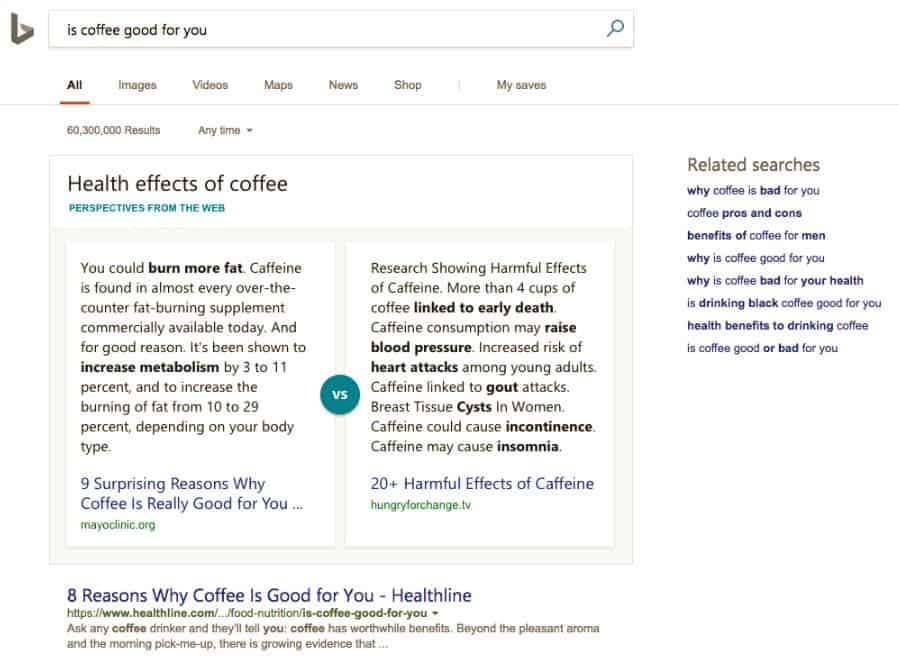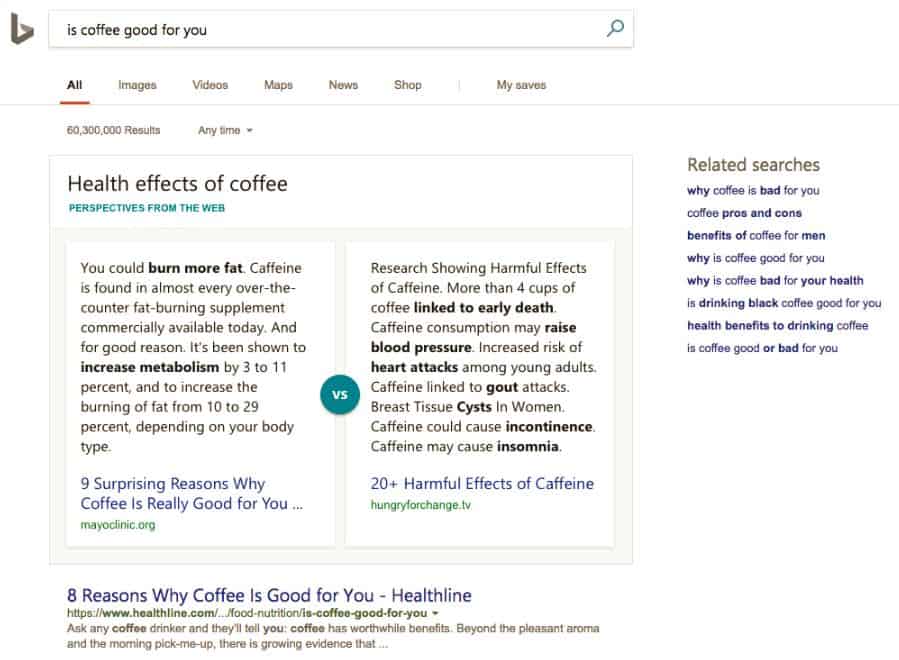 Also a part of Intelligent Search, Bing is partnering with Reddit, to bring information from Reddit to the Bing search engine. Bing will soon give a sneak peak of subreddits, snippets of Reddit conversations, AMAs and more. The Reddit team goes into the full details here, but Microsoft hits the following highlights as to what Bing users can expect from this partnership:
While already in Bing, when you search for a specific Reddit topic or subreddit, like "Reddit Aww", Bing will surface a sneak peak of the topic with the top conversations for the day from Reddit.
When searching for a general topic that is best answered with relevant Reddit conversations, Bing will surface a snippet of those conversations at the top of the page so you can easily get perspectives from the millions of Reddit users.
Bing will be the place to go to search for Reddit AMAs, Q&As with celebrities and every day heroes hosted by the Reddit community. On Bing you can discover AMA schedules and see snapshots of AMAs that have already been completed. Simply search a person's name to see their AMA snapshot or search for "Reddit AMAs" to see a carousel of popular AMAs.
For developers, Reddit has announced that as part of their partnership they will be bringing  Reddit's data and API to Power BI, helping bring "a comprehensive set of business modules that utilizes Microsoft's AI and analytics to help brands and marketers analyze data and share insights."   This is some very exciting stuff, and you can learn more by checking out Microsoft's Intelligent Search website here.