Last fall, Microsoft announced a preview of Bing Image Creator, a branded version of DALL-E 2, in a blog post on some new features coming to Bing:
I'm excited to announce that with the new Image Creator from Microsoft Bing you will be able to create images that don't yet exist, limited only by your imagination. Using the same DALL∙E 2-powered image-generator technology that is also in the Microsoft Designer app, Image Creator helps you bring your ideas to life. Simply type in a description of something, any additional context like location or activity, and an art style, and Image Creator will make it for you.
As we noted, Bing Chat is well aware of Bing Image Creator, too, and references it in some queries we posted:
Redeeming Bing Rewards – Bing Image Creator. You may redeem Microsoft Rewards for Bing Image Creator boosts to expedite the generation of Image Creations.
We still haven't seen many recent mentions of the Bing Image Creator, but Search Engine Roundtable has spotted some tests (we're not seeing them here, are you?) showing a "Create any Image" button showing alongside image search results, allowing you to create your own image if you can't find what you're looking for: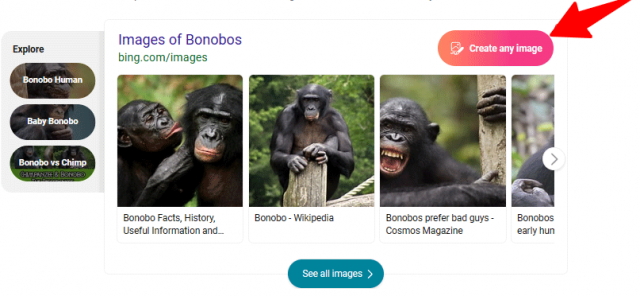 As Search Engine Roundtable notes, Microsoft has recently updated its Bing Webmaster Guidelines to include references to Bing Image Creator.
Are you seeing Bing Image Creator in Bing? Let us know in the comments below.