Principal PM Manager of Microsoft Azure, Leon Welicki, has taken to the Azure blog to announce a new update to the Azure Preview Portal.  The update brings a new set of improvements in navigation, notification, customization, and interface, in response to user feedback. The post also brings news regarding general availability of the Portal.
Iterating on the previous update to the main navigation experience, browsing through resources has been made easier, by adding auto-collapse to the browse panel, or "blade". Browsed resources can now be acted on directly from the browse blade. The default dashboard has also been simplified to only 4 tiles. You can also search the Marketplace as soon as you open the "New" menu for a project.


Notifications have been made more noticeable and discoverable, with toast for every incoming notifcation and color highlights for the notification icon based on the latest one. All can be turned off in the Portal Settings.
It's now easier to customize the Dashboard with Tiles with the Tile Gallery (the existing pinning experience is still present.) Blade customizations, previously causing performance issues, have received optimization. There will also be a one-time reset of blade customization coming in December, which will not affect the Dashboard.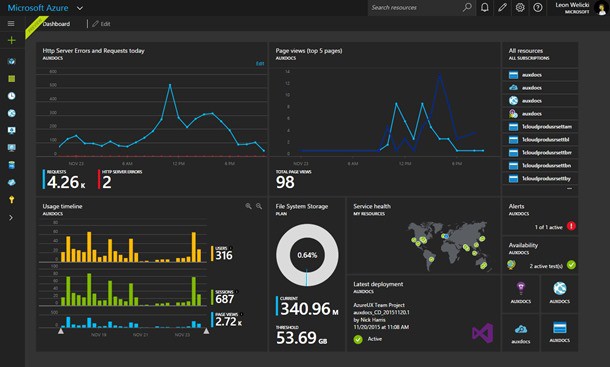 Finally, various elements of the UI have been tweaked for a better experience. This includes the browse blade width, additional columns to resource list, more simplification options for resource blades including searchable, groupable settings, and a better dark theme.
In addition to the improvements, Welicki also discusses the quality bar the Azure team sets to bring the Azure Portal out of preview and into general availability in the near future, focusing on 3 key areas: usability, performance and reliability. A specific date was not mentioned; however, Welicki promises "news to share very soon," and we will update you when more information arrives.