Apple's FairPlay Streaming on Azure Media Services has been in preview for a few months now, but as of today, Microsoft is making it generally available for everyone.
According to Mingfei Yan, a senior program manager of Azure Media Services, customers in the North America (sometime in September for the rest of the world) are now free to link and configure FairPlay through Azure Media Services Explorer Tool or Azure portal.
As a bit of a refresher for those unfamiliar with FairPlay and how it relates to Microsoft, it enables users to extend their reach of the newest version of Apple TV by building a FairPlay Streaming solution. Users can then combine FairPlay with already existing instances of PlayReady and Widevine DRM support all through Azure Media Services, acting as the single choke point for a multi-DRM solution.
Setting up and configuring FairPlay is a pretty straight forward affair, beginning with sign up for Apple Development Program and then following the steps outlined in Microsoft's recent general availability announcement.
Sign up with Apple Development Program.
Apple requires the content owner to obtain the deployment package. Please state the request you already implemented KSM (Key Security Module) with Azure Media Services and that you are requesting the final FPS package.
Once you obtain the final FPS package, you will need to follow instructions to generate a certification and ASK (Application Secret Key). Please save those who need to be used later when you are configuring FairPlay services. Please check out this article if you have difficulties of converting your cert to .pfx format.
Once up and running, configuring FairPlay through Azure portal process is as simple as a four-step process. Luckily, Microsoft outlines exactly how and what to do when setting up both through Azure portal as well as going through Azure Media Services Explorer Tool.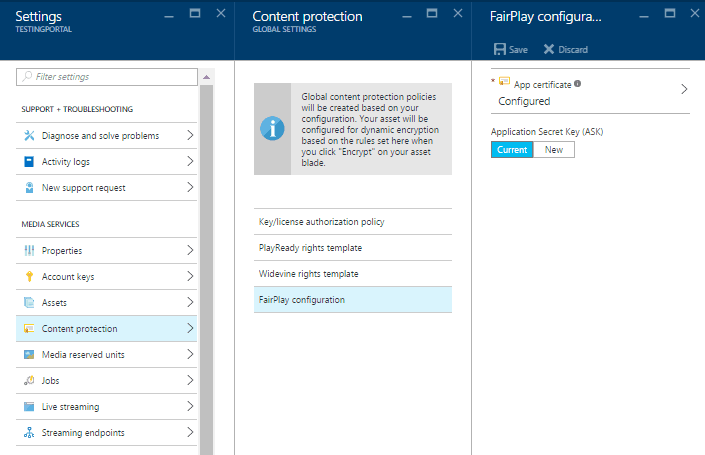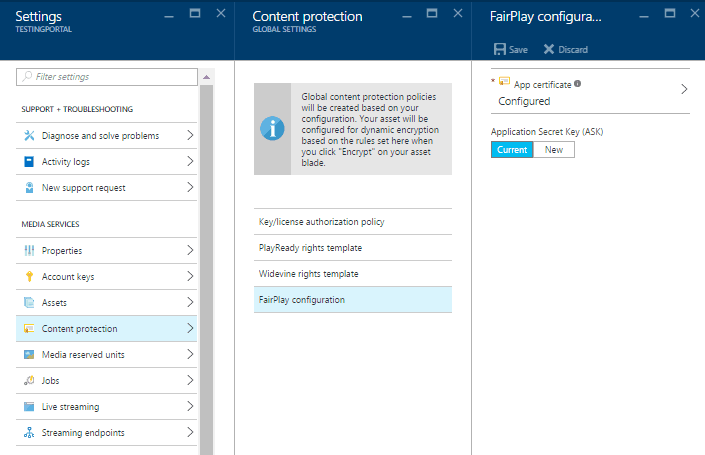 Head over to Microsoft's Azure Blog for more information about pricing, license availability across the world as well as getting samples of hosted player code from either an SDK, MSDN articles or a GitHub sample project.