Australian research firm, Telsyte, has concluded that purchases of tablets have gone down in a recent study of 2015's analytics. According to records, there were an estimated 3.8 million devices sold in 2014, but now the number has decreased to 3.1 million just last year. In 2014, low-cost tablets under $450 made up of 48% of sales leading to the 35% in 2015. Telsyte projects the share to fall down to 26% in 2016 as users decide to purchase more expensive and premium products.
Telsyte expects that even after the second year of decline in tablet sales, the market will shift upwards again in 2016 with the release of more 2-in-1 computer/tablet devices. These tablets blur the line between computer and tablet including options such as foldable designs and detachable keyboards. Most of the consumers that have begun this revolution were career driven professionals and businesses that seek out higher quality and efficient machines for their needs. Location of the research might also be playing a large key factor since almost half of the businesses in Austrailia allow employees to bring their own devices to work.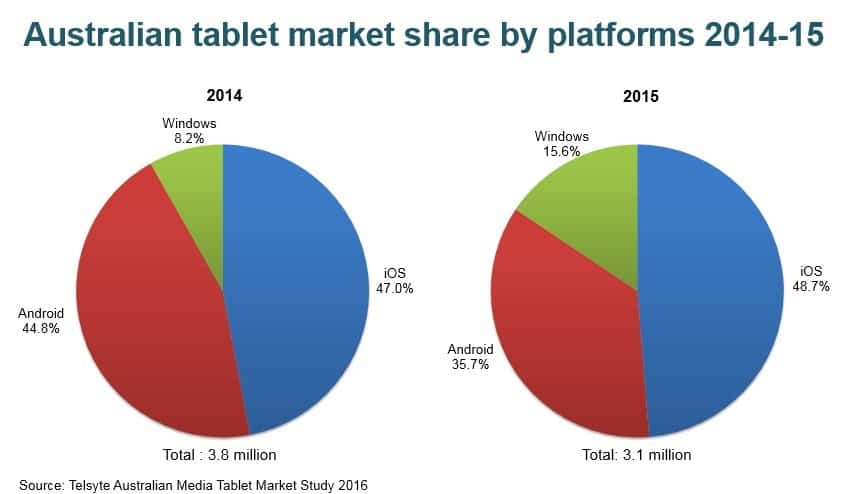 Windows-based tablets doubled in sales going from 2014 to 2015. While it hasn't had time to directly impact the market's decline, Telsyte feels that the Microsoft Surface could be a growing influence on increasing tablet's sales in the future. Telsyte's reviews consider both Microsoft Surface Pro 4 and Microsoft Surface Book premium, giving them each 4.5 stars based on real world testing and analysis.
"After a slow start Microsoft is now realising the tablet opportunity, producing its own Surface branded devices, but also shipping on Windows devices from Samsung (the dominant Android smartphone and tablet vendor) and traditional partners such as Dell and Lenovo."As the numbers of consumer purchases begins to wane between Apple and Microsoft,
For a full list of reviewed tablets and results by Telsyte's analysts, visit their site. In light of the research, it will be interesting to watch the numbers of consumer purchases wane between Apple and Microsoft.