Kantar published today its latest smartphone OS sales data for the fourth quarter of 2016, which highlights big iOS gains in the US and Great Britain. As you can expect, there is not a lot to say about Windows Phone, which is down in all markets year-over-year and claimed a tiny 0.8% market share in the US. With very few interesting handsets in the market today, it's hard to see how Microsoft's mobile OS could make its come back in the near future.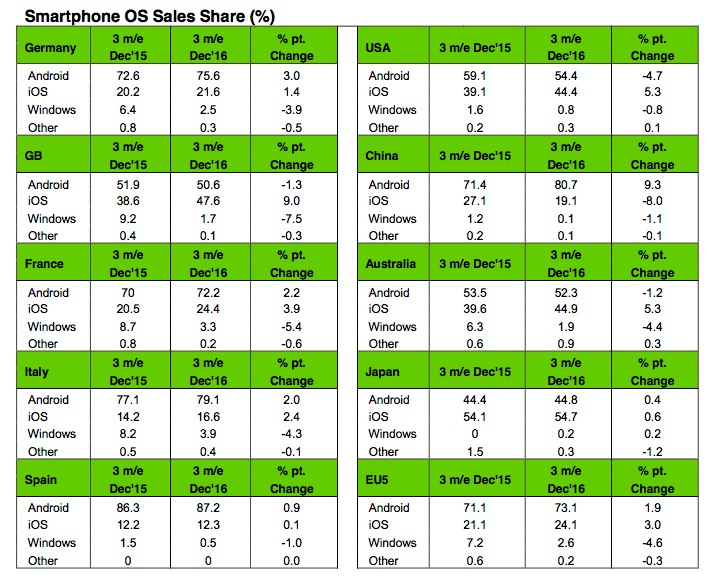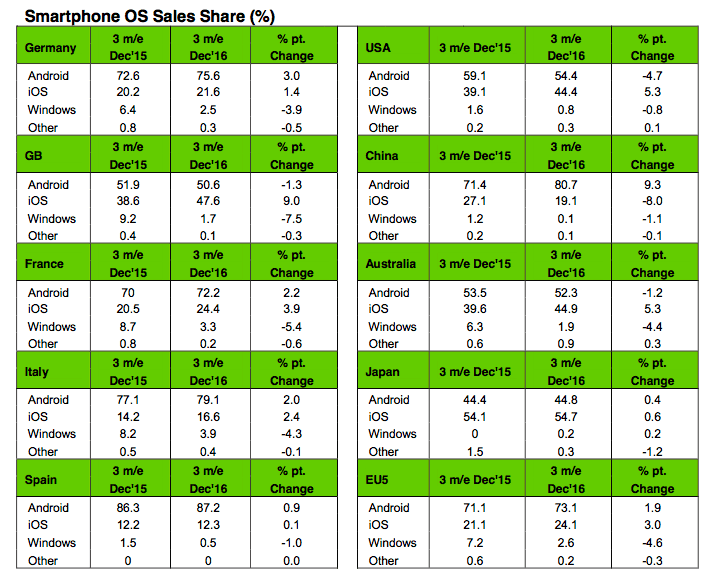 Android was also down 4.7% points in the US compared to the same period of 2015, though the OS is still leading in the country with a 54.4% market share. However, iOS enjoyed a 44.4% market share (up 5.3% percentage points) during Q4 2016, a significant growth that can be explained by the very successful launch of the new iPhone models. "iPhone 7 and iPhone 7 Plus were the top sellers for the holiday period, netting their highest share since their release in mid-September, and representing 28% of smartphones sold in the fourth quarter," explainer Kantar Lauren Guenveur.
In Europe's big five markets (Great Britain, Germany, France, Italy, and Spain), Kantar noted that Samsung was the top manufacturer during Q4 2016 while Android and iOS claimed a 73.1% and 24.1% market share, respectively. Looking closer at Great Britain, iOS was up 9% points at 47.6% while Android was not too far ahead at 50.6% (down 1.3% points). According to Kantar's Dominic Sunnebo, "Apple achieved its highest loyalty ever in Britain, with 96% of those Apple owners who replaced their phones buying another iPhone."
Overall, Kantar noted that smartphones sales were down in Q4 2016 compared to the same period a year earlier, a sign that the marked is nearing saturation. "Technology continuously moves forward, and while smartphones remain at the center of many new technologies like VR, connected home, and IoT, they are no longer the most exciting devices in the household," explained Guenveur. It's right that smartphones have become a commodity nowadays, but that doesn't necessarily means that manufacturers are no longer innovating. We're just a couple of weeks away from Mobile World Congress 2017, and the event should once again give us a pretty good overview of the latest technology trends that will affect the mobile industry this year.