A little more than a year after Microsoft launched its Netflix-like Xbox Game Pass program, it's becoming clear that subscription services are already benefiting the video games industry. Now that Microsoft's Xbox Game Pass and EA's Origin Access Premier provide day one access to AAA games like Forza Horizon 4 or Battlefield V, it's hard to ignore that these subscription services are slowly but surely changing the consumption habits of hardcore gamers.
According to a new study from market research company SuperData (via VentureBeat), gamers who pay for subscriptions like Xbox Game Pass or EA Access spend around 45% more on games that non subscribers. Moreover, subscribers spend twice as much money on DLCs, cosmetics and other additional game content according to the same study.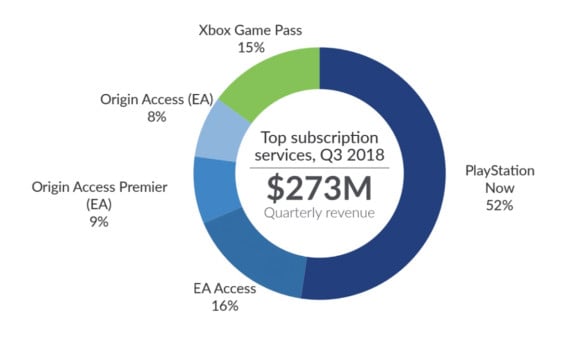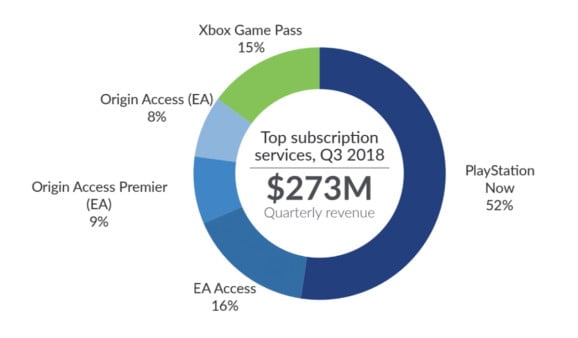 SuperData's research also revealed that the top gaming subscription services worldwide are currently Sony's Playstation Now (only available on the Playstation 4 and Windows PCs), followed by EA Access and Xbox Game Pass on Xbox One. These three subscription services accounted for 6% of the overall premium PC and console revenue in Q3 2018, according to SuperData.
Microsoft and other video games companies are still hesitant to openly discuss these new subscription services and their business model, though Microsoft's pretty much confirmed earlier this year that Xbox Game Pass subscribers spend more time and money on video games. Speaking with Variety back in August, Ben Decker, general manager of services at Microsoft said that Game Pass members spent 20% more time playing games and played 40% more titles. "We are seeing both purchase and subscription increases as a result of Game Pass," the exec said.