As reported by the folks over at Windows Central, Microsoft has begun rolling out its long-awaited Android 12L update to Surface devices.
We've been reporting on the potential of the Android 12L update coming to the Surface Duo since we spotted a mention of larger screen support for the mobile OS roughly a year ago. Back in March of this year, Google all but confirmed that arrival of Android 12L to Surface Duo devices with a statement reaffirming the company's efforts to work with partners that included Microsoft.
Starting later this year, we'll bring 12L to your favorite tablets and foldables with planned updates from Samsung, Lenovo and Microsoft. And we'll continue to build more features and functionalities to help you make the most of your larger screen devices in Android 13 and beyond.
Ironically, Microsoft has not publicly confirmed or denied Android 12L specifically coming to Surface Duo devices, just that the handhelds would continue to get OS support for three years beyond their release date.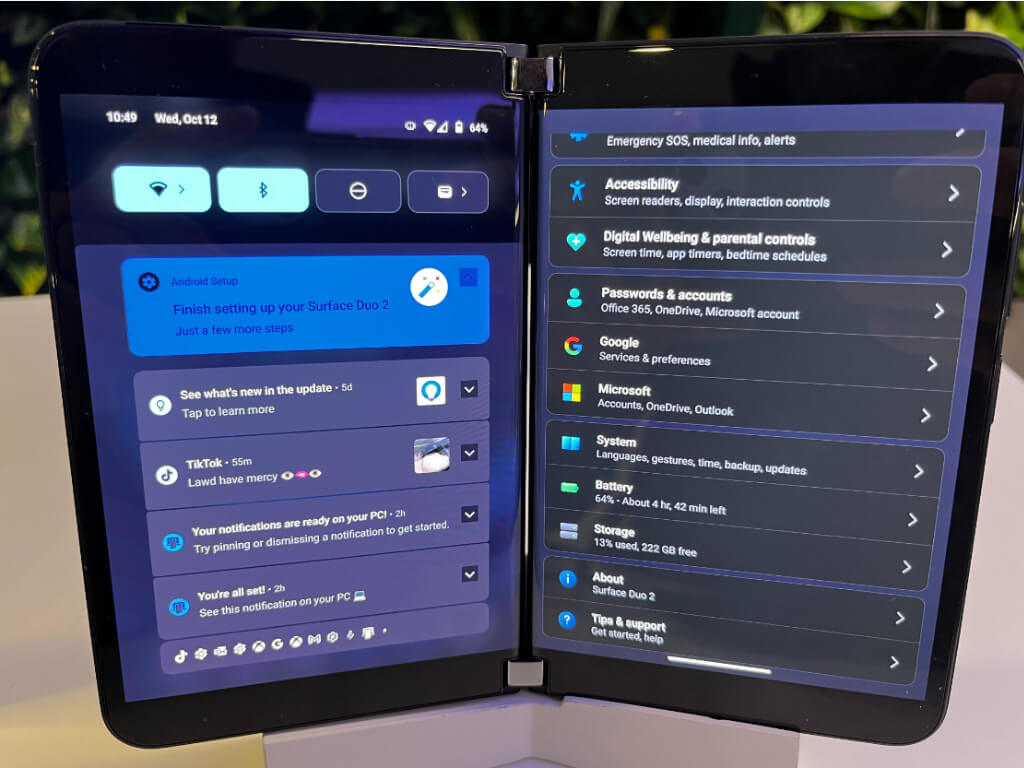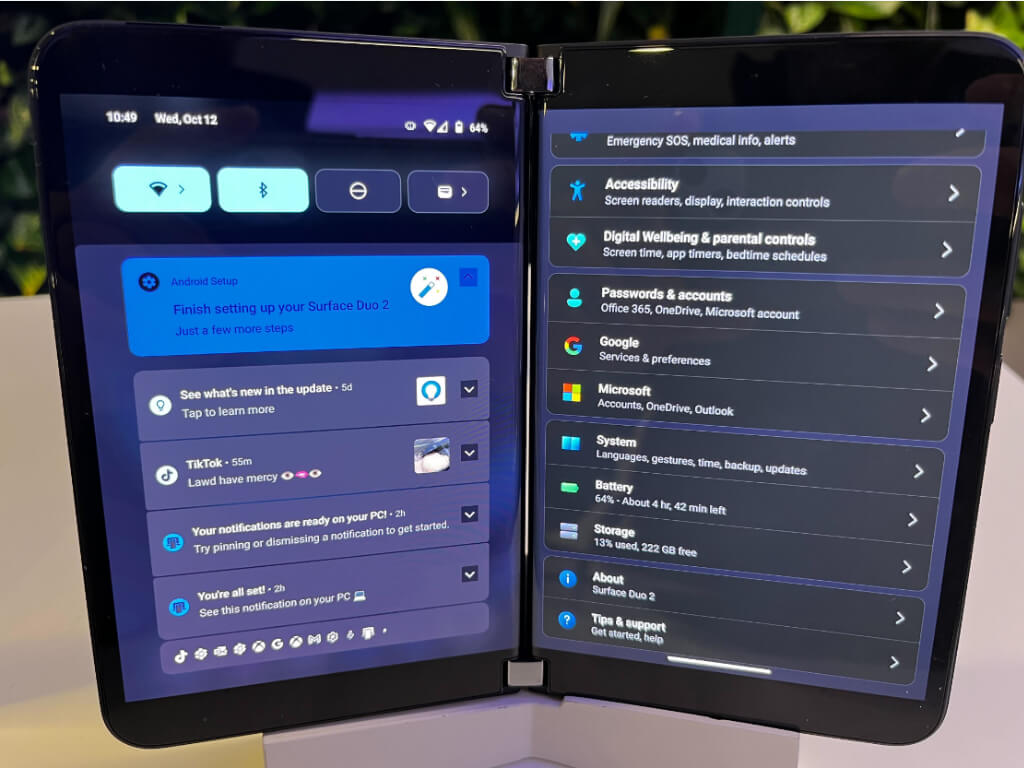 Since we began reporting on the potential of Android 12L coming to the Surface Duo, owners have quietly been receiving timely monthly updates that brought optimizations, fixes and a handful of new features along the way. It would appear, Microsoft is looking to quietly update the Surface Duo to Android 12L as well, opting to skip any mention of it during its Surface hardware event or even a press release thus far.
With Android 12L, Surface Duo users will notice an immediate update to the UI that resembles more of Windows 11 than the stock Android approach the Microsoft Launcher previously took. The new Android 12L version of the Microsoft Launcher now incorporates more Fluent design elements that include Micha, Acrylic, more fluid animations, rounded corners, vibrant iconography and larger text thought the experience.
Regular Android 12L features are on board as well, that include the accented color theming, privacy controls, recording input indicators, and others.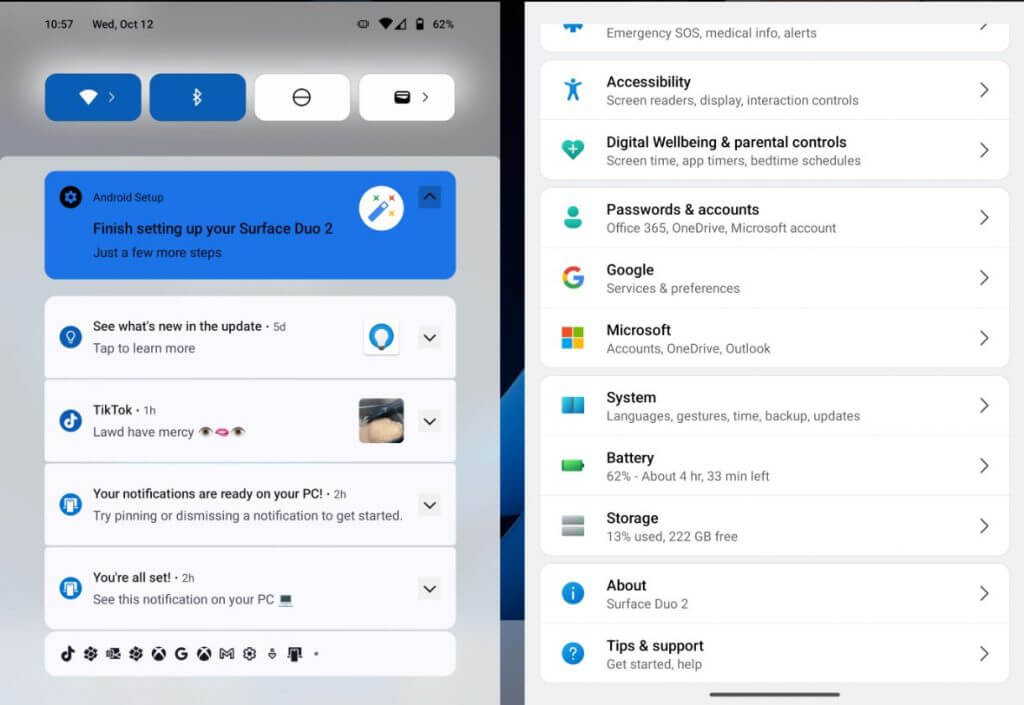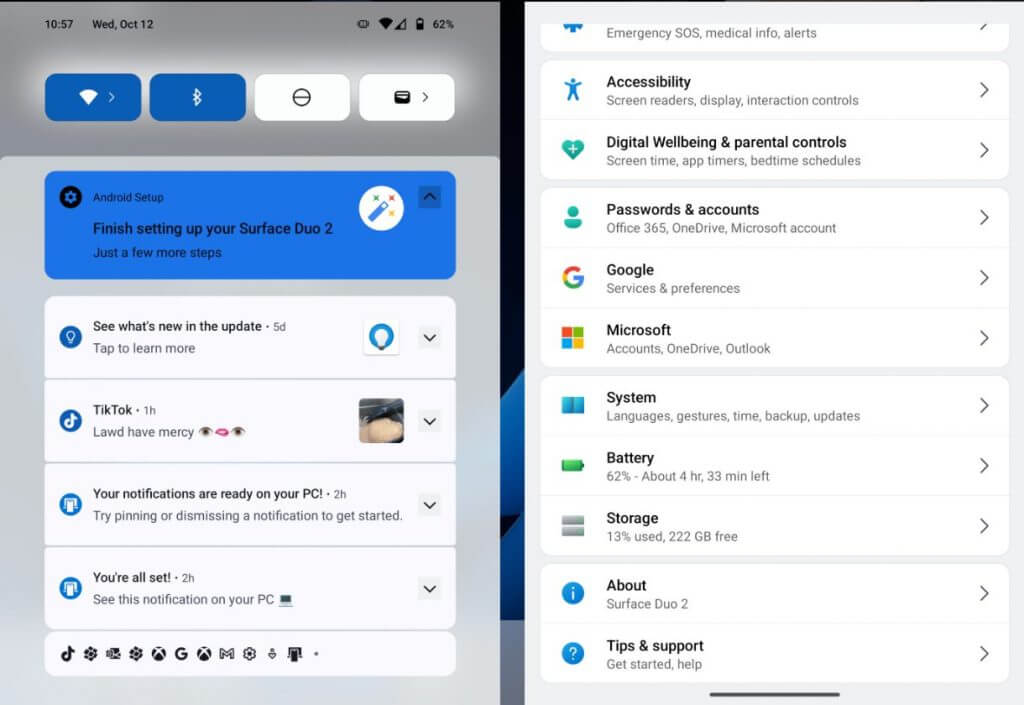 While much of the 3.2GB (Surface Duo 2) or 2.6GB (Surface Duo) update is focused on the aesthetic of the Launcher, there were some functional additions in tow with the Android 12L update that include a new Slim Pen actions prompt that allows users to customize actions to coincide with Pen use on the Surface Duo, as well as noting the battery life of the Pen 2. Another addition tucked away in the 12L update is improvements to the haptic navigation of the Surface Duo. Users will now feel additional subtle haptics when navigating the UI, from scrolling menus to device pairings, Microsoft has baked in new 'in-the-hand' feelings for the Surface Duo.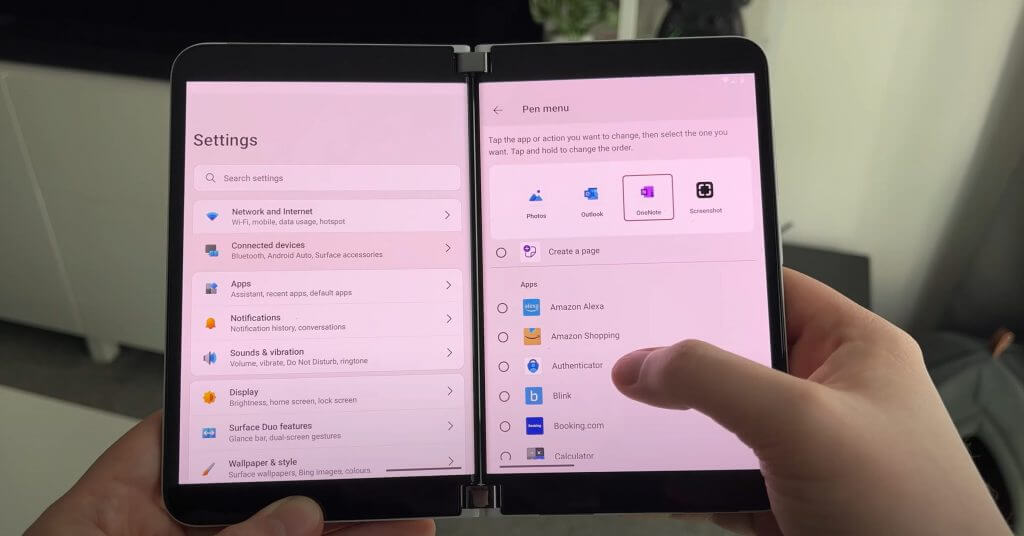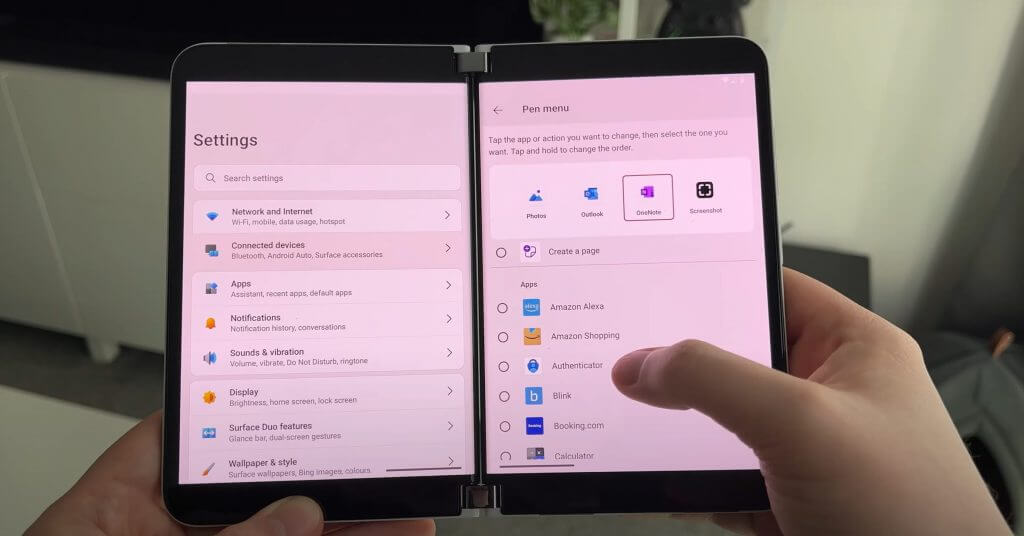 Zac Bowden, over at Windows Central included the following tutorial on how to get the update:
Connect to a Wi-Fi network.
Select Settings on your Surface Duo's home screen.
Select System.
Select System Update.
Select Check for update.
Select Restart now.
However, this may be for unlocked devices at this time. Anecdotally, I've tried the process and came up short, but my Surface Duo is tied to my carrier, and as such, I may need to wait a bit longer to get the update. If you happen to fall into the same boat as me, and cannot immediately update, please be patient as Microsoft continues to work on updating its devices.