At long last, the Dev Channel of the Windows Insider Program is exciting. Microsoft just released Windows 11 Insider Preview Build 22557, and it's bringing a ton of new features. Covering the Start Menu, new touch gestures, Live Captions, improvements to Snap Layouts, and more, here's what you need to know.
Start Menu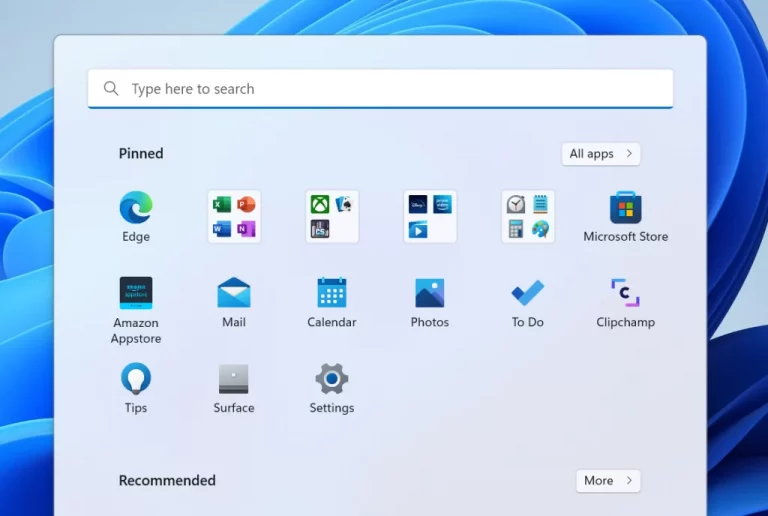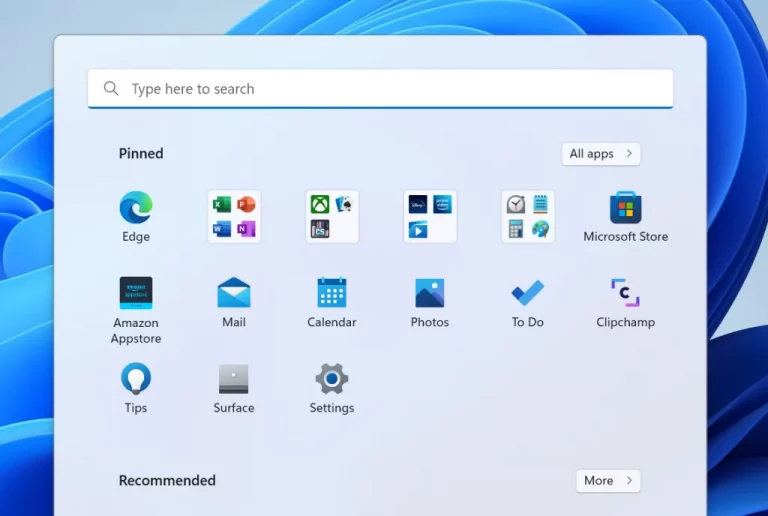 First up are the changes to the Start Menu. Microsoft is adding the ability to add folders to the Start Menu. You can drag an app on top of another to do so, and you can add more apps to a folder, rearrange apps within a folder, and remove apps from a folder. The ability to name and rename folders will come in future builds.
Live Captions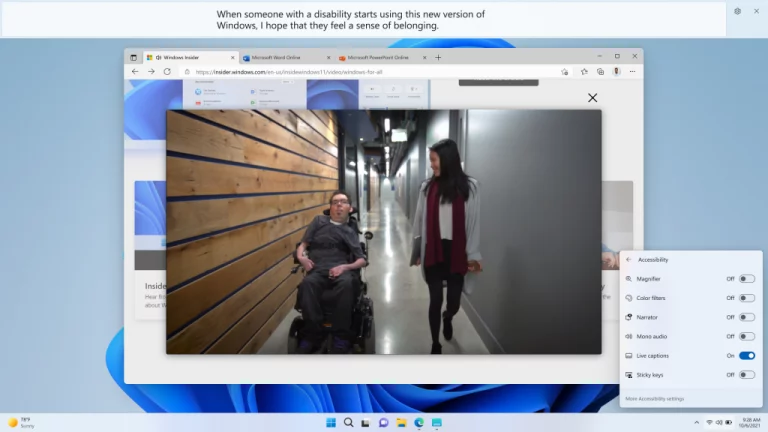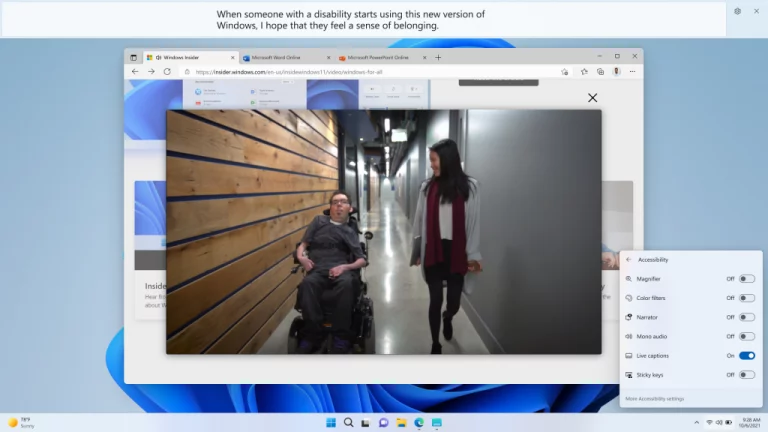 Next, there are Live Captions, which might be familiar if you're an Android user. These can be turned on with Windows, Control, and L on your keyboard. Captions are automatically generated on-device from any content with audio. Captions will be displayed at the top or bottom of the screen, or in a floating window. The caption window can be resized, and the caption appearance can be personalized by applying or customizing a caption style. Microphone audio can be included in Live Cpations, too.
Changes to Notifications & Do not Disturb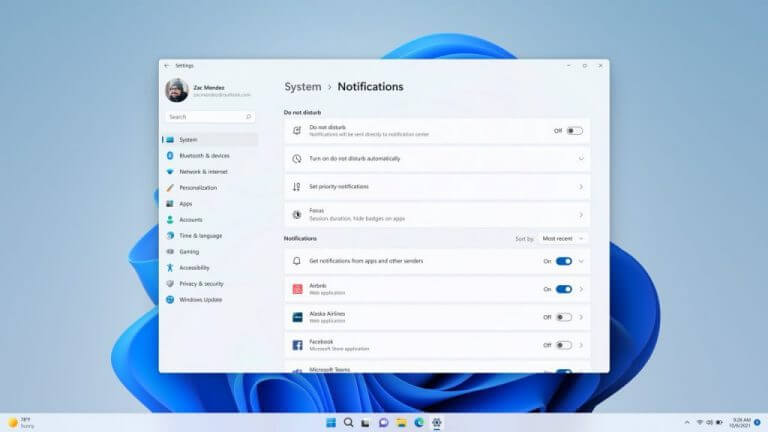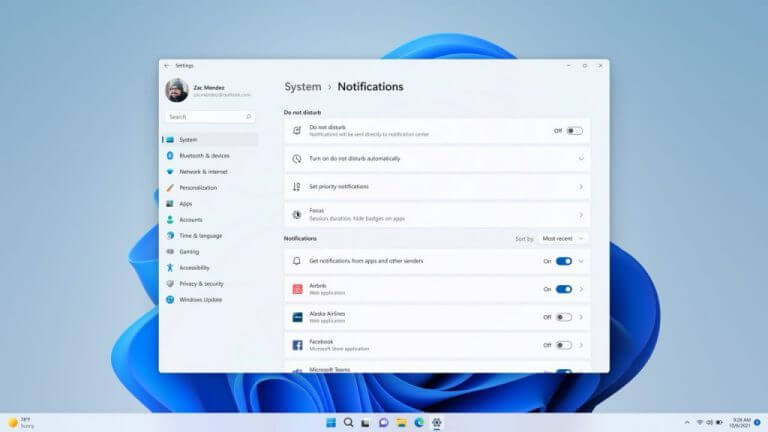 Third up are changes to Do Not Disturb and Focus. A new Do Not Disturb feature will make it easy to silence your notifications. When you are ready to see the notifications that you may have missed, you can find them in Notification Center. Go to Settings > System > Notifications to find it.
Focus, meanwhile, is a new experience that will enable everyone to stay in the moment and minimize distractions on their PC. Focus integrates with the Clock app for other focus tools, such as a focus timer and calming music. You can get to Focus by going to Notification Center, selecting the time for focus, and pressing Start Focus.
File Explorer Changes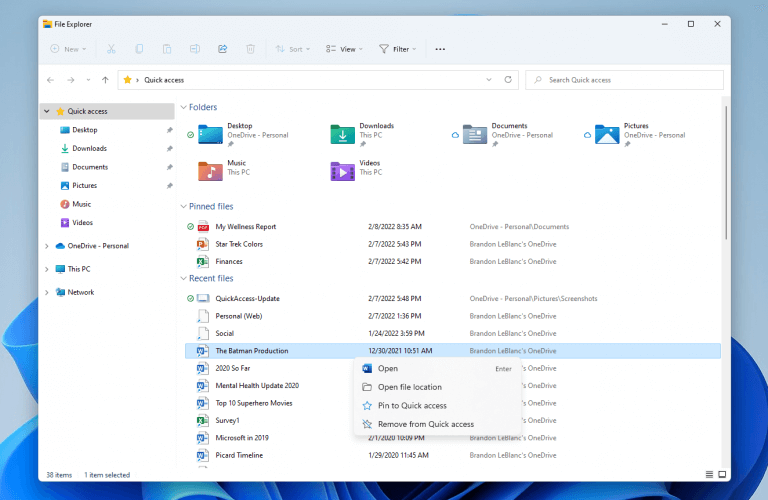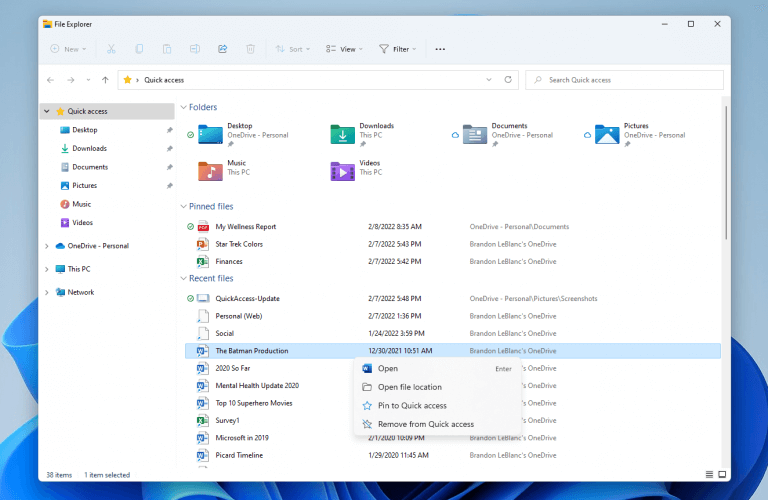 With File Explorer, Microsoft is improving Quick Access. Quick Access now supports pinning files, as well as folders. These will show in a new section above Recent files in Quick Access. Note that for users who log in to Windows with (or attach as a secondary account) a Microsoft Account or Work/Education account, Pinned and Recent files from Office.com will also be shown in Quick Access, too. Additionally, OneDrive now integrates with the File Explorer.
When browsing your OneDrive folders, you can now see your sync status and quota usage without having to leave File Explorer, right at the top with a new OneDrive icon. Oh, and what about File Previews? Well, like Windows 10, Windows 11 now shows a preview of items within folders.
Touch Gestures
Have a Surface and care for the new Touch Gestures? There's a bunch of these in this latest Build, for a total of 5. You can use different gestures to control the Start Menu, open apps, notification gestures, full-screen apps, and more. See these below.
Swipe to invoke and dismiss Start: Swipe with your finger from the middle of the taskbar to invoke the Start menu and swipe back down to dismiss it.
Swipe between Pinned/All apps and Recommended/More on Start: Within Start, swipe right to left from Pinned to get to All apps and left to right to get back to Pinned. The same gesture works for Recommended/More.
Swipe to invoke and dismiss Quick Settings: Swipe with your finger from the bottom right of the taskbar to invoke Quick Settings and swipe back down to dismiss it.
Swipe to invoke and dismiss Notification Center: We've updated the animation when swiping to invoke and dismiss Notification Center from the right edge of your screen so that it's more responsive and follows your finger
Full screen gripper: In full screen touch-oriented apps and games (e.g., Solitaire), notice a gripper that appears if you swipe from the edges of the screen. This feature is designed to keep you in your app if you accidentally swipe near the edges. If you need to access edge content, simply swipe again on the gripper.
These features are all catered for tablet users, but Microsoft now says that it's also making rotating tablets between portrait and landscape more responsive.
Snap Layouts
What about Snap Layouts? Well, as rumored, Microsoft added a new way to snap windows into snap layouts that work with both touch and mouse. Drag a window to the top of the screen to reveal the snap layouts, drop the window on top of a zone to snap it, and use snap assist to finish building your layout. Microsoft also improved snap assist to seamlessly animate between zones in a layout for a delightful end-to-end snapping experience.
Task Manager Redesign & Efficiency Mode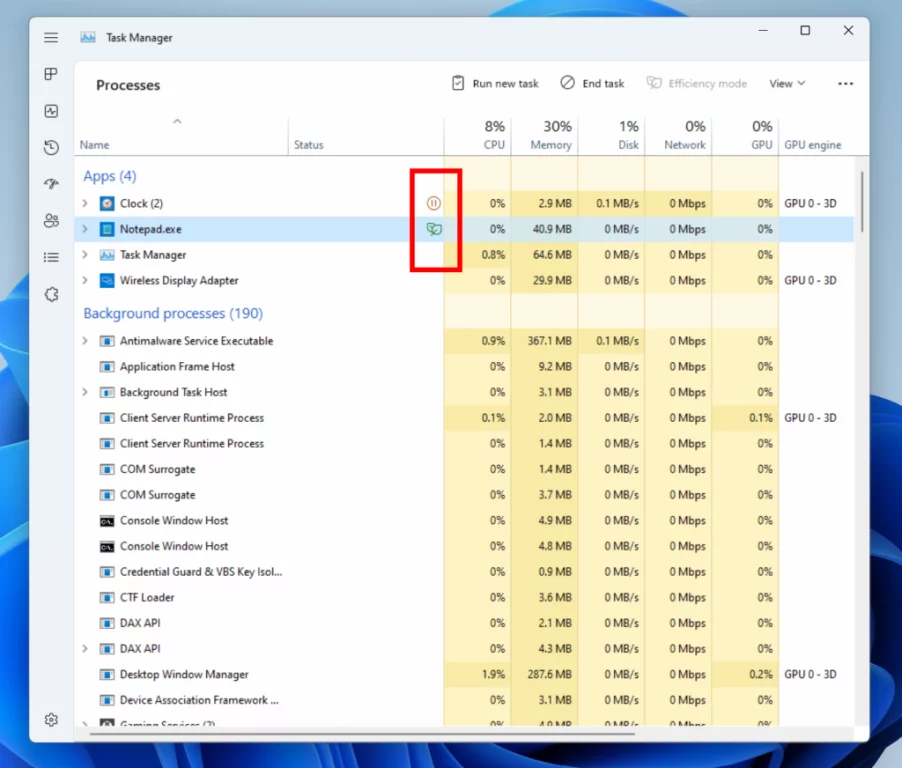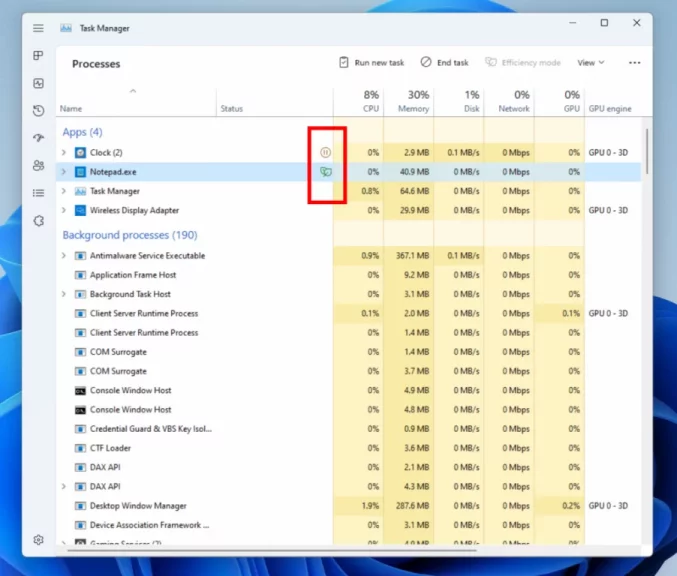 The final of the big changes is a new Task Manager Redesign. We've seen this leak before, but it matches the design of Windows 11 now. This includes a new hamburger-style navigation bar and a new settings page. A new command bar on each page gives access to common actions. Note that there's also a dark theme now, too.
And Efficiency? Well, Microsoft has a new Efficiency Mode that's helpful for when you notice an app consuming high resources and would like to limit its consumption so that the system gives priority to other apps. This can lead to faster foreground responsiveness and better energy efficiency. You can apply Efficiency mode either by clicking on the command bar in the Processes page or right-click on the process. You can only apply Efficiency mode to a single process and not to the entire group process.
Other stuff
We just hit the big features, but there are other features to enjoy in this release. For instance, you can now drag and drop files to the taskbar, switch between color profiles with a new Quick Setting, enjoy a new Cast Icon, and a new battery charging icon.
You even can now compose an email message directly within the share window when sharing a local file, without having to go into Outlook directly if you have the Outlook Desktop Integration installed.
Search is also faster, windowing in Snap Groups and Snap Assist is cleaner. You can check out the full changelog over at Microsoft for more. Happy downloading, Windows Insiders, and enjoy all the new toys!