If Microsoft is now gearing up for the release of the Windows 10 version 1903 (codenamed "19H1") in April, the company continues to make progress on the propagation of Windows 10 version 1809. As you may know, the rollout of this last major update had to be delayed due to investigate a file deletion bug, but AdDuplex is reporting today that Windows 10 version 1809 has now crossed 20% usage share in February.
"Out of more than 100,000 PCs surveyed, only 21.2% run the October Update. While this number is almost double of what we've seen last month, it's still far away from the dominating April 2018 Update (71.6%)," AdDuplex noted in its latest report.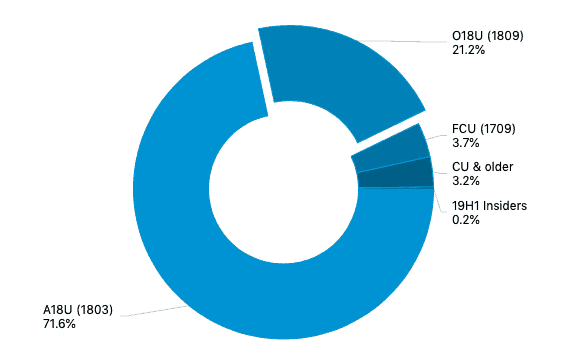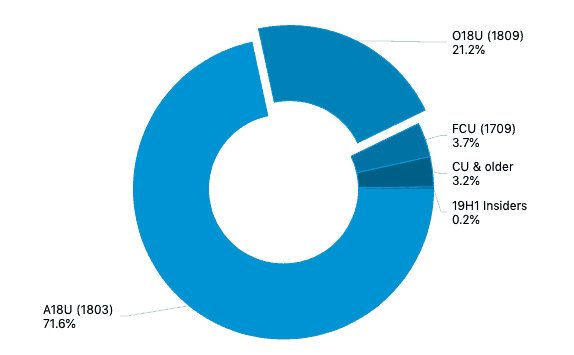 We repeat it every month, but AdDuplex's pool of PCs only takes into account Windows 10 PCs running Microsoft Store apps and games using AdDuplex ads. This data probably isn't a completely accurate representation of the Windows 10 ecosystem, but in the absence of official data from Microsoft, that's pretty much our only source for keeping track of the usage shares for the different versions of Windows 10.
Anyway, if Microsoft does releases Windows 10 version 1903 in April, we have to wonder if users still on version 1803 may get it before the version 1809 released in November. Releasing two major updates every year and rolling them out to all Windows 10 users in a six months period definitely causes some fragmentation, but that shouldn't really be an issue for consumers. Older versions of Windows 10 are still getting updates before consumers are forced to update to newer versions, and not all of them will pay attention to new features like Your Phone, Cloud Clipboard, or the new Game Bar.