It's now been a month since Microsoft started rolling out the Windows 10 May 2020 Update, and the new release is now running on 7% of Windows 10 PCs according to AdDuplex. This latest survey was done on 150,000 10 PCs running AdDuplex ads, and it shows that the Windows 10 May 2019 Update remains the most popular Windows 10 version with a 46.2% usage share, ahead of the November 2019 Update (35.7%).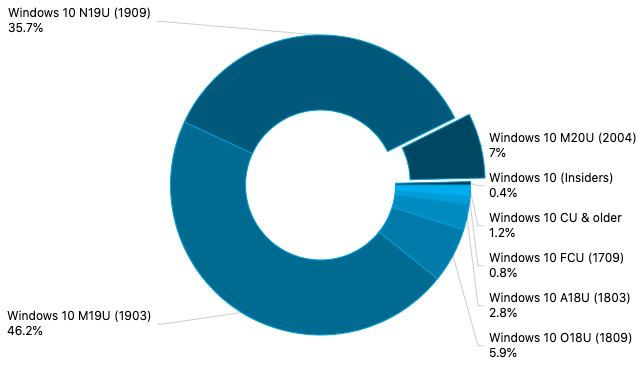 As this has been the case with previous Windows 10 releases, the May 2020 Update launched with several issues that led Microsoft to put some upgrade blocks in place. As of June 16, 2020, the Windows 10 May 2020 Update is available for users with PCs running the May 2019 or November 2019 Update who manually check for updates in Windows Update, unless there's a compatibility hold for their devices. However, the company is continuing its phased rollout for everyone else, and the company is also using machine learning to automatically update devices approaching end of service.
As usual, AdDuplex's data represents just a subset of the one billion Windows 10 devices on the market, so the reality of the Windows 10 ecosystem may be quite different. Still, Microsoft still has some bug fixing to do before making the Windows 10 May 2020 more broadly available, and we invite you to check out the Windows 10 Health Dashboard to learn more about all the issues that Microsoft is currently investigating.