Editor's note: This is the first post in a series that will go over the new features of the Windows 10 Anniversary Update. This post is ideal for new users who are experiencing the update for the very first time. For those who have been a part of the Insider program, share your thoughts on the Anniversary Update in the comment section below.
There are a ton of new features coming to the Start Menu, Action Center, Microsoft Edge, among others in the upcoming Windows 10 Anniversary Update arriving August 2, 2016. As Windows Insiders, some of us are already experiencing the new Windows 10 features. Otherwise, these new Windows 10 features won't be available for the rest of the Windows 10 community until the Anniversary Update arrives on their machines.
There are plenty of good tips about using the good tips on using the Windows 10 Action Center, Using Explore and Your Groove sections in Groove Music, or how to be a Windows Insider. Here's a look at what new features you'll see in the Windows 10 Action Center in Anniversary Update.
The Windows 10 Action Center will add a more user-friendly interface with content-rich notification tiles, widgets, and cards, with more customization options for Windows 10 users. Originally, the Windows 10 Action Center was to be powered by the cloud, and so if you missed a notification on your PC, it would also show up as missed on your Windows 10 or Android phone.
It's hard to say if this feature will be different since Microsoft recently decided to nix a feature called Messaging Everywhere, in favor of a Skype + SMS messaging app. And so, the only messages that you will likely be able to reply to or dismiss are Skype notifications and you may still rely on your phone for SMS messaging replies.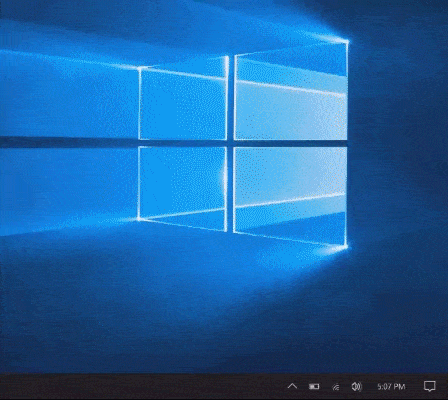 Microsoft planned on having SMS messaging integrated with Skype then decided to have Messaging Everywhere, then switched decided to abandon Messaging Everywhere altogether in the Anniversary Update. Now that Microsoft released a new Skype Preview app, it appears Messaging Everywhere will come back later this Summer. (Author's note: Personally, I thought that Messaging Everywhere was perfect for those that rarely use Skype and the ability to reply to a text message from your Windows 10 laptop or tablet was more useful and convenient than relying purely on text messaging on your phone.)
The Anniversary Update will also allow you to set the priority level of each app that sends notifications and appears in the Windows 10 Action Center. Top, High, and Normal will be the three settings available to set message priority.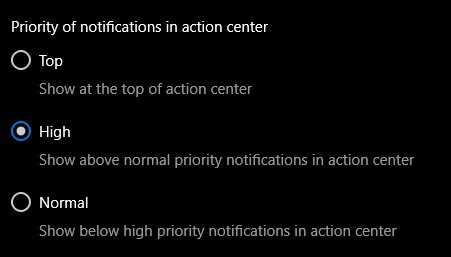 For example, you may find that work emails are the most important, setting them to "Top" so that you are notified of incoming emails as they arrive. "Top" priority level app notifications will appear above all other notifications, regardless of the order that other notifications are received. You will also have the option to disable notification banners completely, and simply let the Action Center icon on the Task Bar animate once you receive a new notification.
Another new feature coming with the Windows 10 Anniversary Update is that the Action Center button will move over to the right edge of the Task Bar, allowing for better access and more available real estate to alert you when new notifications arrive.
With the Anniversary Update, there is more space available to add, remove, or rearrange quick actions in the Windows 10 Action Center. You can turn on or off settings like Bluetooth or WiFi, or adjust brightness settings without having to open the Settings app. With the Anniversary Update, you will be able to add and arrange up to 15 quick actions; display them all or handpick the quick actions you use most.
With the Windows 10 Anniversary Update, Microsoft is looking to make the Action Center more useful by providing richer content notifications. Microsoft has made these improvements to the Action Center based on Windows Insider feedback to make a more overall user-friendly experience.
Hopefully, the Windows 10 Anniversary Update will deliver all the great features that everyone has been anticipating for months now. Originally slated to be released in July, the Anniversary Update is now releasing and you should receive your update soon. Hopefully, the Anniversary Update is well worth the wait.