Consoles like the Xbox have been around for quite some time now; the appeal behind a device with such a basic approach to gaming lives on to this day. Simply insert the disk (or cartridge – remember those!) and get gaming. Consoles have of course gotten more capable and feature rich over the years but the primary concept remains the same.
The alternatives, of course, are gaming PCs. What's great about these PCs is that tend to be newer considering consoles are only upgraded every 5 to 10 years or so. They can also be more powerful, they're upgradable, and games generally look and play better on them.
Thing is, simplicity isn't the only reason why consoles are popular; they're relatively cheap too, especially when compared to gaming PCs which can cost up to $2000 and more. But I'll let you in on a little secret: Gaming PCs don't have to be expensive. With a little bit of effort, you can put together something more capable than your everyday console.
Let's use the $399 1TB Xbox One as a basis. For that same price, you can build yourself a PC that's good enough to game at 1080p, and because it's a PC, do a whole lot more. Here's the list of parts we've put together, and below it, more information on some of the major components.
| | | |
| --- | --- | --- |
| Part | Model | Price |
| Processor | Intel Pentium G3258 | $69.99 |
| Motherboard | Biostar H81MHV3 | $44.99 |
| Graphics | NVDIIA GeForce GTX 750 Ti | $109.99 |
| Memory | Corsair Value 4GB | $22.99 |
| Storage | WD Black 1TB | $70.99 |
| Chassis | Cooler Master Elite 110 | $39.99 |
| Power Supply | Antec 450W | $34.71 |
| OS | Windows 10 Insider Preview | $0.00 |
| | Total | $393.7 |
Processor: Intel Pentium G3258
Don't let that Pentium brand fool you, this dual-core CPU is based on Intel's fourth-generation 'Haswell' architecture, and according to reviewers, is quite a beast for its price. The Pentium G3258 was designed by Intel to celebrate the 20th anniversary of the Pentium brand. What makes it special is its unlocked multiplier, making it possible to overclock the G3258 well beyond 4.0GHz on air cooling, thus pushing its performance past Core i3 levels. A little beast indeed. As a bonus, this processor uses the LGA 1150 socket, which is compatible with a whole bunch of more powerful Haswell Core i3, i5, and i7 processors. So when you're due for an upgrade, it's a simple CPU swap and you're good to go.
Graphics: NVIDIA GeForce GTX 750 Ti / AMD Radeon R7-360
While the processor comes with its own integrated graphics, it's not powerful enough to handle the latest games. You'll need a discrete GPU for that, and we have two options for you here. You could either go with the proven NVIDIA GeForce GTX 750 Ti, or the newer AMD Radeon R7-360. Both are good performers that would complement the Pentium G3258 well. You'll be able to play the most popular games like FIFA, DotA, Counter-Strike, and more at their highest settings, as well as more demanding games like Battlefield 4 and Skyrim at medium to high settings.
Chassis: Cooler Master Elite 110 / Xigmatek Spirit M
We included the Cooler Master Elite 110 in our list because it's compact. Despite looking like a speaker on the outside, it's thoughtfully designed on the inside. It can house standard PC components in the Mini-ITX form factor and even has room for a closed-loop CPU watercooler should you choose to add one in the future. Still, we know beauty is subjective, so we also found the Xigmatek Spirit M for the same price, should you want to go with a more traditional case instead.
OS: Windows 10 Insider Preview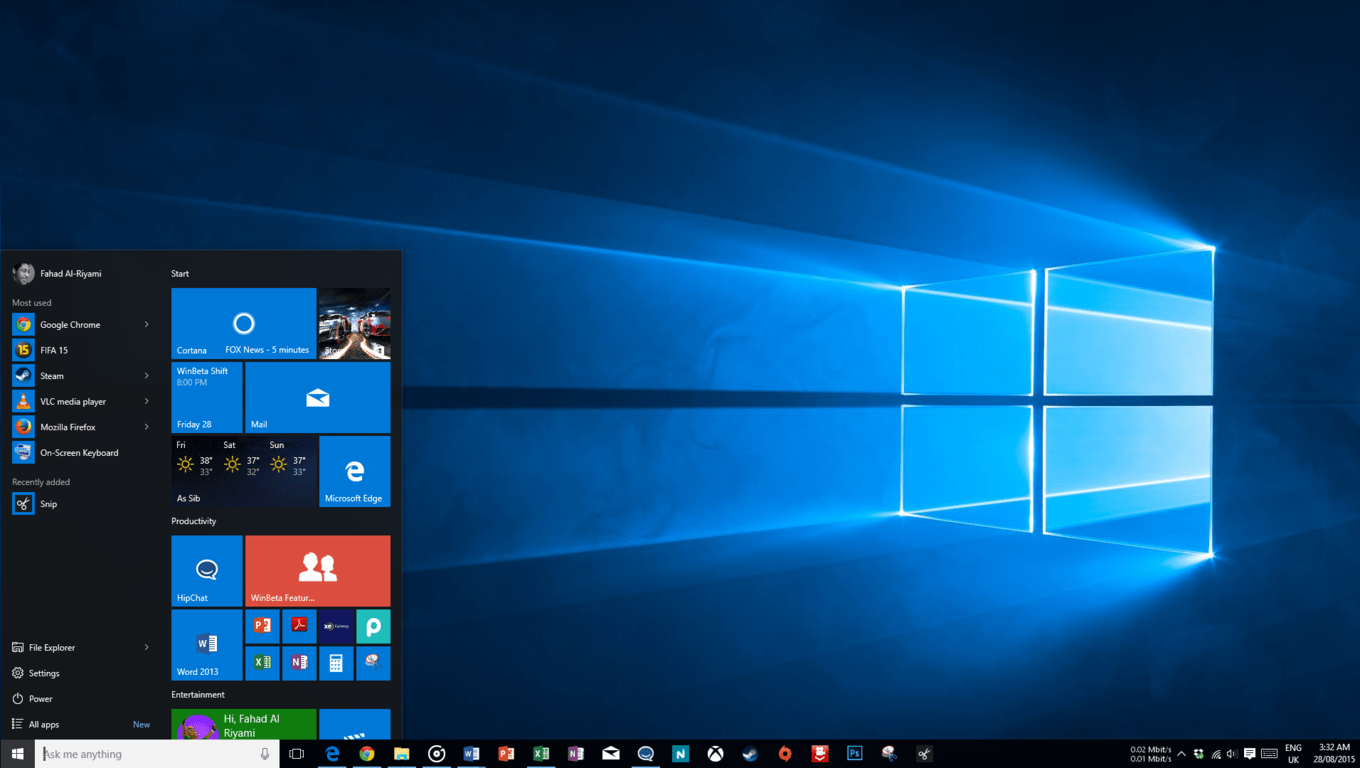 Since this is a completely new build, you will likely need to buy a new copy of Windows, unless you have one lying around. However, buying a new copy is expensive and would put this build way above budget. All hope is not though as you can obtain a copy of Windows for free (legally!) via the Windows Insider Preview. Sure, these builds of Windows 10 aren't the most stable, but since Windows 10 has RTM'd, they are stable enough to be used as a daily driver, until you can afford to buy a licensed copy.
There you go, put that build together and you've got yourself a decent gaming PC. Now, I hear it already, "You know you can buy an Xbox One for $349 right?" Yes, I do, and you can probably build this very same PC for that price if you buy the parts at physical retailers/hardware shops instead of buying them online.
I thought it would be fun to see what we could put together for the same price of the $499 Xbox One SKU. Turns out, you can build something that is a lot more powerful than the Pentium-based PC:
| | | |
| --- | --- | --- |
| Part | Model | Price |
| Processor | AMD FX 6300 | $99.99 |
| Motherboard | Gigabyte GA-78LMT | $56.97 |
| Graphics | NVIDIA GeForce GTX 950 | $169.99 |
| Memory | Corsair Value 4GB | $22.99 |
| Storage | WD Black 1TB | $70.99 |
| Chassis | Cooler Master Elite 110 | $39.99 |
| Power Supply | EVGA 500W | $39.99 |
| OS | Windows 10 Insider Preview | $0.00 |
| | Total | $500.9 |
Processor: AMD FX-6300 Black Edition
As much of a punch that the Pentium G3258 packs, the 6-core AMD FX 6300 packs a much bigger one, while only costing about $20 more. The FX 6300 is a Black Edition processor from AMD, and it also comes with an unlocked multiplier allowing for easy overclocking. The added number of cores will give you better performance in games that take advantage of multi-core CPUs as well as desktop applications like Photoshop. Alternatively, Core i3 processors cost a little more, but the performance gain compared to a non-overclocked FX 6300 is minimal and limited to select applications.
Graphics: NVIDIA GeForce GTX 950
The NVIDIA GeForce GTX 950 is a relatively new card having just been unveiled last week. Recent reviews indicate that the Maxwell-based card is very capable in 1080p gaming. It will run some of the most demanding games like GTAV, FarCry 4, Tomb Raider, and The Witcher 3 at 30-60fps on low to medium settings. The future looks bright too if DX12 has a say in it, as the new low-level API built into Windows 10 has shown promising results in early supported games.
I know, we overshot the budget on this one, but only by spare change. All-in-all, the two PC builds we listed above would make for great media center/HTPC gaming devices in place of an Xbox One. They may not be as entertainment-oriented as consoles are, but if that isn't all you're looking for, then a PC is the way to go.
As for input devices like keyboards and mice, they're dirt cheap and you'll only really need them to install Windows and Steam. You may need a controller though if you plan on using these PCs as true Xbox One replacements in the living room, and we recommend the Xbox One Controller which has great game support. So sit back, fire up Big Picture Mode in Steam, and get gaming.
We hope you found this useful. If you have any ideas or suggestions for builds, we'd love to hear them. Let us know your thoughts in the comments section below.
***
Editor's Note: This isn't a console vs. PC article. We're not saying "don't buy an Xbox One over a gaming PC". If you simply want to game, and if entertainment is the only thing you're looking for, then by all means, the Xbox One will serve you well. It's a great device, I have one myself, and I enjoy using it. This piece is to crush any notion that you're limited to buying a console because a gaming PC is more expensive, which simply isn't true.