Following the release of the last major version of Windows 10 in October, bits and pieces of what would become the next update have gradually been surfacing online. We've covered many of these features as they've been handed to Windows Insiders, but now, the May 2019 Update is rolling out to the general public. The May 2019 Update includes ample changes to the UI, apps, input options, settings and more. Let's take a quick walk through everything you can expect from this update.
Windows UI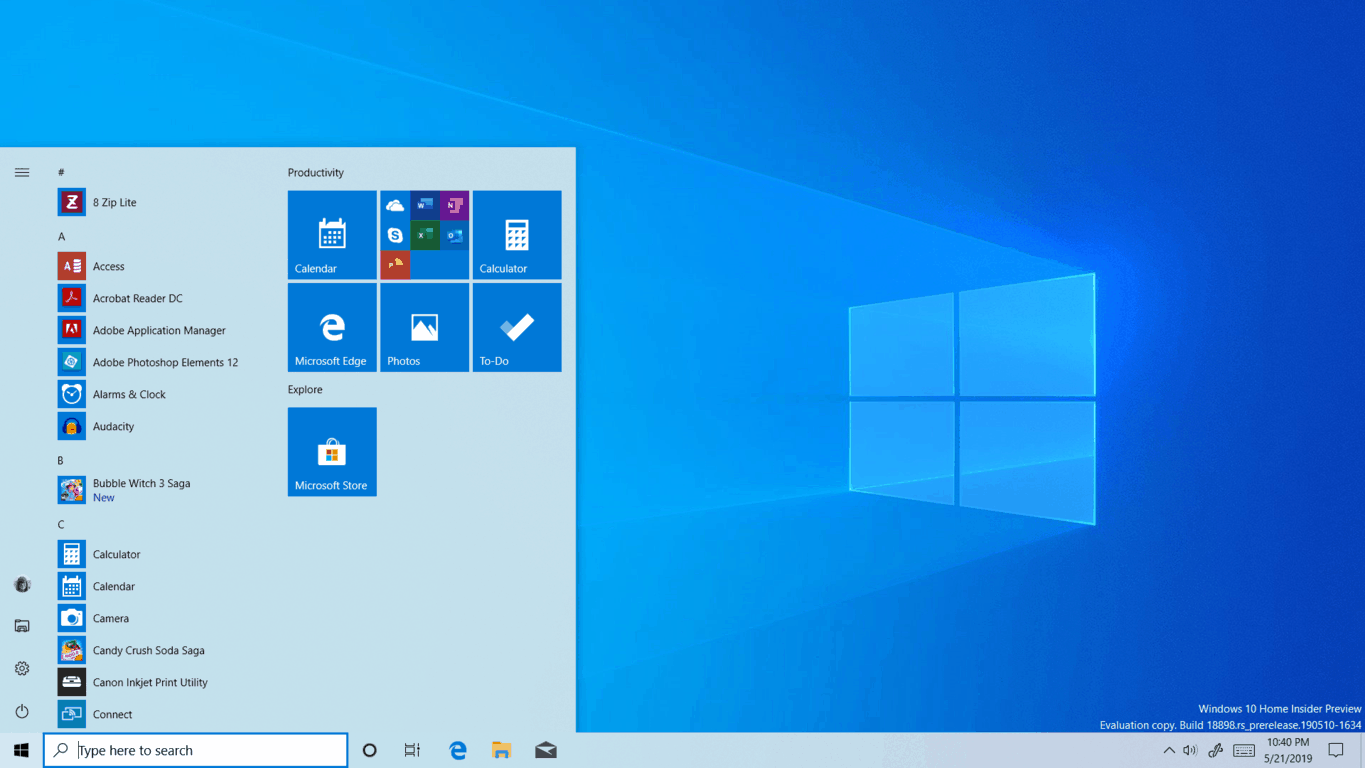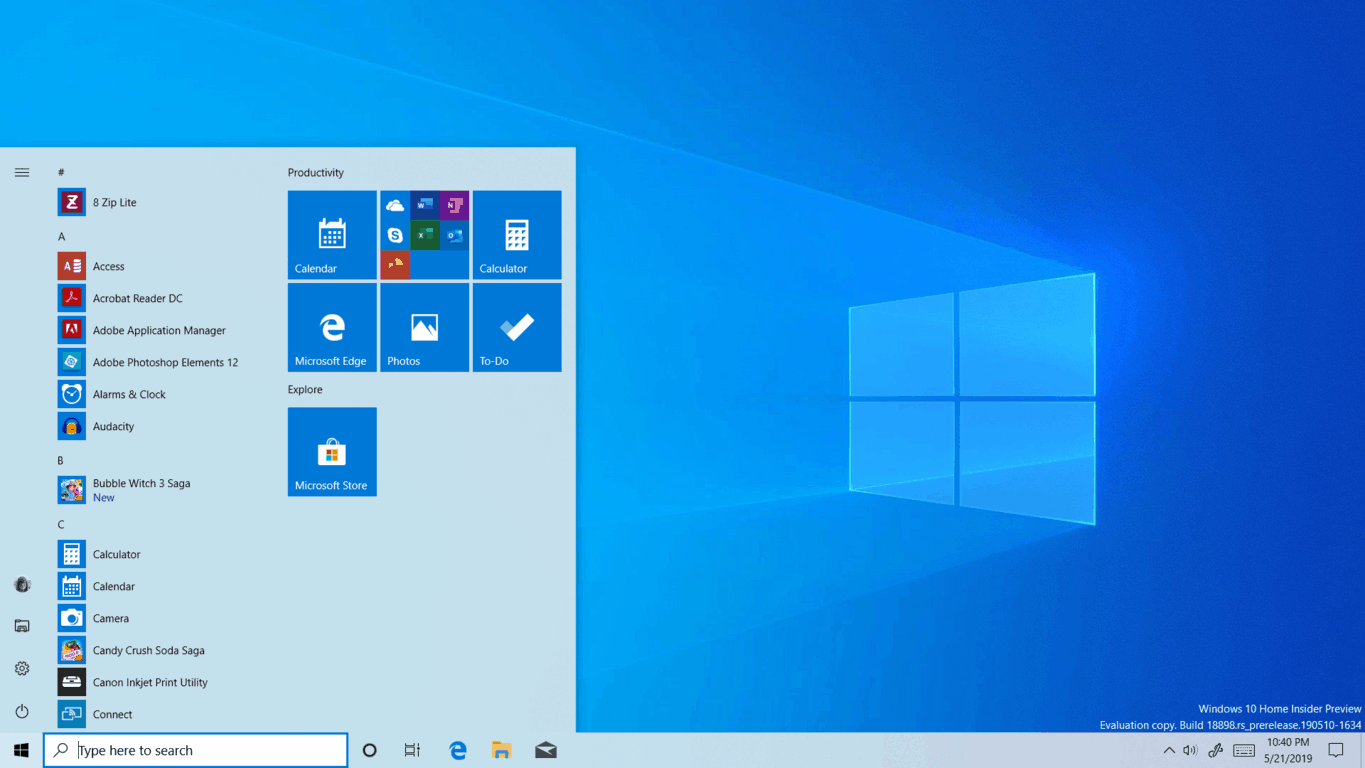 NEW DEFAULT WALLPAPER
After setting up a PC running the May 2019 Update for the first time, you'll be greeted into Windows by a new default wallpaper. The brighter, flatter look contrasts more with the light and dark themes in Windows 10. The File Explorer icon also changed for the sake of contrast. The search box, outlined to increase visibility, no longer holds a microphone icon. This is because Cortana is no longer bound to Windows Search.
SEPARATION OF CORTANA FROM SEARCH
Cortana, now separated from the Windows Search experience, has her own icon on the taskbar. The purpose of this is to develop a more focused Search UI. Cortana, on the other hand, seems to be a victim of neglect with these changes; her UI hasn't changed at all. Cortana can be hidden or displayed from the taskbar independently of the search box, and a lot of the conversational abilities are no longer accessible by typing into Search. Luckily, you don't have to worry about losing any search functionality previously provided by Cortana because the web preview pane– powered by Bing– is capable of spitting out quick answers to most of your simple questions. Some of Cortana's more functional commands like setting reminders or toggling settings can still be accessed from search if you're very specific about syntax.
The separation of Search and Cortana goes beyond just the taskbar. In the Windows settings, Search now has it's own dedicated section on the landing page. In the Search settings, you can customize the content of your search results, clear your search history, or configure the Search Indexer.
The May 2019 Update provides a new 'Enhanced' option for the Search Indexer. With 'Enhanced' enabled in the search indexer settings, all the files on your PC will be indexed. This is in contrast to previous releases of Windows where only files in your main libraries would be indexed. Of course, system directories are excluded from this by default, but this list is entirely customizable.
NEW LIGHT THEME
There are now three base color theme options in the Windows personalization settings: Dark, Light, and Custom. "Custom" is selected by default and expands into two daughter settings: "Windows mode" and "App mode". Windows mode changes the appearance of the taskbar, Start menu, and other Windows UI elements. App mode changes the background color of supporting apps. Just like the old light theme, Windows mode is dark, and App mode is light by default.
You can switch to an entirely new light theme with the options in the May 2019 Update. Everything, including the taskbar, Start menu, and action center is affected by the new light theme. Context menus such as those opened from the Start menu and Action Center now feature Fluent Design with acrylic backgrounds, connecting animations, drop shadows, highlight, and reveal effects. You'll notice a lot more Fluent Design throughout the UI in system apps like Settings, and on the lock screen. These visuals are part of Microsoft's Fluent Design System, which continues to spread throughout Windows despite being unveiled almost two years ago.
ACTION CENTER & SCREEN BRIGHTNESS
Requested by Windows users every second since Microsoft unveiled it in 2014, Action Center now has a brightness slider. The brightness slider provides more granular control over screen brightness, allowing you to decrease brightness without having to toggle through and increase it first.
Screen brightness profiles have also been removed in the May 2019 Update. You've probably noticed your PC's screen brightness changes when plugging it into a charger. This change happens because your PC has two distinct brightness profiles: plugged-in, and on battery. Your PC switches between these profiles when you plug and unplug it from a power source. Now, in the May 2019 Update, the brightness setting in Action Center is the only brightness profile. It won't change when you connect and disconnect your charger.
START MENU
Fresh installations of the Windows 10 May 2019 Update will come with a new default Start menu layout. These changes won't affect you if you're only updating your PC. The new layout is much more organized. If you want to get rid of the default apps and replace them with your own, unpin entire groups just by right clicking on their headers and selecting "Unpin group from Start".
OTHER NOTABLE UI CHANGES
• New Icon in taskbar when your PC doesn't have an internet connection
• Files in downloads folder categorized and sorted by date by default
• Clipboard UI (Win+V) is more compact
• DPI Awareness in Task Manager- in the details tab, you can explore which apps are DPI aware
• Option to set the default tab in Task Manager
• Start menu now runs out of its own process called 'StartMenuExperienceHost.exe'.
Apps & Experiences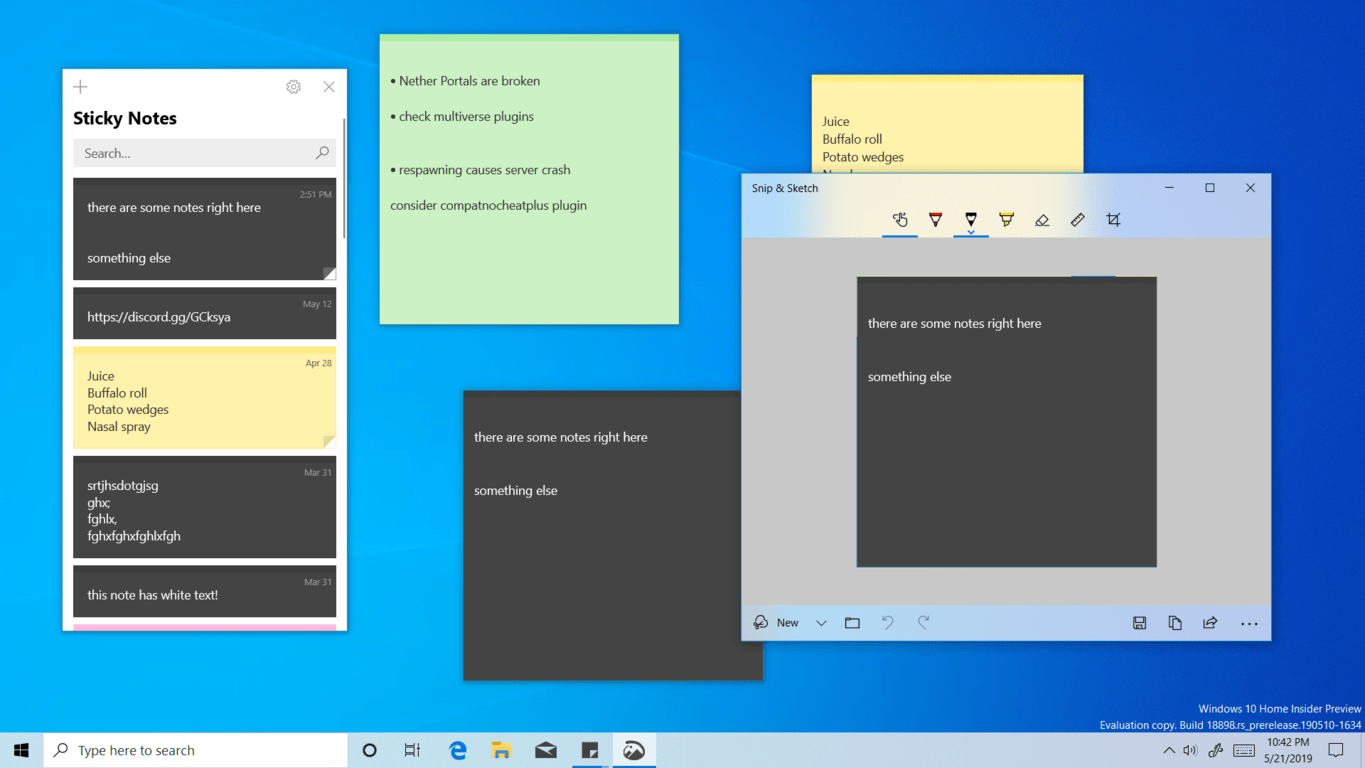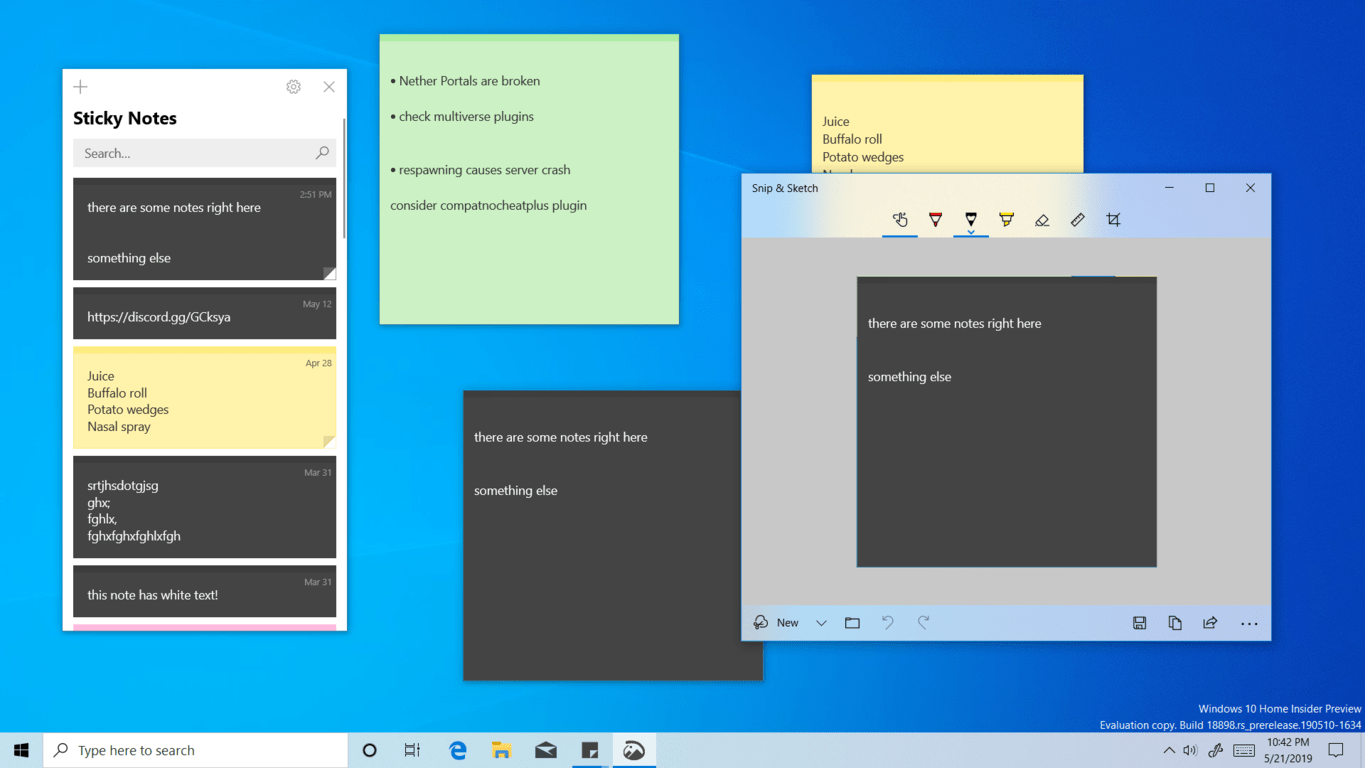 Many apps and experiences have been updated for the May 2019 Update. Not impressed yet? How about this: many apps and experiences can now be removed with the May 2019 Update. You can now uninstall the following list of apps:
• 3D Viewer (previously called Mixed Reality Viewer)
• Calculator
• Calendar
• Groove Music
• Mail
• Microsoft Solitaire Collection
• Movies & TV
• My Office
• OneNote
• Paint 3D
• Print 3D
• Skype
• Snip & Sketch
• Sticky Notes
• Tips
• Voice Recorder
• Weather
Of course, if you change your mind in the future, these apps can always be downloaded again from the Microsoft Store.
SNIP & SKETCH
Many people complained Snip & Sketch's debut in the October 2018 update was too soon. While the new app added several useful new features, a couple from its previous iterations were left behind. Now, these options are back in the May 2019 Update. Window snip mode and more delay options are now available when taking a new snip. Additionally, options for snip outlines (an entirely new feature) are found in the app's settings.
NOTEPAD
Your classic old Notepad is here to stay, though it's got a few new tricks you might enjoy. Notepad now displays an asterisk (*) in the title bar of an open file when there are unsaved changes. There are new keyboard shortcuts for opening a new Notepad window (Ctrl+Shift+N), opening the save dialogue (Ctrl+Shift+S) and closing Notepad (Ctrl+W).
When saving a notepad document, you will see UTF-8 and UTF-8 with BOM listed in the encoding options. From now on, UTF-8 without a byte order mark (BOM) will be the default encoding for Notepad documents.
STICKY NOTES
Now available in new dark-themed colors, Sticky Notes match the color theme of your PC. In dark mode, the body of the sticky note appears dark gray with a colored stripe along the top. A new color, Charcoal, gives light theme users the option to have dark notes alongside their more traditional ones.
Sticky Notes will sync across your Windows 10 Devices. On iOS and Android you can access your sticky notes in OneNote. Office 365 users may also access sticky notes via OneNote.com/stickynotes.
GAME BAR
The Game bar (Win+G) now has a shortcut to the captures section beneath the capture options. From here, you can view, rename, or delete captures right within your games. An 'Open file location' button takes you directly to where a capture is saved in File explorer.
WINDOWS MIXED REALITY
For some time now, Universal Windows apps have been able to run in the Windows Mixed Reality environment in the form of windowed holograms. Now, you can open and interact with legacy desktop apps in Windows Mixed Reality just like their UWP counterparts. Running legacy apps in this environment is still experimental, so some apps might not work as expected.
WINDOWS SANDBOX
Windows Sandbox is a new virtual desktop environment for Windows 10 Pro and Enterprise. Setting up a Sandbox is simple. Unlike creating a virtual machine, Sandbox doesn't require an external installation of Windows, runs a clean Windows image each time it's launched, is wholly disposed of when closed, and is isolated from the rest of your PC. This feature can be enabled in Windows 10 Pro and Enterprise from the Windows Features dialogue. You can read more into how Windows Sandbox works at the Windows Kernel Internals page.
OTHER NOTABLE CHANGES TO APPS & EXPERIENCES
• Updated universal printing dialogue UI
• Mail and Calendar apps have a full dark mode, expanding into more areas of each app
• New Office app to replace the old My Office app
• Experimental Windows console terminal features
• RAW Image Extension Package available in the Microsoft Store improves RAW file support
Input & Accessibility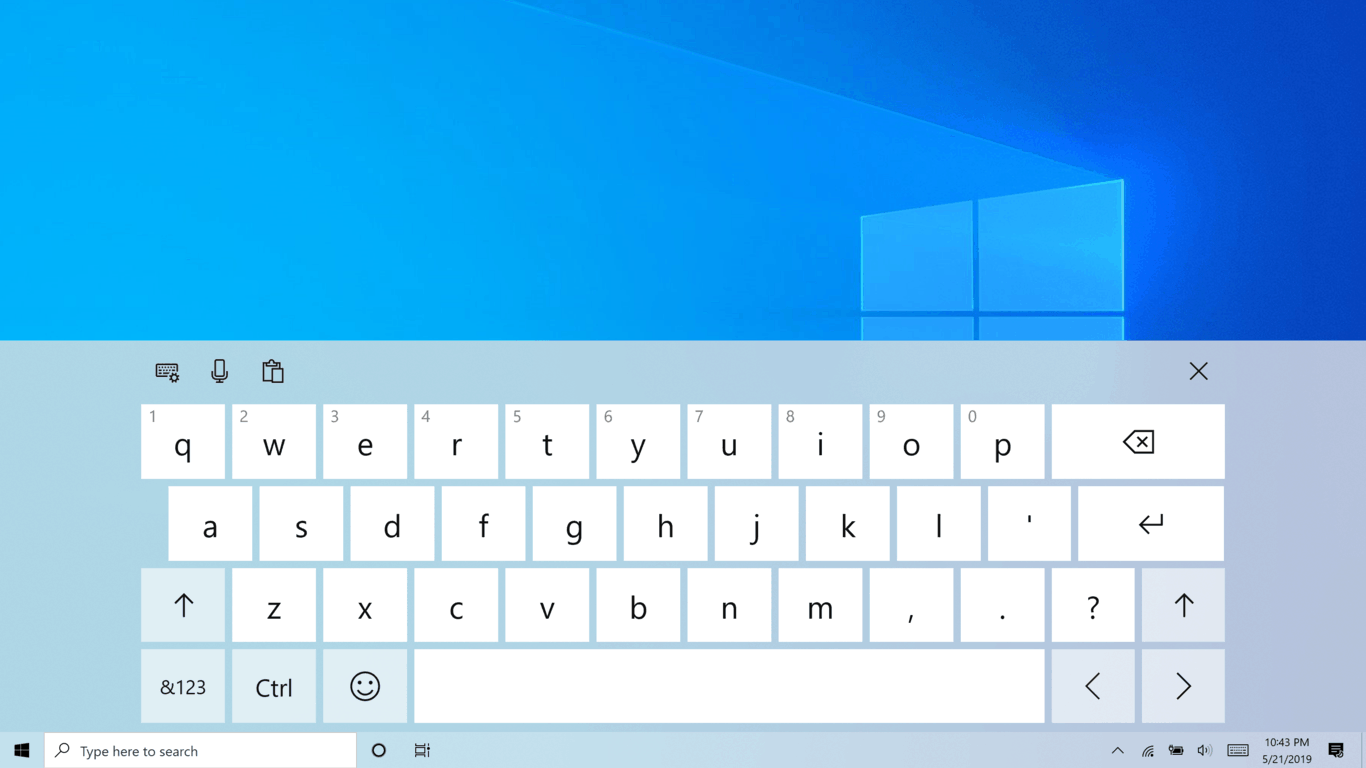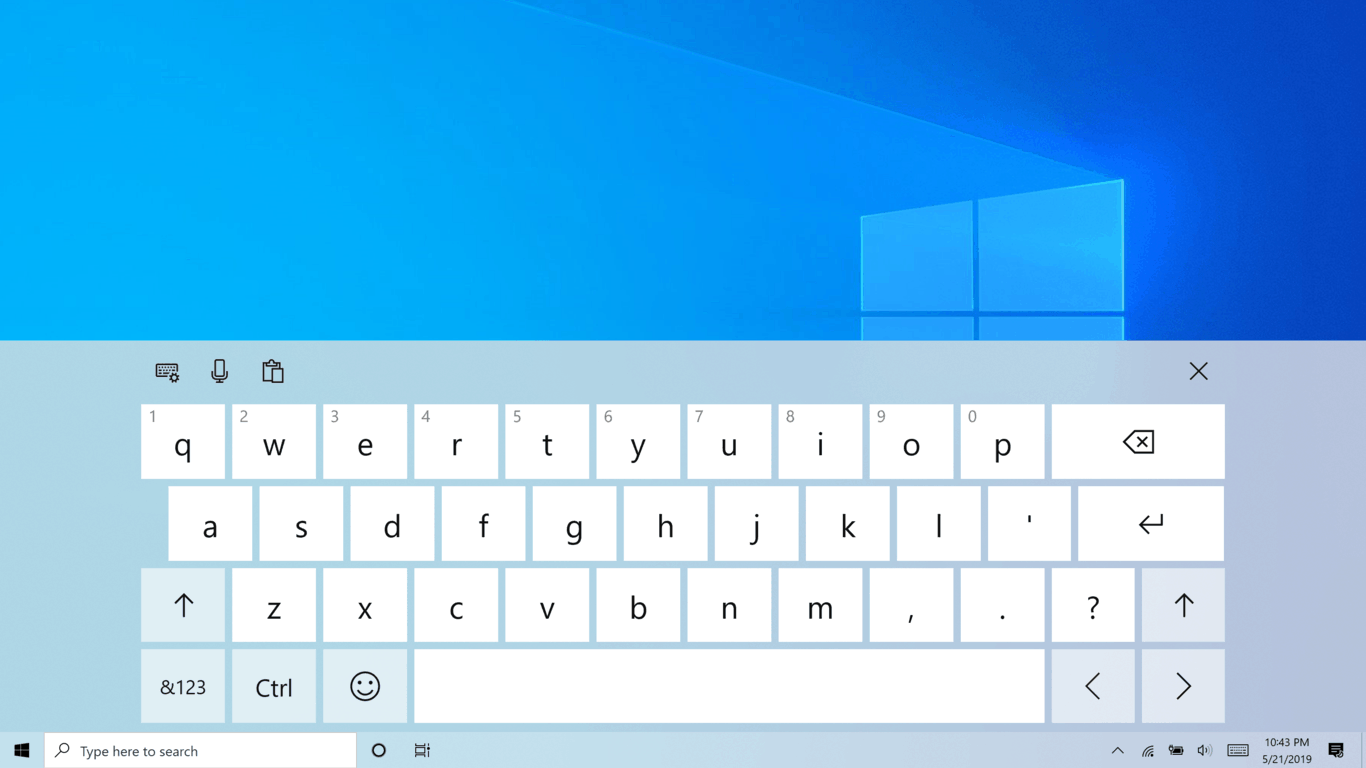 TOUCH KEYBOARD
Interacting with a device in tablet mode isn't as agonizing with the improvements made to the touch keyboard in the May 2019 Update. The keyboard has it's animations back, fluidly popping in and out of sight when you tap into a text field. Enhanced SwiftKey integration also improves the touch keyboard experience in this update. While you're using the touch keyboard, the key hitboxes are adjusted dynamically behind the scenes to improve accuracy.
SwiftKey Intelligence for the touch keyboard is now available in more languages:
• English (United States)
• English (United Kingdom)
• English (Canada)
• English (India)
• French (France)
• French (Canada)
• French (Belgium)
• French (Switzerland)
• German (Germany)
• German (Switzerland)
• Italian (Italy)
• Spanish (Spain
• Spanish (United States)
• Portuguese (Brazil)
• Portuguese (Portugal)
• Russian
SYMBOL INPUT
You can access more symbols from the touch keyboard with the 'Ω' button. If you're a desktop user, these same symbols and more can now be reached using the emoji panel (Win+.(period)).
OTHER INPUT CHANGES
• Indic Phonetic Keyboard available in more languages
• New Japanese IME (Input Method Editor)
• ADLaM and Osage keyboard support
• Preparations for Emoji 12 support
NARRATOR
A new Narrator Home launches every time you turn on Narrator. Narrator home lets you access all the Narrator settings. From the settings menu, additional voices in other languages can be downloaded without having to download entire language packs. This can be done from Narrator Settings by navigating to Add more voices>Add Voice.
A new setting called "Hear advanced detail, like help text, on buttons and other controls" lets you adjust what advanced information about controls you hear. It's disabled by default in this update, however, when enabled, you can adjust it's verbosity levels from 0 to 5 using the keyboard shortcut (Narrator Key)+V. Verbosity levels will increase or decrease the frequency which this information is given to you.
In a previous release of Windows 10, a feature that allowed you to hear characters read phonetically in the Narrator was added. Microsoft has taken note to the feedback provided by users who use the Narrator and have decided to turn this feature off by default. Instead, now, you can activate phonetic reading on demand with the keyboard shortcut (Narrator Key)+,,(Double Comma).
Additional Narrator options can be found in the Windows Settings under Ease of Access>Narrator.
CURSOR & POINTER
New cursor and pointer options can also be found in the Ease of Access Settings. Both the size and color of the pointer can be adjusted. If you'd like to fling a massive green arrow around your screen, you can.
Windows Settings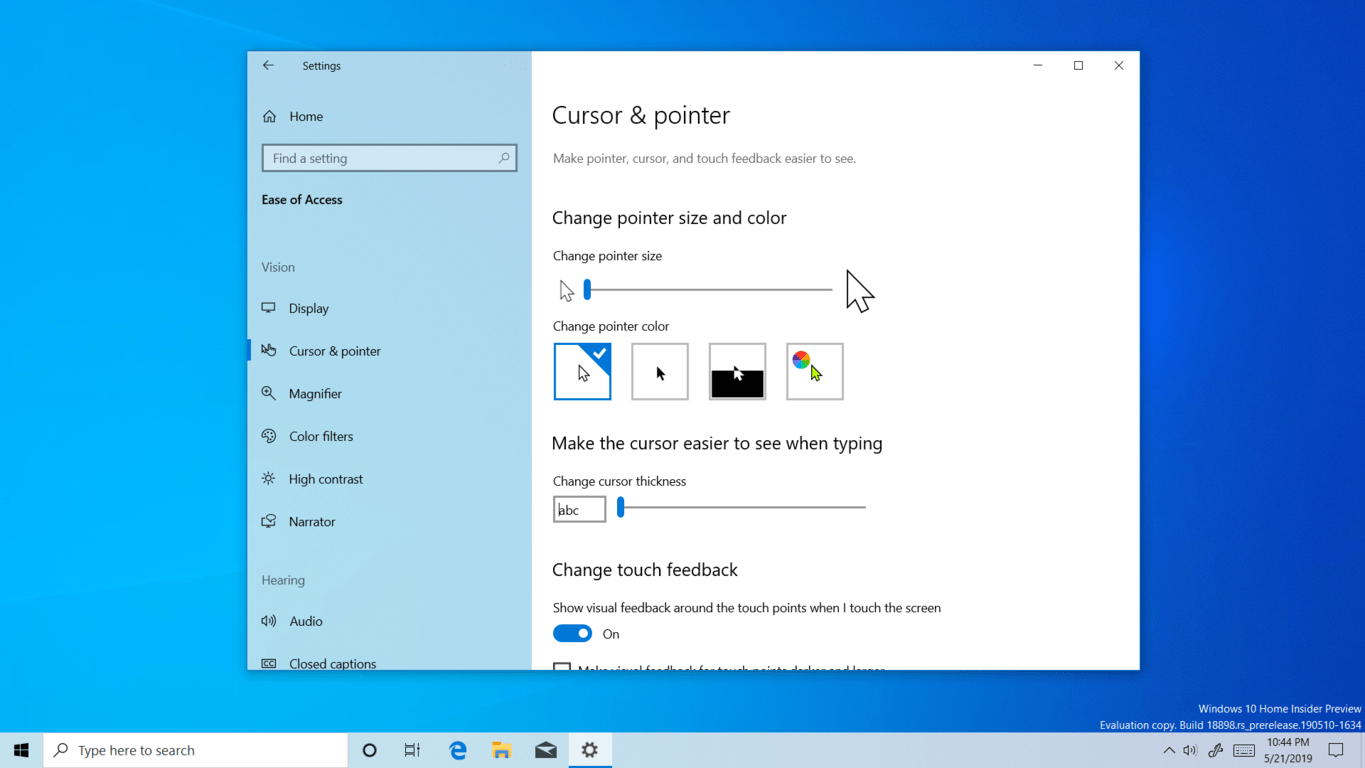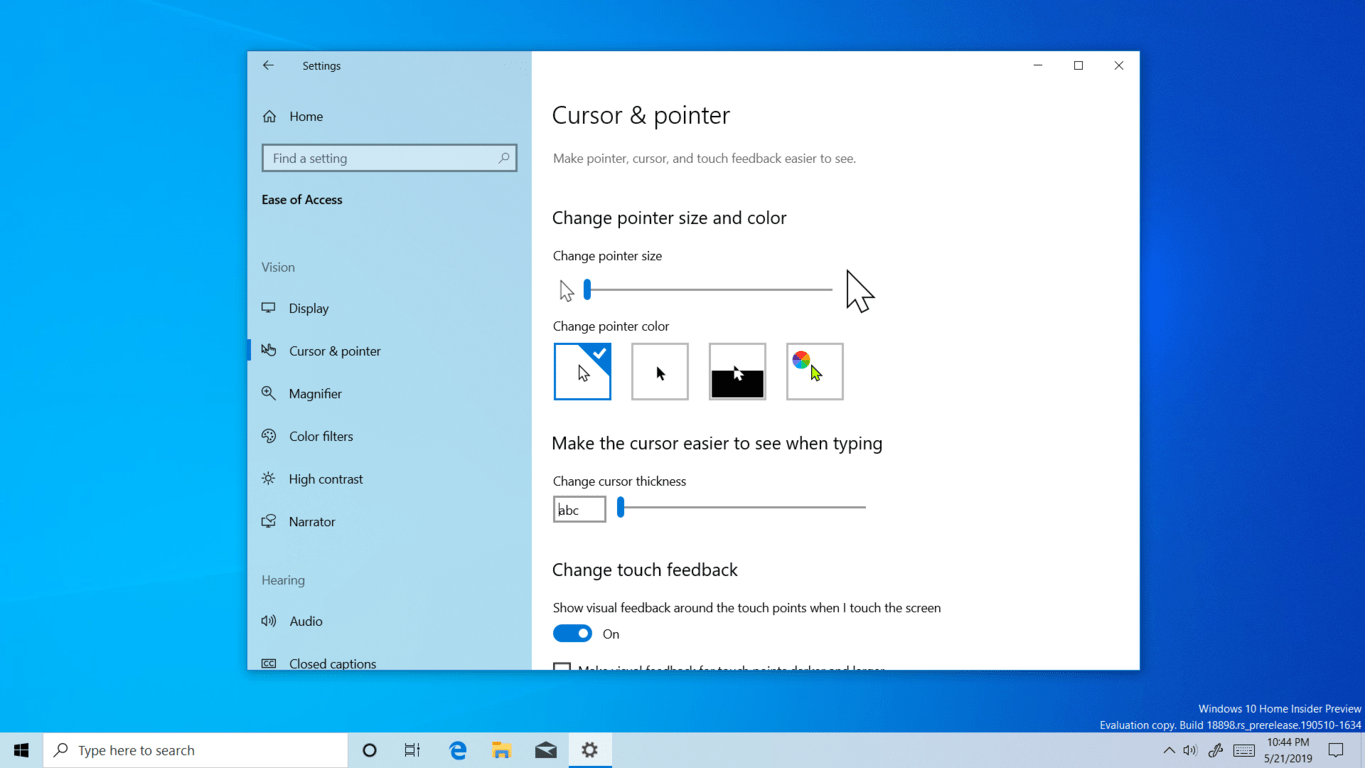 It's not an update without dozens of new options in the Windows settings. I've already discussed several settings which are part of other significant changes, but there are many more:
System
• Focus assist – New automatic rules which mute notifications while using an app in full-screen mode. Automatic rules are situations where Focus assist will activate automatically.
• Storage – A new layout for the storage page breaks down storage usage by type.
Accounts
• A new settings page for Sign-in options. Password-less phone number accounts available for other accounts you set up on your PC.
Personalization
• Fonts – You can now drag and drop fonts into the Fonts settings page to install them.
Network & Internet
• Ethernet – Advanced settings and information are now available for ethernet connections.
Update & Security
• Windows Update – Re-designed settings page. Active hours can be adjusted dynamically based on your usage with a toggle. During these hours, Windows won't update automatically. You can now find a quick shortcut to pause updates for seven days at the very top of the page.
• Recommended troubleshooting – "Microsoft automatically fixes certain critical problems on your device to keep it running smoothly. When available, we'll show additional recommendations below that we think will improve your experience. If you run a recommended troubleshooter and the problem comes back, we'll automatically try to fix it for you again."
• New settings page for Windows Insider Program
Getting the Update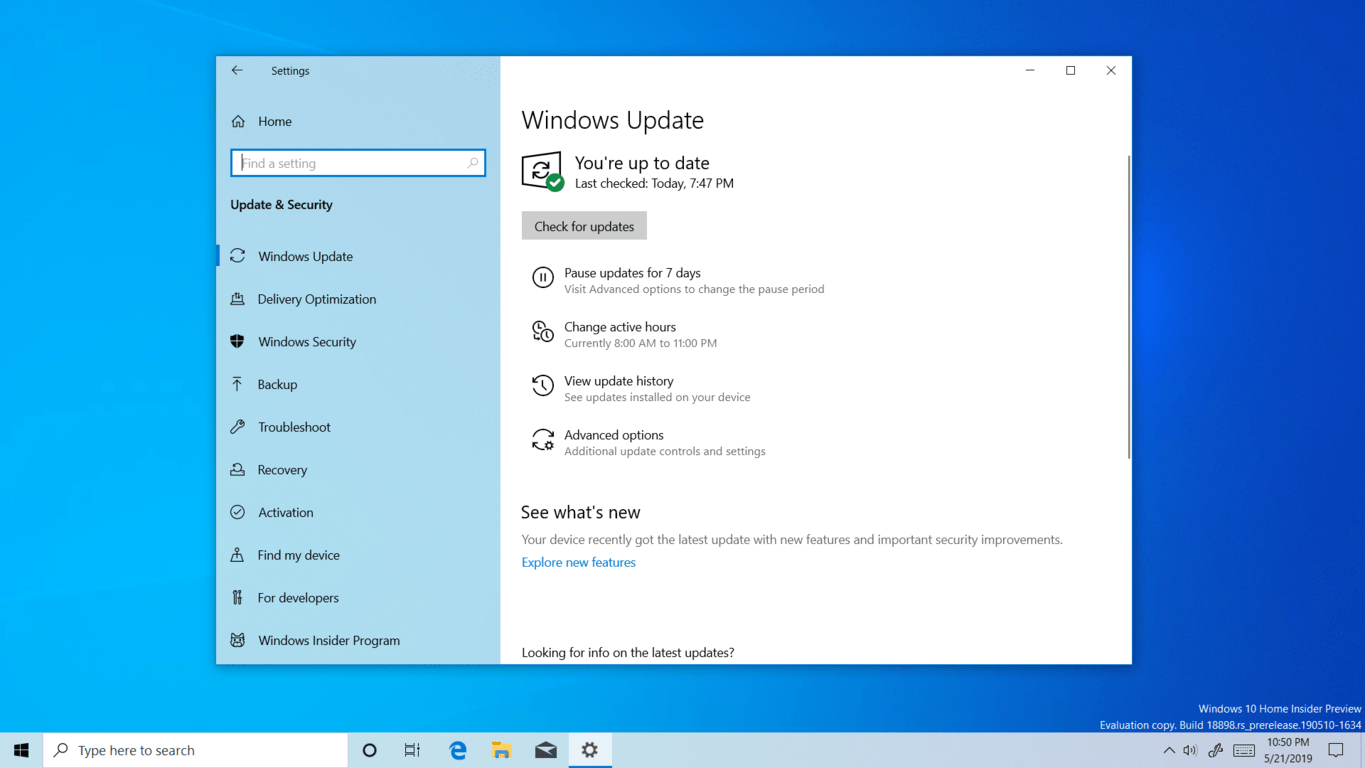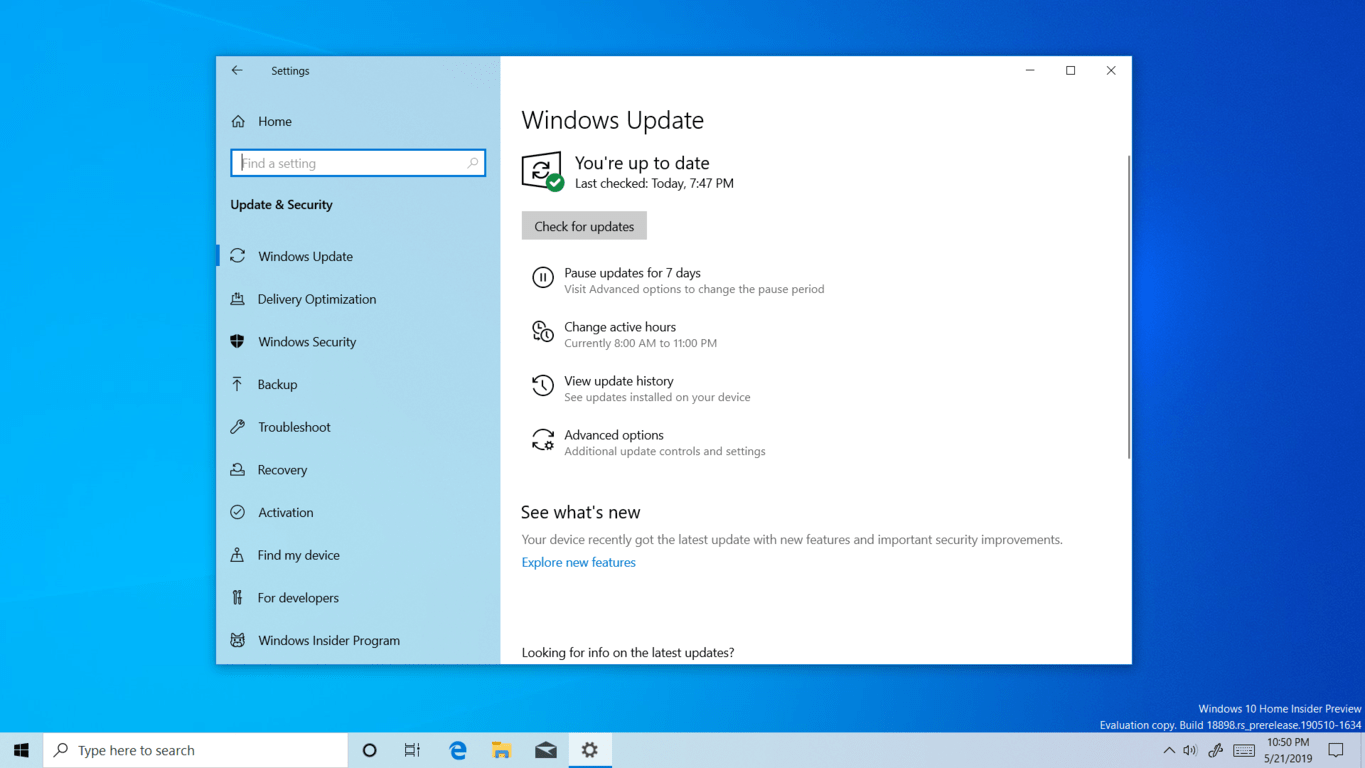 The May 2019 Update (Build 18362, Version 1903) for Windows 10 is now publicly available. Don't stress too much, your device will let you know when it's ready. Until then, you can just sit back and use your PC like you always have. When you think you're ready to install the update, just head over to the Update & Security section in the Windows Settings, check for updates, and you should be ready to go.
Windows Insiders awaiting this release can also use this as an opportunity to drop out of receiving future builds. Just tick the toggle at the bottom of the Windows Insider page, and you should stop receiving Windows Insider builds after getting this update.