| The Good | The Not So Good |
| --- | --- |
| Good Thermal Package | Keyboard and Mouse are Very Basic |
| Fair Price to Performance | One USB-C Port and No Thunderbolt Option |
| Very Upgradeable | Antivirus Bloatware |
Desktop computers often feel overlooked by both consumers and reviewers alike.  Part of that reason feels twofold, we live in a world where we are constantly on the go.  throwing the laptop in the bag, or moving it from room to room in the house makes the most sense.  Desktops do what the name implies, stay in one place.
However, what still remains the same for desktops, they are where the most raw computing power is, along with the most I/O options due to space for more ports.  The raw computing power is due to increased power and cooling options in a desktop form factor.  Serious gamers and content creators often prefer to have a desktop in the workflow.
So when Lenovo asked if would I be interested in checking out the new Lenovo 5I gaming desktop I was excited, I like to see where things stand in terms of raw computing power from time to time.  I love to game and create content, so let's jump in and see what the Lenovo 5I desktop is all about.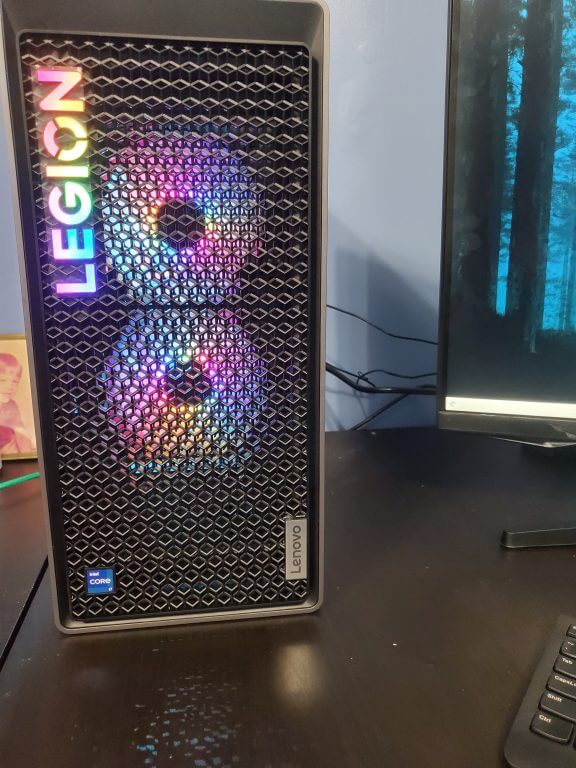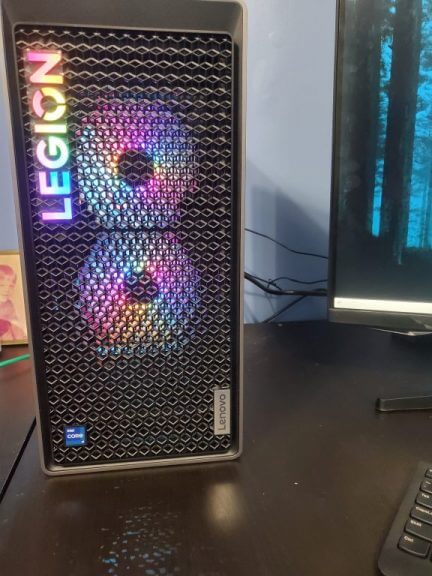 Specifications of System Reviewed
Below, you can see the full specifications of our review unit.  What most would consider a midrange package for the gaming enthusiast and content creator.  We'll get into the experience of how all these components fit together down below, but several things really got my attention on the system design.  The entire system is made up of off-the-shelf components, so should you need to replace or upgrade something, finding your solution should be easy.  The system itself is already capable of upgrades out of the box.  You've got the ability to add several SATA drives and there's an open NVME SSD slot as well.  The motherboard has a nice mix of ports with one exception.  There's not a Thunderbolt port anywhere and only one USB-C port.  This is a big miss by Lenovo I think, creators like to be able to attach high-speed portable storage.  If adding Thunderbolt ports is not an option a second 10-gigabit USB-C port on top of the case would have helped for accessibility and quicker connection.
The lack of high-speed ports is really the only system design complaint I have.  The cooling of this year's model has improved, with the case being an attractive mesh design on the top and front so air can exhaust easily.  The 150 watts of cooling keeps things chilled under load with RGB fans in the front, back, and on top of the unit.
Product
Legion T5 26IRB8 (90UT000GUS)
Processor
Intel Core i7-13700F, 16C (8P + 8E) / 24T, P-core 2.1 / 5.1GHz, E-core 1.5 / 4.1GHZ, 30MB
Operating System
Windows 11 Home
Graphics
NVIDIA GeForce RTX 4070 12GB GDDR6X
Memory
2 x 8GB UDIMM DDR5-5600, 4 DDR5 UDIMM slots
Storage
Supports up to five drives, 2x 3.5" HDD + 2x M.2 SSD + 1x open 2.5 HDD Bay

Comes with 1TB SSD M.2 2280 PCIe 4.0×4 NVMe

WLAN & Bluetooth/ Onboard Ethernet
Wi-Fi 6, 802.11ax 2×2 Wi-Fi + Bluetooth 5.1 / 2.5GbE Realtek RTL8125GB Gaming Ethernet
Top Ports
2 x USB 3.2 Gen 1

1 x Headphone (3.5mm) 1 x Microphone (3.5mm)

Rear Ports
1 x USB-C 3.2 Gen 2 (supports data transfer and 5V @ 3A charging) 4x USB 2.0

2x USB 3.2 Gen 1

3x Audio connector (3.5mm) 1x Lighting switch

1x Ethernet (RJ-45)

1x Power connector

GPU Ports

(RTX 4070)

3x DP 1.4a

1x HDMI 2.1

Audio
Nahimic Audio for Gamers 5.1 Channel Surround Sound support
Power Supply (PSU)
500W 85%
Weight
Around 14kg (30.86 lb)
Dimensions
(mm): 205 x 396.9 x 425.9mm, (inches): 8.1 x 15.62 x 16.76", 26L
Color
Storm Grey
The Experience 
This is where it's at for most people I think.  It's important for a system to look the part that it's marketed for and the Lenovo 5I does that very well.  The mesh coverings, coupled with fully customizable RGB fans, I dig the look, that is not overstated or distracting.  The look, however, is only about 20 percent of the equation for me, does this system do what it claims?  Absolutely.  I'm a gamer, a streamer, and a PC virtual reality user.  I paired the 5I with a main screen at a 1440P resolution and a secondary screen used for streaming.  Both screens had a refresh rate of 165hz for context.  I also stick with mainstream titles for the most part.  I also run DLSS in the balanced mode for the games that support it, let the hardware do the work here.  In Warzone, for example, and Battlefield 2042 matching frame rate and monitor refresh rate of 165 FPS was easy to do.  Buttery smooth.  If you're streaming while playing seeing about a 20 FPS drop was normal, but nothing I really felt in my gameplay.
For virtual reality, I used the Meta Quest 2 headset.  One of my favorite hobbies is sim racing, with the emphasis being on simulation.  For that, I like to use the Iracing simulator.  Without going into great detail, Iracing can quickly point out any weakness in a system.  The graphic detail, the AI, and CPU requirements climb quickly if you want the full experience.  This is where just having one USB-C port can be a problem, the Meta Quest 2 does require USB-C to work at its potential.  Other items required for simulation, steering wheels, pedals, and motion simulations, require USB-C as well, or even Thunderbolt, so if you're planning a lot of accessories this might not be the machine for you.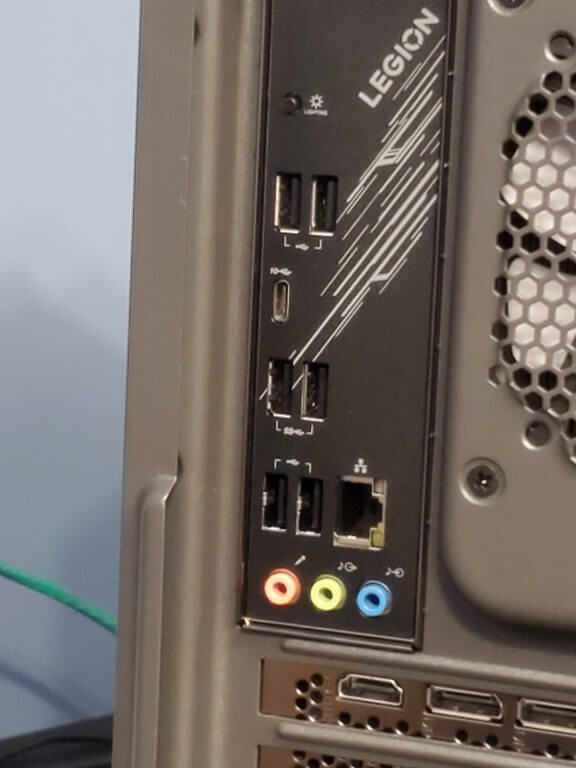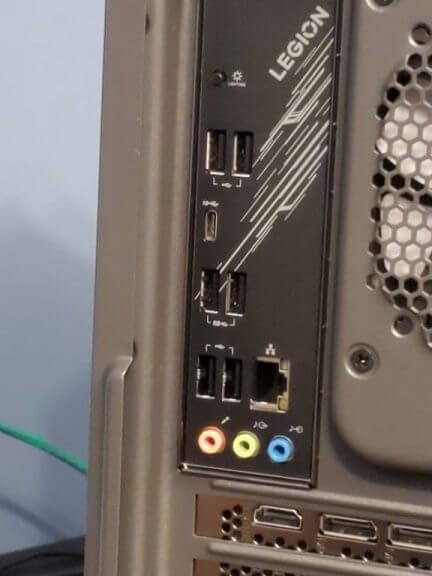 For me, it worked, and Iracing maintained a consistent 120 FPS which is the maximum the Quest 2 supports. The fans do crank up under load, but the nice thing is they are very well balanced, with a gaming headset on and in the heat of competition, you won't notice it.  Even when not gaming and exporting a 4K video in Adobe software the fan noise was still reasonable, not enough to impact a phone call during a render.
Something Lenovo does include is the Lenovo Vantage software, normally I'm not a fan of this type of software as sometimes it causes stability issues.  Lenovo did well here inside the software you can add a little overclock to your CPU and GPU, to squeeze out every last ounce of power.  Speaking of software, be aware that the unit does ship with one of the popular antivirus packages, once it expires it will be a bit of an annoyance to get you to renew it.
Wrapping it Up
I've got to say it, the Lenovo Legion 5I is my favorite desktop so far this year.  It's at home doing daily tasks, or cranking out frames in your favorite title.  If it's in the family room, or doing homework, you can turn the RGB off.  Yet it's never loud enough that you feel like you have to talk over it.  All while giving the power for the most intense gaming sessions.  The 5I has been our go-to unit for game and hardware testing and it hasn't let us down.  The key to a well-balanced gaming setup is getting so immersed in the game, the competition, and the banter among friends, that you forget the PC is there.   The Lenovo Legion 5I desktop is the silent weapon your competition will wish they had.