NASCAR racing remains one of the more popular pastimes in various parts of the U.S., and Microsoft has had a Windows 10 app available for NASCAR fans since October 2015. The app provides users with the ability to follow their favorite drivers and access up-to-date news, videos, and social content. Now, with the 58th running on the Daytona 500 just around the corner, Microsoft has an update to the NASCAR app with a number of new features.
First up is support for Windows 10 Mobile devices, making the app an official member of the Universal Windows Platform. No longer will users need to run to their Windows 10 PC to get their NASCAR fix; they can just pull out their Windows 10 Mobile smartphone and see what's up in the racing world.
Next, the app has been enhanced to enable a number of live feeds, as well as additional social media content:
– Live driver audio – follow the conversations between NASCAR drivers, crew chiefs and driver spotters as teams work to position themselves for the win
– Live in-car cameras – ride alongside your favorite drivers with live, HD in-car video streams, allowing you to see what they see on track
– Live broadcast radio – stream the live radio broadcast straight from the app
– Social media content – new Facebook and Twitter feeds allow you to get the latest news on your favorite driver throughout the race
Finally, there's a new Live Tile that allows the pinning of drivers, race results, and schedule on a PC or smartphone home screen. NASCAR Fantasy lineups and ticket purchases are available with a single touch, according to the company.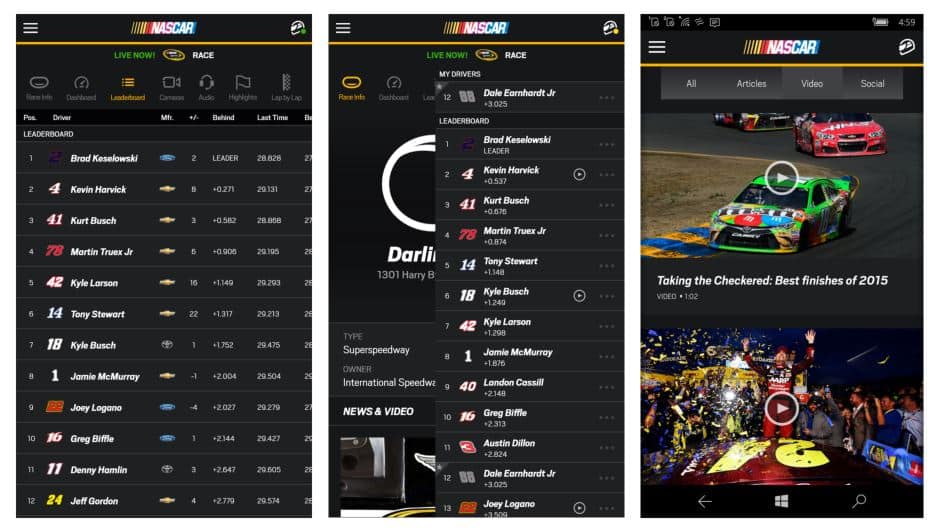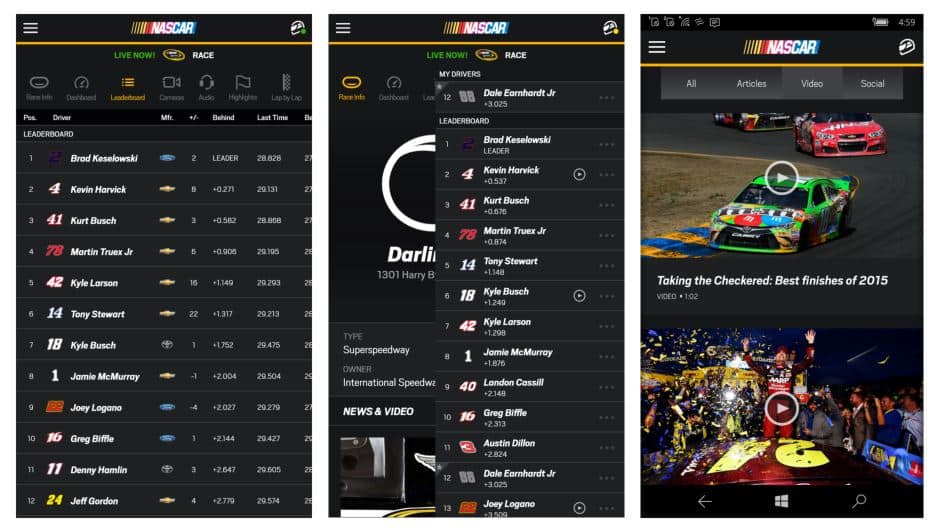 Generally, the app offers a ton of material for the NASCAR fan. Here's an overview:
Free Features:

• Live Race Leaderboards for all NASCAR Series
• Lap by Lap commentary
• Real time News, Video and Social Media
• Complete Schedule, Standings and Manufacturer Standings Premium Live Features (Subscription Required):
• Live Premium Leaderboard

Premium Leaderboard with exclusive data points
• Live Driver Audio o Listen to the In-Race strategy between Drivers, Crew Chiefs and Spotters o Exclusive to Sprint Cup Series and XFINITY Series races
• Live In-Car Cameras o Follow the action from the driver seat with Live In-Car cameras o Exclusive to NASCAR Sprint Cup Series races only
• Live Broadcast Radio & Officials Radio o Listen to the official NASCAR radio for every race of the season o NASCAR Officials Radio is available for all Sprint Cup Series races

**Certain restrictions apply as some Premium Features are not available for all NASCAR series events.**
If you already have the app installed, then go hit that update button. Otherwise, go to the link below and get ready for the Daytona 500 and other iconic NASCAR events.