343 Industries, the studio behind the iconic Halo franchise, waited until late Friday afternoon to drop another round of bad news. In the apologetic blog post, Joseph Staten, the former Bungie employee who came back to lead Halo development back in August 2020, announced that although Halo: Infinite Season 2 would launch on time on May 3rd, a new Season 3 won't launch until November 8th, another full six month cycle before dropping new content.
First, the newly released Halo: Infinite "Lone Wolves" Season 2 roadmap: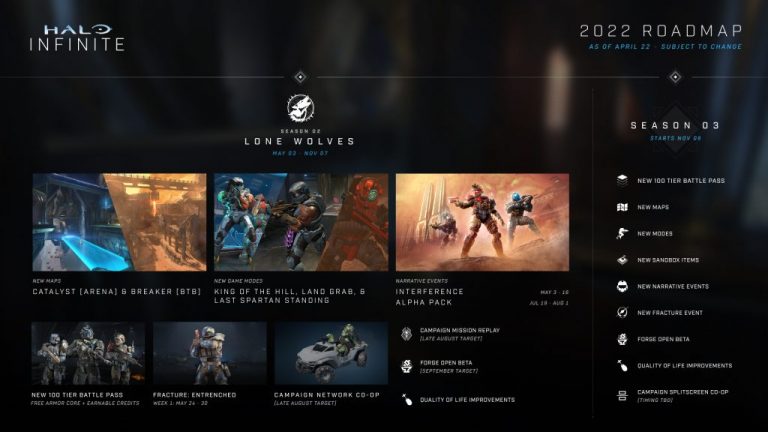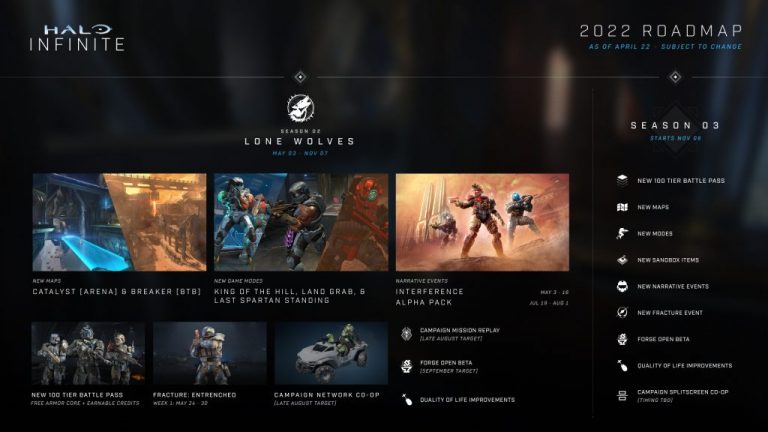 The much anticipated Forge, where gamers can create their own custom maps and a staple of previous Halo games, won't be included in Season 2 except as an open beta, and that's not coming until September. Even in the roadmap for Season 3, Forge is still listed as an open beta, so it's going to be quite a while before gamers can plan on a fully baked Forge.
Included in the roadmap as well are "quality of life improvements," which Staten openly admits in the blog post is a euphemism for bug fixes:
Quality of life (QoL) is shorthand for bug-fixes, new features and/or content to address issues negatively impacting player experience. We'll be delivering QoL improvements as part of Season releases and as separate updates during Seasons.
Staten doubles down on a self-proclaimed "priority zero" of "team health," but implies that 343 is far from "getting ourselves into a sustainable development rhythm so that we can deliver great experiences." The pandemic has been disruptive to all walks of life, but as 343 isn't yet in a "sustainable development rhythm", some 2+ years after having to switch to a more hybrid work environment while working for a company that prides itself on leading efforts to do just that, is concerning.
After the announcement, released at a time common for bad news "dumps," timed for late on a Friday to miss news cycles, reaction has been, well, not good. Brad Sams, who now works at Stardock but remains an avid gamer and former Microsoft watcher at Thurrott.com and Petri.com, was moved to release a video where he says he's not only concerned for Halo: Infinite, but for the Halo franchise itself.
Meanwhile, Matt Brown at Windows Central quotes multiple Reddit users' frustrations, with one saying "is this what apathy feels like?" Even Staten, in the blog post, admits the frustrations, saying "(w)e know we need to deliver more content and more features more quickly."
Whether Halo: Infinite is just reflecting the new normal of a more difficult and time consuming way of developing games post-pandemic, or there are more problems at 343 than Staten and others are letting on, it looks like Halo gamers will have to continue to play a waiting game.