After a full year of hype, the moment Forza and Xbox fans have been waiting for is finally here. Forza Motorsport 7 is now available, and while it certainly does have a fair share bit of faults, it is a true display of the power of Xbox. Complete with an awesome career mode, impressive graphics, a comprehensive list of cars/tracks, Forza Motorsport 7 lives up to all the talk. I've finally had a chance to get some more hands-on time with the Xbox One version of the game, and what follows is a look at the good, the bad, and other impressions of this year's Forza Motorsport title.
Writers Note: Microsoft initially provided me with an early access copy of Forza Motorsport 7 Ultimate Edition two days before it launched to the public. Now that I've had more time to play, this is a follow-up to my first impressions post from a few days ago.
The Good:
Forza 7 is a game for ultimate racing fans who like attention to detail and want to be rewarded for winning races. Including impressive graphics and improved engine sounds, this game is a definite keeper. Race fans will also appreciate the way the career mode is formatted, the mass selection of cars and tracks to race with, and the way cars handle as they would in real life.
Rewarding career mode:
As I previously described in my first impressions post, career mode is the best part of Forza 7. I won't be revisiting the specific details, but for a more detailed look, read my original post. At the end of the day, career mode takes many ideas from real world racing, such as earning series points and making your way through different types of sections and series.
What makes Forza 7 career mode unique is instead of just grinding for money, players are racing for glory and the chance to be rewarded and unlock the best and fastest cars. If the wins keep coming, Milestone Rewards are even given for an extra boost of cash or some cool cars. Plus racers also earn a Car Collection score for buying new vehicles. Just as in real racing, players need to earn things as they go, and every win helps with the goal of becoming the ultimate race car driver and collector.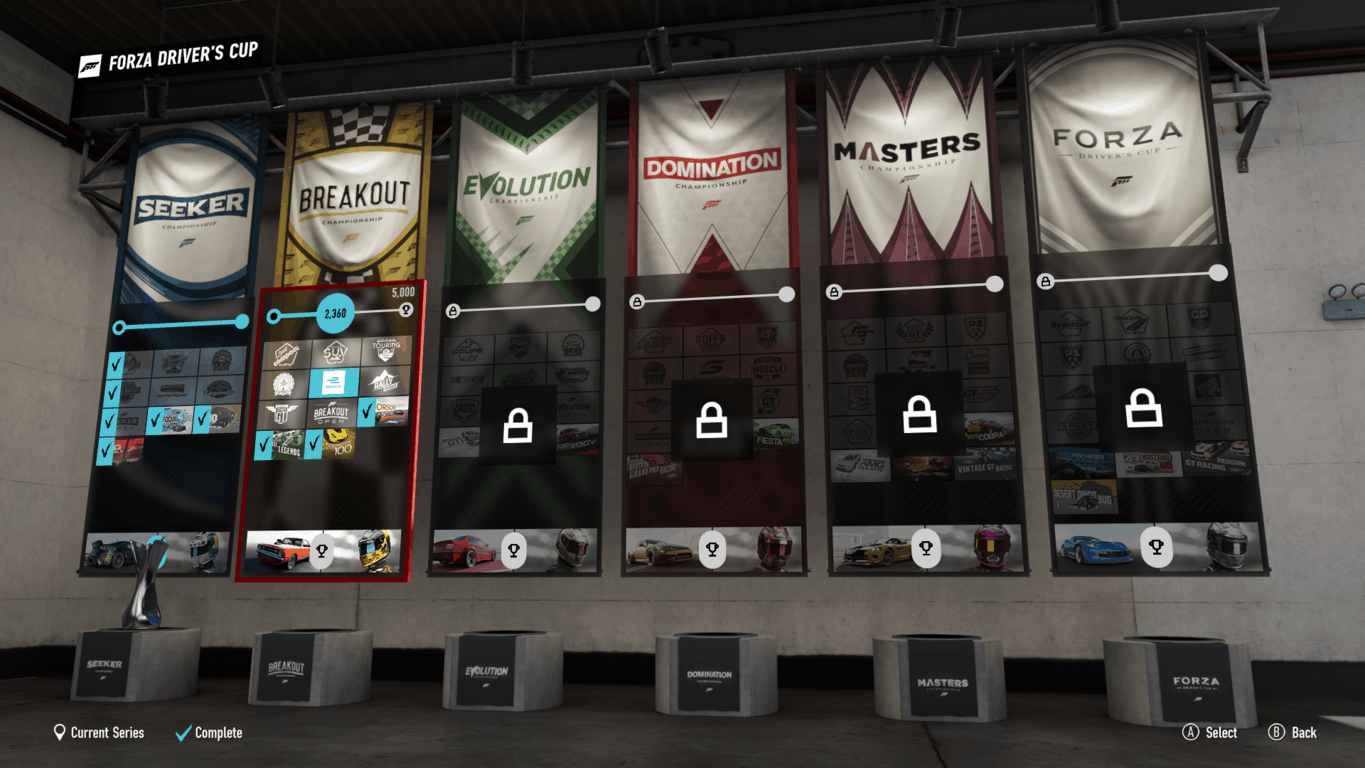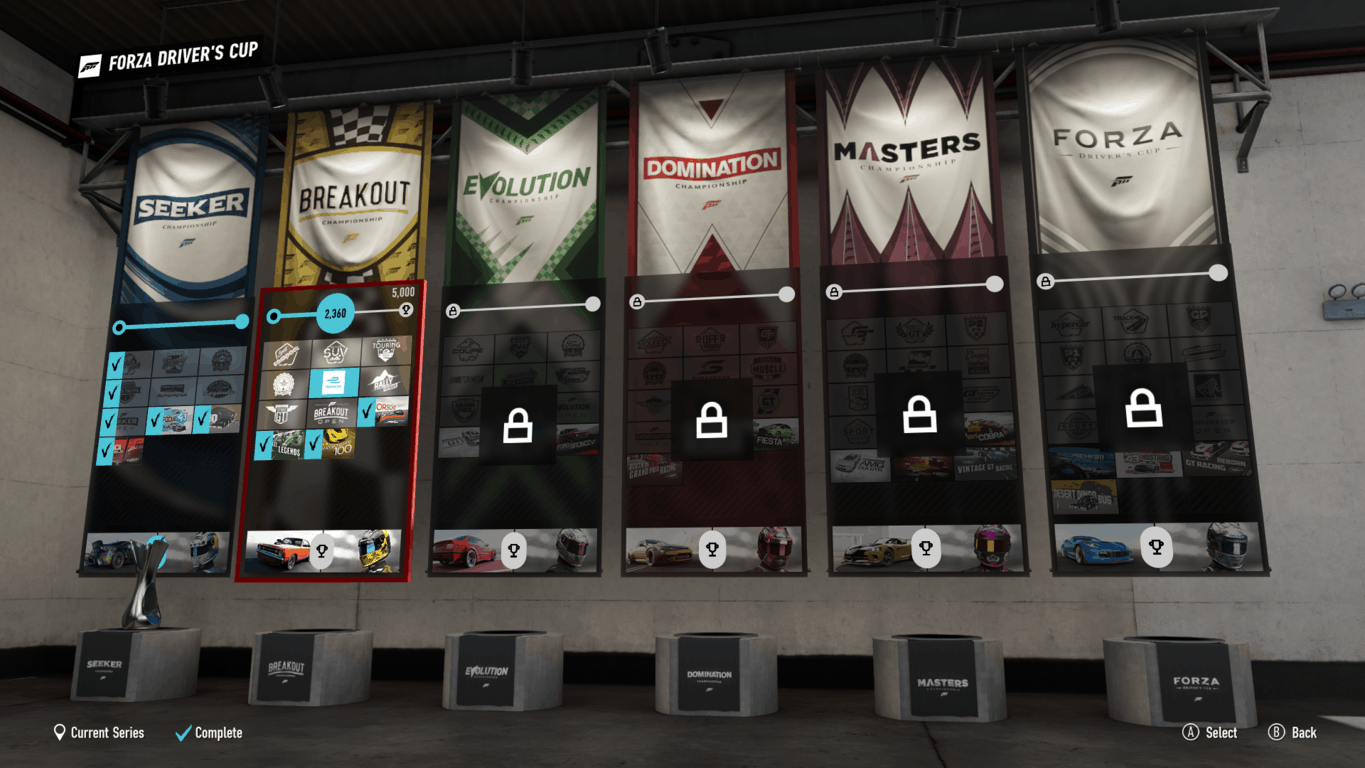 In career mode, there's extra meaning to the driver. For the first time in Forza the game features the ability to make things personal and customize the way a driver looks. As I hinted at before players are able to unlock "Driver Gear" to alter the looks of drivers, be it with wacky space suits, or the some much more classy items based on popular culture. A bit gimmicky, yes, but still very appreciative since players can finally put a look to the otherwise faceless driver.
At the end of the day, some may find this career format and the rewards or car collection system frustrating, but it's one of the main areas of the game. AI settings can be turned down, and players can adjust the friction or braking assists to make things easier throughout the career mode, but this is really a game for those who like to earn things as they go.
Even if opting for an ultimate edition of the game there is definitely need to spend extra time in the career mode series to earn a way to buy new cars. Yes, the Forza Edition cars and Mods will help you earn more money, but it's more rewarding and fun to see the cars unlock the standard way as career mode progresses.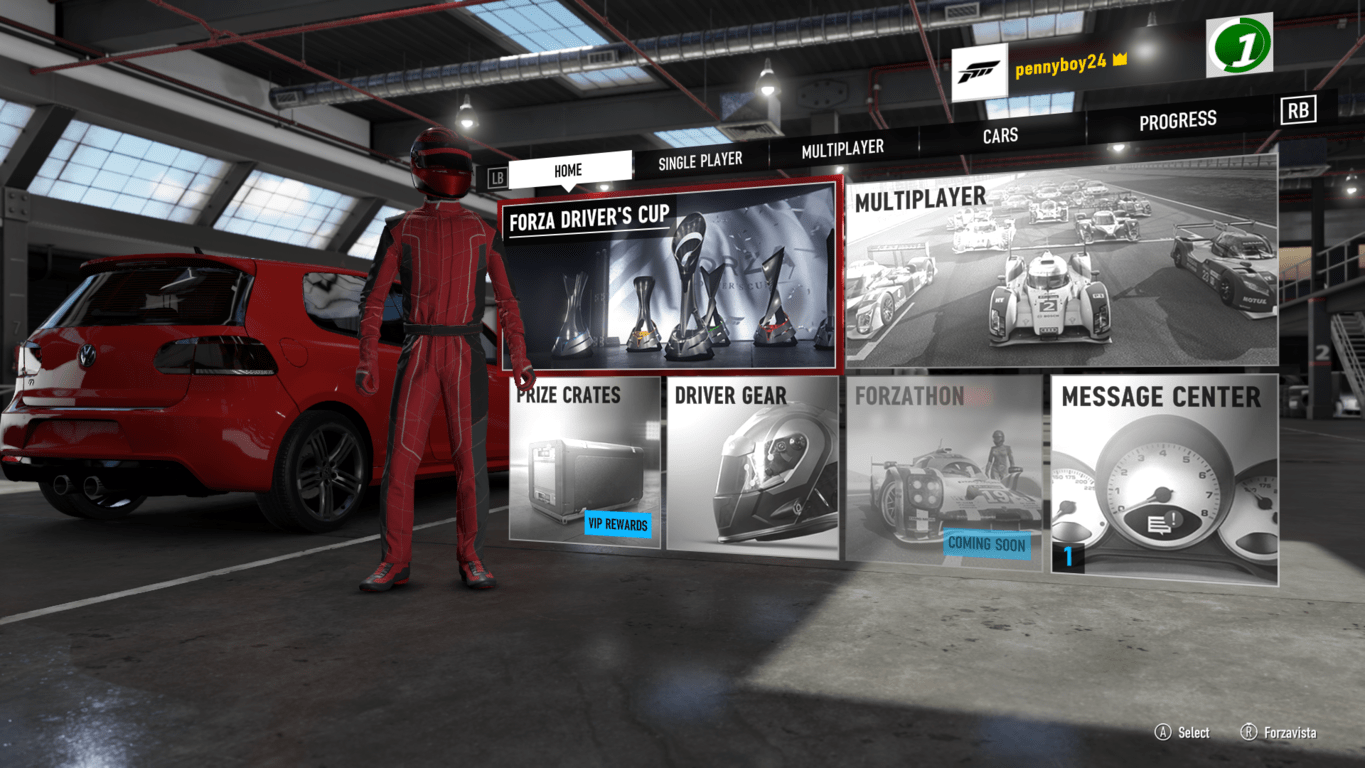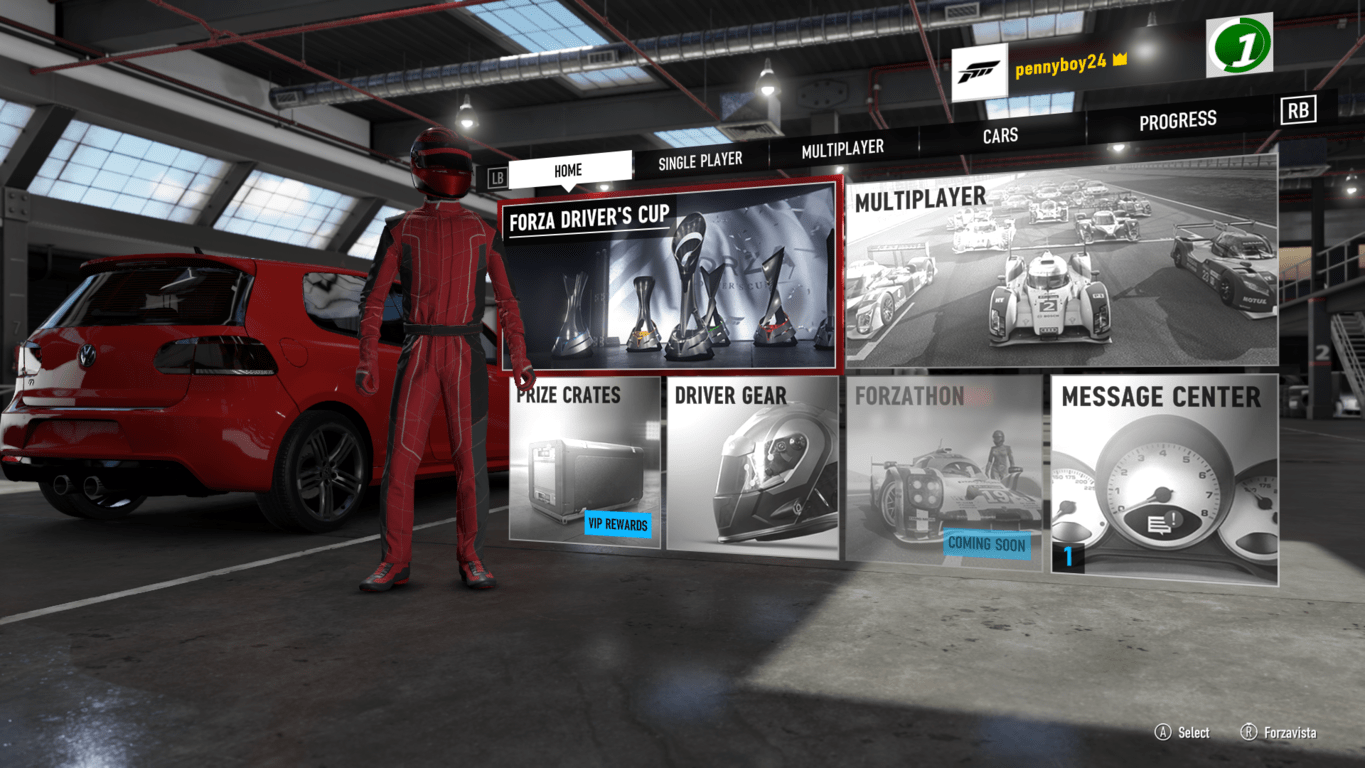 Mouthwatering graphics:
The big talk with Forza Motorsport 7 were improved graphics and support for 4K resolution on Xbox One X. On Xbox One, though, the game runs at a solid 60 frames per second without any issue. New players to Forza will right away appreciate the difference in the graphics over a game like Project Cars 2. Long-time players, on the other hand, will especially feel a big difference from Forza titles past.
Tracks and environments are more lively than ever, creating a very immersive racing experience. The grass and environments at certain race tracks are sharp, and there is extra attention to detail throughout the game. Track lights from night racing at Daytona International Speedway will shimmer in the windshield when you're passing down the front stretch, the sand from Dubai Circuit will come up onto the track, and there are even reflections in puddles when racing in the rain. With Forza 7, it's the small details that count.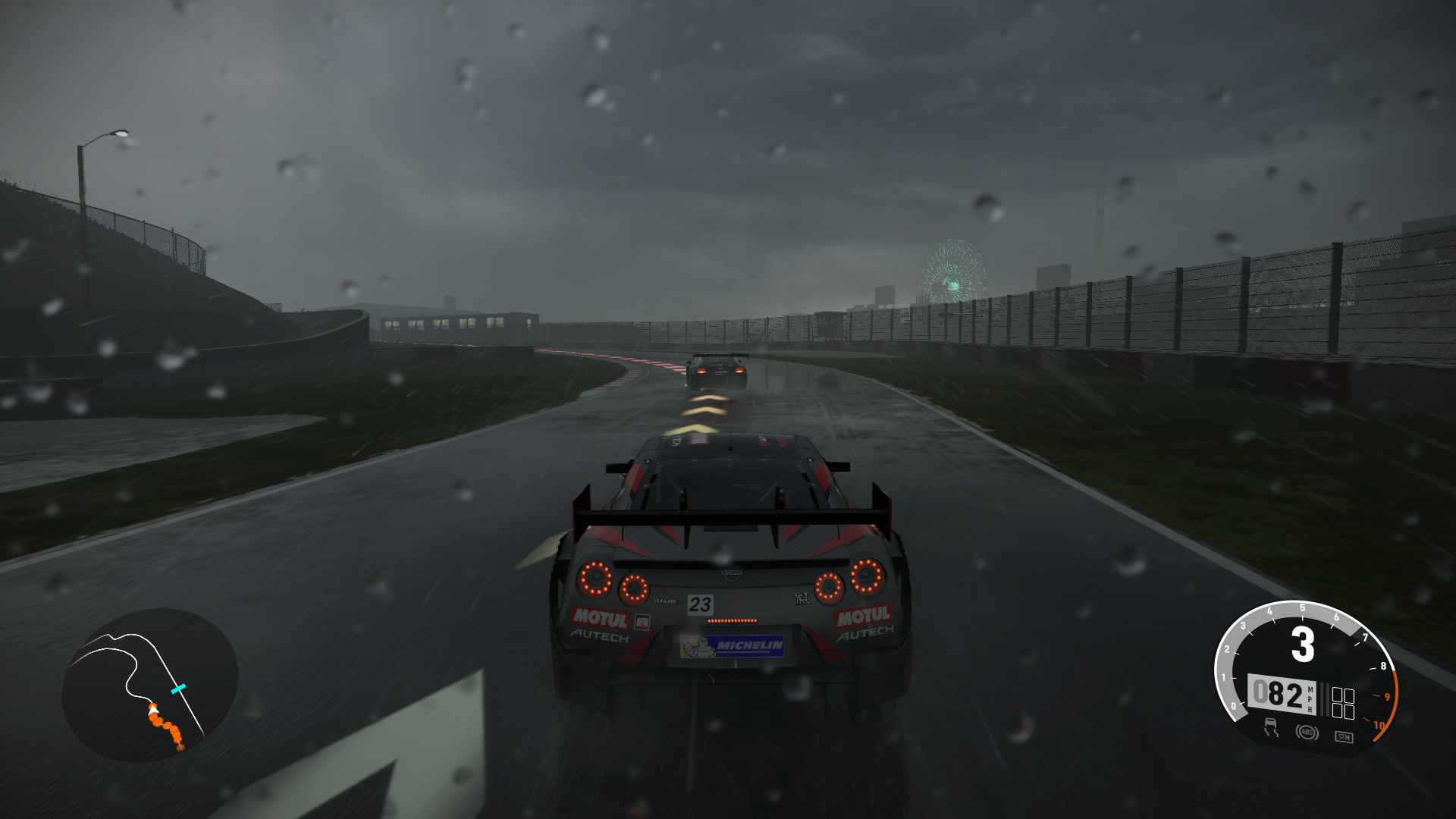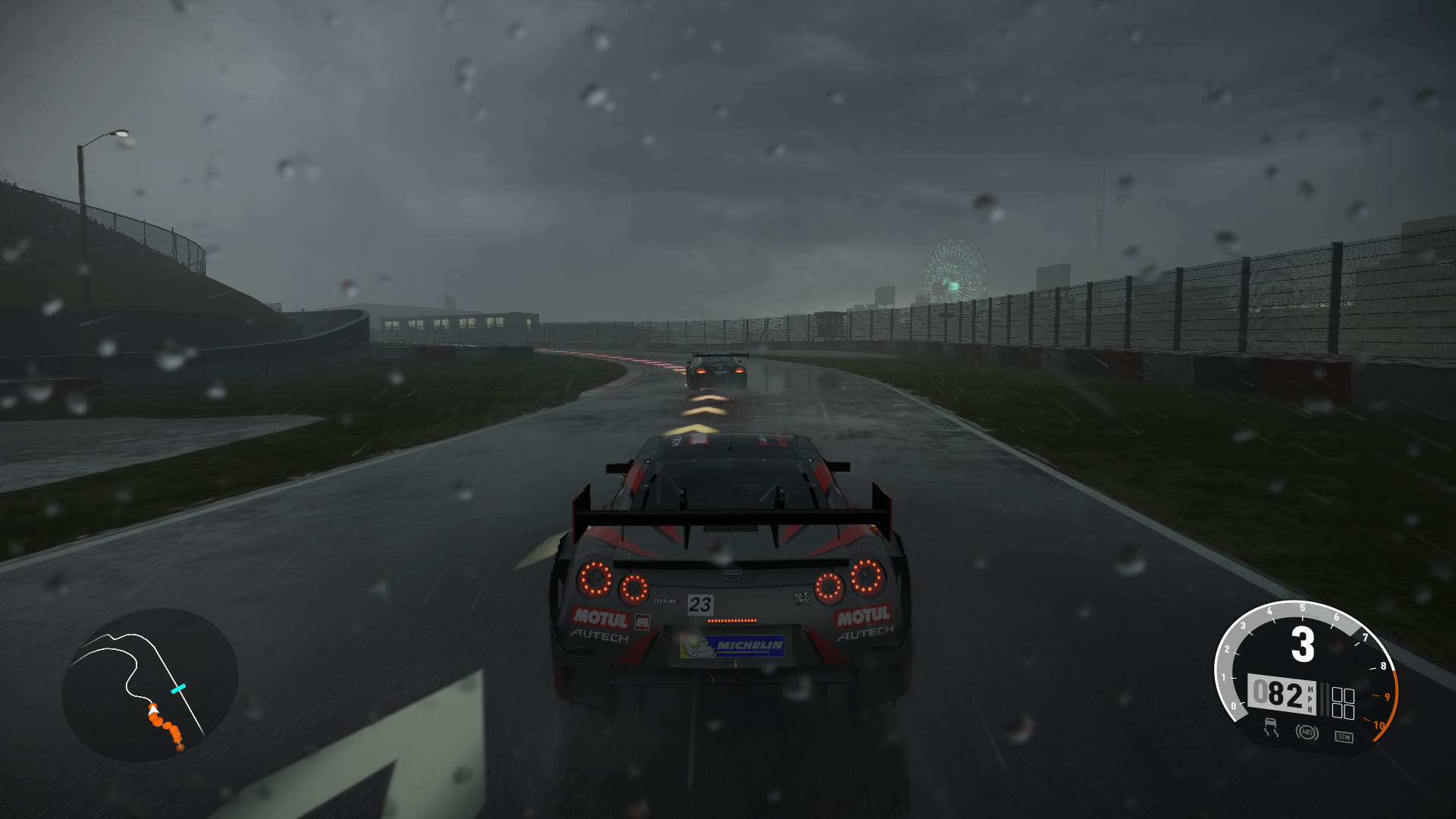 Let's not forget the interior details of the cars. This year there is an alternate cockpit view, bringing you closer to the dashboard as ever. Although it cuts out the mirrors from view, I especially liked this angle, since it allows me to watch the miles on the odometer roll up when I raced. It's oddly satisfying and is another area where Turn 10 pays attention to the smallest details in Forza 7.
Lastly, for the first time ever, Forza 7 features a dynamic weather system. When racing at tracks with support for dynamic weather, there's thunder and lighting during pouring rainstorms. Cars will even handle differently in the grueling conditions. Plus, from the way dirt and grub build up on my windshield when racing in the rain, it's definitely realistic.
Realistic sounds:
Just as how the graphics are great, the sounds in Forza 7 are also amazing. Unlike in Sony's Gran Turismo series, the cars in Forza do not sound like blenders. Each of the cars has their own unique sound, so if you're really obsessed with cars, you'll actually able to differentiate the manufacturers and car models just by listening to the engine sounds.
For me, it was absolutely glorifying to turn up my volume to 100% and listen to the realistic roar of NASCAR stock car engines roaring at Daytona, or the electric buzzing from Formula E cars racing at Le Mans.
Other areas of the game also see sound improvements. When my car slammed the apex at certain tracks, I heard the noises from pebbles slamming into my chassis. And, when I went in full out demolition derby mode, I heard crunching noises when parts came flying off my car. Oh— and let me not forget the cool way that in-game music plays from the speakers throughout the race track for a nice effect when you drive by at speeds of 100 MPH.
A wide variety of cars and tracks:
Shipping with over 32 tracks, Forza 7 is a race fan dream come true. With the game including tracks such as Daytona and Le Mans, for the most part, players will be racing at REAL race tracks. With a few fictional exceptions (like Rio and Dubai), Forza 7 brings gamers to the same tracks where famous race car drivers built their careers. Plus, since career mode is as in-depth as it is, and since tracks have different layouts, the racing is less monotonous throughout career mode.
Of course, the other main talk behind Forza 7 are the 700+ cars. Covering manufacturers from Ariel to Volkswagen, the car list is another reason why Forza 7 is a race fan's dream come true. Players can race almost any car they can think of, and even included in the list are some obscure race trucks. And when not racing, cars can be explored in Forza Vista for a showroom like experience. There's even the chance to rent the cars in free play mode, if a player is absolute eager to try out a new car.
Finally, the game also features the largest collection of Ferraris and Porsches ever, which is great because not everyone has the real world money to amass these cars for their actual garage.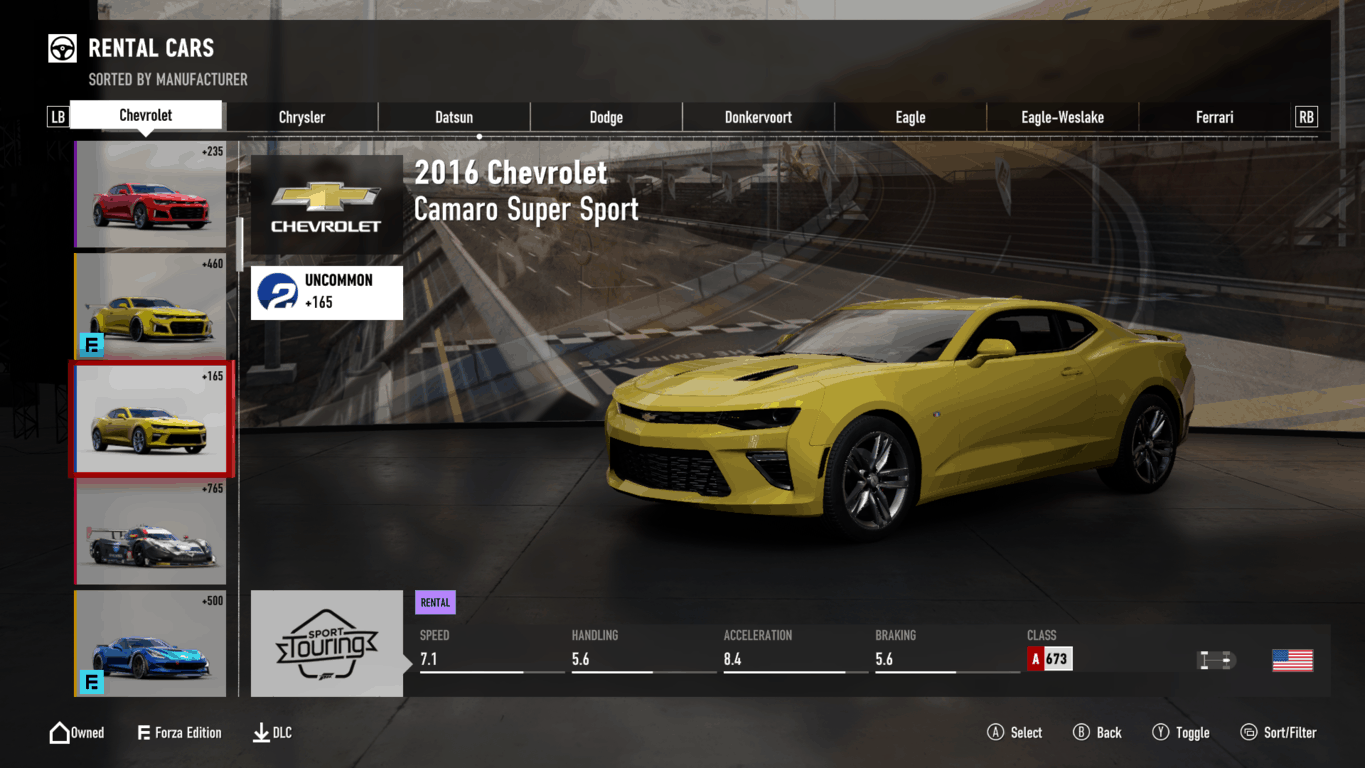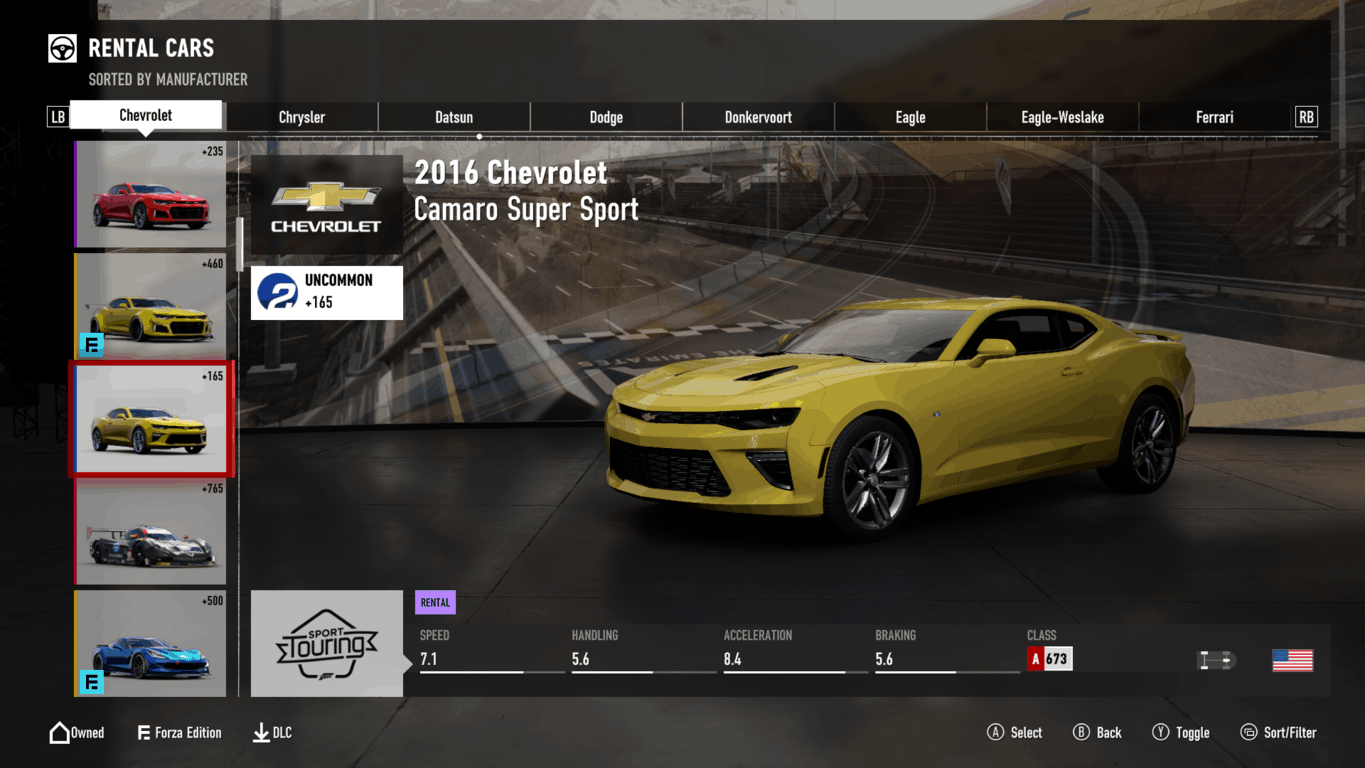 Realistic car handling:
Using the standard Xbox controller, the cars handle just as they would in real life. With all assists turned off, I struggled to keep hold of a Porsche as I barreled down the turns after the long straightaway at Le Mans. And In the initial races with my Volkswagen, I was easily cruising on a Sunday afternoon drive. I particularly felt this difference in handling when I was racing in my 2013 Dodge Ram and took a corner too hard, losing braking and almost flipping over the car.
The Bad:
As much as I've praised Forza 7 thus far, there are a few issues with the game which have troubled me. Drivatars are horrible, online play is lackluster, loading times are a bit prolonged, and the music is terrible. Check out why below.
Drivatars:
Present since Forza 5, Drivatars, the computer-driven cars you race against, are once again making a return in Forza 7. I've always had a love and hate relationship with Drivatars and it once again bothers me in this years Forza game. Despite having new options to limit aggression in Forza 7, Drivatars still race poorly.
Most times, and even with the settings turned up, they will still put you into the wall or cut the track and cause massive pileups. Turning the settings to max difficulty will improve the way Drivatars race, but it also makes it impossible to win races. This is mainly due to the way that the tech behind Drivatars work— the cloud records your driving habits and will create a virtual copy of it for others to race with. Seems as though most people who play are reckless, apparently.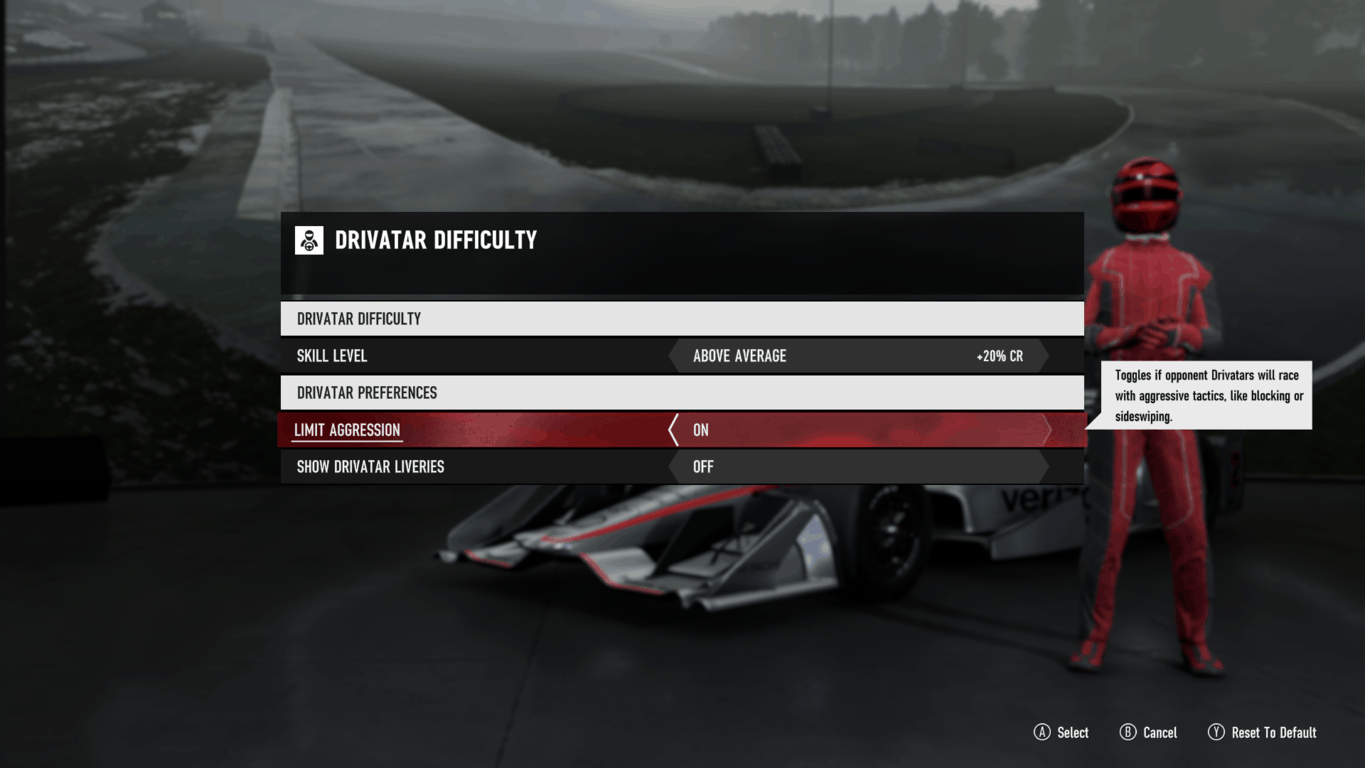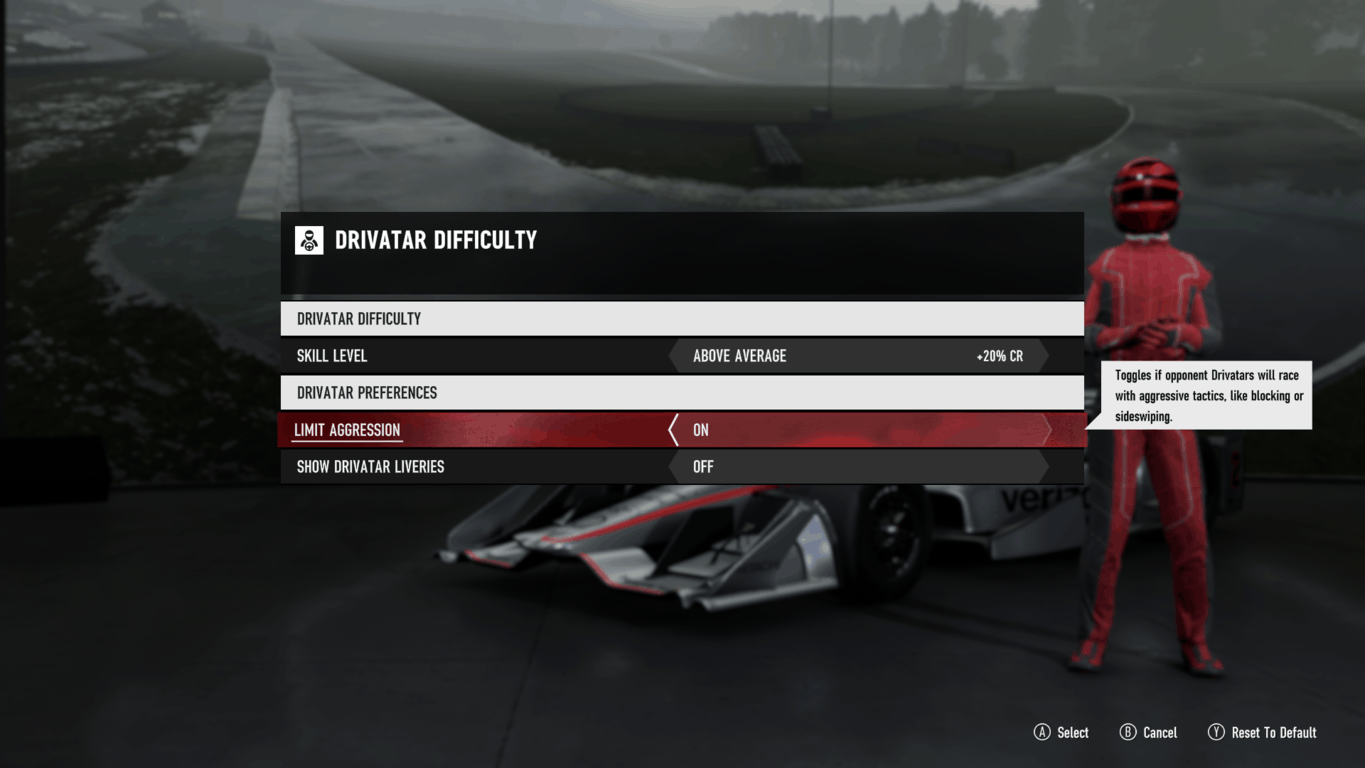 Online play:
In Forza 7, online play in the multiplayer hopper lobby is based on homologation. Similar to real-world racing, this means that there are certain tire compounds, width, horsepower, weight and PI limits before you enter an online lobby to race. Meant to cut down on those who use super-powered cars to get to the top of the leaderboard, it is supposed to make the racing fair. It also intends to put an extra emphasis and reward on car tuning, but, unfortunately, most gamers just looking for some fun online (myself included) care less for this.
Pressing the multiplayer button from the main menu randomly places you into a selection of lobbies grouped by class and car type. Even with my fast internet connection most times I found myself frustrated just waiting to get paired to join a race. Anyway, once I got connected I was racing against the same people of my skill level with the same type of cars. While a good idea on the surface, it quickly became frustrating. I was not able to pull away from the field since I did not tune my cars like everyone else. Plus, there's also the idiot trolls who wrecked me and spun me out for no apparent reason.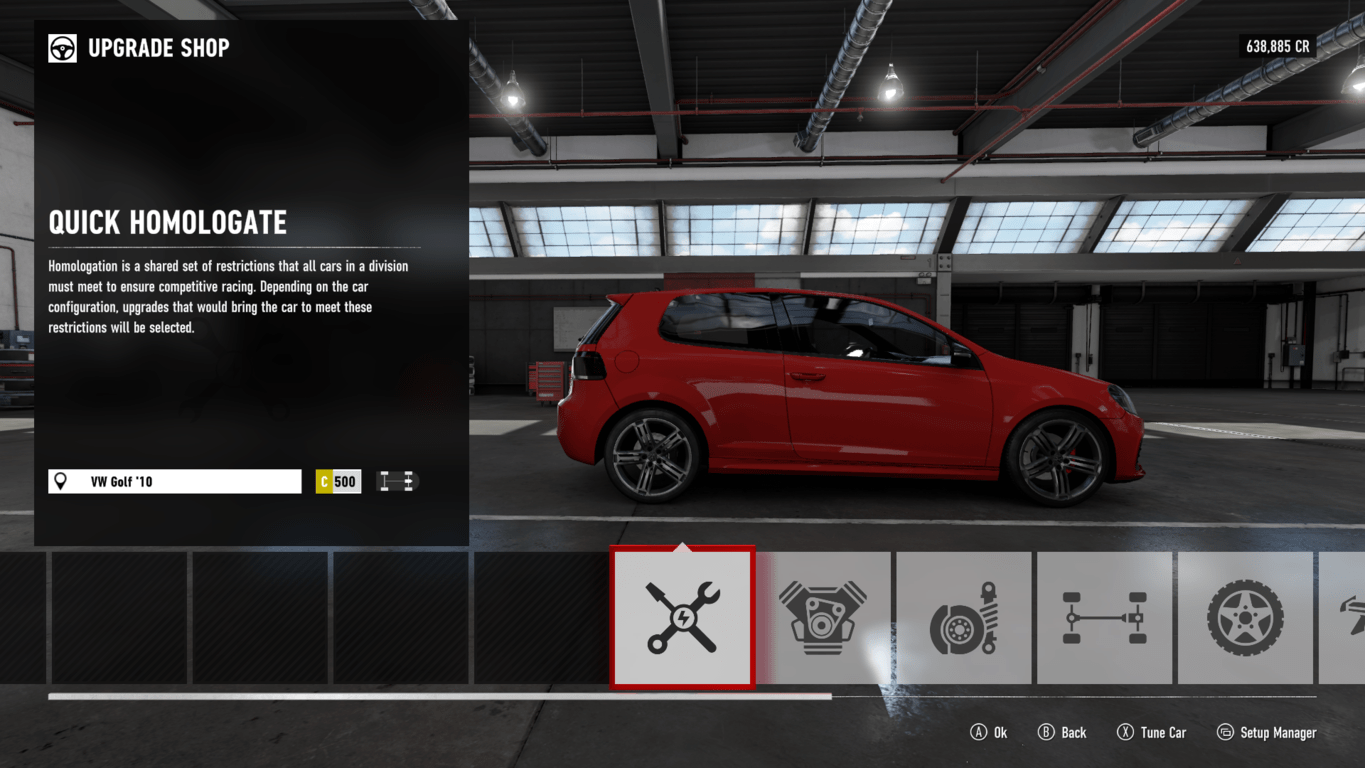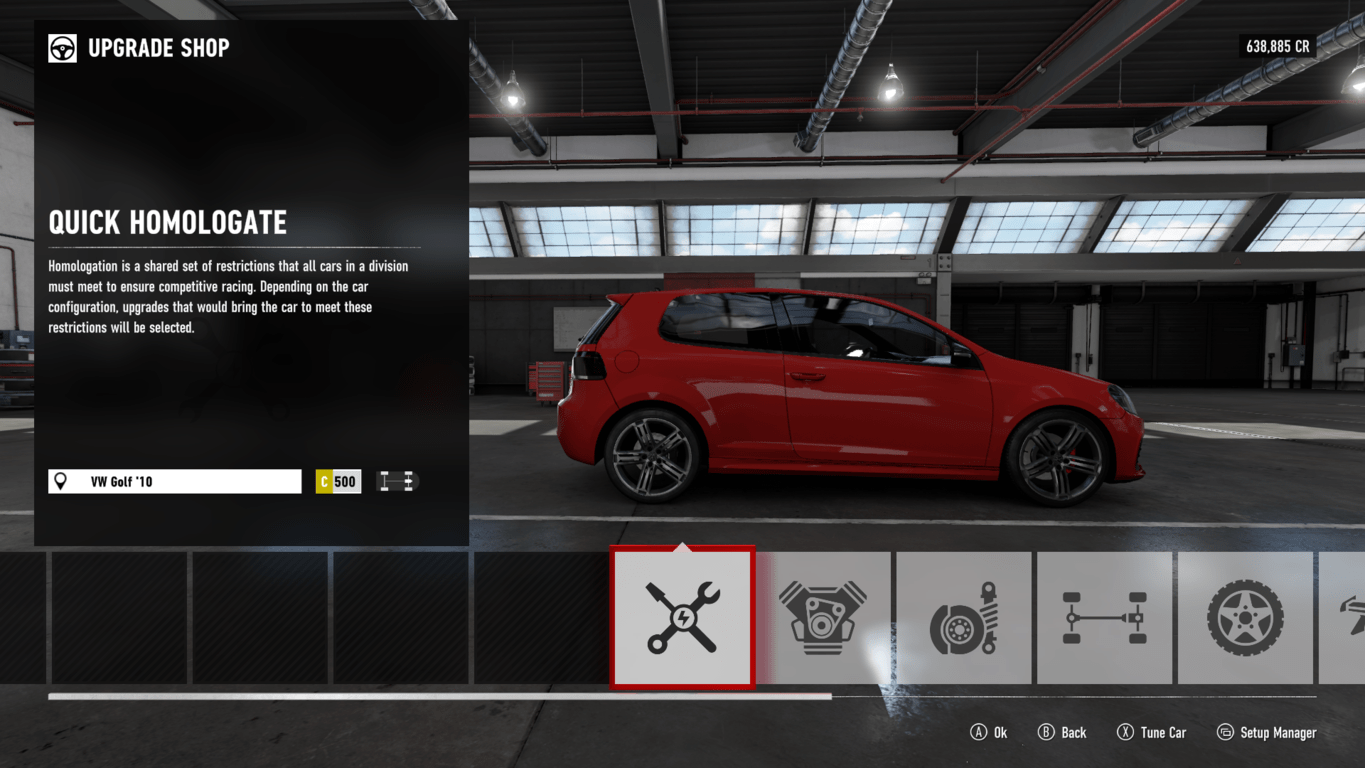 For the best experience I recommend playing the game online with friends or finding serious fans via Xbox's Looking for Group feature. While not available at the time of writing, other multiplayer areas of the game are set to open up soon. This is including the Forzathon, which is supposed to be an e-sports type event, as well as leagues, so I am sure things will be getting better soon!
Loading…:
Being the masterpiece it is, the loading times in Forza Motorsport 7 are very lengthy. Based on the track and condition sometimes I was waiting up to 2 minutes to be loaded into a race, especially in multiplayer. It's not a big of a deal for me, but it's slightly annoying, especially when I was eager to just get into a race. Luckily, the menus are available while things are loading, so I was able to busy myself with changing settings instead of just staring at a loading screen.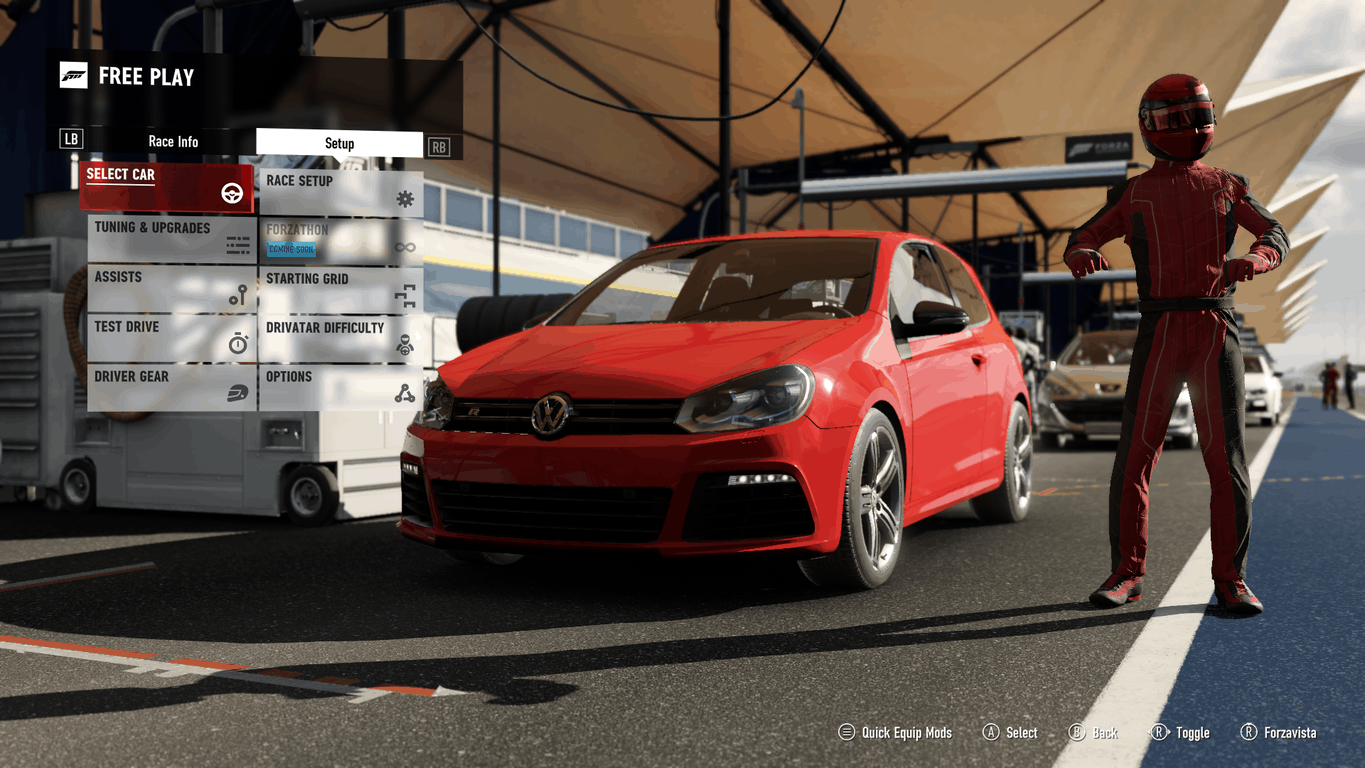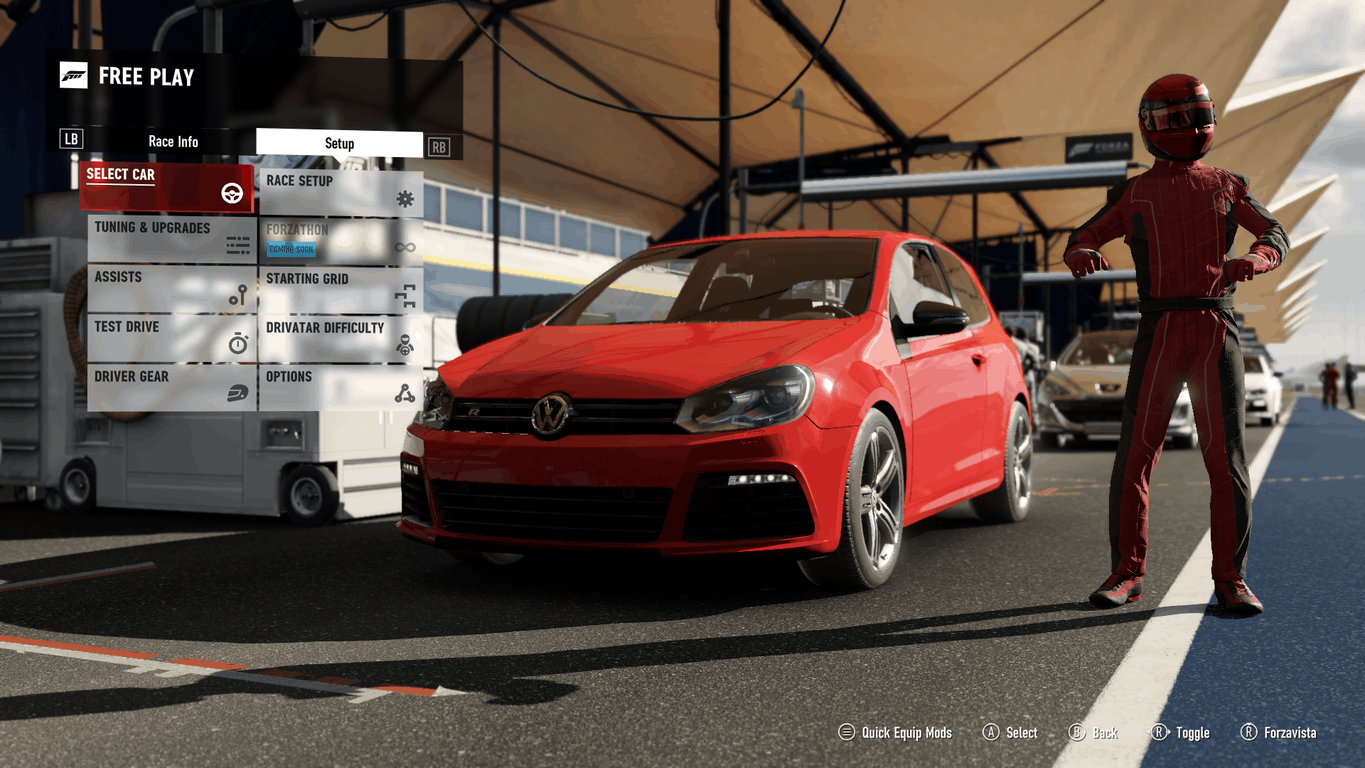 The Music:
Forza 6 featured a great soundtrack by composers Kaveh Cohen & Michael Nielsen. Sadly, the music in Forza 7 is lackluster. After a while, Forza 7's generic rock background music got very boring. There's also no word on a timeline for when you'll be able to play your own tunes from Groove Music in game, but it is still "coming at a later point" per most recent reports.
Other tidbits/ issues:
As great as Forza Vista was in Forza 6, it is a bit limited and shaved back in Forza 7. You can no longer explore the engine details or open hood or trunks on all the cars like in Forza 6. The cool narrations and descriptions of the cars have also been eliminated as well. It is indeed a bit sad, but considering that you can now use Forza Vista in the pits, I guess It's something to settle with.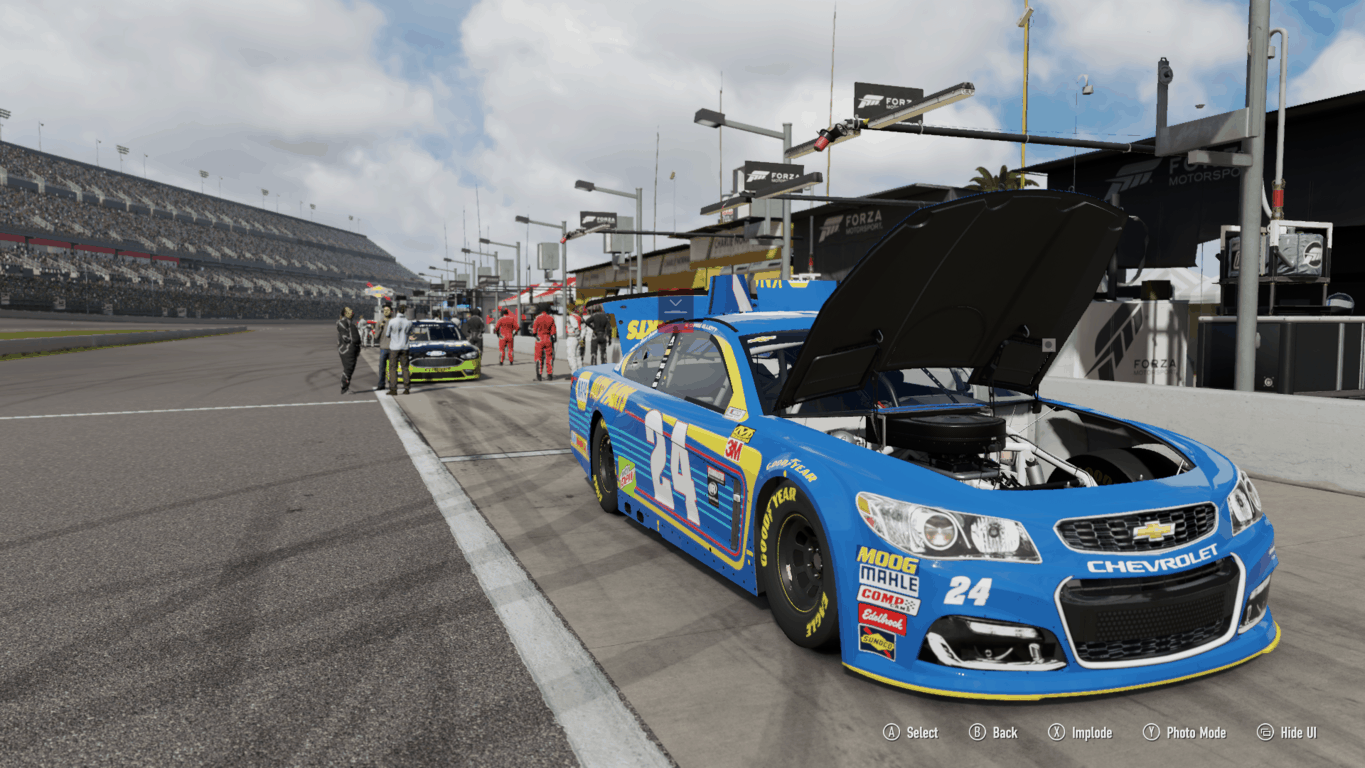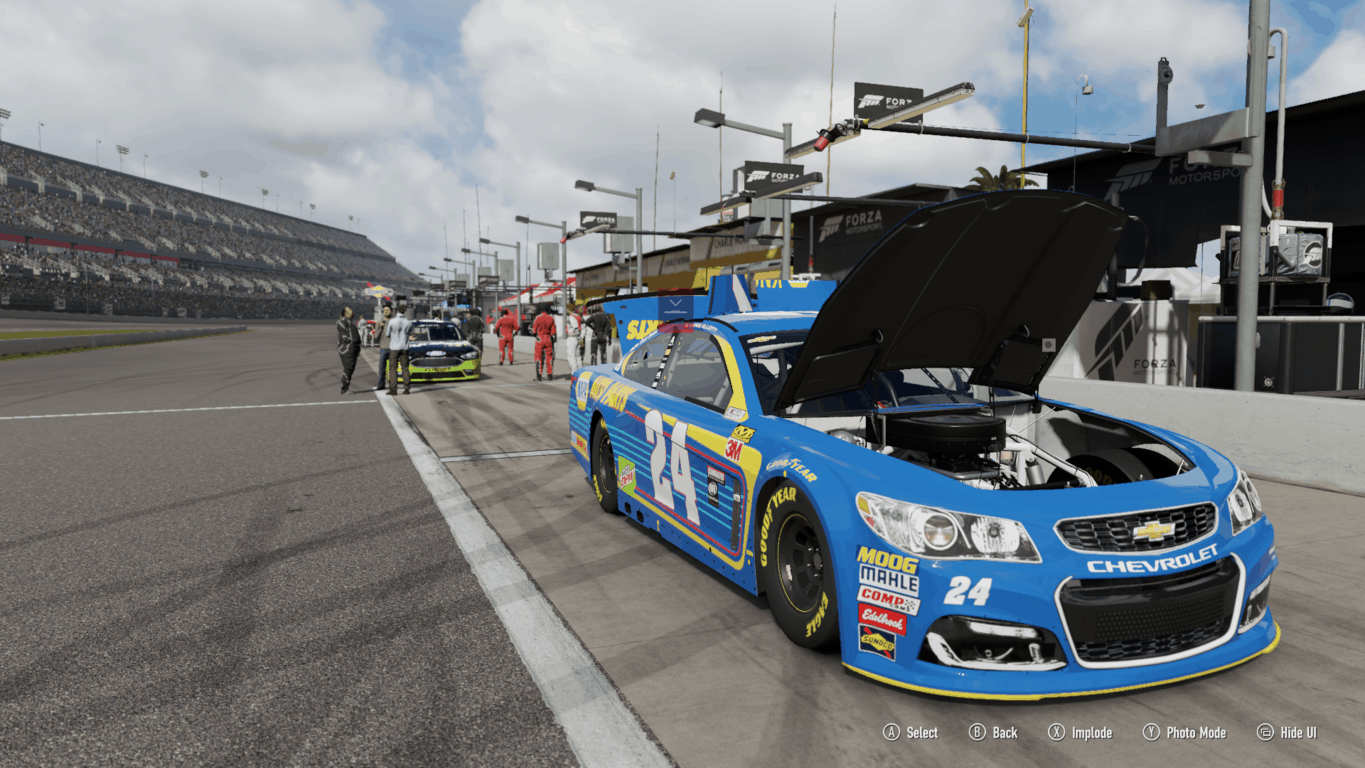 Of the 32 tracks, only some tracks have dynamic weather, including Brands Hatch, Hockenheim, Homestead, Le Mans, Maple Valley, Nurburing, Sebring, Silverstone, Spa, Top Gear, and Virgina Raceway. It's still a significant amount compared to other racing games, but I was hoping that more tracks would support the feature.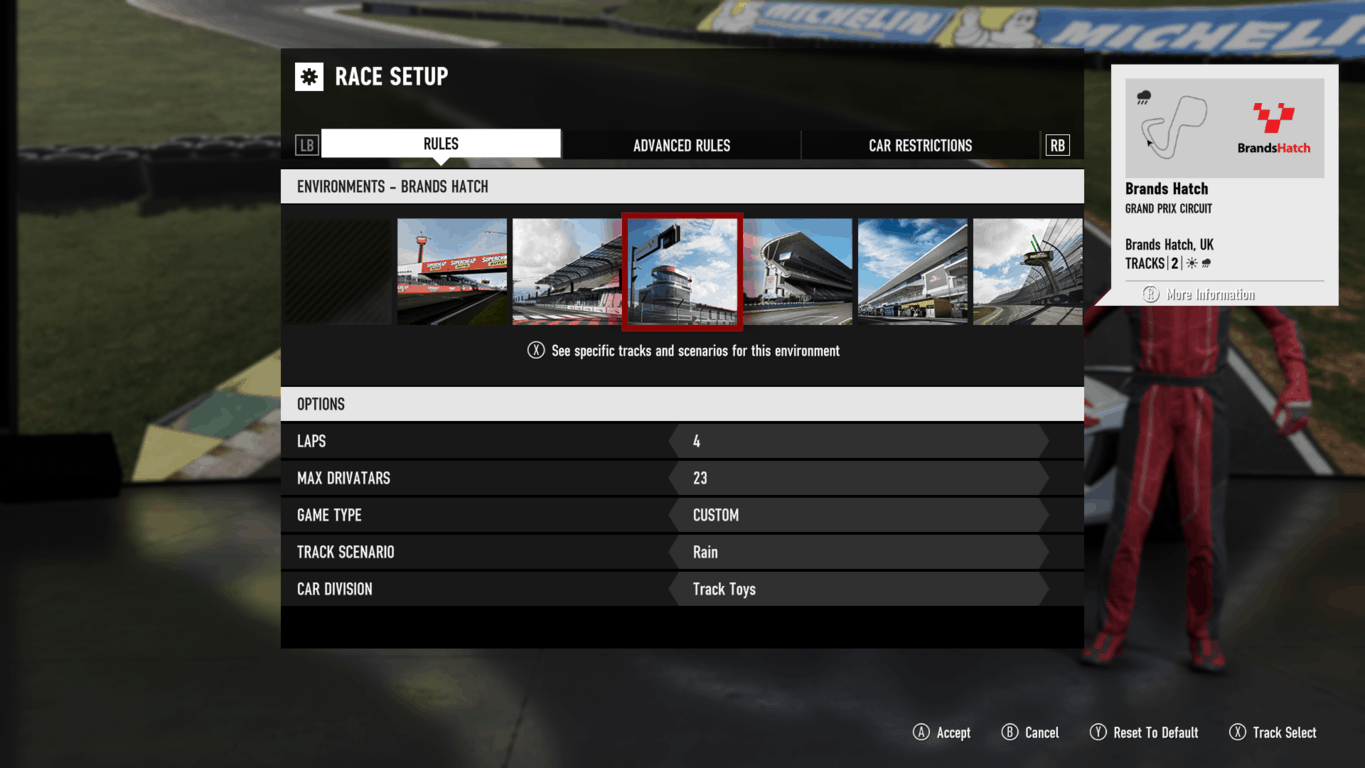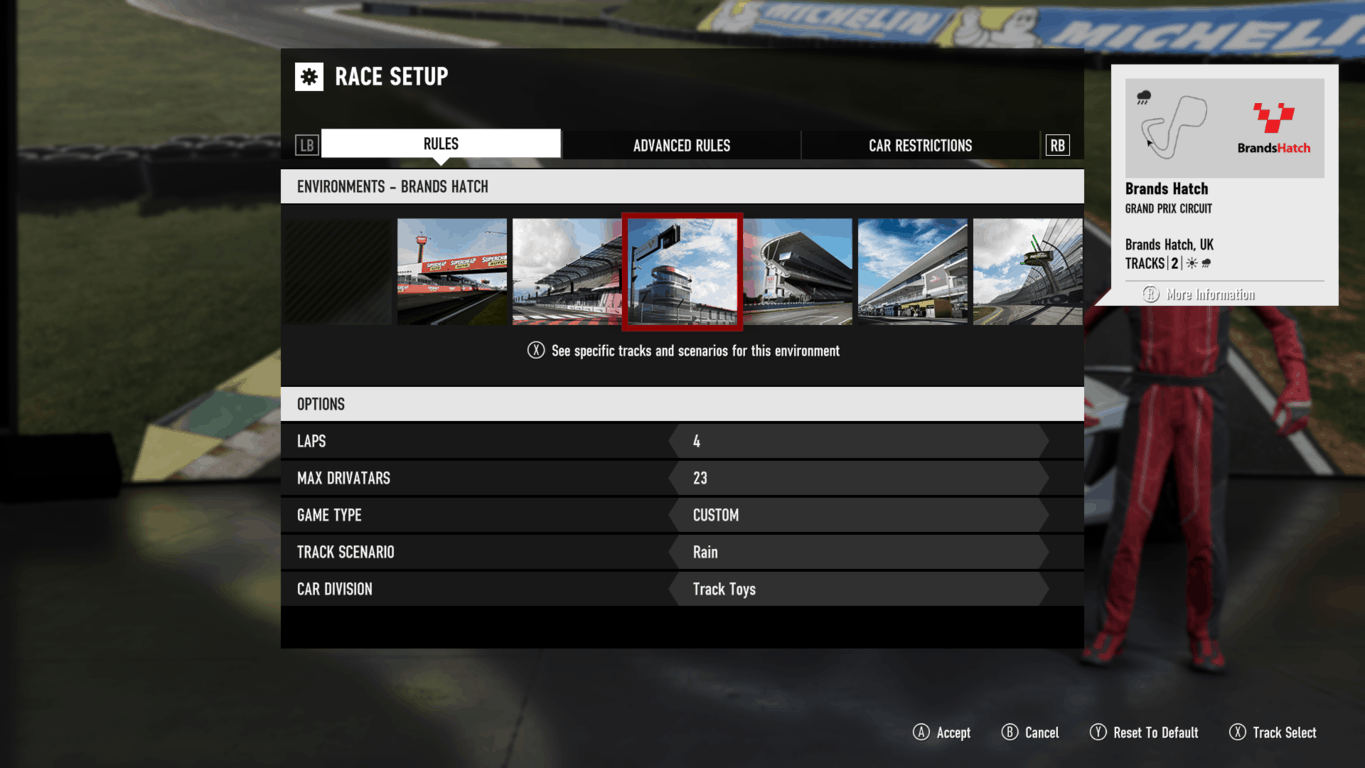 In Forza 7, the 700 cars are divided into collection tiers: Common, Uncommon, Rare, Super Rare and Legendary. You move up through these tiers by buying more cars and winning races in career mode. Some tiers are only unlocked by winning certain prizes in the game. This might be a bit of a gimmick to most players, but at the same time, it puts more value on winning, after all, not everyone in real life will get the keys to a Ferrari handed to them right away.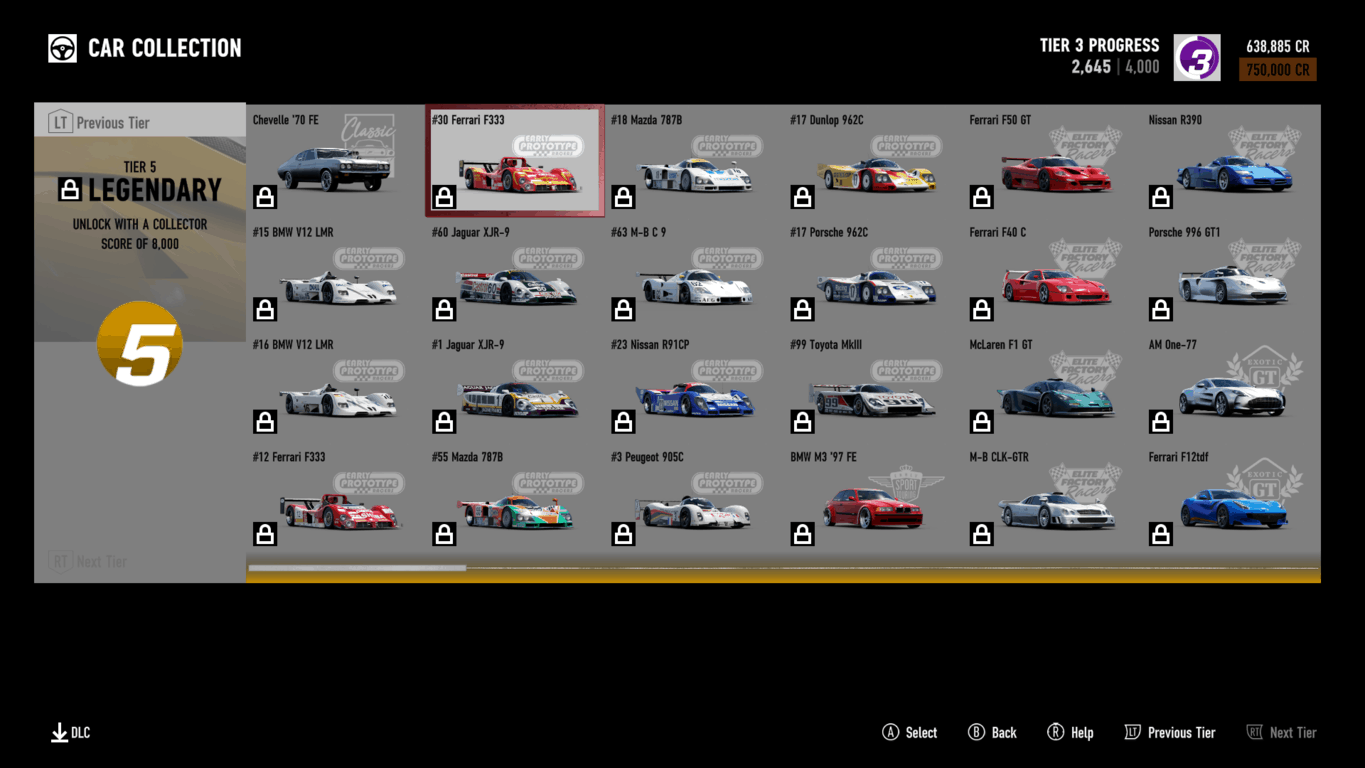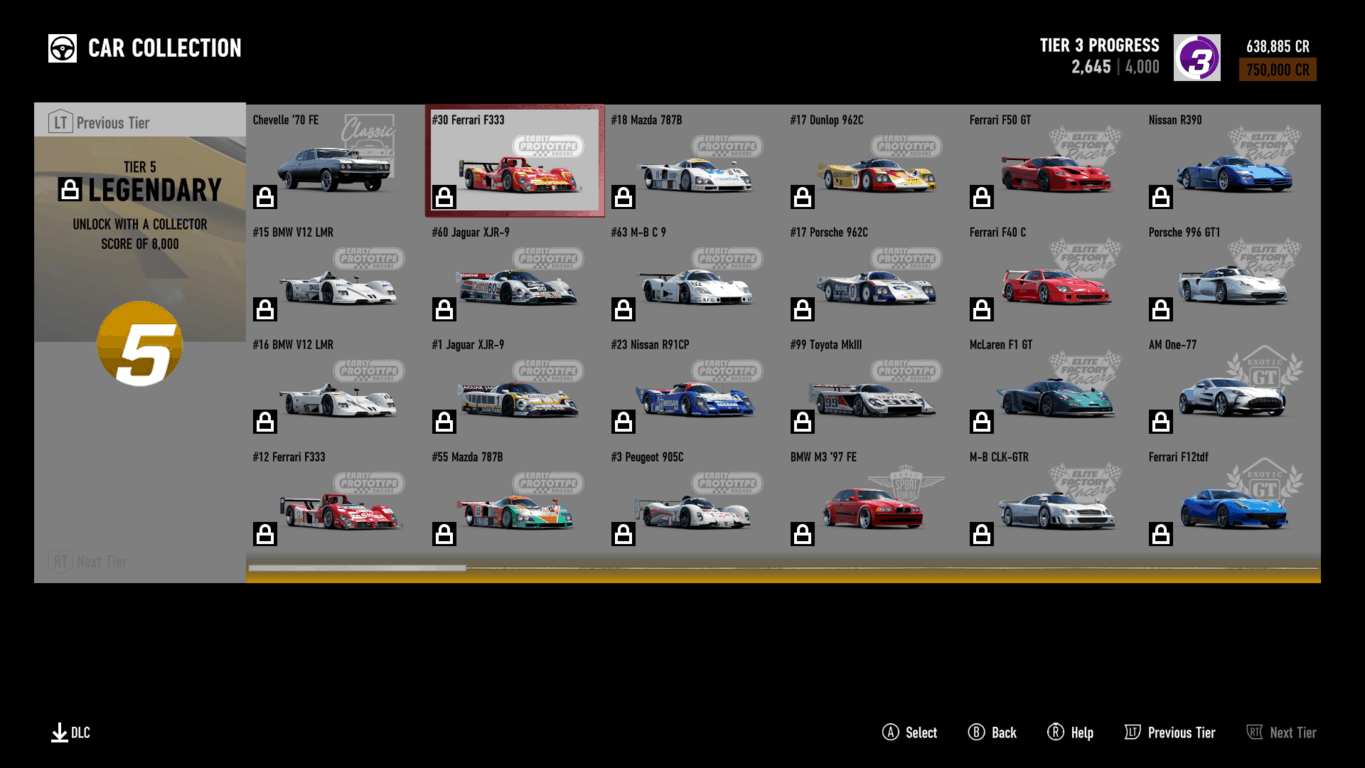 Lastly, Forza 7 comes with a new "Prize Crate" system. This system allows you to use in-game credits and purchase extras which will help you in your journey in the game. There are car crates, driver gear crates, and mystery crates. These are all in-game microtransactions to be purchased using the in-game money. I'm not a big fan of the crate system, as I think it's basically equal to cheating your way to winning the game. The items in the crates can give you mods to help you earn more credits, and new crates and special offers will show up from time to time. Why buy these crates when you can be spending more time in the game enjoying the racing?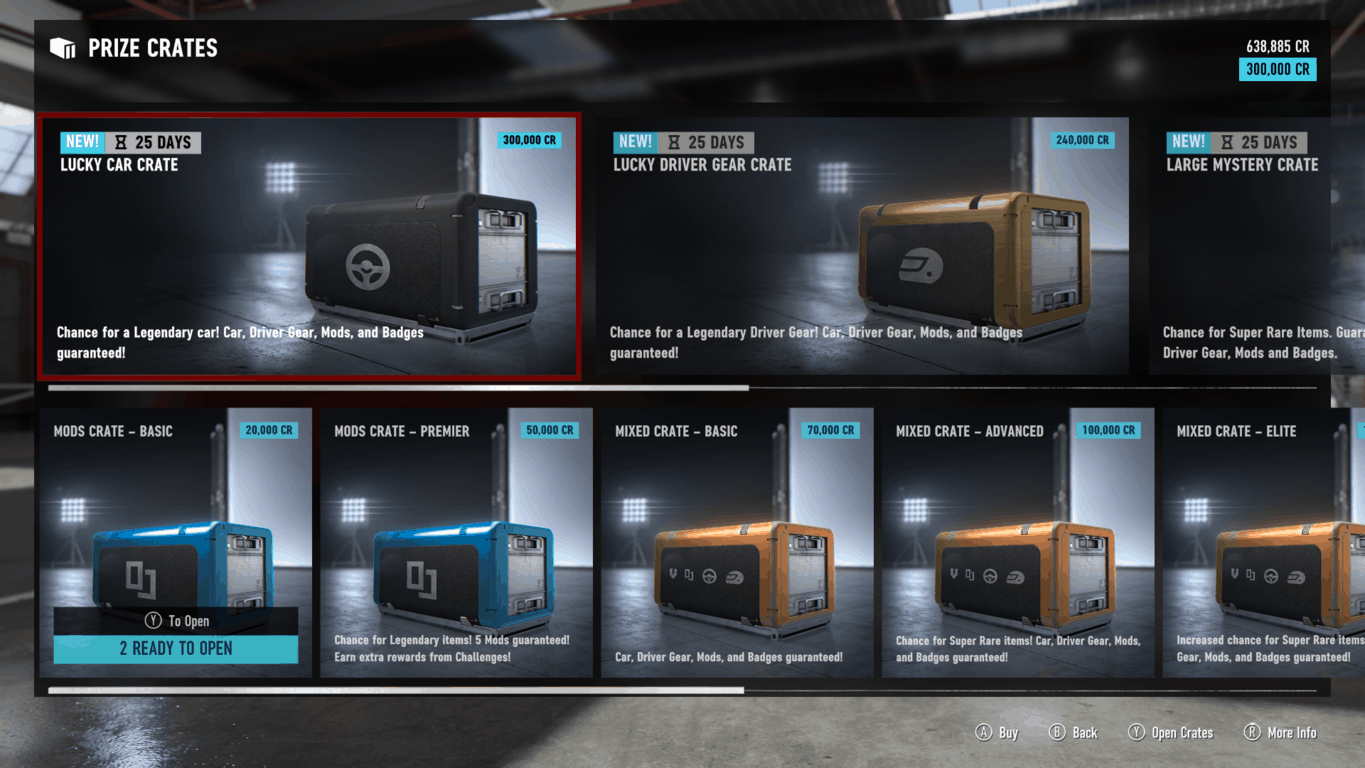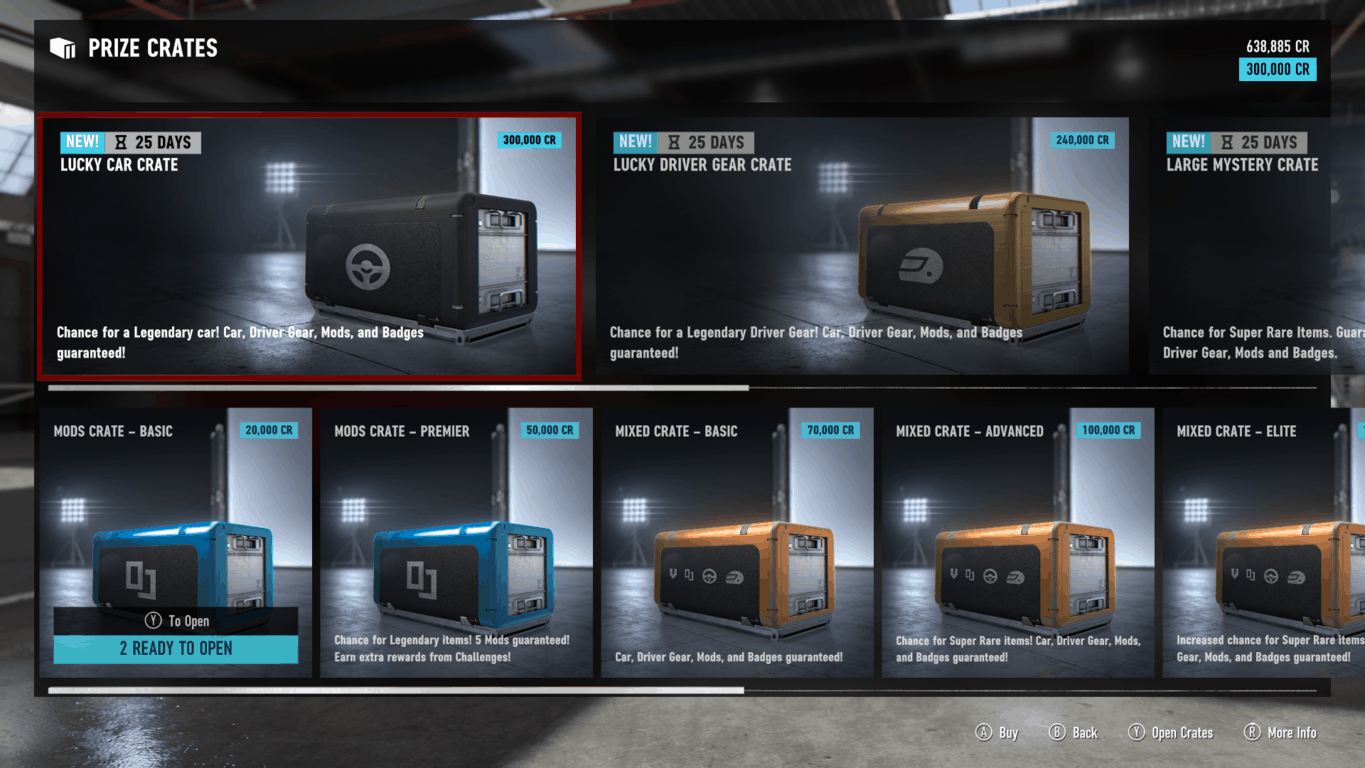 Conclusion:
At the end of the day, Forza 7 is a dream come true for anyone who is a fan of racing. It offers up the chance to simulate a real-life career mode, and it brings realistic looking cars and tracks front and center. Yes, it does have some faults, but nothing is ever perfect. The game is worth picking up since you can put hours of time to enjoy your racing career and the path to the Forza Drivers Cup.
Final Score: 9/10