It's not a secret anymore, Windows 11 is coming! But ahead of Microsoft's June 24 "what's next for Windows" event, Microsoft appears to be teasing Windows 11, which we just so happen to already know about, thanks to the "leaked" build that our own Cody Carson just went hands-on with.
We don't let that ruin the fun though. Microsoft is definitely amping up for some Windows 11 marketing, and here's a recap of all the Windows 11 teasers we've seen from Microsoft so far, just a short 24 hours from when the event is set to kick off.
New social media wallpapers and profile photos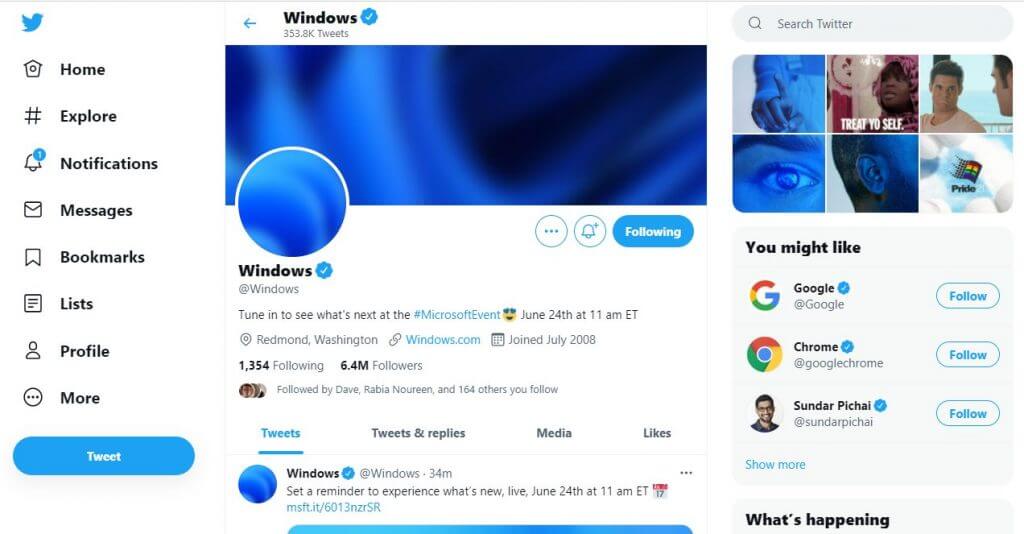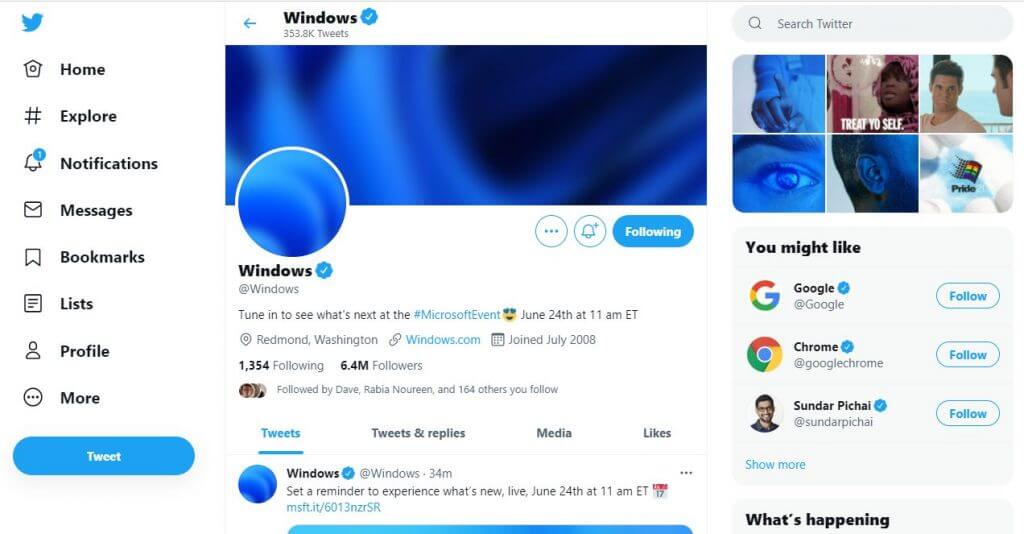 Let's start first with a look at the Windows social media accounts. If you visit Twitter, you'll see that the Windows account has changed its Twitter header to include a new "wave" which looks a lot like one of the default wallpapers we've seen in Windows 11. That wave also carries over to their profile photo, too. Their Instagram and Facebook all have the same imagery well. Clearly, this is a tease at new wallpapers and more Fluent Design effects in Windows 11.
"This is just the start"
This is just the Start. Tune in on June 24th at 11 am ET to see what's next. #MicrosoftEvent https://t.co/DM7SYVdc3j

— Windows (@Windows) June 15, 2021
Going back in time a bit, the first Windows 11 leaks started happening on June 15. That's when screenshots of the operating system appeared online, then the ISO for the entire build. The media was quick to pick up on this, with the first reports happening around 11:50 AM ET. Shortly after, at around 2:48 PM, the Windows Twitter page seemingly tweeted out "This is just the Start. Tune in on June 24 at 11 am ET to see what's next." It's a bit of a push to say so, but Microsoft did seemingly acknowledge the leaks with that tweet and could be teasing more new features ahead which weren't in the Windows 11 build. That's just us, though.
Ears for new sounds?
The Microsoft Event is getting closer. Join us on June 24th at 11 am ET. Set a reminder ???? https://t.co/CFxi6l6BZj pic.twitter.com/VrnJDORIGn

— Windows (@Windows) June 21, 2021
Backing up to June 21, Microsoft sent out an interesting Tweet which again seemed to tease something in Windows 11. Looking at the video in the Tweet, you can see the camera zoom in closely on someone's ear. Now, some people think that's a tease for new Surface audio devices, but if you think about the new Windows 11 sounds which our Cody showcased in his video, then this could be Microsoft teasing that audio revamp for Windows 11. Even before that, Microsoft pushed out an 11-minute video on YouTube which remixed Windows startup sounds, too. We'll let you be the judge of what that means.
Eyes for new Windows 11 wallpapers?
What's next? Find out June 24th at 11 am ET when we go live. Set your reminder ???? https://t.co/bk0mVX2d5S pic.twitter.com/bLZmqRyIgH

— Windows (@Windows) June 22, 2021
In another tweet, this one sent out on June 22, you can see Microsoft hinting at more new wallpapers for Windows 11. If you look into the eyes of the woman in the video, you can see one of the wallpapers which we spotted in the leaked Windows 11 build. Clearly, Microsoft had things planned out to tease the new images, before the actual leak revealed everything at once.
Fingers for more touch experiences?
Set a reminder to experience what's new, live, June 24th at 11 am ET ???? https://t.co/r7D0GQnR4x pic.twitter.com/UJrji0WxxB

— Windows (@Windows) June 23, 2021
Today (June 23), Microsoft sent out a tweet to the Windows account which combines the previous two which we mentioned above. But in this one, you end up seeing a woman touch the camera at the end of the video. Again, it's just us stretching things out, but Microsoft could be hinting at more touch experiences in Windows 11. We've already seen that so far in the leaked build with new gestures for getting into virtual desktops, and minimizing Windows, as well as a new area in the Windows Ink Workspace. Could there be more on the way? We'll have to wait and find out.
What's "in store" for developers for a new Microsoft Store?
???? https://t.co/kahRud18rP pic.twitter.com/1YGxj8WBvh

— Windows Developer (@windowsdev) June 17, 2021
Continuing down the line, the Windows Developer event sent out a tweet about "tune in to see what we have in store for developers." This is a separate event from the main Windows 11 reveal and is set for later in the day. It's rare for Microsoft to hold developer events like this one outside of Build, so this definitely has to be teasing some new features for the Microsoft Store in Windows 11. Again, we'll let you be the judge on that one, but we'll be watching live to hear about any new changes.
We'll be watching live right with you
That's just a look at Microsoft's teases. We'll be watching the June 24 event live, so be sure to look out for our special live blog come event day. And be sure to follow us on Twitter, too, where we'll be tweeting our reactions and offering commentary. And don't forget that we'll be recapping everything that happened at the event on our Podcast. It's a busy time to be a Microsoft fan, and we have your back!