Over the past few months, older versions of Windows have been the target of malware and ransomware cyber attacks such as Petya and WannaCry. All throughout those attacks, however, Windows 10 came out strong, and a new study done by Spiceworks is showing that the attacks are driving more and more businesses and industries into updating older systems and adopting Microsoft's latest operating system.
According to the Spiceworks penetration rate data, 60% of global organizations have adopted Windows 10 on at least one computer, for a 6% increase since March of this year. More specifically, the human resources and the legal industries have shown a 52% and 54% adoption rate, and the software industry a 75% rate.
At the same time, businesses with 100-500 employees showed the highest Windows 10 adoption rate, coming in at 67%. The numbers are all coming from penetration data, which is defined by Spiceworks as the percentage of companies running at least one instance of a specific operating system. The Penetration Rates of other operating systems can be seen below.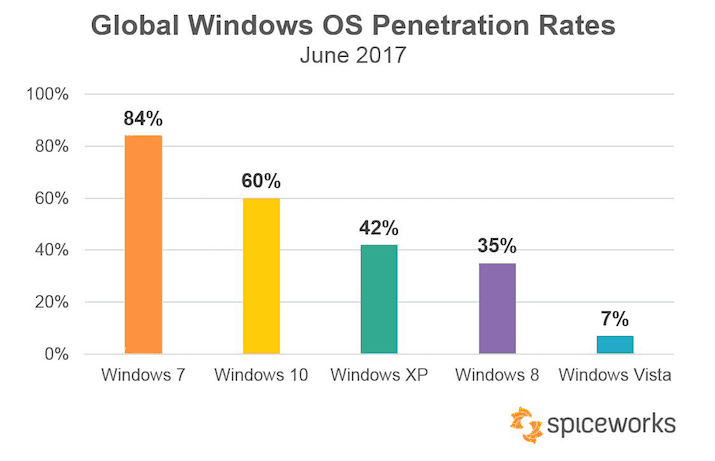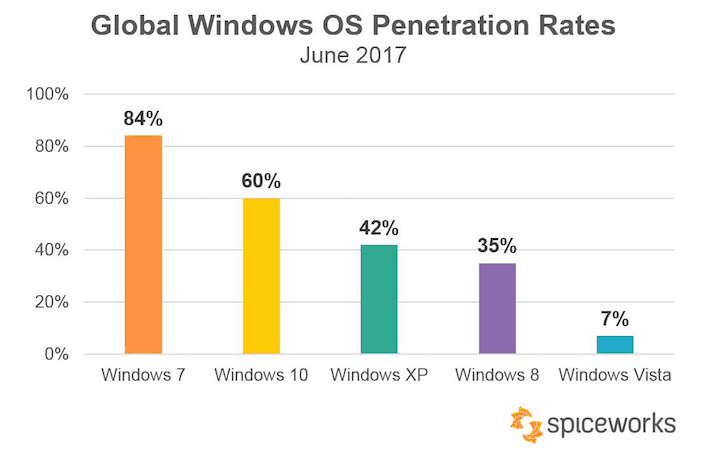 When it comes to absolute operating system share, Spiceworks has found that Windows 7 is still popular, running on 68% of all surveyed laptops and desktops in business across the globe. Windows 10, meanwhile, secured a 13% share, which is up 4% from March. Windows XP now has an 11% share, falling 14% and now behind Windows 10 in Spiceworks study.
According to Peter Tsai, senior technology analyst at Spiceworks, this is fueled by ransomware attacks.
"In recent months, widespread ransomware attacks such as WannaCry and Petrwrap have put businesses under pressure to upgrade unsupported operating systems, such as Windows XP and Vista, and move to more secure systems like Windows 10… And while Windows XP is still running in some businesses, it's evident that more companies are beginning to recognize the security risks and prioritize upgrades in order to better secure their networks."
Based on research from June 2015, Spiceworks is saying that 73 percent of IT professionals planned to implement Windows 10 in their organization within two years after launch.  The data in this study was collected on June 30, 2017, and the methodology is "based on anonymized, aggregated deployment data among a sample of hundreds of thousands of IT professionals across the globe who use Spiceworks software to inventory their laptops and devices."