After about a year of anticipation, Microsoft has finally announced a launch date for the Surface Duo. It will be coming on September 10 for $1,400, and pre-orders are now live. So, if you're looking to buy a Duo for yourself, here's how you can secure one for yourself today, or save if you buy one later.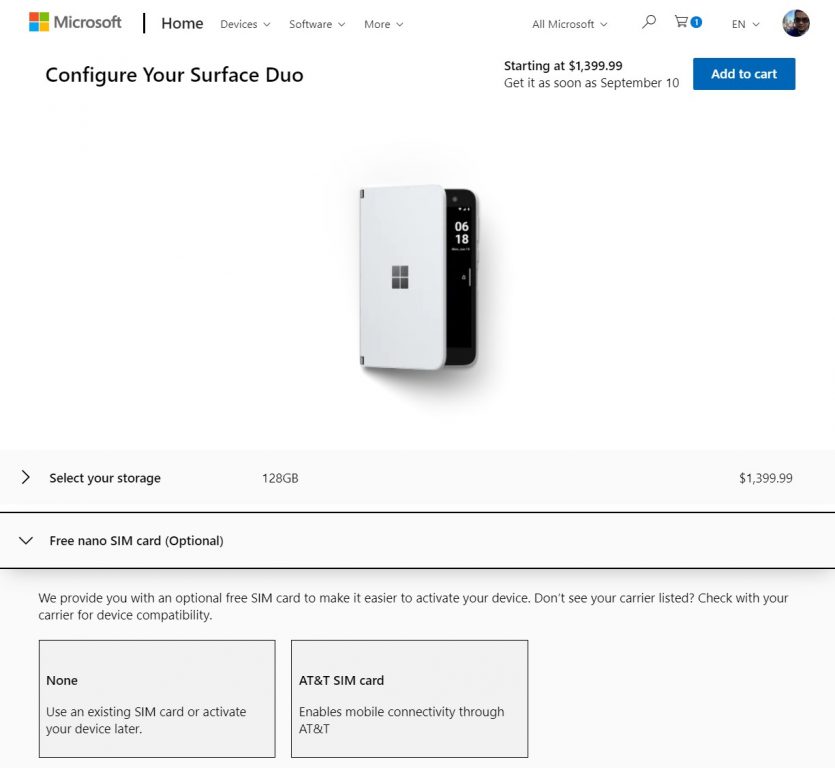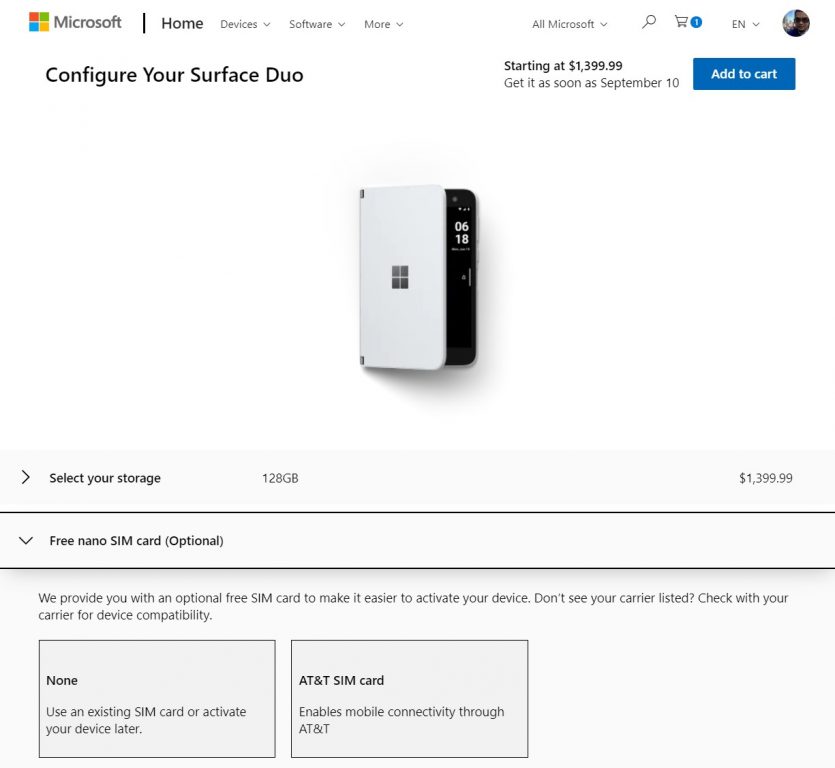 The easiest way to guarantee yourself a Surface Duo on September 10 is to pre-order it directly through Microsoft. You can find the Duo through the Microsoft Store online here. Please be aware, though, that since retail Microsoft Stores are now officially closed, the only way to buy and pick up the Duo will be through the online Microsoft Store.
Once you're on that page, you can choose your storage. The Surface Duo comes in either 128GB or 256GB. Both configurations have 6GB of RAM. However, 128GB of storage will run you $1,399 and 256GB will run you $1,499. Choose one, and press Continue. 
Also, keep in mind that Surface Duo will work on AT&T, T-Mobile, and Verizon networks. It's best to check with your carrier if the device will work with your cell phone plan before you buy one. As part of the checkout process, you'll be asked if you want a nano-SIM card. Microsoft will provide you with an AT&T one if you so want, but this is optional if you're going with Verizon or T-Mobile.
In another part of the checkout, you'll see some optional purchases. These include a Microsoft Complete Plan and Microsoft 365 subscription. You can also pick up the new Surface Slim Pen, or the Surface Earbuds, or a USB-C to 3.5mm Audio Adapter. These are priced at $111, $200, and $12, respectively.
When ready to secure your Duo, you can click Add to Cart, and enter your payment info and then click Checkout. You'll then be good to go! Microsoft will email you a confirmation, but funds will only leave your account once the Duo becomes available.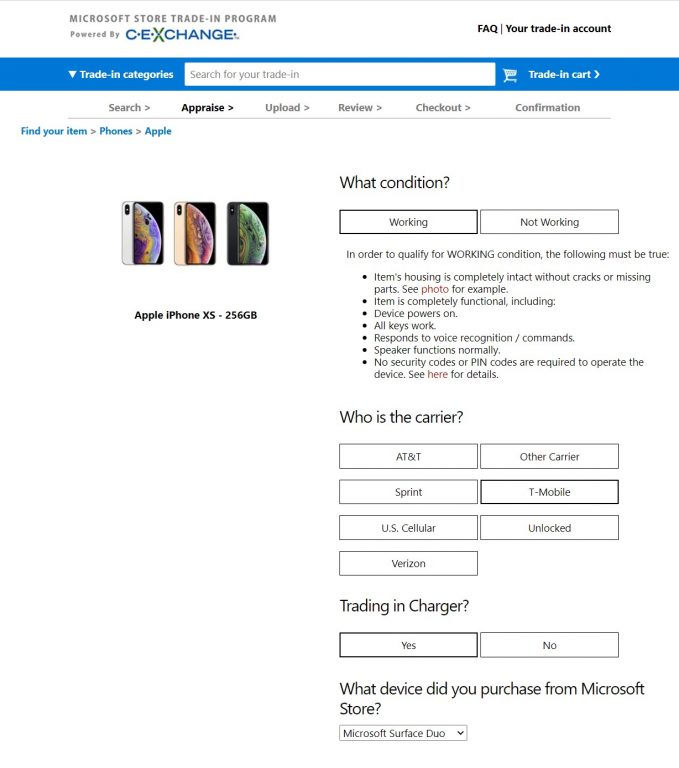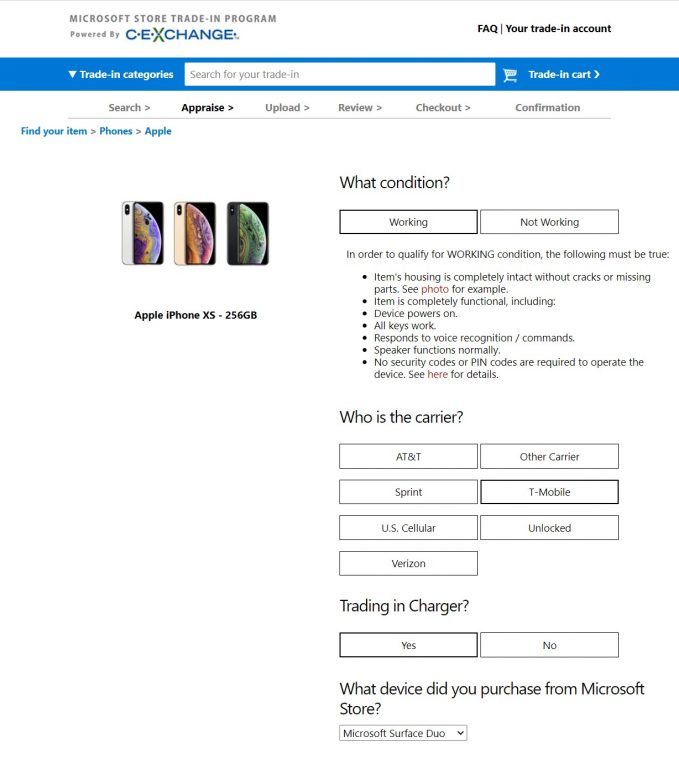 If $1,400 is too much for you to buy the Surface Duo, Microsoft has you covered. The company has a trade-in program where you can get up to $700 cashback (via PayPal or a bank transfer) towards the Duo. To get started, you'll have to visit Cexchange, a partner of the Microsoft Store Trade-in Program. Keep in mind, though, that the trade-ins will only apply AFTER the Duo releases. From our tests, you can't trade-in right now to save.
Anyway, from here, you can choose your device, be it a tablet, a phone, or a laptop. We suggest you use the search bar on the top of the page for looking for the device you want to trade-in towards the Duo. Here are some of the most common phones and suggested trade-in prices.
Google Pixel 3 64GB (Unlocked and Trade in with charger) $350
Google Pixel 4 64GB (Unlocked and Trade in with charger): $400
iPhone 11 64GB (Unlocked and Trade in with charger): $550
iPhone XS 64GB (Unlocked and Trade in with charger): $550
Samsung Galaxy S8 64GB (Unlocked and Trade in with Charger): $250
Samsung Galaxy S9 128GB (Unlocked and Trade in with Charger): $400
Once you find your device, click Continue. Since the Duo will be scheduled for release on September 10, trade-ins can only be processed once the device is released. You can enter your email address to save the quote, and process your cash-back trade-in at a later date.
The trade-in process is otherwise quite simple, though. Once the Duo becomes available, you can upload your proof of purchase for your Microsoft Stoe order. You can then ship your traded device in using the shipping label, and then get your cashback in up to 14 days.
Buy through other retailers: Best Buy & AT&T
The Microsoft Store isn't the only place where you can buy and pre-order the Surface Duo. Microsoft also mentioned that it will be available through Best Buy and AT&T. AT&T has said that pre-orders will begin going live for the Surface Duo at 9PM PT, or midnight ET, August 12. Whenever AT&T's pre-orders go live, you can find it here. The Best Buy listing for the Duo, meanwhile, can be found here,
Did you pre-order a Surface Duo? Or do you think $1,400 is too much for you to spend? Let us know in the comments below.